Life Cycle of a Frog Spinner: Frogspawn is one of the definitive signs of spring. If your children have spotted it on a walk or in your garden pond, they might not believe that that weird, wobbly black-spotted jelly is actually baby frogs! So help your kids learn all about the amazing life cycle of a frog with this fun, interactive resource.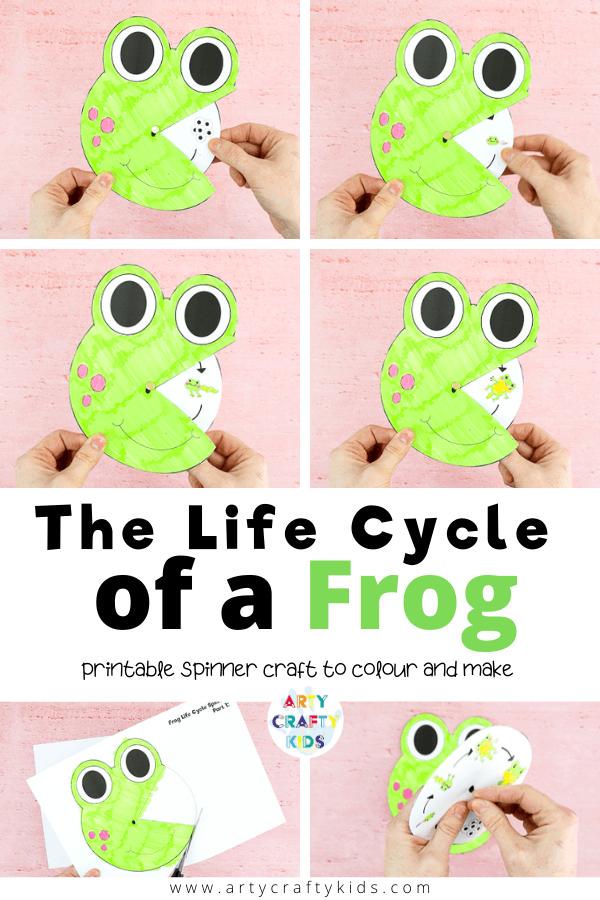 The project itself is nice and easy, so it's great to encourage some independent crafting. Then the spinner can be used to teach the life cycle, and as an aid for children to re-tell it. You could even try making it into a game – spin the spinner and do an impression of the life cycle it lands on. Who can be the frog that jumps the highest? Who can be the best wibbly, floaty frogspawn?!
How to Make The Life Cycle of a Frog Spinner:
What you need:
White Cardstock
Coloring Pens, Crayons or Pencils
Split Pins (Also Known as Brads and Paper Fasteners)
Scissors
Download 'A Life Cycle of a Frog' spinner template:
The 'A Life Cycle of a Frog Spinner' template is available to members of the Arty Crafty Kids club. The template can be accessed via the link below: https://www.artycraftykids.com/product/a-life-cycle-of-a-frog-spinner/
Not A Member?
Let's Make a Frog Life Cycle Spinner!
Color in the Templates
Use your best springtime colored crayons or felt tip pens to color in the life cycle templates.
Cut out the Spinner Templates
Carefully cut out both the frog and circular spinner elements.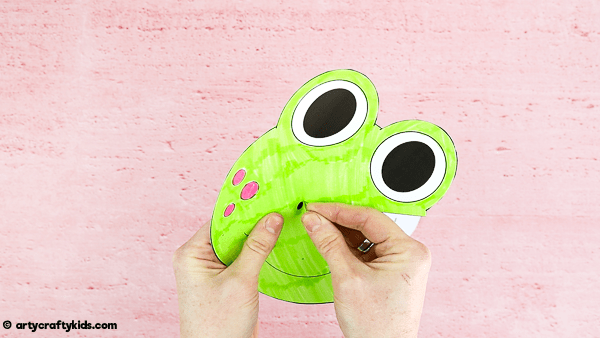 Insert the Split Pin
Make a small hole in the middle of your frog using your closed split pin.

(If it's easier, you could try putting a blob of sticky tack or Play Doh at the back of the template and pushing a sharp pencil through instead).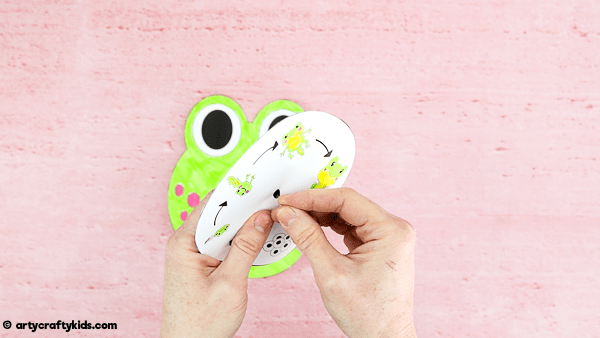 And Again Through the Life Cycle Template
Make a second hole, this time through the center of the life cycle template.
Secure the Split Pin
Pop the frog on top of the spinner, line up the holes and carefully push the split pin through.

Secure it by pulling the pins apart and pressing them flat to the back. Be careful not to pin them together too tightly though, otherwise your spinner won't spin easily!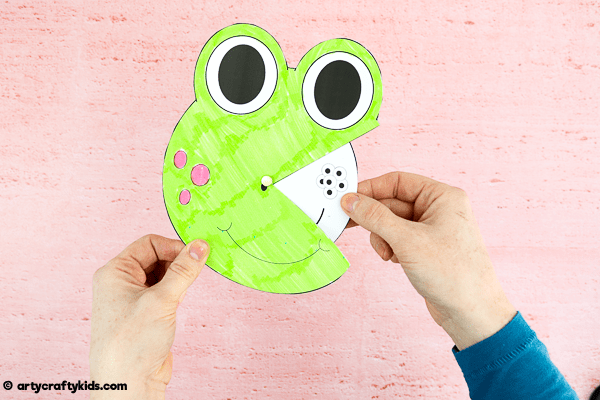 Explore the Frog Life Cycle
Spin anti-clockwise to explore the frog life cycle. From spawn to tadpole to fully formed, jumping frog – what a journey!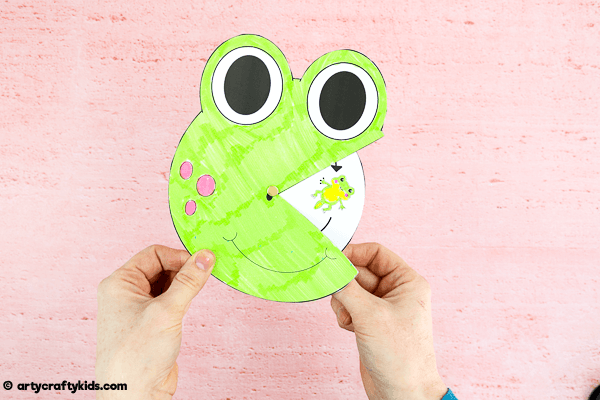 More Spring Crafts for Kids:
Bobble Head Frog Craft:
Looking for a fun, interactive and easy Spring craft for your kids? Why not have a go at our easy bobble head paper frog craft: with coloring, cutting, and folding, it's great for developing those fine motor skills and the bobble head design is really fun and engaging too.

https://www.artycraftykids.com/craft/bobble-head-paper-frog-craft/
TP Roll Spring Animals:
Spring Toilet Paper Roll Craft: We all know that things are tough out there at the moment, and if you're struggling to get out for supplies, we have the perfect craft for you. Because what do we all have plenty of? Toilet rolls of course!!

https://www.artycraftykids.com/craft/spring-toilet-paper-roll-craft/
Butterfly Lifecycle Craft:
Introduce the life cycle of a butterfly with this cute and simple, colour and stick Butterfly Life Cycle Craft.

https://www.artycraftykids.com/craft/butterfly-life-cycle-craft/
Happy Crafting!