Looking for a fun, interactive and easy Spring craft for your kids? Why not have a go at our easy bobble head paper frog craft: with coloring, cutting, and folding, it's great for developing those fine motor skills and the bobble head design is really fun and engaging too.

Make this bouncy frog craft as an extension to a 'Life Cycle of a Frog' lesson…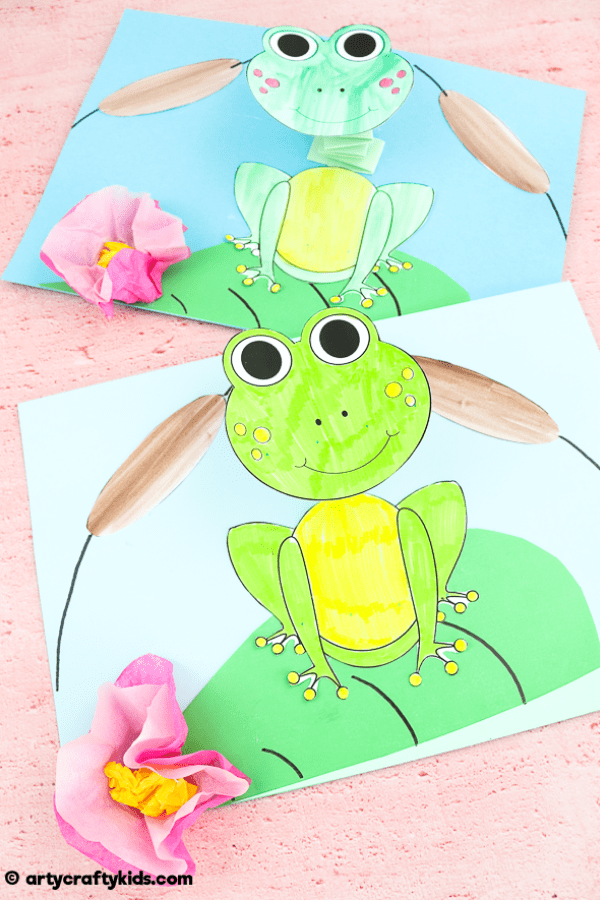 OR, you could use the craft as an alternative Easter card (the head would look great popping out of an envelope!) or you could use it to help you sing along to the Five Little Speckled Frogs nursery rhyme.
How to Make a Bobble Head Paper Frog Craft:
Our bobble head crafts add the fun factor to paper crafting; transforming flat ordinary crafts into 3D interactive creations with movement – effectively bringing their characters to life!
These crafts encourage children to add layers and additional elements to their crafts, which is great for inspiring and developing creativity.
What you Need:
White Cardstock
Blue Cardstock
Coloring Pens, Crayons or Watercolour Paint
Scrap Green Paper
Tissue Paper ( x2 pink circles and x1 yellow square)
Black Pen
Scissors
Glue Stick
Watch the Video:
Downloading the Bobble Frog Template:
The Bobble Frog template is available to members of the Arty Crafty Kids club. The template can be accessed via the link below: https://www.artycraftykids.com/product/bobble-head-frog-craft/
Not A Member?
Let's Make a Frog!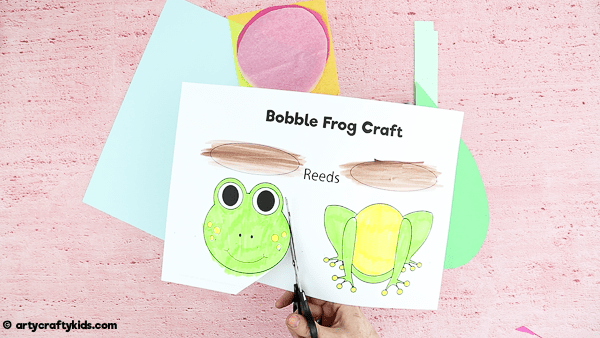 Color in the Frog Template
First, color in the frog and reeds on your template and then carefully cut each element out.
Make a Lilly Pad
Next, cut out a half lily pad shape – it looks like half a heart.

Then add a stem to the bottom of the pad, in a different shade of green.

Finish your lily pad by drawing some curved black lines out from the stem to give your leaf some depth.

Pop your lily pad into the pond, by sticking it onto a sheet of blue card.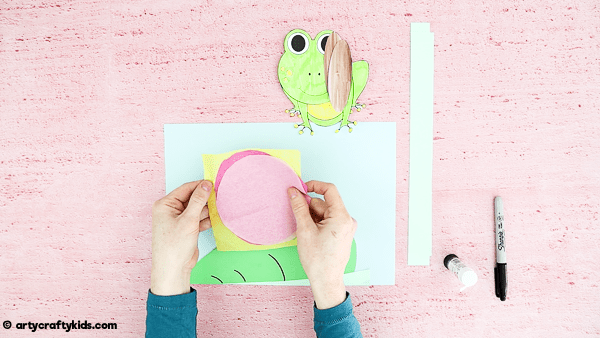 Let's Make a Lilly
Now it's time to make the pretty lily flower for your pad!

Cut a circle of dark pink tissue paper, and a second circle of lighter pink tissue paper.

Lay the lighter pink circle on top of the other, pinch the middle and fold up the edges slightly to create a frilly flower.

Then cut a square of yellow tissue paper, scrunch it up into a ball and stick it gently inside your flower.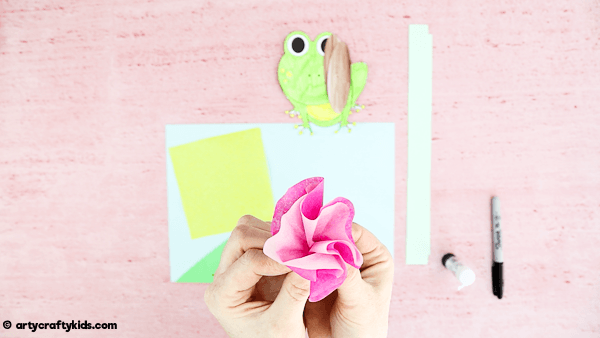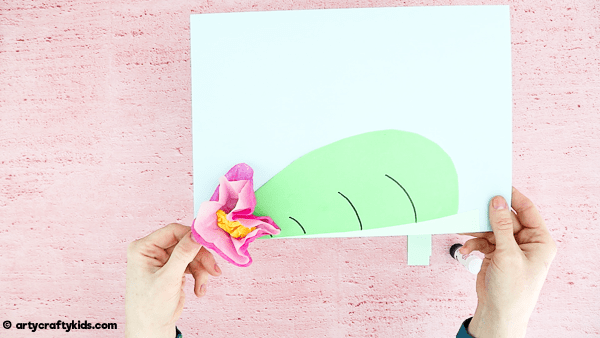 Complete the Lilly Pad
Now you have a perfect flower to stick onto the side of your lily pad.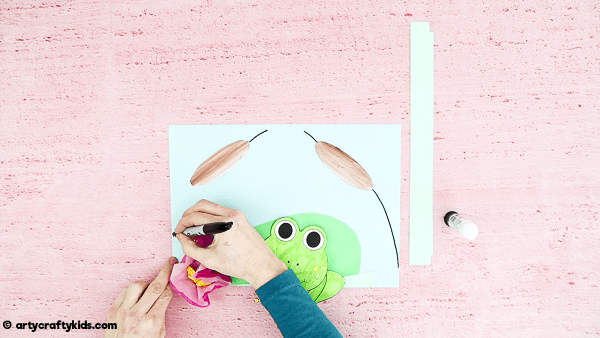 Add Reeds
Stick the reed templates onto the card and draw on their stems with black felt tip.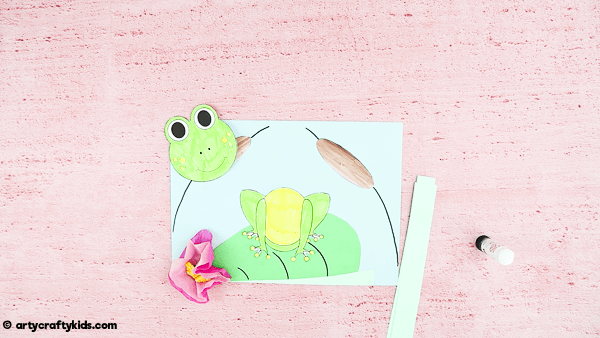 Glue the Frog's Body to the Lilly Pad
It's time for the frog to find her home, so stick her pride of place onto the lily pad.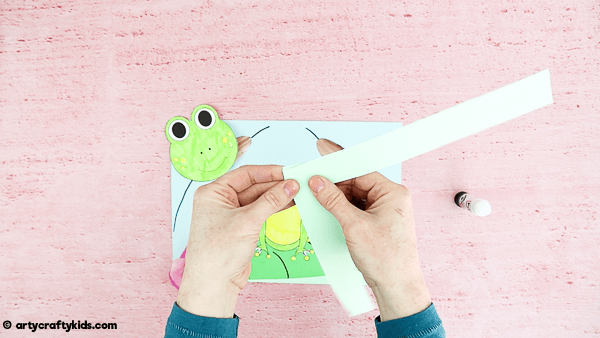 The Accordion Fold: The Bobble Spring
Using scissors or a paper cutter, cut out two even strips of colored paper. Strips of card do give a better bounce but are a bit trickier for kids to fold, so if you give card a go, a bit of adult help might be needed!
To create the right sized strip, we recommend cutting the paper from the shortest side of an A4 piece of paper – or the longest side of a piece of card – and making the strips at least an inch or so wide.
Take the two strips and position them in a 90° angle, like the corner of a picture frame (as shown above), and glue the connecting papers together.
Fold the bottom strip over the top and crease the fold along the edge. This will make the accordion fold nice and tight!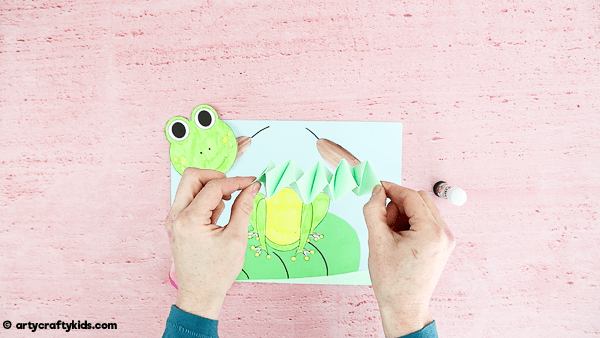 Continue this process, folding the bottom over the top and creasing, until all the paper has been folded up.
Then seal the ends with glue so your accordion fold doesn't come undone.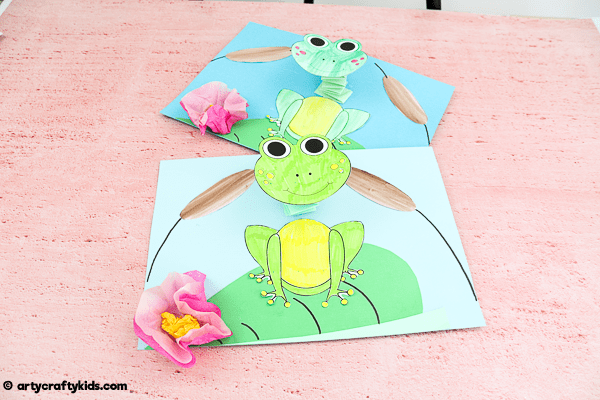 Creating a Wobbly Bobble Head
Now your spring is complete, stick one end onto the top of your frogs body, and stick her head to the other end.

Have fun as you watch your frogs head wobble and bounce with all the joys of spring!
More Spring Bobble Crafts for Kids:
We love our interactive bobble crafts. They promote both craft and play, and fully engage children into every aspect of the creative process.

While creating the Bobble Head Paper Frog Craft, have a go at these popular bobble Spring crafts for kids!
Bobble Bee's Paper Craft
Kickstart the Spring term with this adorable Bobble Bee Paper Craft. With the added bouncy movement, bees literally pop from the page as if they're buzzing around a beehive; making this a super fun and engaging Spring craft for kids to enjoy.

https://www.artycraftykids.com/craft/bobble-bee-paper-craft/
Bobble Butterflies Paper Craft
This Bobble Butterfly craft is so adorable and easy to make with the kids! With the added bounce from the bobble, the butterflies will flutter above the gorgeous spring flowers.

https://www.artycraftykids.com/craft/bobble-butterfly-craft/
Bobble Head Lamb Paper Craft
Looking for Spring and Easter themed art and craft ideas? This adorable 3D Spring Lamb Craft plays on the image of new lambs bouncing around the fields at the beginning of Spring.

https://www.artycraftykids.com/craft/3d-spring-lamb-craft/