Be prepared for some serious cuteness within this collection of easy Winter crafts for kids.
With a selection of winter animals and snowmen to choose from, along with a some gorgeous snowy art projects you will have plenty of inspiration to keep the kids busy this winter!
Winter art and craft projects can keep the kids busy when it's not as easy to play outside.
This tailored selection of kids winter craft projects are perfect for having fun and learning through art and craft.
With kids benefiting from the process of cutting, sticking, glueing, drawing and painting (and more!) all of which help to improve fine motor skills, develop coordination and their problem solving skills.
As always, I like to keep things simple and offer choice.
As you work through these easy winter crafts, you will notice that some ideas really are super duper easy – ideal if you're looking for quick toddler and preschool appropriate winter craft ideas.
A couple are a little more challenging, which is handy if you have multiple kids like me, or are classroom based, with varying abilities, attention spans and interests!
There is something for everyone and all age groups of children!
I hope you love each and every art and craft idea as much as I do, and discover some wonderful new blogs along the way.
So without further adieu, shall we take a look at the easy winter crafts for kids below, and look out for the bonus winter arts and crafts at the end!
16 Easy Winter Crafts for Kids Ideas
Egg Carton Penguins | One Little Project
These egg carton are really easy to make, and you can switch out the materials for what you have on hand… continue reading…
Cardboard Winter Scene | Mr Printables
We have a lovely deer and a big moose from a winter forest, plus a polar bear and huskies visiting from the arctic… continue reading…
Kickstarting our Winter crafting with this easy peasy Winter Bubble Wrap Tree. Depending on the age of your child, you may want to help them out… continue reading…
Polar Bear | Crafty Morning
Start by painting a whole sheet of white paper with blue watercolors to make it look like ice. Let dry… continue reading…
Mixed Medium Winter Paintings | The Stay at Home Educator
'Tis the season for winter themes in preschool, and these winter paintings are perfect for young toddlers as well as preschoolers. This is winter process art at its best… continue reading…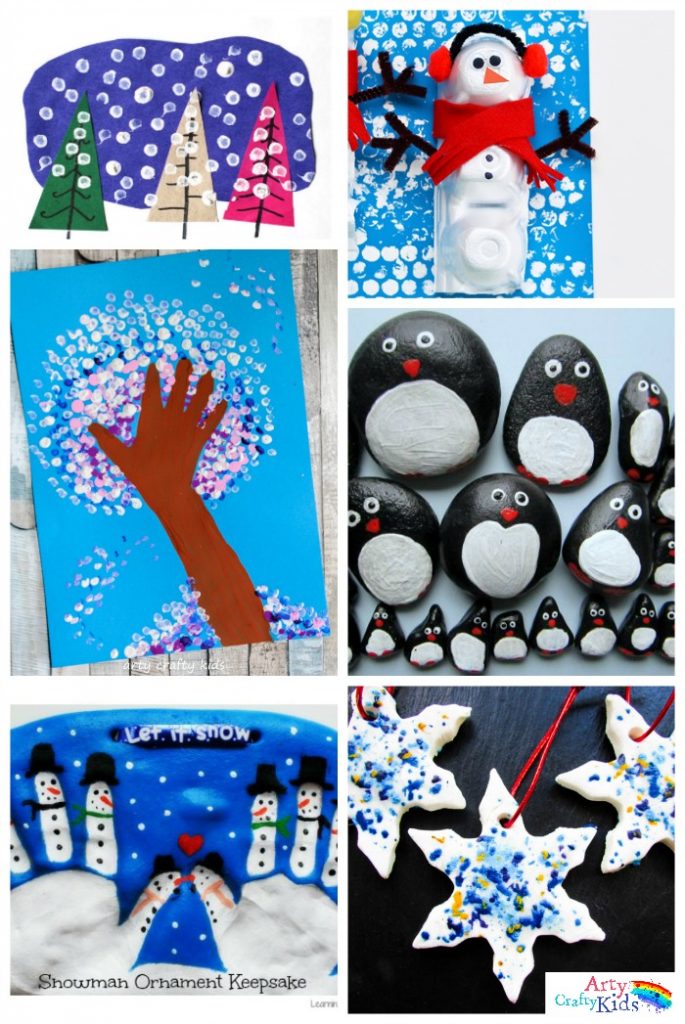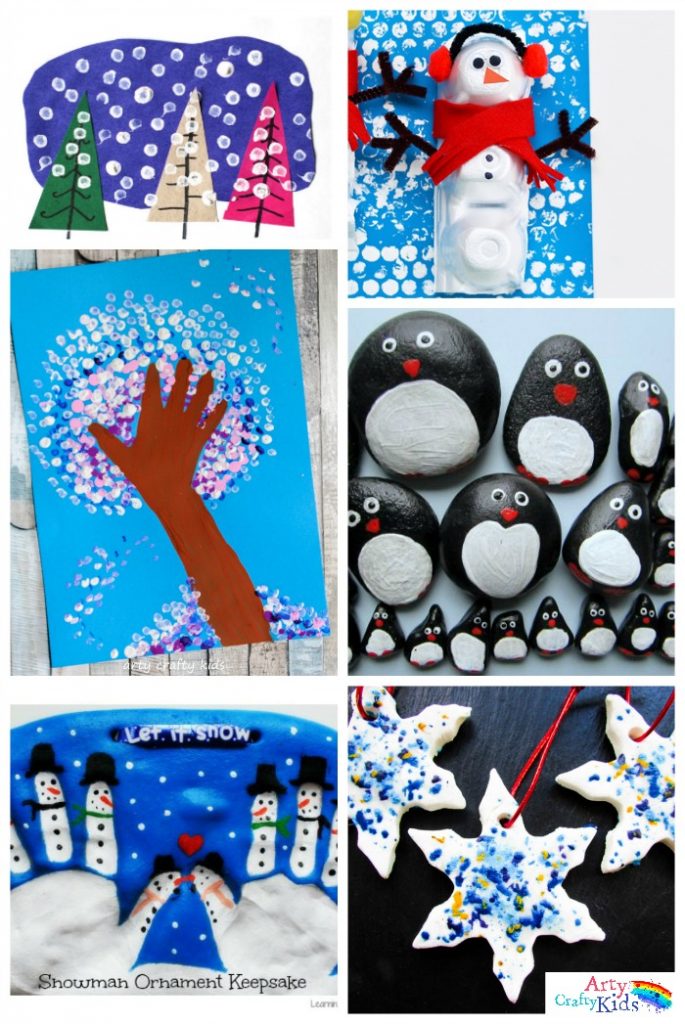 Egg Carton Snowman | I Heart Arts n Crafts
An easy snowman craft that's perfect for recycling those old egg cartons… continue reading…
Winter is on its way and as a follow-up to our hugely popular Autumn version, we now have a Winter Handprint Tree to show you! I adore how this turned out… continue reading…
Pebble Penguins Story Stones | Adventures of Adam
Taking inspiration from the story we created our own Hiku Penguin Story Stones along with a Hiku Sensory Bin… continue reading…
Handprint Snowmen | Learning and Exploring through Play
Christmas is always a great time for crafts. There are so many wonderful things to enjoy making and creating with your children… continue reading…
I cannot believe how easy these Homemade Clay and Melted Crayon Snowflake Ornaments are to make! continue reading…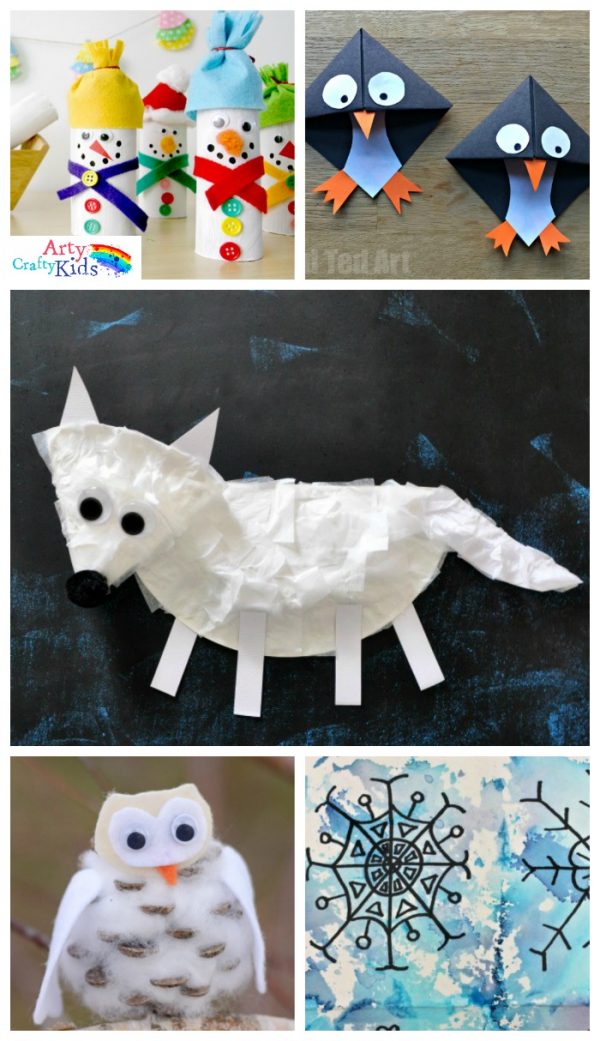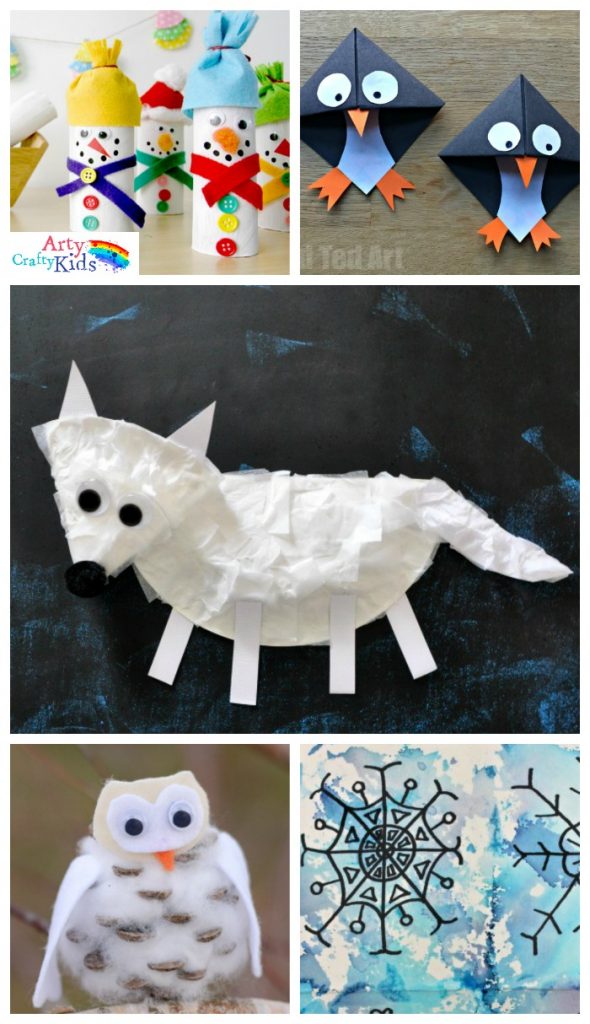 Origami Penguin Bookmark | Red Ted Art
This paper penguin is based on the classic Origami Bookmark, which is then decorated it to turn it into the easy Penguin Origami Bookmark design! continue reading…
This is the perfect craft for encouraging creativity, especially as kids love having free reign to craft materials to explore and play with… continue reading…
Artic Fox | I Heart Crafty Things
We recently watched a show about arctic animals and my kids thought the Arctic Fox was adorable. We decided it would be fun to make one as a craft so we put together this Paper Plate Arctic Fox Craft… continue reading…
Snowy Pinecone Owl | Easy Peasy and Fun
I wanted to do these for a while now and I'm pretty excited at how this pinecone winter owls craft turned out! continue reading…
More Easy Winter Crafts!
Since publishing 16 Easy Winter Crafts for Kids, I've discovered a few more awesome crafts that I'm sure you will love!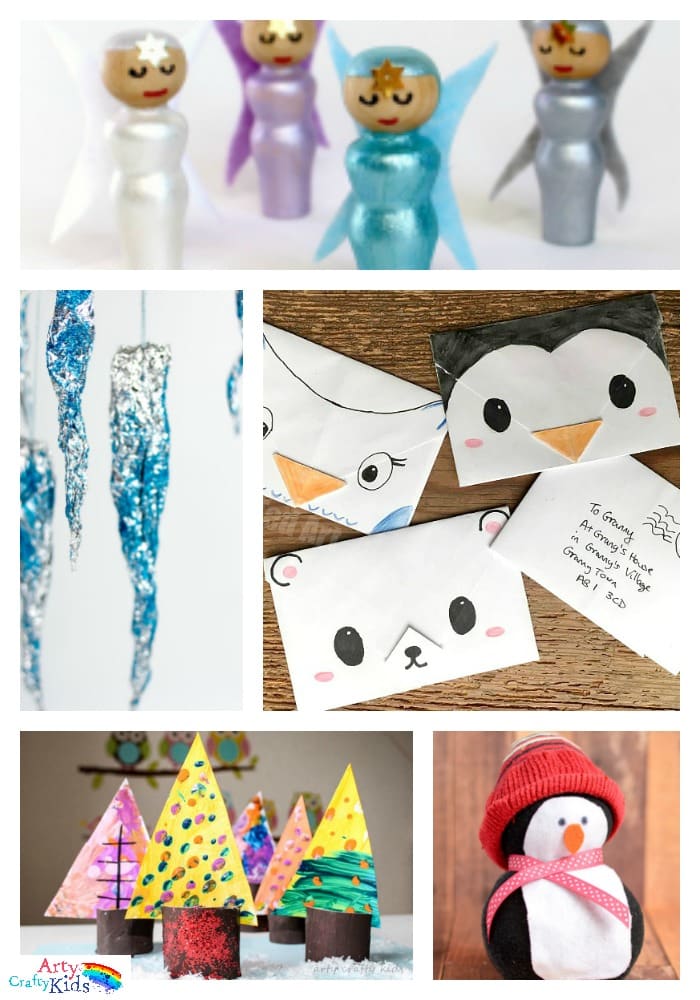 I hope you've loved the variety and will enjoy exploring the various art processes and techniques within this gorgeous wintery collection.
And if that wasn't enough and would like even MORE inspiration, make sure you check out Winter Art Projects for Kids!
PIN for later: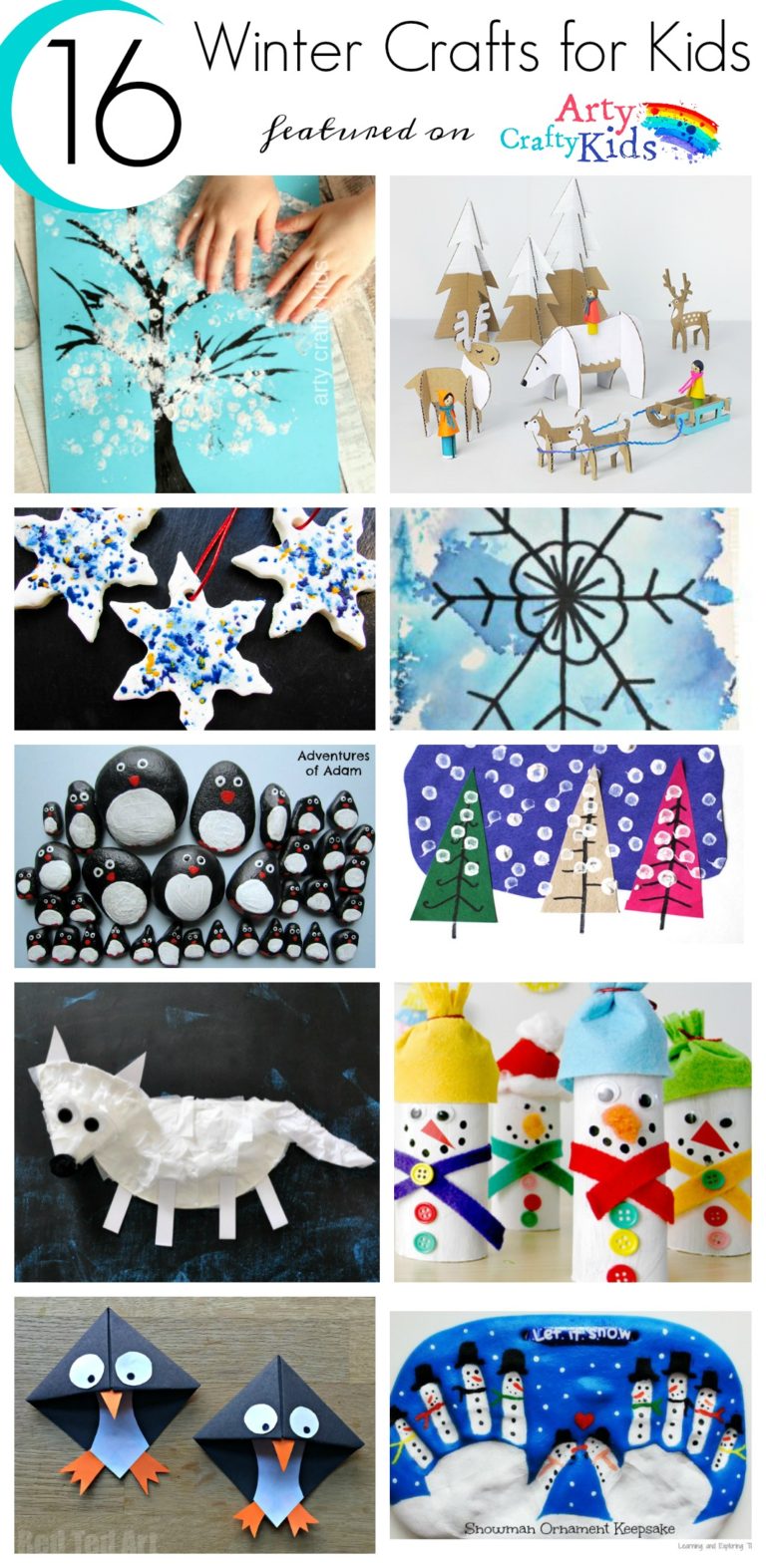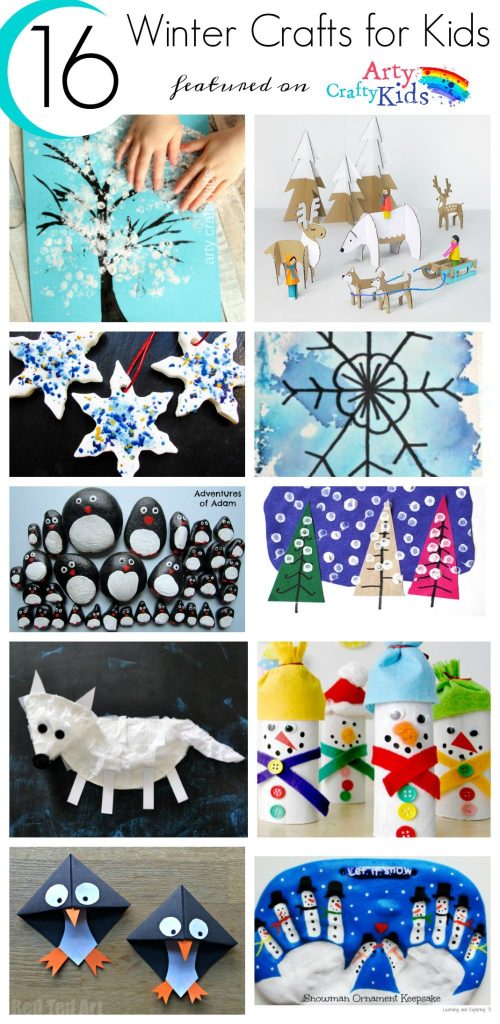 Winter Crafts
Winter crafts can warm and brighten the bleakest of days with the joy they bring to those who craft them!
And our Winter Crafts include the following:
Winter scenes & snowflake wonderlands
Winter animals: polar bears, penguins, owls and reindeer
Imaginary friends: snowmen, elves, fairies and angels
Bonus Winter Art & Craft Ideas for Kids
Winter comes every year and every year we have more and more fun Winter art and craft ideas to share with you!
3D Polar Bear Winter Craft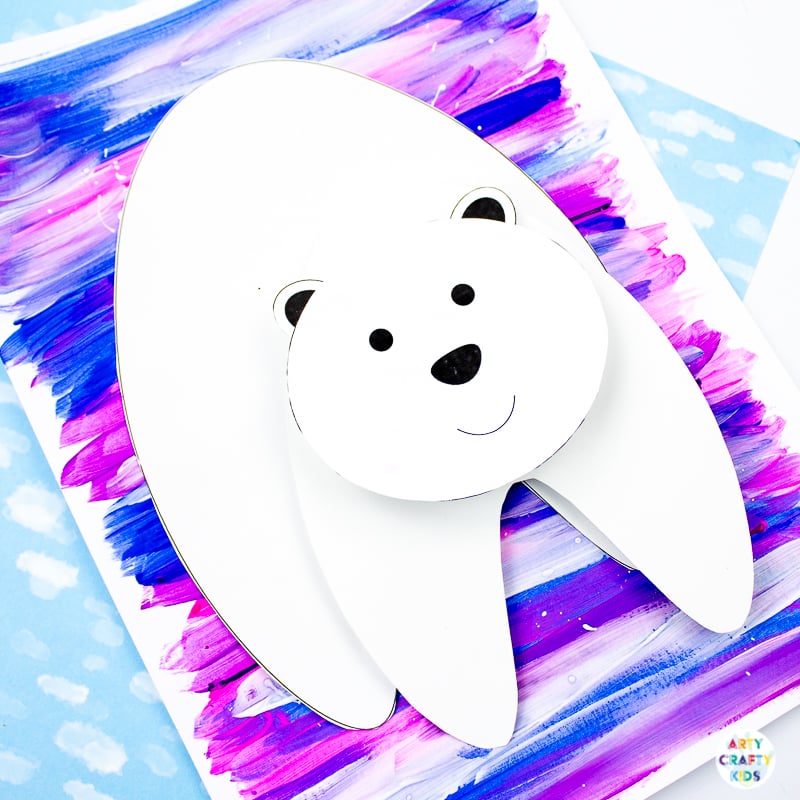 This happy 3D Polar Bear Winter Craft uses a paper accordion technique to create a wobbly head and 3D effect, which adds a playful element to the creative process that kids will love
Arty Crafty Kids will need to use their problem solving skills to assemble the shapes, considering measurement and space during the creative process.
Fine motor skills are also given a thorough workout! The large shapes are easy to navigate and handle, and the paper folding aides co-ordination and dexterity.
Read full 3D Polar Bear Craft Post here…
Snowmen Peg Ornaments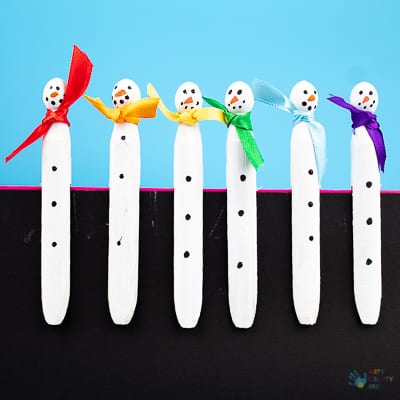 A simple Christmas decoration craft for kids to make themselves.
With just a few basic steps to follow, kids can craft until their heart's content; using their creativity to add personality and colour to each of their snowmen.
A simple adaption will make it easy for these crafted snowmen to be hung up on the Christmas Tree, adding that special charm that only comes with kid-made crafting.
Read full Snowmen Peg Ornament post here…
Polar Bear Winter Art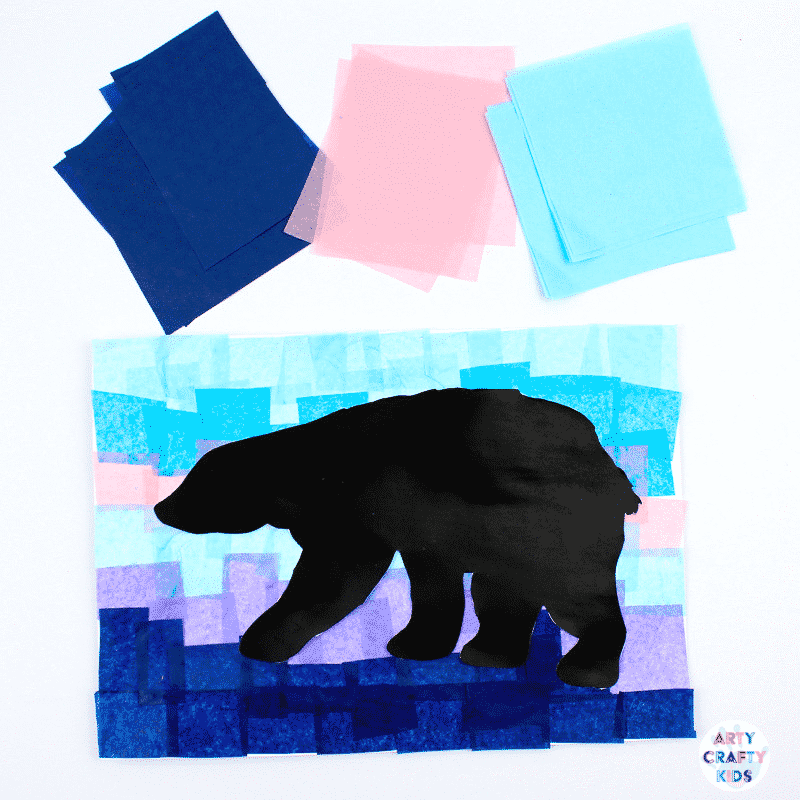 This printable polar bear winter art project offers the perfect fine motor workout for both little and big hands.
With lots of cutting and sticking involved to create a gorgeous Winter backdrop for their polar bear silhouette. Sticking Winter Fun!
Read full Polar Bear Winter Art post here…
---
Arty Crafty Kids Members Area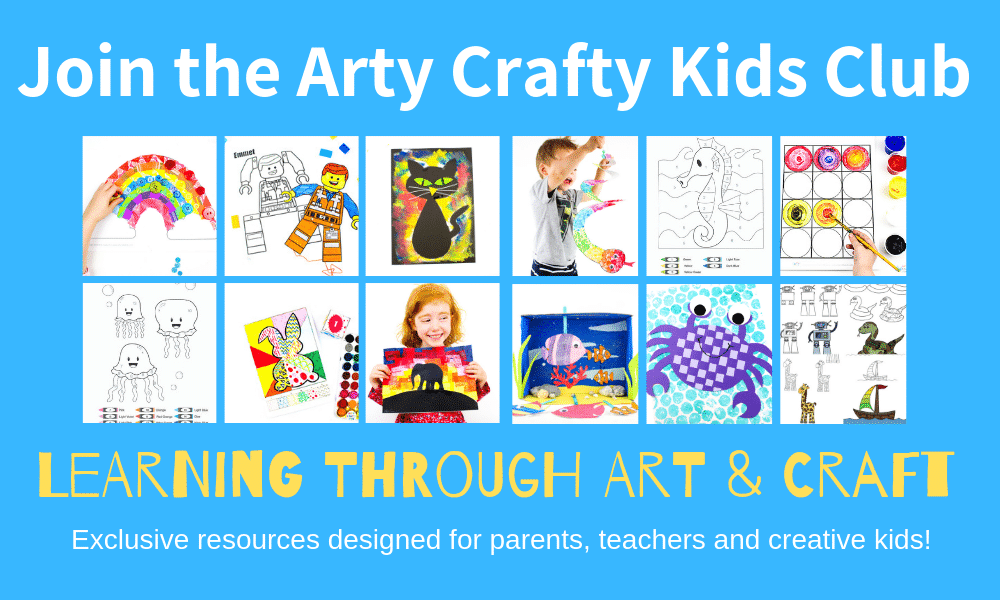 Make learning fun and save time by accessing our full library of printable templates!