Autumn Counting and Number Trace Worksheets 1-10: School is back in session, and you're sure to be looking for fun and simple ways to help your little ones, at home and in the classroom. If you have preschoolers or children in an early years school setting, then these Autumn-themed counting and writing printables are perfect for you.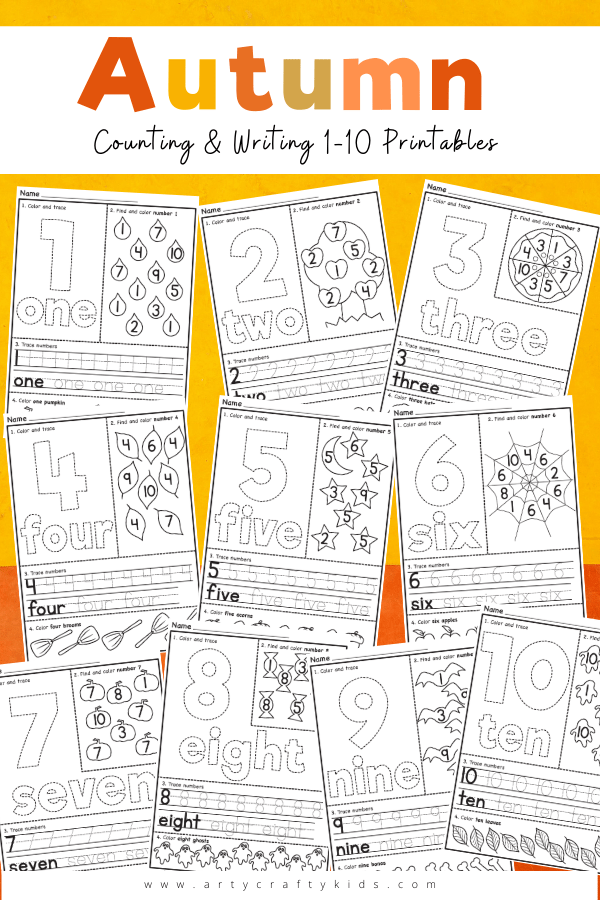 Our bold and easy to use templates help children to build confidence in their numbers in fun and different ways. Younger children can use them for number recognition and shape formation, and older ones can practice writing and problem solving skills. They can be used on their own, or combined to create basic math puzzles, and children of all ages will love coloring them in, too.
The lovely Autumn theme also brings an extra dimension of fun and learning that can be used when they're out and about. If they go trick or treating, can they find seven pumpkins, just like on their worksheet?
And the best thing is that they can be used independently, so you get five minutes peace!
How to Download the Autumn Counting and Tracing Number Worksheets 1-10
The Autumn Counting and Number Trace worksheets are available to members of the Arty Crafty Kids Club. Join the members area to access our complete online library of art and craft templates.
Members can access the worksheets here: https://www.artycraftykids.com/product/autumn-themed-counting-and-number-tracing-worksheets/
Members will need to log in to access the templates!
Not A Member?
More Educational Printables for Kids:
All About Me Drawing Prompts:
The All About Me book is filled with fun drawing activities for kids that focuses on emotions, self image, drawing facial features, clothing design and crazy hair play.

https://www.artycraftykids.com/art/all-about-me-drawing-activity-for-kids/
Alphabet Activity Pages for Kids
Make learning the ABC's fun for your preschooler with these engaging printable A-Z Alphabet Worksheets.

These no-prep letter worksheets include traceable letter writing, letter colouring and super fun letter activities that change from page to page – this will keep children engaged throughout their alphabet practice and reinforce letter recognition and reading.

https://www.artycraftykids.com/alphabet-resources/alphabet-worksheets/