This cute and simply designed collection of Winter Color by Number Worksheets are suitable for children in preschool, early years education and beyond, and are a perfect addition to a Winter lesson plan either at home or at school.
The NO-PREP mini bundle of five Winter Color by Number pages will help reinforce basic number and color recognition in preschoolers.
5 Polar Bear and Penguin Winter Color By Number Worksheets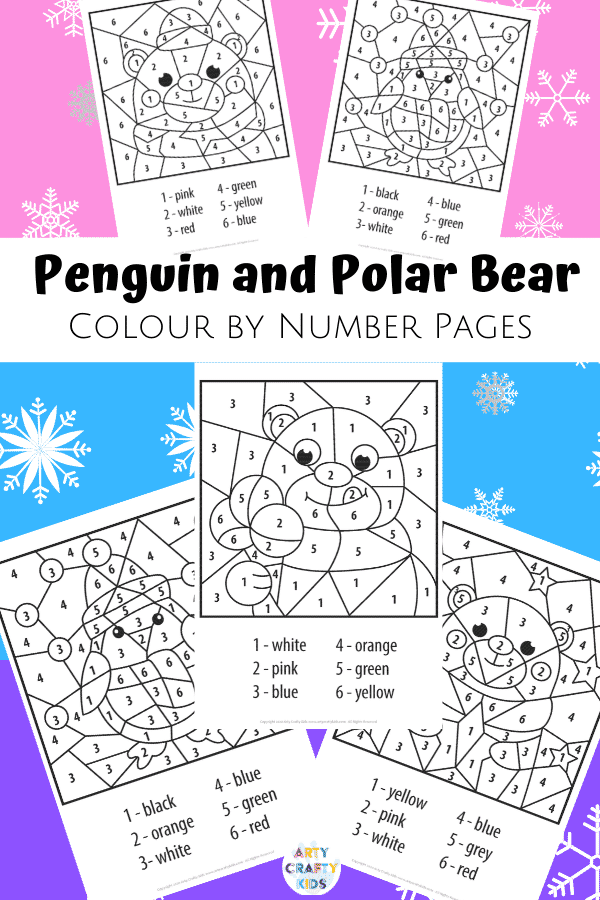 Kids will love colouring our hand-drawn and playfully crafted Polar Bear and Penguin worksheets. They're so cute, kids will have fun while they're learning and the completed colouring pages will look great on display!
How do I Download the 5 Christmas Colour by Number Worksheets?
The Polar Bear and Penguin Color By Number Worksheets are available to members of the Arty Crafty Kids online library of art and craft templates.
The worksheets can be accessed via this link: https://www.artycraftykids.com/product/polar-bear-and-penguin-color-by-number-bundle/
Members will need to log in to access the templates!
Not A Member?

More Printable Worksheets for Kids
Members to the Arty Crafty Kids Club can also download these engaging alphabet resources for use at home or within the classroom.
Alphabet Tracing Worksheets for Kids
Make learning the ABC's fun for your preschooler with these engaging printable A-Z Alphabet Tracing Worksheets.

https://www.artycraftykids.com/alphabet-resources/alphabet-tracing-worksheets/

Alphabet Worksheets
These no-prep letter worksheets include traceable letter writing, letter colouring and super fun letter activities that change from page to page – this will keep children engaged throughout their alphabet practice and reinforce letter recognition and reading.

https://www.artycraftykids.com/alphabet-resources/alphabet-worksheets/
And while you are here, check out these popular Winter Crafts for Kids
3D Polar Bear Craft for Kids
It's wobbly head and 3D effect adds a playful element to the creative process that kids will love.

Arty Crafty Kids will need to use their problem solving skills to assemble the shapes, considering measurement and space during the creative process.

https://www.artycraftykids.com/craft/3d-polar-bear-winter-craft/
Interactive Dancing Penguin Craft
This little bundle of penguin cuteness dances and moves on the snowy floor; adding an interactive dynamic that enhances the creative process. In simple terms, this is a penguin craft that inspires children to play!

https://www.artycraftykids.com/craft/interactive-paper-penguin-craft-inspired-by-happy-feet/