Learn how to draw a shark with our fun and easy to follow "Shark How to Draw" printable guide! Our how-to makes drawing sharks super simple and paired with the flow drawing technique, this friendly shark can be drawn in just a few easy steps.
Flow drawing is all about drawing with simple lines and shapes that are often repeated to create definition. This technique is ideal for kids' and beginners, for it focusses on engaging in the process and developing natural rhythms in creation. Children will use this process to form the simple outline of their sharks and are encouraged to use their imaginations to make the design their own.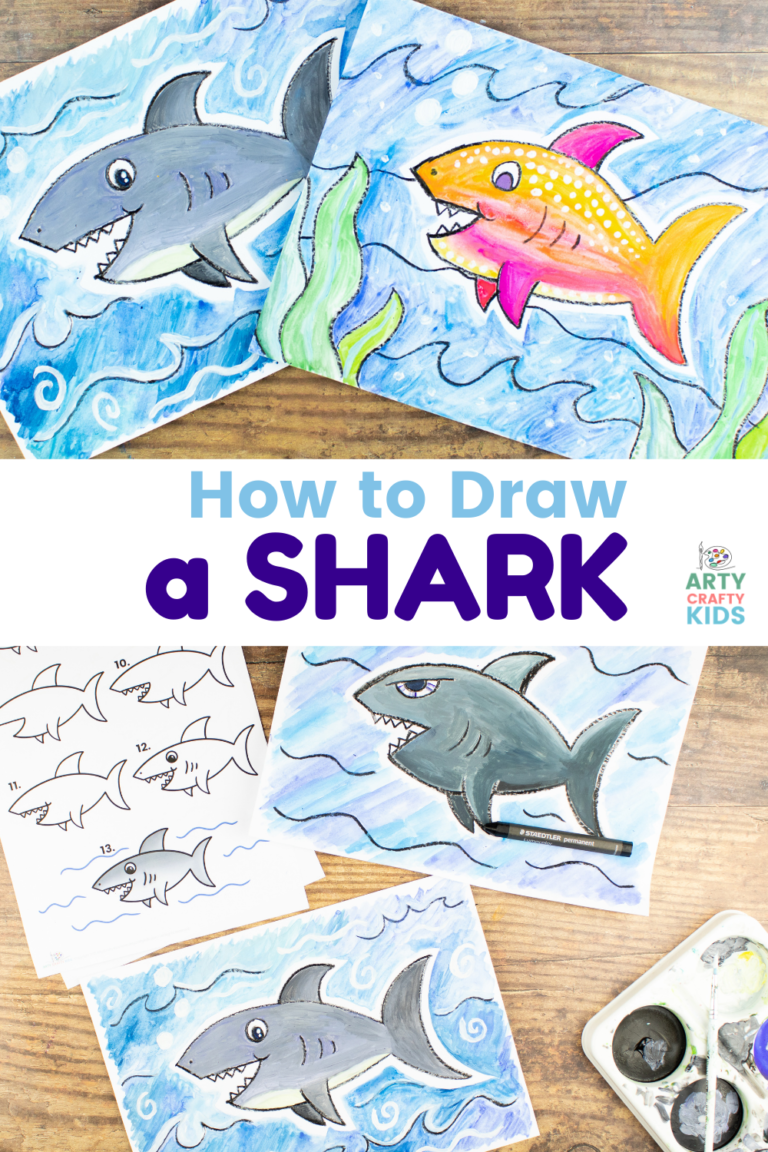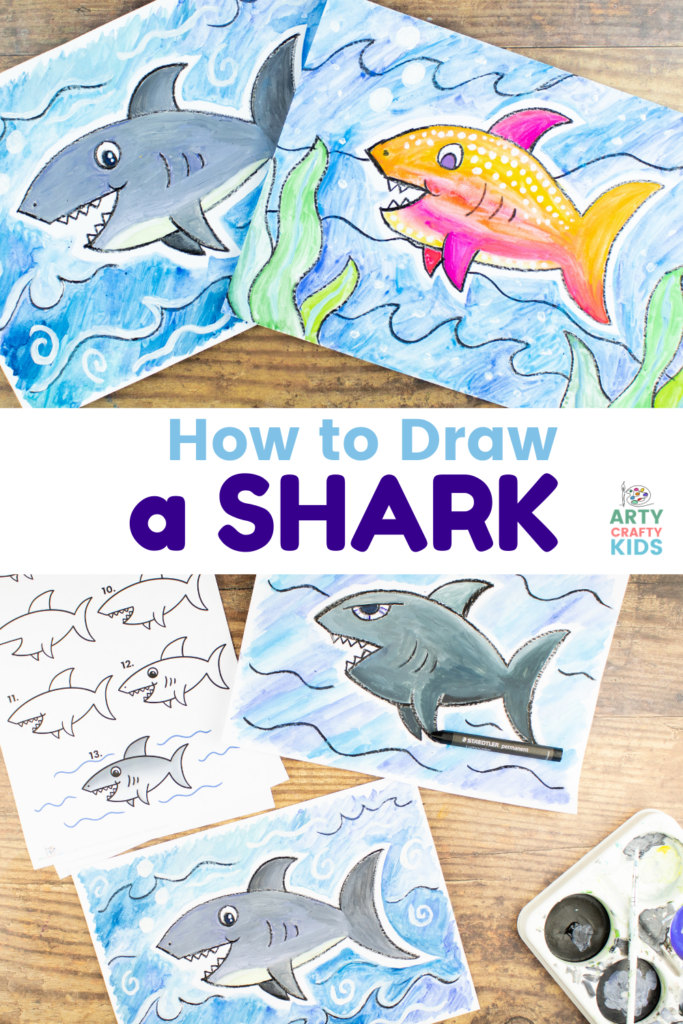 Sharks are a fantastic subject for the children to draw, particularly in a cartoony style as they can express all sorts of different emotions with just a few alterations to mouth and eye shapes. For example, an open large eye will create the appearance of a friendly shark, while a half eye with a harsh straight line may suggest the opposite. Observing and exploring these subtle differences expands the art project and engages children in thinking about the characterization in their creativity.

How to Draw a Shark – Step by Step Drawing Tutorial
Materials:
White Card Stock or Mixed Media Paper
Wax Crayon or Oil Pastel
Acrylic or Watercolor Paint
Black Marker Pen (Optional)
Acrylic or Chalk Pens (Optional)
Download the Shark How to Draw Printable
The templates are available to members of the Arty Crafty Kids club.
Members will need to log in to access the templates: https://www.artycraftykids.com/product/flow-drawing-shark-tutorial/
Not A Member?
Watch the Shark How to Draw Video:
Let's Draw a Shark!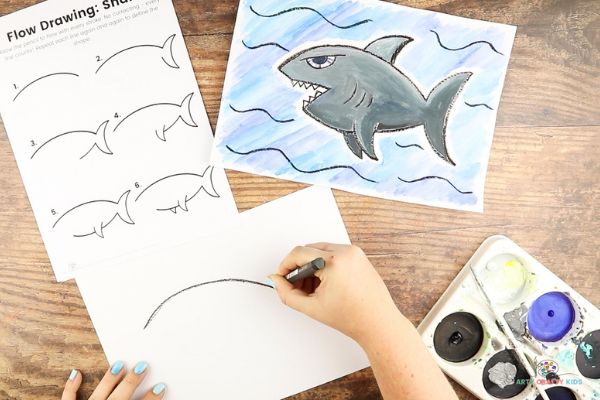 Draw a large Arch
Grab a crayon or an oil pastel and let's start by drawing a large arch in the middle of the sheet.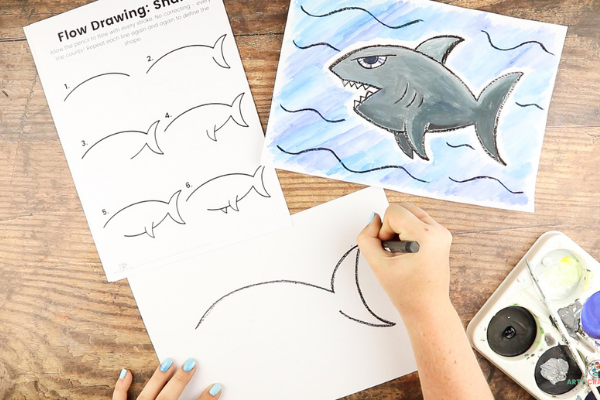 Draw the Shark's Tail (Caudal) Fin
Next, add three further arched lines to create the tail fin. Remember, if the first attempt doesn't feel quite right, flow back on the lines and repeat to gradually build and define the shape.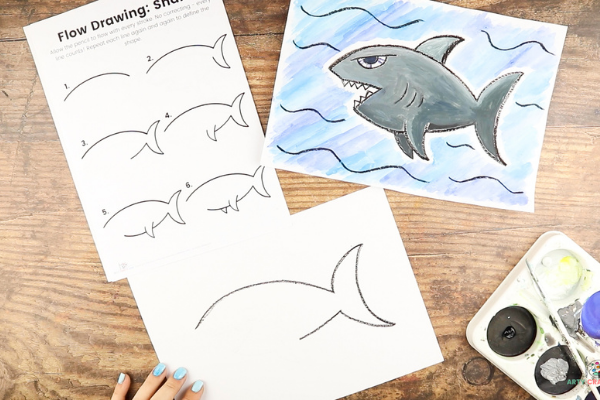 Draw the Shark's Underbelly
Draw a short line with a little curve away from the tail fin.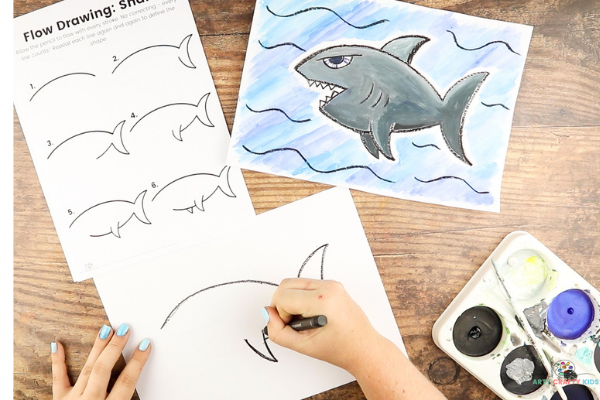 Draw the Shark's Pectoral Fin
And now add an upside down curvy triangle. This will become the shark's pectoral fin.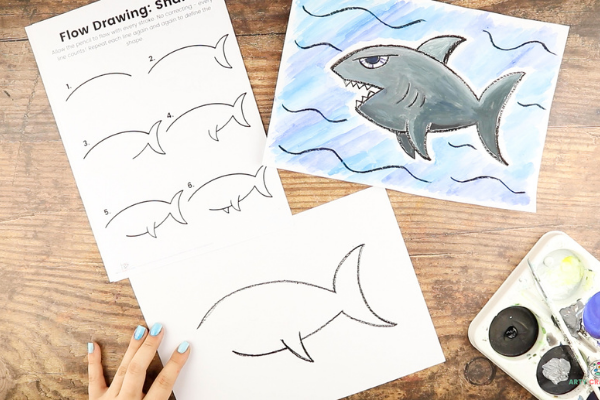 Draw the 2nd Half of the Underbelly
From the pectoral fin, draw the second half of the shark's underbelly. At this step, your Arty Crafty Kids may notice the shark is drawn with curved/arched lines that often mirror each other.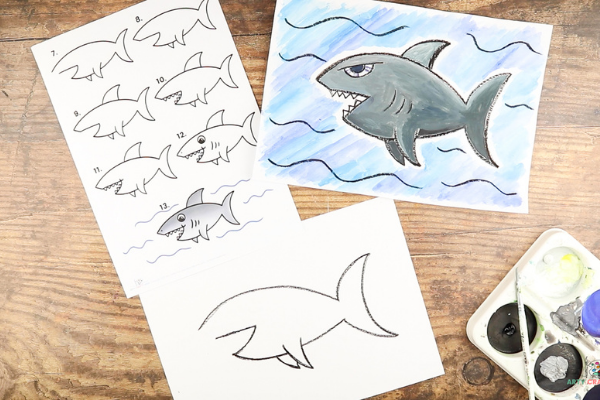 Draw the Shark's Mouth
Next, draw an inverted triangular shape to create the shark's mouth.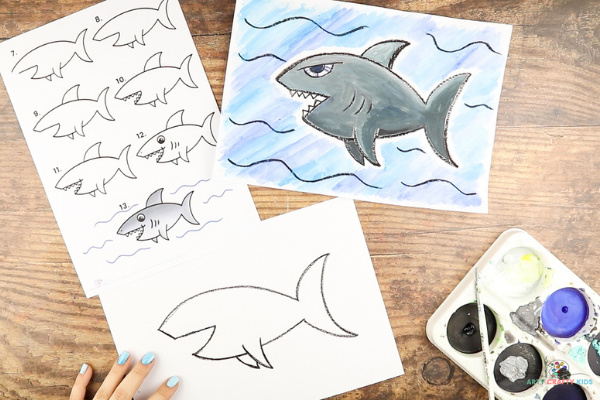 Complete the Shark's Outline
Now, just one line is left to complete the shark's outline.

Join the mouth and upper arch with a short single straight line, creating the well known point of a shark's nose.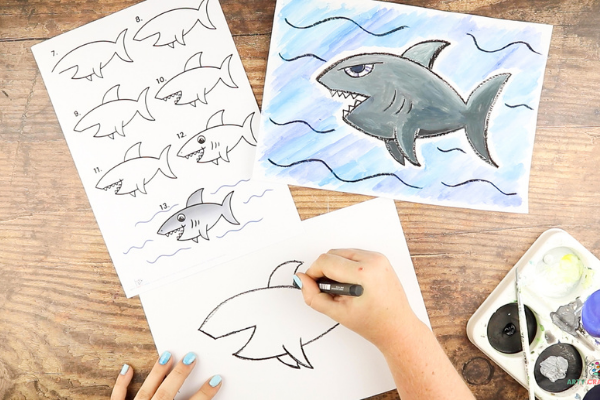 Draw the Shark's Dorsal Fin
Draw the signature dorsal fin.
Add an Eye, Shark Teeth and Gills
Next, add an eye, teeth and gills.

Will your Arty Crafty Kids shark be smiley or mischievous? Encourage your children to play with the shark's expression. Before they draw the final elements, perhaps they could spend a moment thinking about the expression/emotion they would like to convey.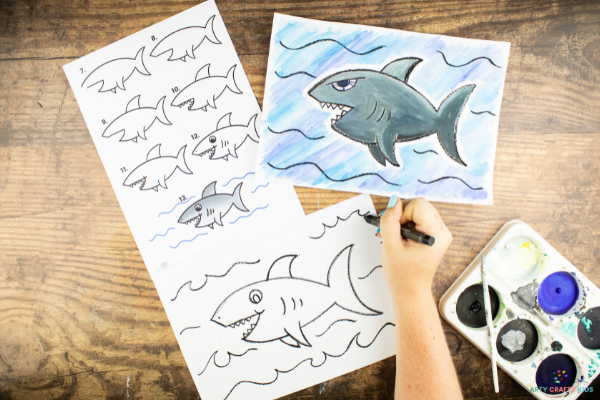 Create an Under the Sea Background
Before painting the design, add a few waves to background.

They could be wavy or zig-zaggy lines.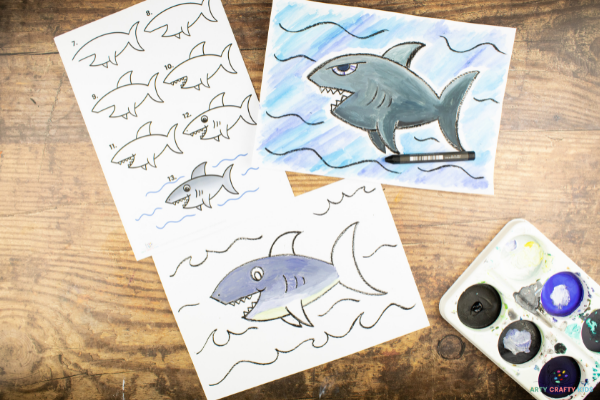 Let's Play with Watercolors!
Great white sharks have a distinctive white belly.

Here, our shark has been painted with watercolors using a mixture of grey and blue tones. Notice how the color progresses from dark to light…

To recreate this tone, Arty Crafty Kids can experiment with the water to paint ratios. Less water to paint will create solid dark colors, while extra water will thin and spread the paint, thus creating lighter shades.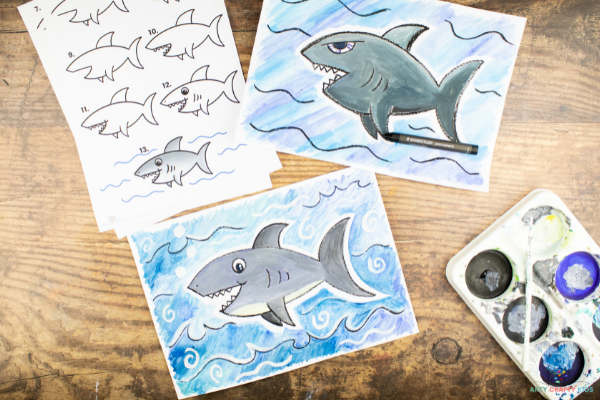 Let's Play with Resist Art
To add definition to the shark and between the waves, outline the black lines with a white crayon.
Now brush the watercolor paint across the black and newly drawn white lines.
Wax repels water, so while your Arty Crafty Kids may find the white lines a little confusing at first, the lines will suddenly come to life once the paint is applied!
Continue applying lots of blue and purple shades to the sea, while experimenting with different water and paint ratios.
The How to Draw a Shark Tutorial is Now Complete!
Now your Arty Crafty Kids should have fabulous drawing/painting of a shark!
For more under the sea inspired crafty fun, take a look at our Shark Silhouettes and Swimming Shark Craft.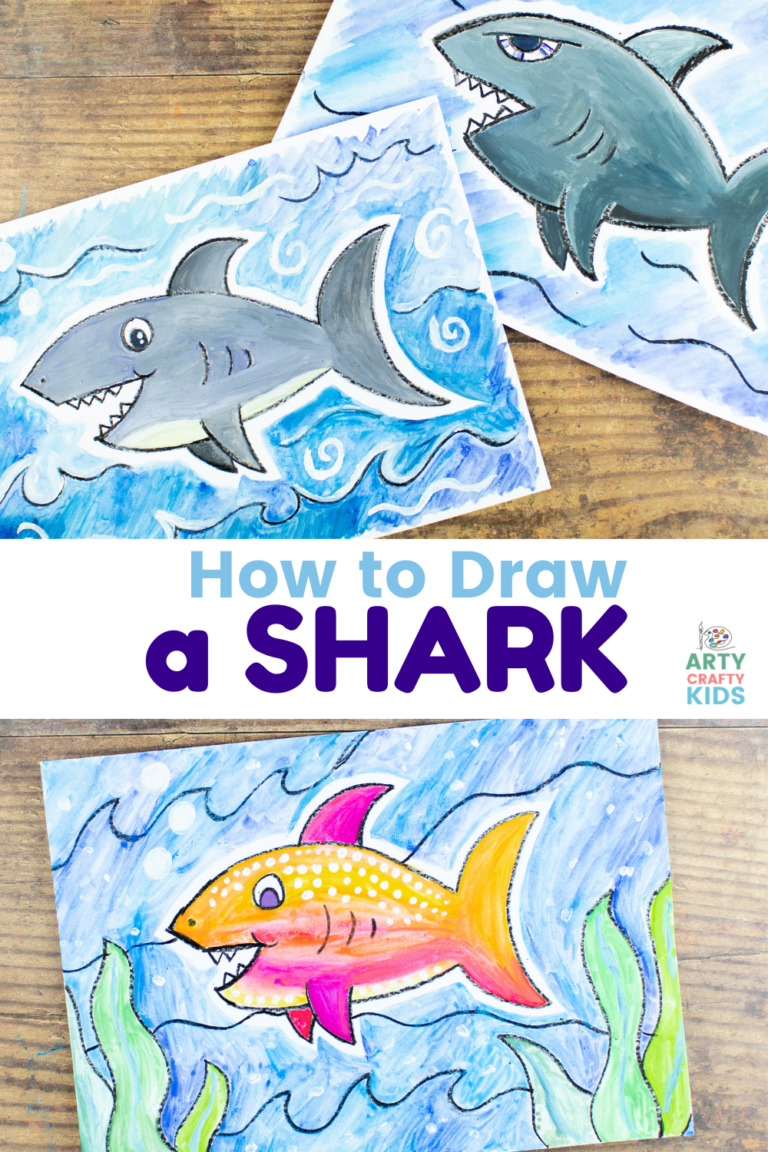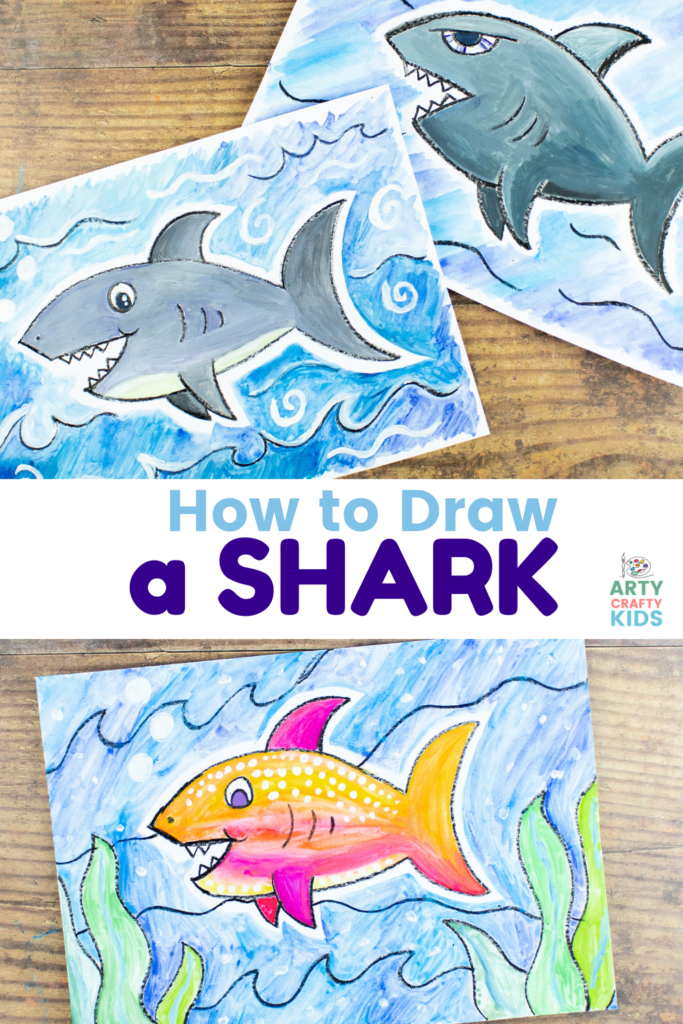 Learn More about the Flow Drawing Technique:
What is Flow Drawing?
Flow Drawing is an art technique developed by us to encourage children​ to understand shapes and create illustrations, in a much 'freer' way.
By removing restrictions, flow drawing encourages children to fully engage in the moment and discover their natural flow, making every line count and bringing mindfulness to their creative process.
You can think of the flow drawing technique as a 'how to draw' guide with a difference – children won't just draw a picture, they'll create a unique work of art, right from their soul.
Flow Drawing Benefits:
Although the process of flowing more naturally in art might seem a little alien to children at first, it's really worth encouraging them to have a go. Flow drawing has so many benefits and helps little hands and minds to:
Explore simple shapes and how they work together to create larger forms
Discover their natural flow and rhythm through repetitive movements
Learn how to combine mediums, with a fun and easy approach
Build confidence in their own creative ability
Combat 'perfection-seeking' in art, providing a much needed alternative to rigid 'how to draw' guides
Bring mindfulness to the creative process and boost mental health
Foster a love of art and self-expression.
How to Draw Tutorials for Kids:
If you have loved our shark hot to draw guide, take a look at these popular tutorials!