Resist art is a fun and easy technique for kids, and a great introduction into watercolours! Today I have the pleasure of showing you our glue resist & watercolour Easter Egg!
I love the way the glue adds another dimension to the painting, almost lifting the egg from the page.
Hot Glue is quickly becoming one of my favourite resist materials. We've previously used white crayon and oil pastels with fabulous results, however the kids love running their fingers along the lines of dry glue, offering a sensory element that my children seem to enjoy.
I find that the watercolour wash against the glue is lovely and clear with this material, and my preschooler likes the simplicity of following the lines.
If you don't have a hot glue gun to hand, do not let that deter you from this Easter craft as a 'resist' can be creating using pva glue from a squeezey bottle or a white crayon/oil pastel – sometimes it's about working with the materials you have available!
Glue Resist & Watercolour Easter Egg
This post contains affiliates
Supplies:
Watercolour Paper
Hot Glue Gun OR PVA Glue, White Crayon/Oil Pastel
Watercolour Paints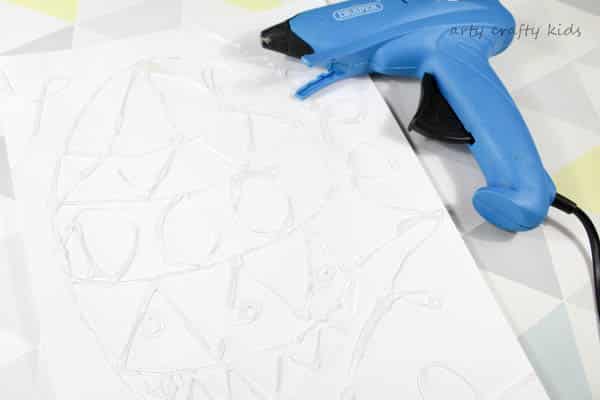 Using a hot glue gun (or alternative resist material), create an outline of an Easter Egg onto the watercolour paper.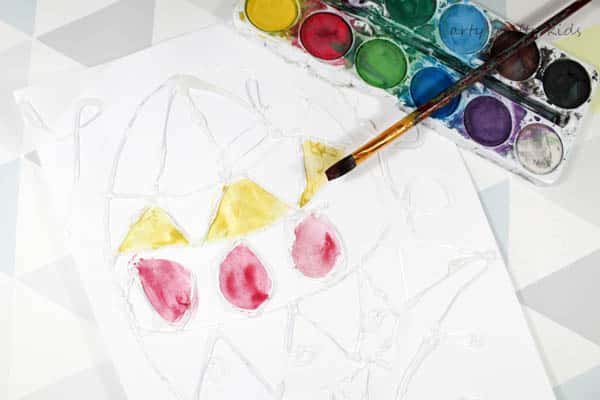 Begin filling in the Easter Egg with watercolours.
If your arty kid is new to watercolours, there are two techniques they could try..
Sweep a small amount of water directly onto the paper and then add the watercolour paint. This will create softer, blendable colours,
OR
For virbant, stronger colours, simply add the water to the brush, choose a colour and then begin painting without the water wash.
Maybe your arty kid could experiment with both techniques to see what they prefer.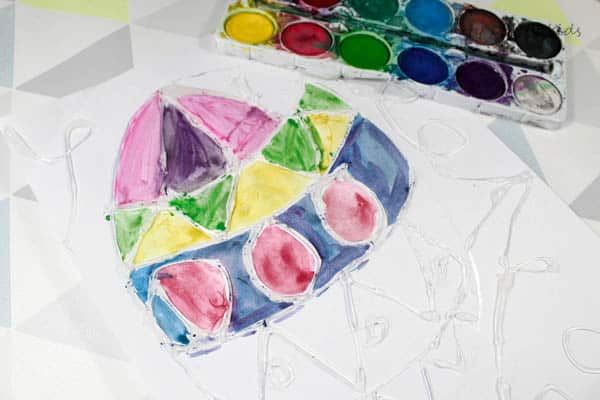 Continue painting until the Egg is bursting with colour.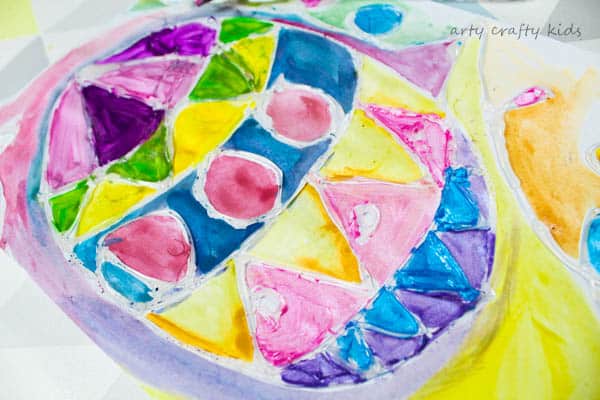 And why stop with the egg? my kids decided to fill the entire page with paint, with gorgeous colourful results!
I hope you've enjoyed our glue resist and watercolour Easter Egg and to see how this technique can be applied using black glue, take a look at 'I Heart Crafty Things' beautiful Easter Egg.
For more Easter inspiration, take a look at our 9 Fun Easter Crafts for Kids and 25 Spring Crafts for Kids!
Pin Glue Resist & Watercolour Easter Egg for later!