Yarn Wrapped Turkey Craft: Our yarn wrap crafts are always really popular because they're so simple, yet highly effective – and they're made from scraps!
So if you tried our yarn wrapped monsters at Halloween and are looking for a similar Thanksgiving craft, or if you're simply looking for an interactive and engaging activity that will keep kids entertained this holiday season, then our yarn wrapped turkey craft is for you.
Incorporating painting, cutting, threading and sticking, there's plenty to keep children busy, and strengthen little ones fine motor skills whilst they're at it. And children will love getting so hands-on and creative with the different elements.
The finished craft would make a lovely name card for guests at the Thanksgiving table, or could even form part of a homemade centerpiece. Why not ask children to design a festive scene with their turkey pride of place in the middle?
How to Make a Yarn Wrapped Turkey Craft:
Supplies:
Scrap Cardboard (an old Amazon box is perfect)
White Paper or Cardstock for Printing
Paints, crayons or colored pencils
Different colored yarn or Ribbon
Gluestick or PVA Glue
Pencil
Scissors
How to Download the Turkey Templates:
The Turkey Template is available to members of the Arty Crafty Kids Club. Join the members area to access our complete online library of art and craft templates.
Members can access the template here (remember to login!): https://www.artycraftykids.com/product/yarn-wrapped-turkey/
Members will need to log in to access the templates!
Not A Member?
Let's Make A Yarn Wrapped Turkey: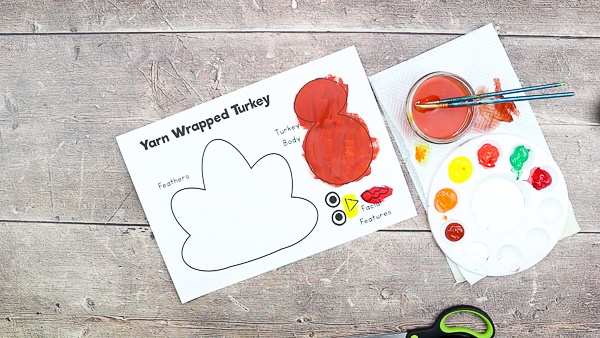 Decorate the Turkey Elements
Let's start by painting or coloring in the turkey's body and features: the beak and snood (the bit that hangs from the turkeys beak!) Remember that you don't need to paint the turkey's feathers – we're just using that shape as a template for the finished piece.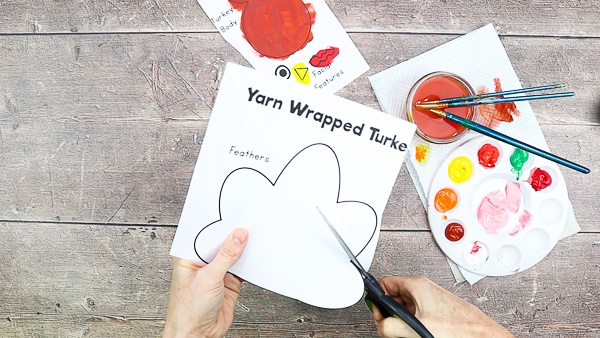 Once the turkey elements are painted, carefully cut them all out from the template.
Trace the Turkey Feathers onto Cardboard
Place your turkey feather shape onto a piece of thick brown cardboard and draw around it with a pencil. Then cut it out – be careful though, as this kind of cardboard is a little trickier to cut than usual thin cardstock.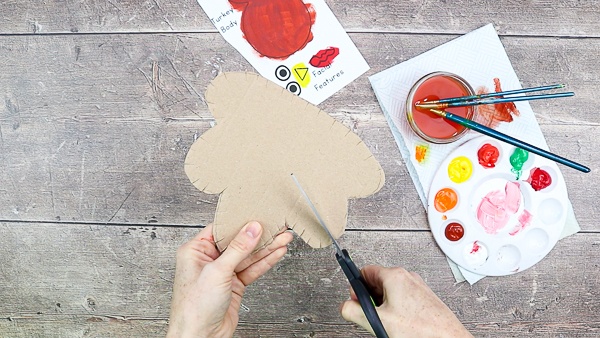 Cut in Wrapping Slits
Now make small slits, about a centimeter apart, all the way around the edge of the turkey feather shape.
Begin Wrapping
Now it's time to wrap those feathers! Starting at the bottom left, secure the end of the yarn firmly, and begin to wrap the yarn around the feather shape working from slit to slit.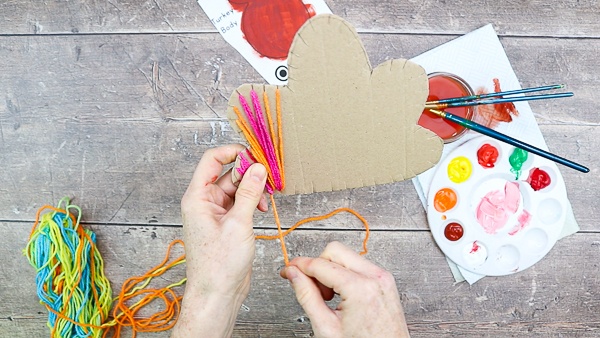 You can use one color of yarn, like brown or orange, to create a more realistic turkey if you like, but we love the effect that you can create by using different colors – and we always take any opportunity we can to use all the colors of the rainbow !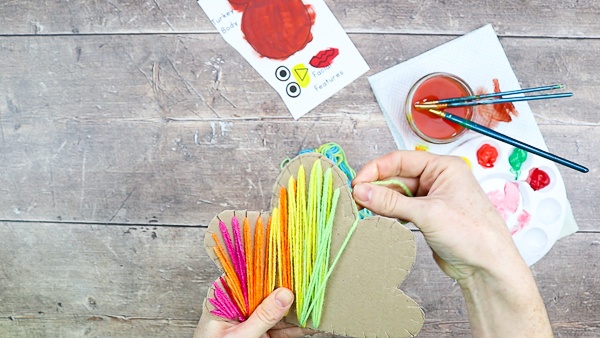 Continue wrapping up and down, from slit to slit, around the edge of the feathers, until you reach the other side. When your turkey feathers are all wrapped up, secure the loose end carefully so it doesn't come undone.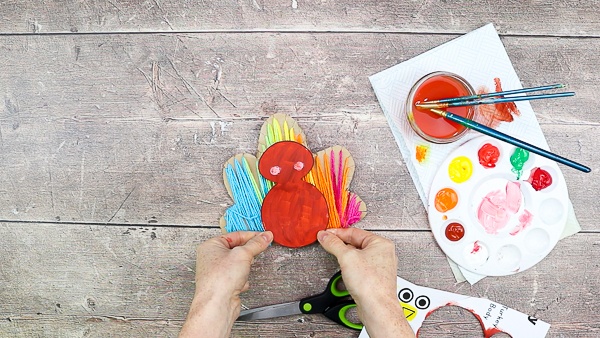 Secure The Body
Next, stick the turkeys body onto the middle of the feathers and give it a good press down so it's nice and secure.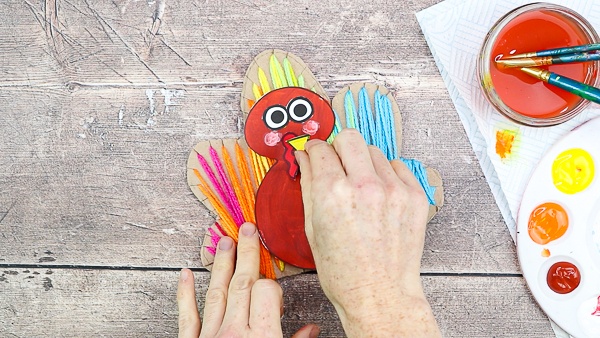 Add Features to Complete the
Yarn Wrapped Turkey Craft
Finally, carefully stick on the turkey's eyes, snood and beak and your cute and fuzzy turkey is complete! Gobble!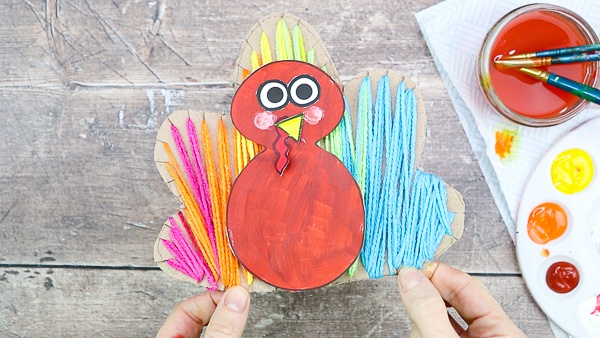 More Yarn Wrapped Crafts for Kids
Our wrapped crafts have proven particularly popular within preschool and early years settings; challenging children to strengthen their fine motor skills with multiple techniques/elements to create the crafts.
Yarn Wrapped Owl:
This yarn wrapped owl craft reuses scrap materials and is a fantastic fine motor activity for children from preschool age to kindergarten and early years.

https://www.artycraftykids.com/craft/yarn-wrapped-owl-craft/
Yarn Wrapped Birds:
Yarn Wrapped Bird Craft: Here at Arty Crafty Kids, we love encouraging children to think about the environment, and a great way to do that is through crafts that use recycled materials. And this easy craft for kids does just that.

https://www.artycraftykids.com/craft/yarn-wrapped-bird-craft/
Yarn Wrapped Fox:
If you're looking for a simple and interactive craft to help ease pre-schoolers or school early years children back into the swing of things, then this lovely yarn wrapped fox craft is for you.

https://www.artycraftykids.com/craft/yarn-wrapped-fox-craft/