Spring is here and we're welcoming the season of April showers and sunshine with an easy paper rainbow craft for preschoolers!
This simple preschool activity encompasses cutting, tearing, scrunching, teaching colours and colour matching, sequencing and lots of arty crafty fun!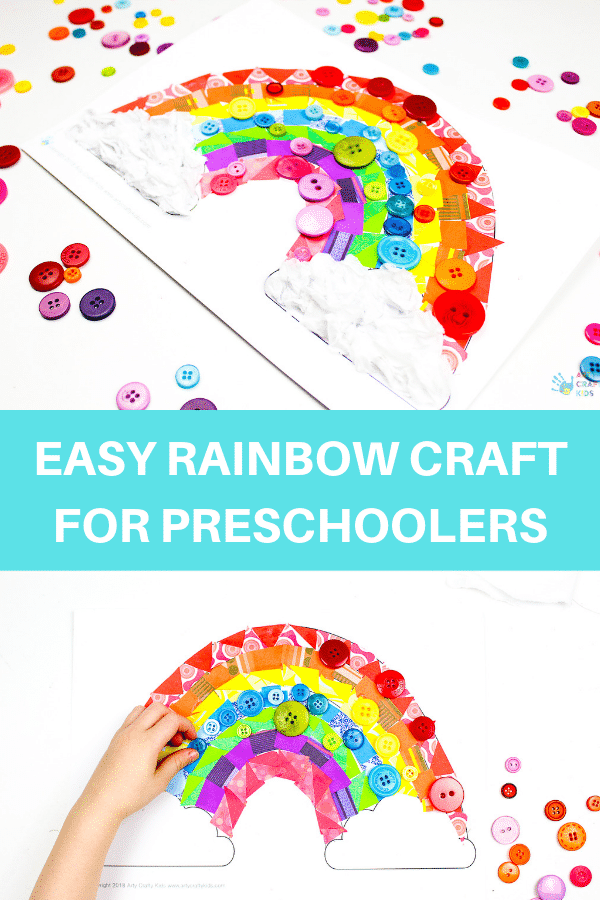 It's a great project for the classroom and will appeal to children of all abilities and ages.
We encourage young children to have a go at cutting for themselves and for those who find it a little too much, simply replace the paper with paint or/and colourful items from the craft box.
Easy Rainbow Craft for Preschoolers: Materials
White Card Stock
Colourful Paper – Plain and Patterned
Buttons
Scissors
PVA Glue (or glue stick)

Setting up the Rainbow Craft for kids to make: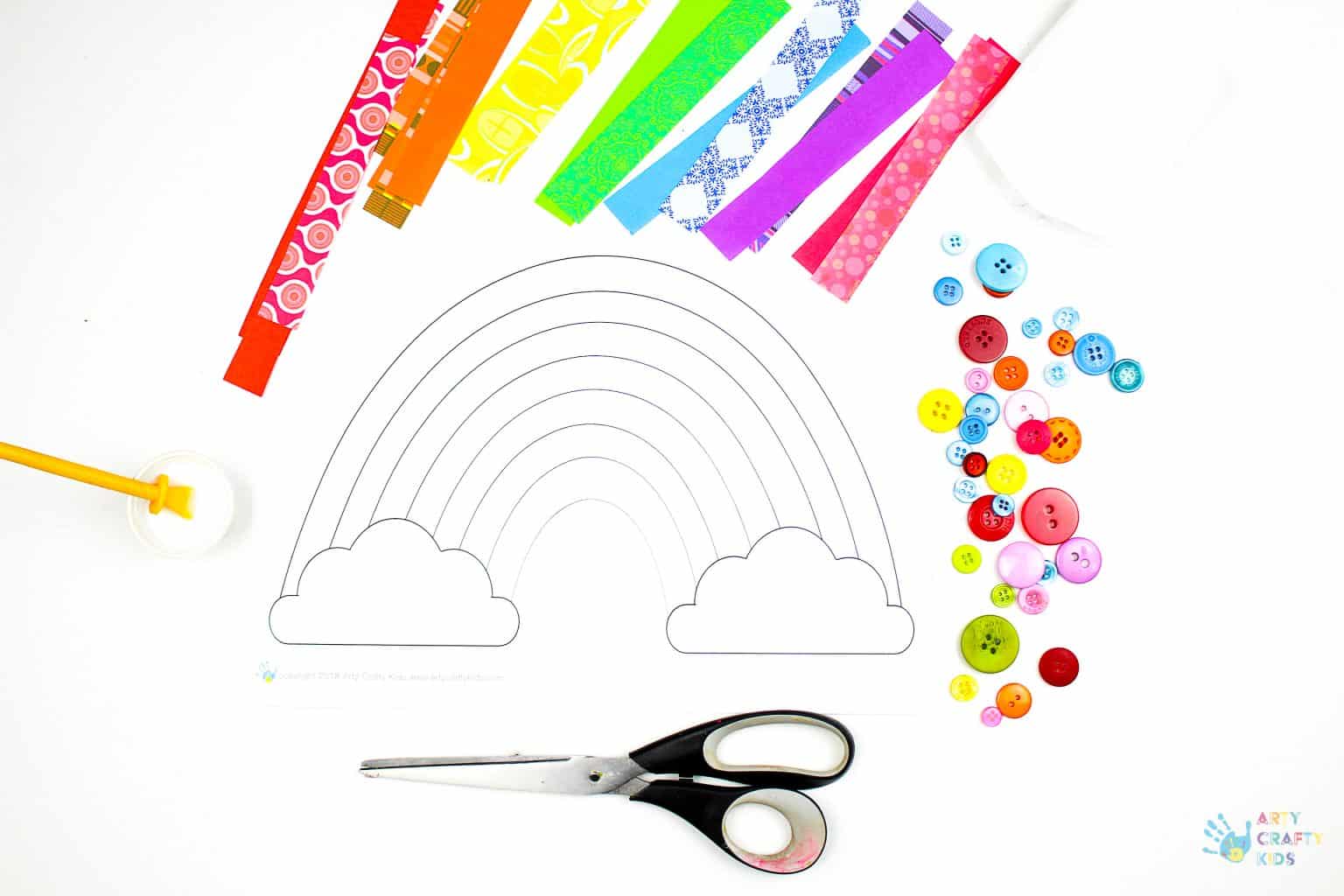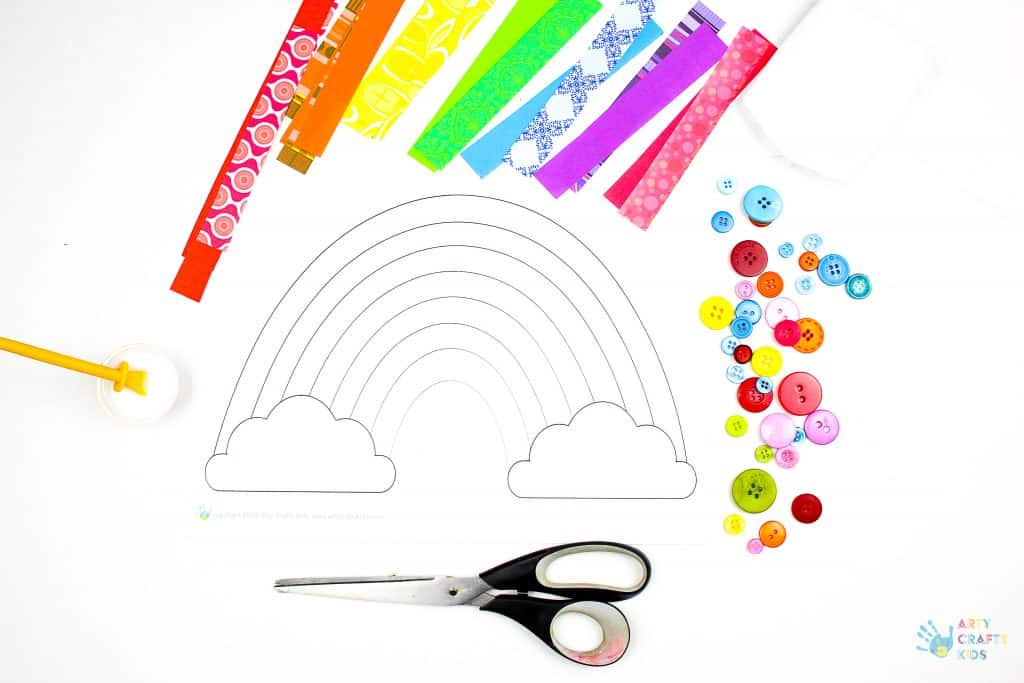 Step 1:
Download and print the Rainbow Template – See link towards end of this post!
Remember to use card less than 160 gsm in weight. Refer to your printer settings for further information.
Prepare all the materials for your Arty Crafty Kids by cutting the paper into long strips. Ask your Arty Crafty Kids to arrange the papers by colour.
As well as using craft paper, consider offering the kids an old magazine. Kids can flick through the colourful pages and cut out elements to use within their rainbows.
This is a great way to expand their creativity and get into the habit of reusing common materials to create something new. The process offers a change in perspective and helps develop resourcefulness.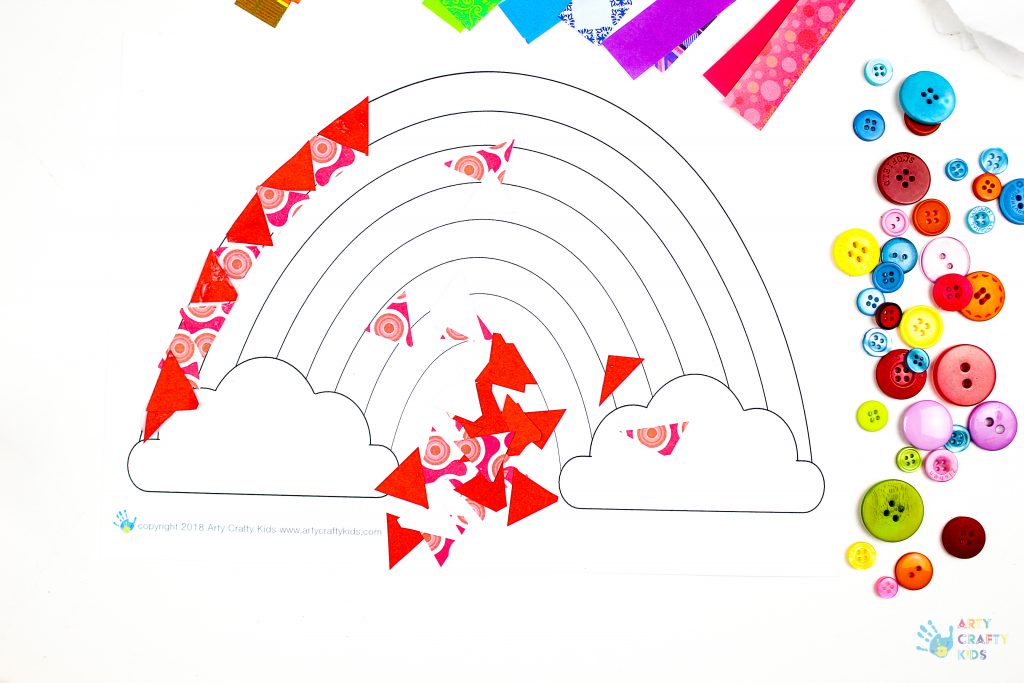 Step 2:
Hand over to the Arty Crafty Kids.
Cut up the paper into squares, rectangles or triangles (or into a completely random shapes).
Fill the arches with paper.
Children can use their paper to create patterns within the arches – a great way to explore sequencing!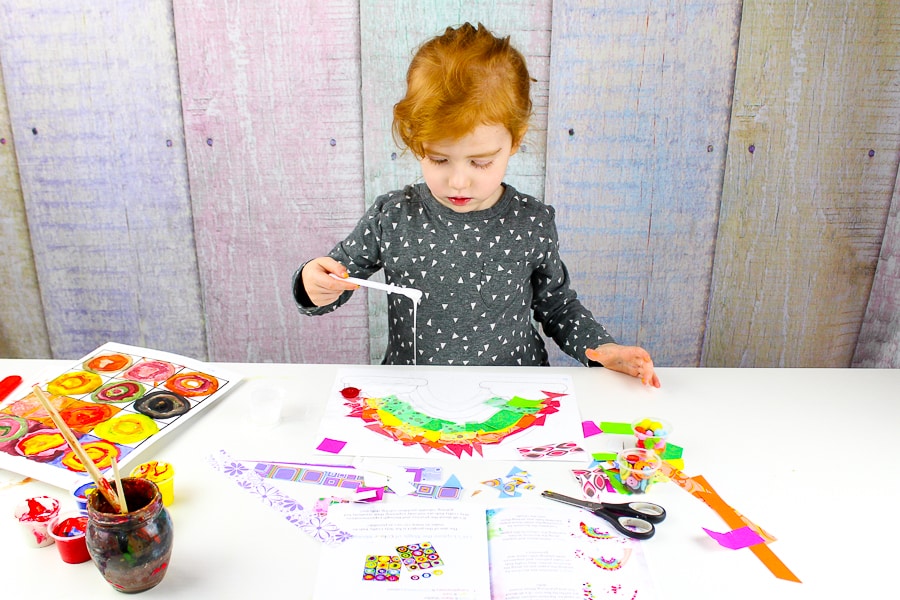 Step 3:
Continue filling the rainbow with paper until the arches are bursting with colour!
Alternatively, if you're trying this craft with very young children, they may prefer or find it easier to fill the rainbow with a combination of paper and paint (or crayons) – painting with a paintbrush, sponge or/and fingerprints!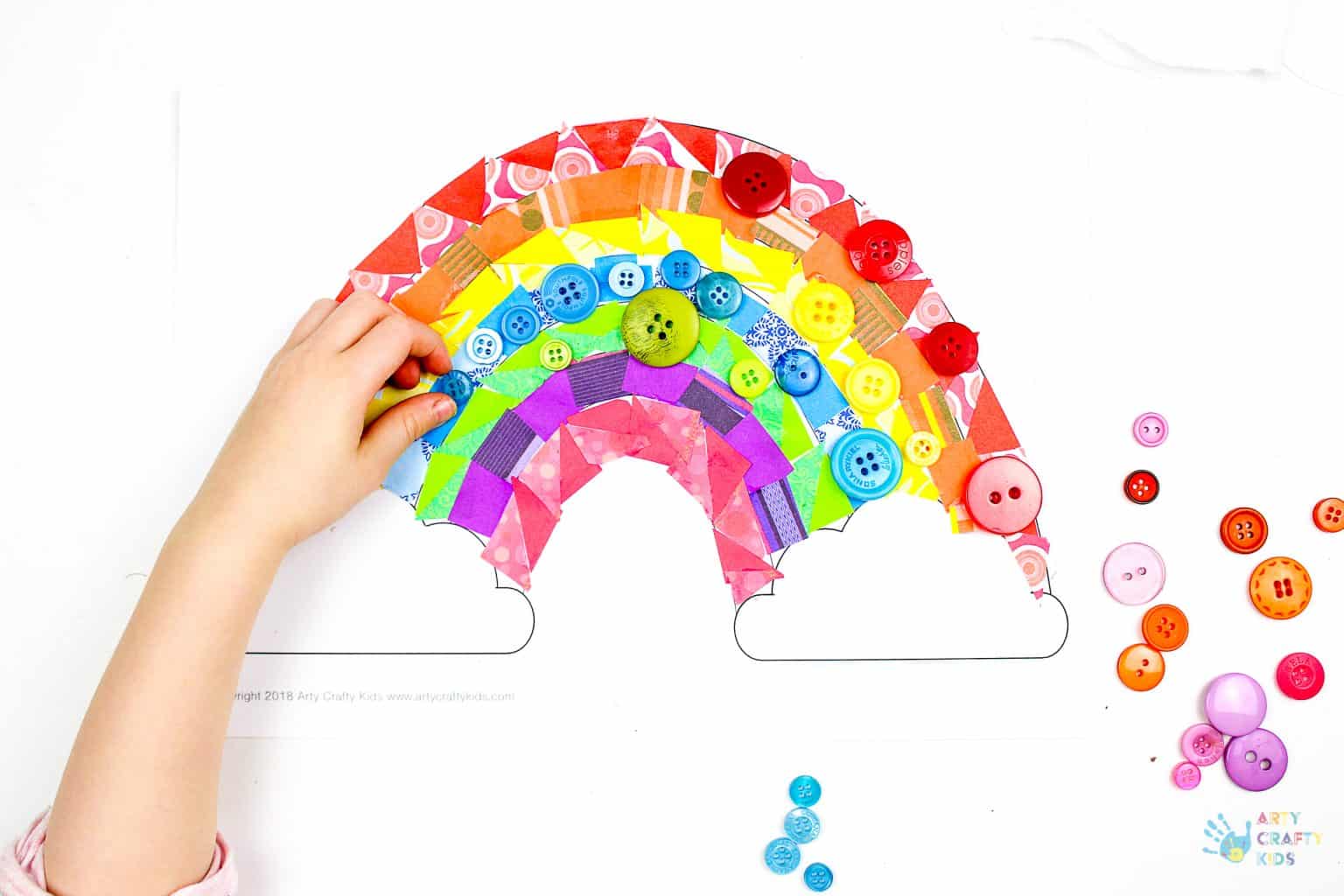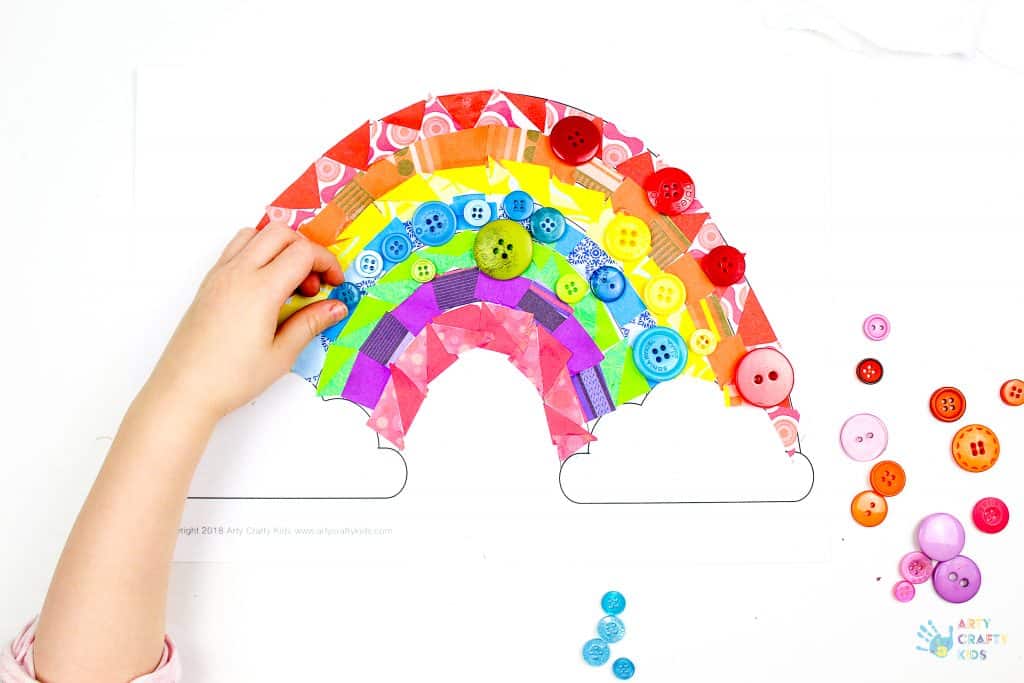 Step 3:
Follow the coloured rainbow arches and add a matching button. If you don't have buttons, use sequins or random loose parts (bottle tops
This is a fun way to extend an activity and of course give those little hands a thorough fine motor workout!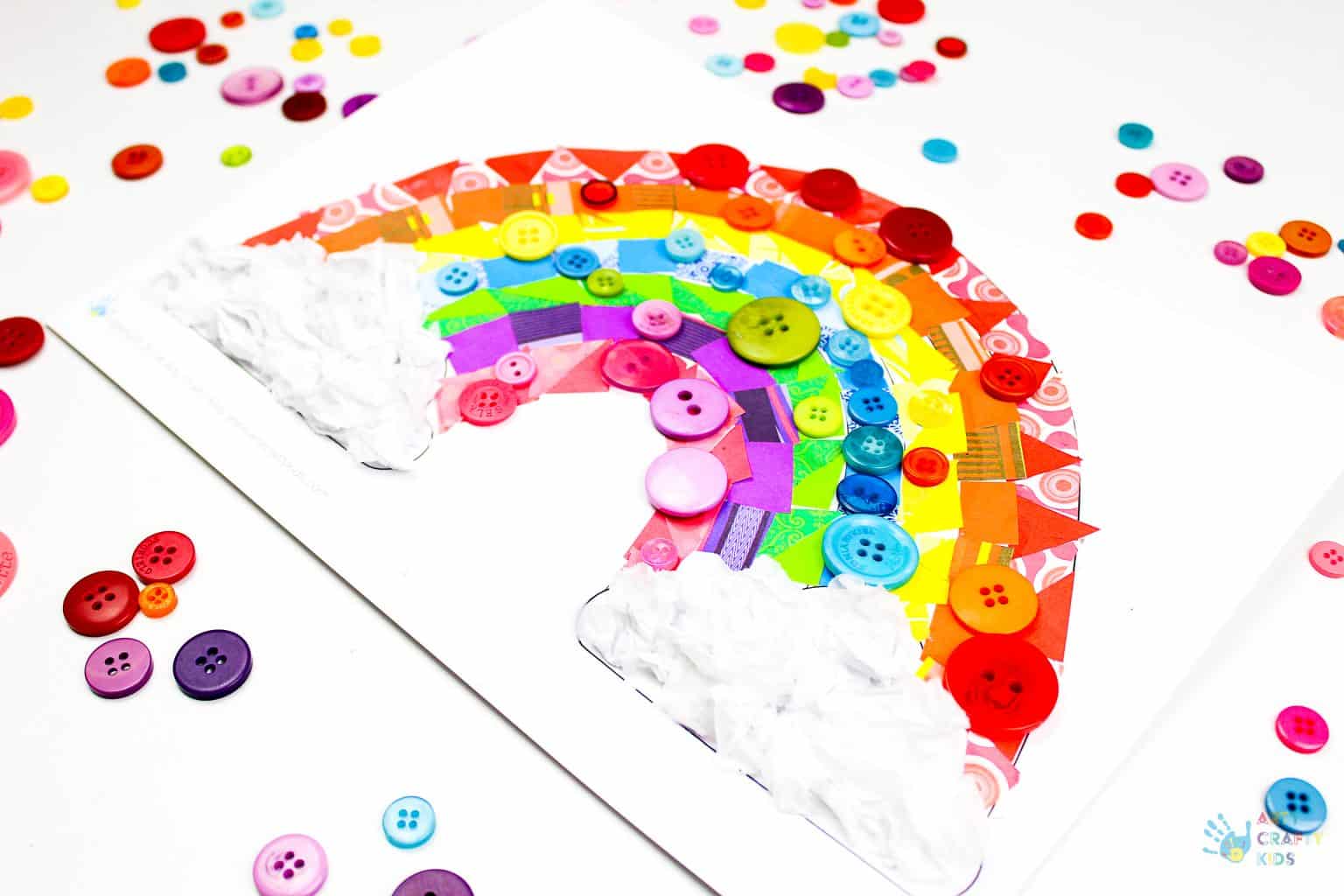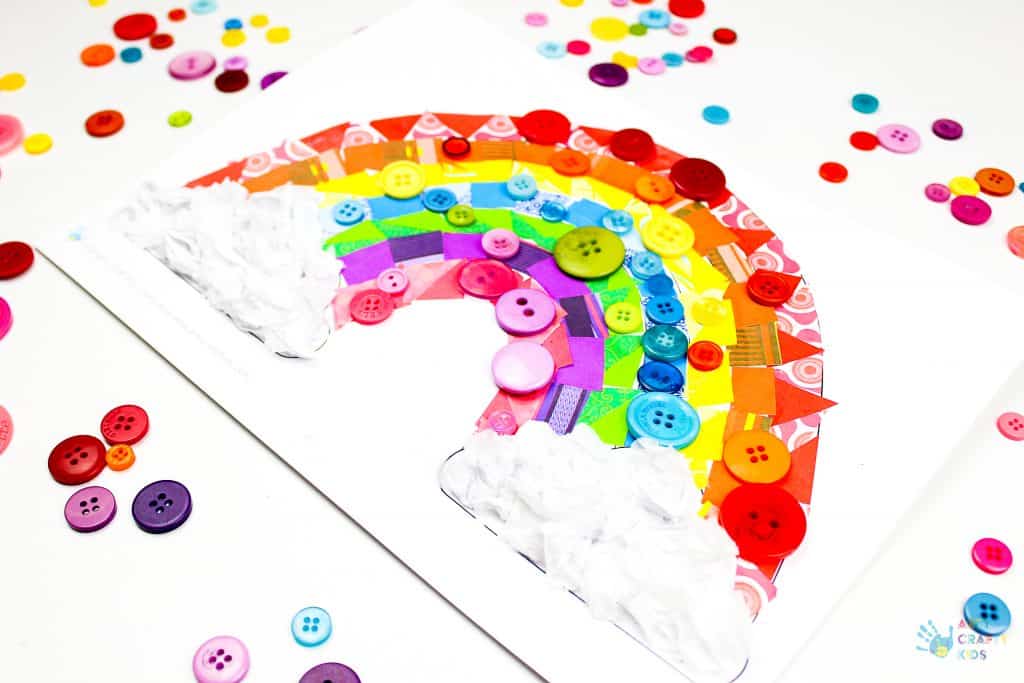 Step 4:
Complete the rainbow with clouds!
Add cotton wool balls for soft fluffy clouds or fill the space with scrunched up tissue paper.
The process of tearing, scrunching, rolling and sticking is great for helping to develop the hand muscles essential for writing.
Download the Rainbow Template:
Click Here to Download the Rainbow Template
More Rainbow Crafts and Activities for Preschoolers:
We love our Rainbow Crafts at Arty Crafty Kids and have a variety of simple art and craft ideas that have been used by parents and teachers, and loved by kids!
Take a look at our most popular Rainbow Crafts for Kids:
Happy Crafting!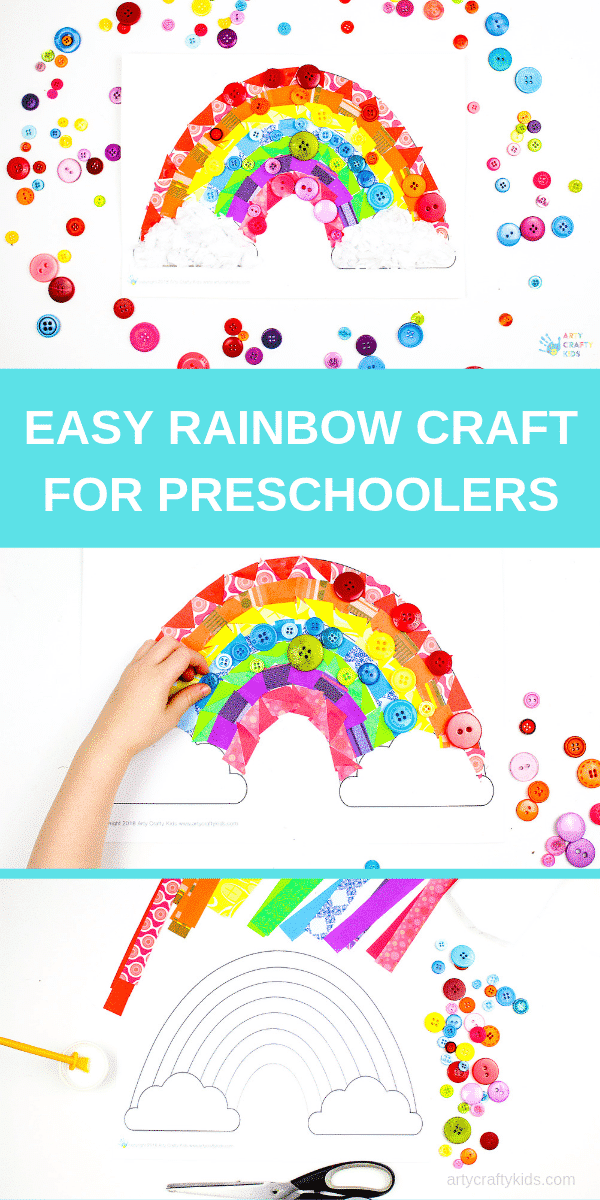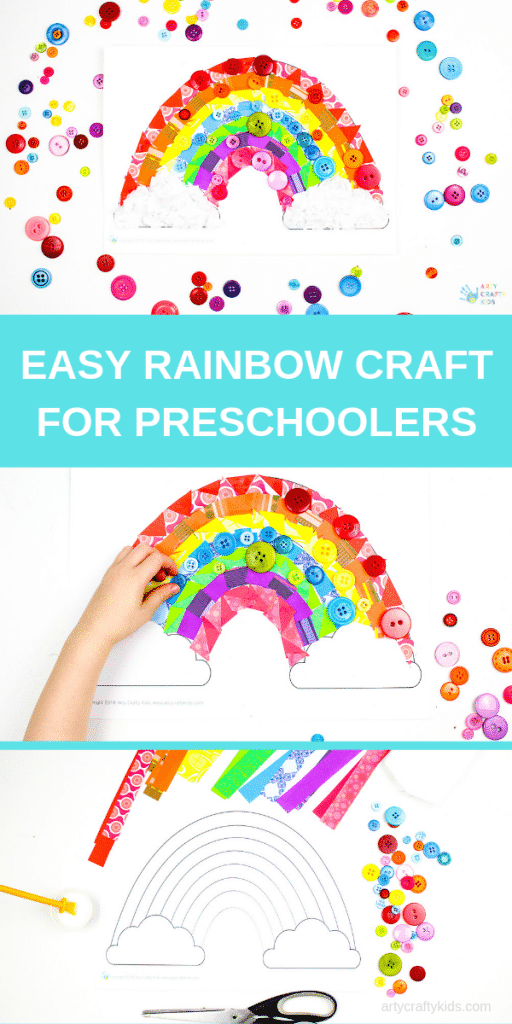 Arty Crafty Kids Club!
Creative and playful Art & Craft Templates
How to Draw Guides, drawing prompts and pre-writing Line work
Colouring pages & Seasonal activity booklets
Perfect for Educators and Parents, with new content added weekly!
Join the Arty Crafty Kids Club and gain access to our exclusive collection of art and craft templates and learning resources. Designed with parents, teachers and creative kids in mind, you will never run out of activities for the kids!
Latest Posts: