We LOVE rainbows here at Arty Crafty Kids and with Spring and St. Patricks day just around the corner, we've shelved the heart activities to focus entirely on Rainbows, and if you're looking for inspirational art ideas to try with the kiddies, I have put together 20 of the brightest, prettiest and simplest Rainbow Kids Art Projects into one handy post!
You will find a gorgeous variety of Rainbow art ideas to try from rainbow collages, to ice play, a super fun straw blowing technique and much much more.
Shall we take a look?
Rainbow Kids Art Projects
This post contains affiliates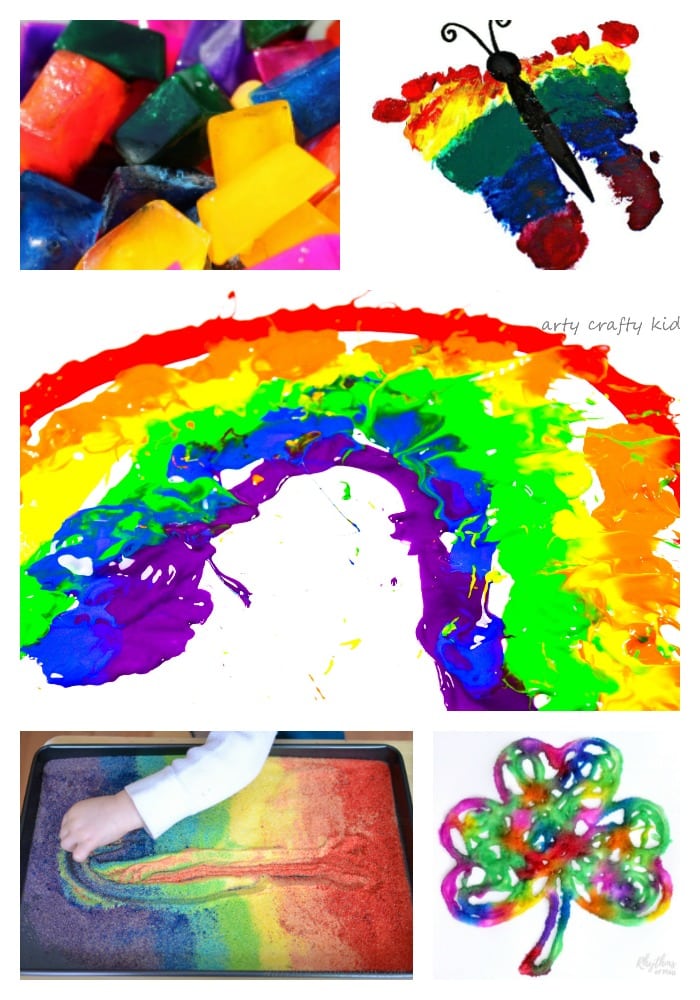 1. Add a sensory element to your kids creativity with rainbow ice art.
2. Create gorgeous rainbow butterflies with footprints.
3. A super fun and easy straw-blowing rainbow technique.
4. Your kids will love sticking their hands into this inviting rainbow sandbox.
5. Using a combination of salt and watercolours, create a colourful shamrock for St. Patrick's Day!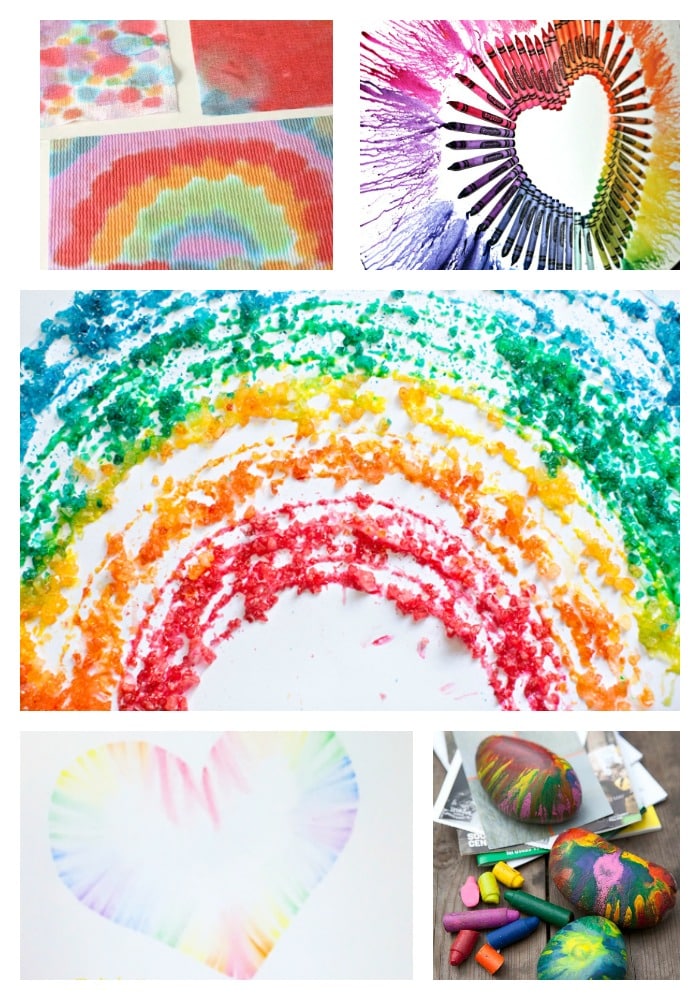 6. Rainbow paper towel art is perfect for very young children and they'll love watching the paint absorb and spread to make pretty patterns.
7. This stunning melted crayon canvas is a fabulous art project for older children.
8. Make a raised salt crystal rainbow.
9. I adore the subtle colours and technique of this pretty rainbow heart.
10. LOVE the blend of colour and vibrancy of these melted crayon paper weight rocks.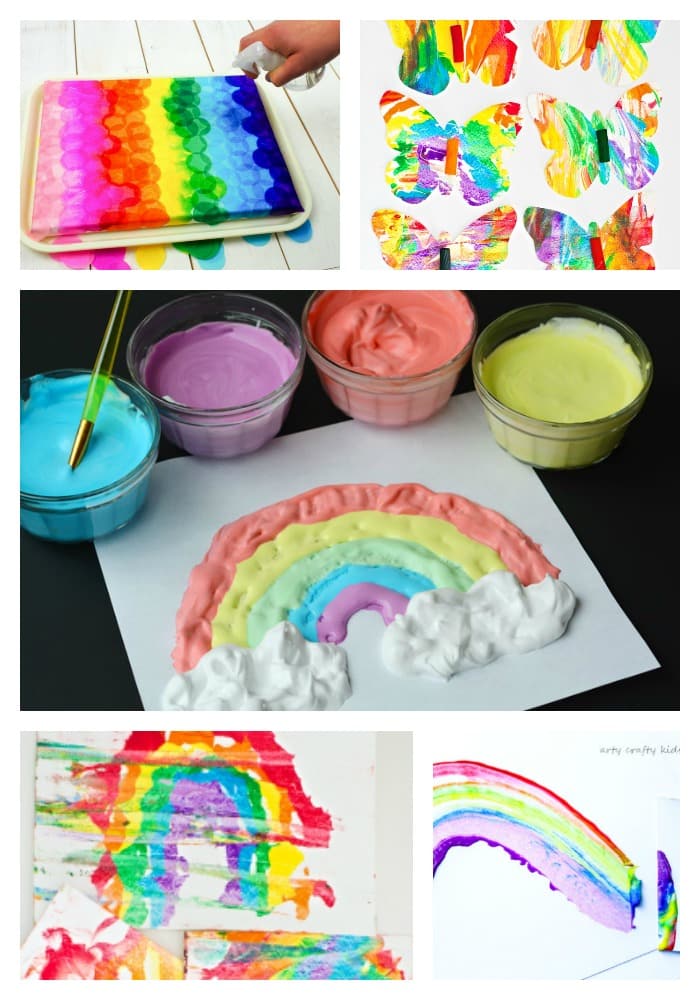 11. Bleeding tissue paper art is an incredible technique and you really need to see how this canvas looks once the tissue paper is removed!!!
12. Kids will love making these beautiful rainbow butterflies. Can you imagine how they would look on display in a classroom?
13. Add another dimension to rainbow art with puffy paint.
14. Marble Art Rainbows – A super fun, slightly messy and brilliant technique that's really simple to set up.
15. My own children are huge fans of the scrape painting technique, check out how to make a rainbow using this technique!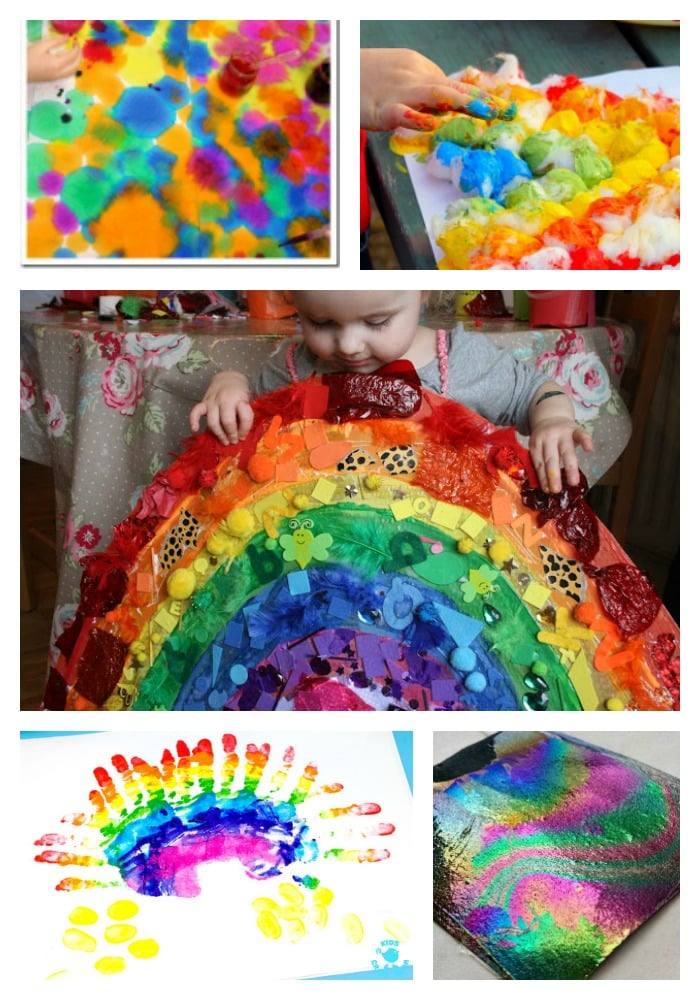 16. Explore colour with liquid watercolours to create an abstract rainbow.
17. For a 'puffy' texture take a look at cotton wool rainbow art.
18. Dig out the loose parts and try assemble and arrange to make a beautiful rainbow collage.
19. Make a rainbow with handprint art.
20. Art meets science to create this amazing rainbow paper!
And if that wasn't enough, I have one extra special idea that you may like to see – A super sweet Rainbow Colouring Unicorn Mobile that will look wonderful in your child's room or play area!
I hope you love the variety of Rainbow Kids Art Projects within this post and if you would like to see some crafty rainbows, check out our collection of Rainbow Craft Ideas for Kids!
Pin Rainbow Kids Art Projects for later!