Keep the kids entertained this Thanksgiving and fall with this super cute Paper Plate Handprint Turkey Craft.
Handprint crafts are always fun and transform a craft into a special keepsake that can be treasured for years to come; which is exactly the type of kids craft you want when celebrating a special time such as Thanksgiving.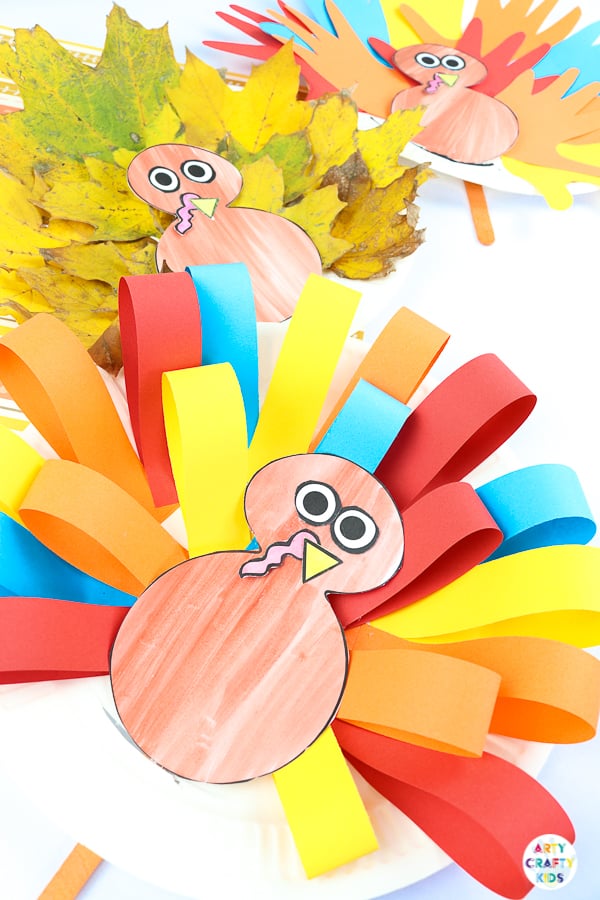 Using one printable turkey template, we've created three versions of this paper plate turkey craft. If you're trying this craft at home or within the classroom, with children both big and small, you have options and can adapt the craft to suit your children's age and ability.
Take a look at our Paper Plate Turkey Craft with looped paper feathers and Paper Plate Leaf Turkey Craft.
How to Make a Paper Plate Handprint Turkey Craft
This simple Thanksgiving craft is suitable for preschoolers, children in kindergarten and early years (elementary) education.
What you need for the Paper Plate Handprint Turkey Craft
Paper Plate
Coloured Paper
Popsicle Stick (Lolly Pop Stick)
Colouring Pencils/Paint
Scissors
Glue
Turkey Template
How to Download the Turkey Template:
The Turkey Template is available to members of the Arty Crafty Kids club. The template can be accessed via the link following link : https://www.artycraftykids.com/product/paper-plate-turkey-craft/
Members will need to log in to access the template!
Not A Member?
Printing Instructions:
Download and print the template from the Arty Crafty Kids members area.
The templates can be downloaded onto good quality paper or card stock.
If you opt for card stock, remember to check your printer settings for a recommended weight. Most printers prefer card stock less than 220gsm.
Let's Make a Thanksgiving Turkey!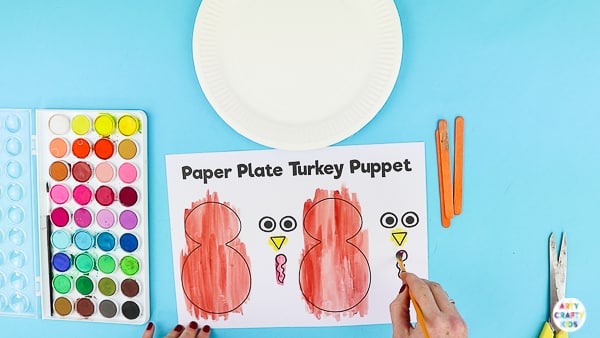 Colour in the Turkey Template
Step 1: Using your Arty Crafty Kids preferred medium, colour in the turkey elements!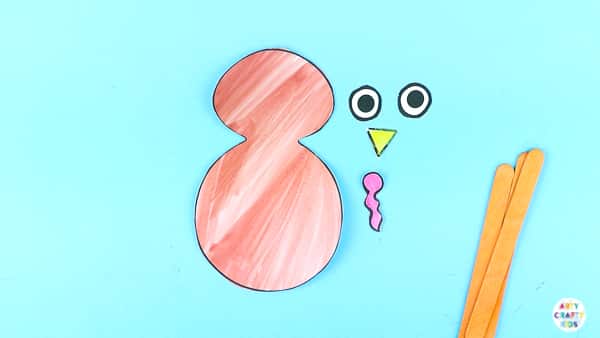 Cut out the Turkey Elements
Step 2: Carefully cut out the turkey elements. Younger children may need help with the smaller parts.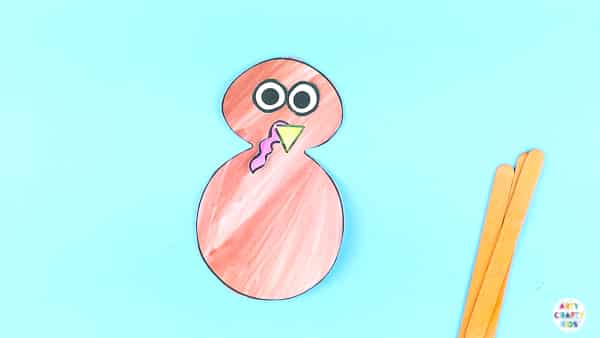 Assemble the Turkey
Step 3: Use a glue stick to assemble the turkey.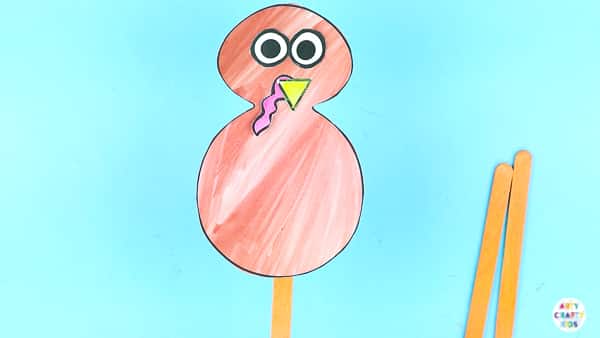 Add a Popsicle Stick
Step 4: Turn the assembled turkey over and glue the popsicle stick to its back.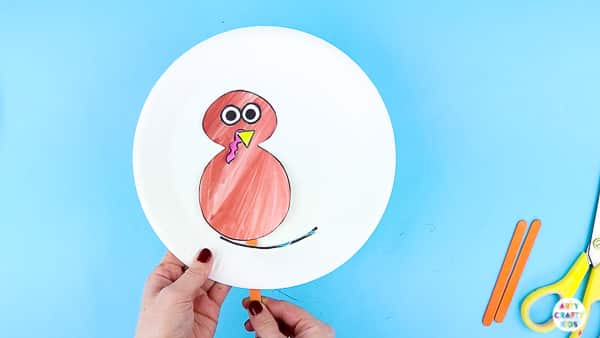 Make Space for the Turkey Puppet
Step 5: Cut a small slit into the bottom of the paper plate to make a gap for the puppet. Create enough space for the turkey to move from side to side.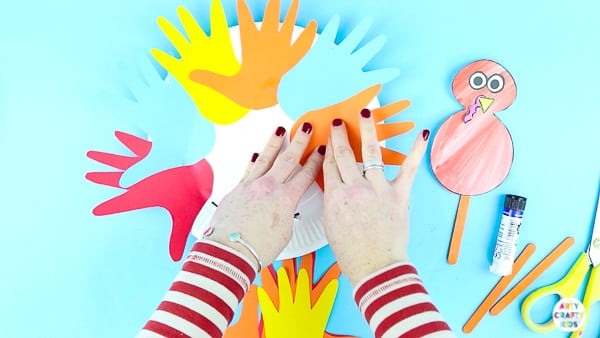 Cut and Trace Handprints
Step 6: Using a variety of colours, trace around your child's hand OR ask them to trace around their own hand.
To save time, layer 4 or 5 pieces of paper. Trace a few prints on the top sheet.
Cut around the prints, including all the layered papers.
Step 7: Following the outer rim of the paper plate, begin gluing the handprints.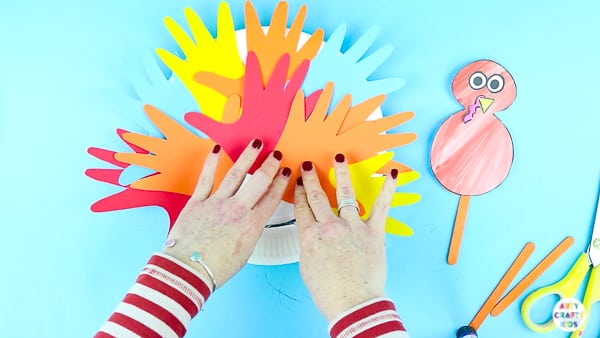 Step 8: Fill the remaining white space in the centre of the paper plate with more handprints.
Leave the cut gap free for the turkey puppet.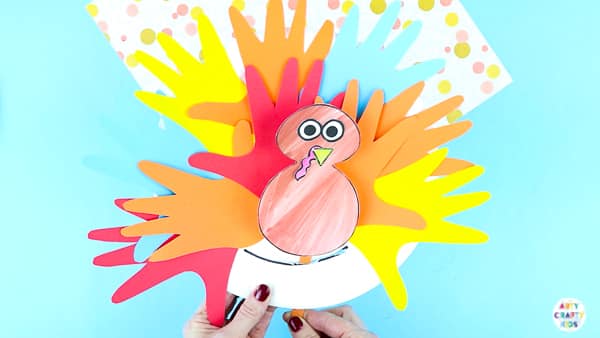 Time to play with the Paper Plate
Handprint Turkey Craft
Step 9: Now grab the turkey puppet and thread the popsicle stick through the gap.
Kids can now move their puppet within the bed of leafy feathers and play!
More Thanksgiving Crafts for Kids:
Enjoy the build to Thanksgiving with our collection of easy Turkey crafts for kids!
Here are a few of our tried and tested favourites:
Toilet Paper Roll Handprint Turkey Craft
This is a fab Handprint Turkey craft for preschoolers and young children that doubles up as a special keepsake.

https://www.artycraftykids.com/autumn/toilet-paper-roll-turkey-handprint-craft/
Button Turkey Craft
Using our free turkey template, your Arty Crafty Kids can decorate their turkeys in a variety of fun and dynamic ways; exploring printing techniques to play with geometrics, adding tissue paper to work those fine motor skills or buttons for texture and body!

https://www.artycraftykids.com/craft/button-turkey-craft/
Toilet Paper Roll Leaf Turkey Craft – With a Sunflower Hat!
Looking for a cute and easy kids craft for November? Dive into the recycling bin and have a go at this adorable Toilet Paper Roll Turkey Craft. Here we've combined recycled materials with nature to create a turkey craft kids will love – a great craft to try during the build up to Thanksgiving.

https://www.artycraftykids.com/craft/toilet-paper-roll-turkey-craft/
Happy Crafting!