Add this easy Toilet Paper Roll Turkey Handprint Craft to your list of Thanksgiving crafts to try with the kids this fall.
This is a fab Handprint Turkey craft for preschoolers and young children that doubles up as a special keepsake.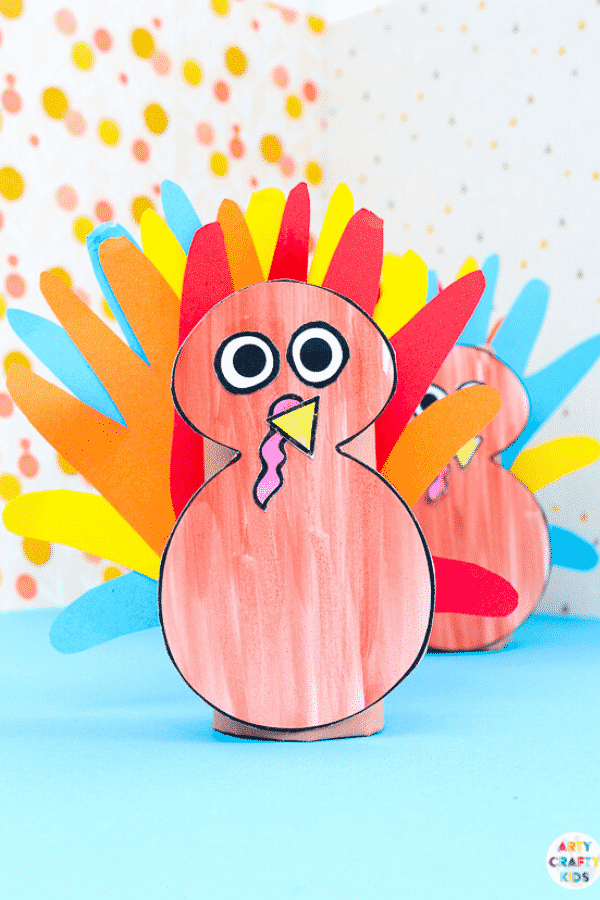 How to Make a Toilet Paper Roll Turkey Handprint Craft
This simple Turkey Handprint Thanksgiving craft is suitable for preschoolers, children in kindergarten and early years (elementary) education.
What you need to make a Toilet Paper Roll Turkey Handprint Craft
Paper Roll
Watercolour Paint Set OR Colouring Pencils
Coloured Construction Paper
Brown Construction Paper
Glue Stick
Scissors
Turkey Template

How to Download the Printable Turkey Template
The Turkey Template is available to members of the Arty Crafty Kids club. The template can be accessed via the link following link : https://www.artycraftykids.com/product/turkey-handprint-craft/
Members will need to log in to access the template!
Not A Member?
Printing Instructions:
Download and print the template from the Arty Crafty Kids members area.
The templates can be downloaded onto good quality paper or card stock.
If you opt for card stock, remember to check your printer settings for a recommended weight. Most printers prefer card stock less than 220gsm.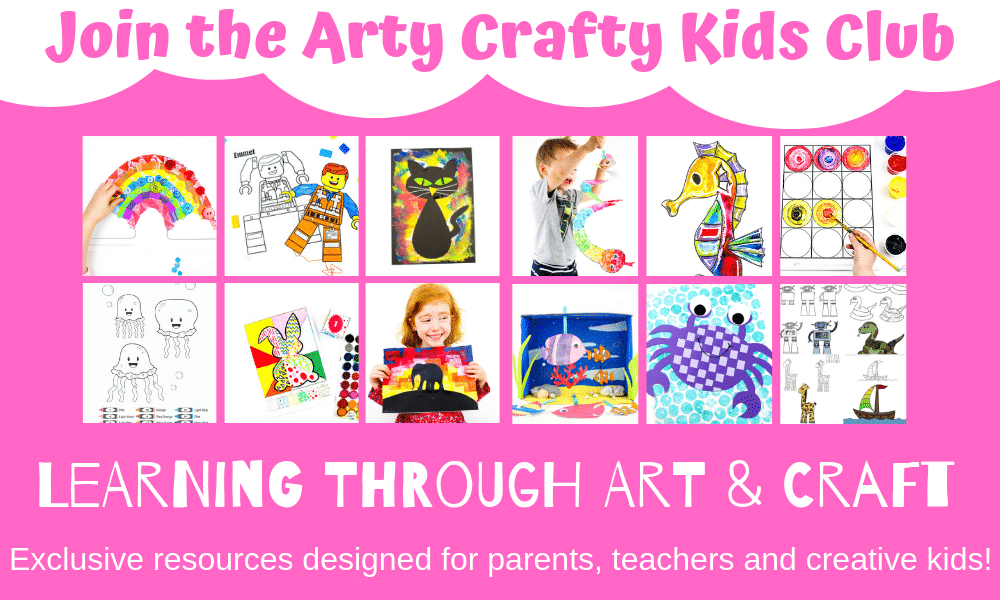 Let's Make a Paper Roll Turkey!
Colour in the Turkey
Step 1: Using watercolour paint or colouring pencils, colour in the turkey template!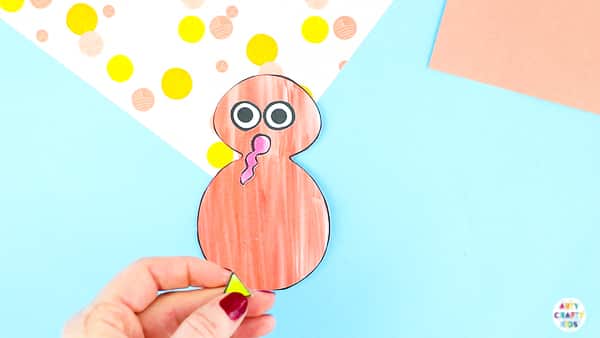 Cut Out and Assemble the Turkey
Step 2: Carefully cut the turkey elements from the template and assemble as shown above.
Trace and Cut Out Handprints
Step 3: Using 4 different construction paper colours, trace around your child's handprint (or encourage them to trace their own prints) .
Step 4: Cut out the handprints.
Step 5: Begin to glue the palms of the paper handprints on top of each other, ensuring the fingers are positioned between the gaps of the print below.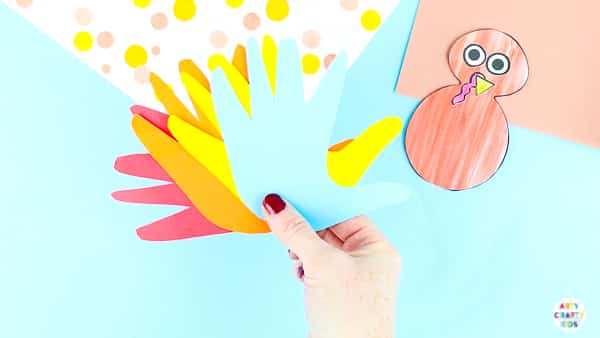 Let's Turn Handprints into Feathers!
Step 6: Spread the prints out to create a full plume of feathers.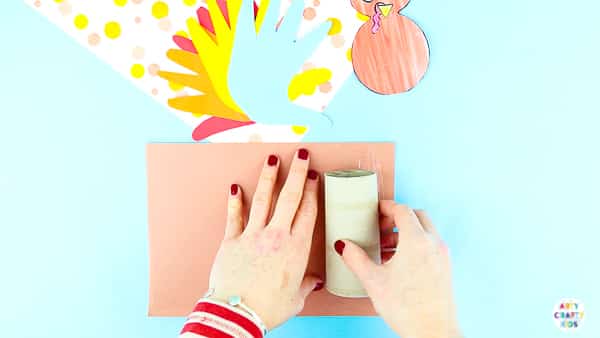 Cover the Paper Roll
Step 7: Cut a piece of brown construction to slightly taller than the paper roll.
Step 8: Apply glue to one end of the paper and attach this to the paper roll.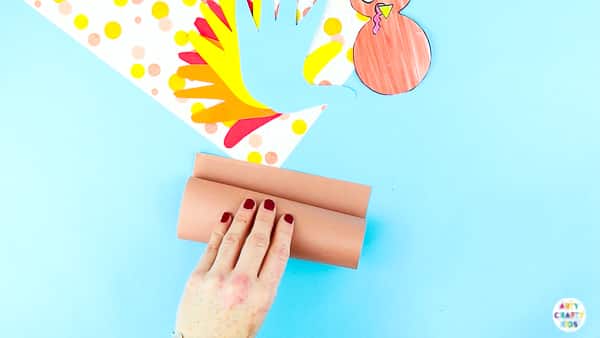 Secure with Glue
Step 9: Roll the paper around the tube until it's completely covered. Secure the end with glue.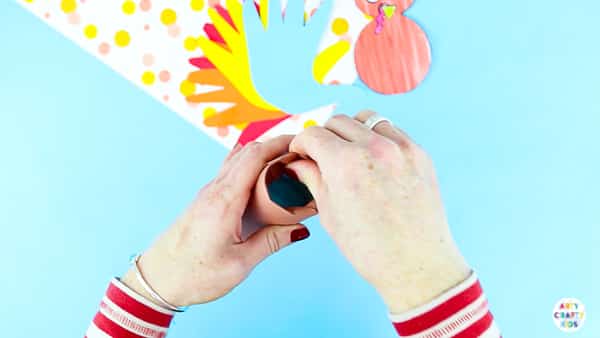 Fold the Excess Paper
Step 10: Fold the remaining paper into the tube, covering all edges.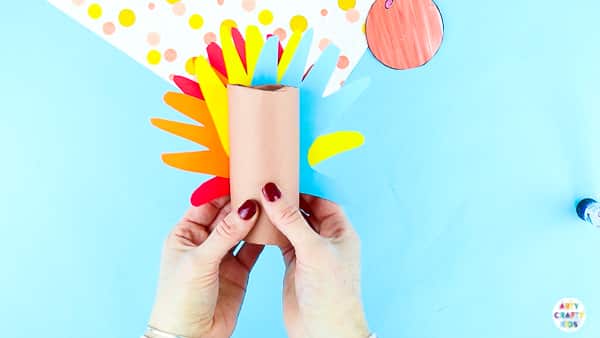 Attach the Handprint Feathers
Step 11: Attach the handprint feathers to the back of the paper tube (ideally in line with the paper crease).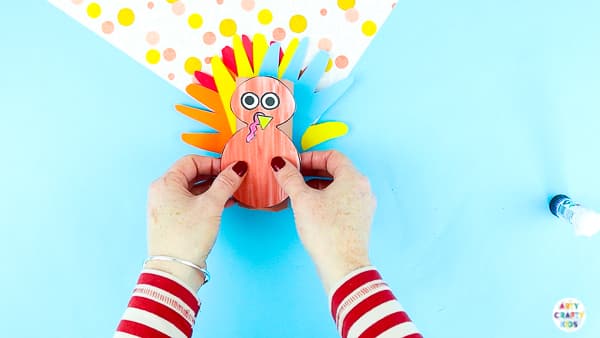 Complete the Toilet Paper Roll Turkey Handprint Craft
Step 12: Complete the handprint turkey by securing its body to the front of the paper roll!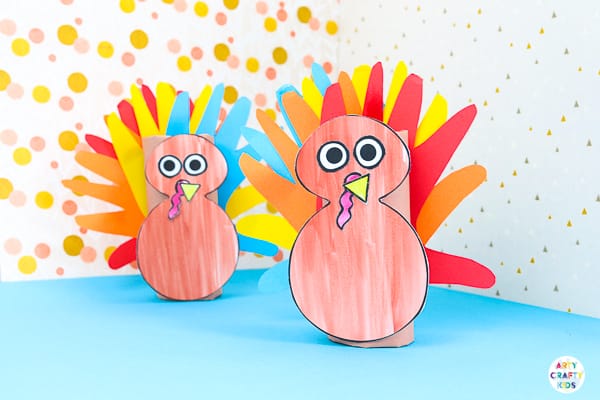 More Thanksgiving Crafts for Kids!
Enjoy the build up to Thanksgiving celebrations with this playful and easy collection of Turkey crafts for Kids!
Button Turkey Craft
Using our free turkey template, your Arty Crafty Kids can decorate their turkeys in a variety of fun and dynamic ways; exploring printing techniques to play with geometrics, adding tissue paper to work those fine motor skills or buttons for texture and body!

https://www.artycraftykids.com/craft/button-turkey-craft/
Toilet Paper Roll Turkey Craft
Looking for a cute and easy kids craft for November? Dive into the recycling bin and have a go at this adorable Toilet Paper Roll Turkey Craft. Here we've combined recycled materials with nature to create a turkey craft kids will love – a great craft to try during the build up to Thanksgiving.

https://www.artycraftykids.com/craft/toilet-paper-roll-turkey-craft/
Happy Crafting!