Today we have the pleasure of welcoming Maggy from Red Ted Art on Arty Crafty Kids, with 10 Super Fun Paper Halloween Crafts for Kids! If you're not familiar with Red Ted Art, I recommend that you pop over straight away. Maggy is a real-life superstar of the crafting world and has a site full of fun and creative crafts for kids!
10 Super Fun Paper Halloween Crafts for Kids
When you are short on time, as we often are whenever holiday knocks on our doors, crafts created from free printables you can find online are life-saving! Same goes for Halloween paper crafts! We have selected some of the best and quickest to make Halloween crafts made from paper for you to try and decorate your home for holidays! Some of these crafts are as simple as printing and cutting, other need a bit more work but all are still quick and easy to make.
Freaking out what to wear as a Halloween costume? Head over and pick

paper plate Frankenstein mask printable

and enjoy freaking out kids who come to your doorstep this Halloween!
2. Do you celebrate people who passed away on the Day of the Dead rather than mourn them? We have a Day of the Dead puppet printable for you, along with a full page of accessories to colour and decorate as you wish.
3.Crafts that can be used as both toys and decorations as so much fun! Make bat with flapping wings using bat paper puppets printable and enjoy playing with kids after reading your favourite stories about a little flying creature of the night!
4.When you're out of the time and need some quick last time decorations for the Day of the Dead or Halloween, free printable crafts come handy! Print out quick Day of the Dead luminaries, cut them out, colour if you wish, glue to glass or jar and voila! You're done!
5.Keep your toddlers and preschoolers occupied while you prepare everything for Halloween party with cute Halloween lacing cards! Print all the designs or choose the one you like the best for your child!
6.Oooo! We are in love with this project! Bunch of cute little origami ghosts folded and strung together to form easy ghost garland or banner for Halloween! Simply adorable! Of course, you can make ghosts scary instead of cute, up to you!
7.Another super easy Halloween project for kids who would like to try their hands with origami are these adorable origami bats! Since they are flat, you can even use them to decorate Halloween party invitations or greeting cards!
8.As an alternative to the Day of the Dead luminaries we mentioned earlier, you can print out and use adorable designs to make fun Halloween lights to decorate your home.
9.How about some zombies for Halloween? There are not so many zombie crafts as, for example, ghosts or bats, but these are easy and fun to make! Invite kids to make their own arty zombies from cardboard!
10.Let's not forget black cats! After all, what kind of Halloween it would be if there are not a couple of black cats around?! We love this cute black cat craft both for simplicity to make and the effect when done!
Which Fun Paper Halloween Craft do you like the most? We have a hard time deciding this too! If you have little ones at home, you can find even more easy craft ideas at Halloween crafts for preschoolers to enjoy making with your kids or let them craft on their own while you do all the preparations for best Halloween ever!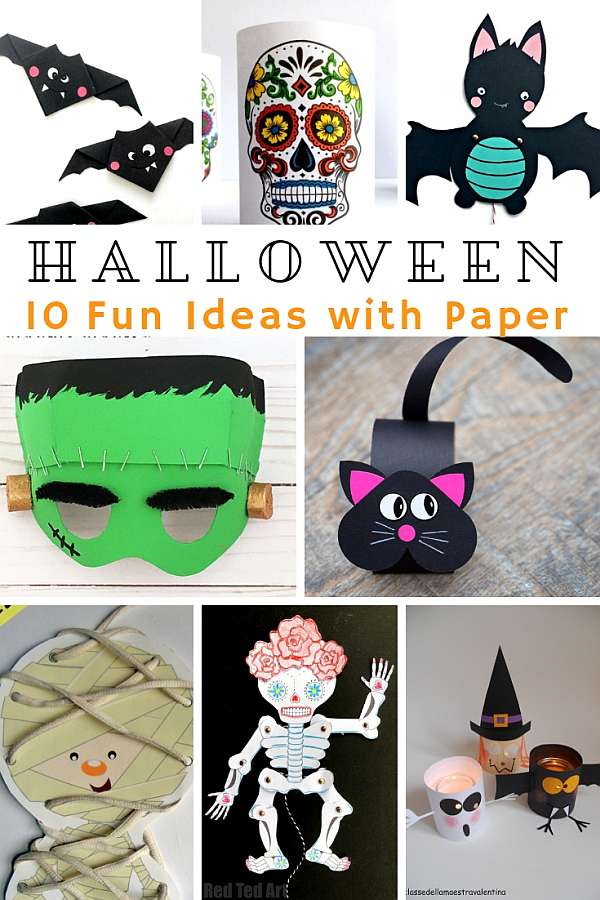 [fruitful_sep]
And have you seen our recent collection of Paper Halloween Puppets?
They've been incredibly popular this Halloween and are available for download via the Arty Crafty Kids members area!