These easy Paper Plate Party Hats are perfect for any celebration, whether it's Christmas, New Year's Eve, A Birthday or Teddy Bears Tea Party. It's a great way to build up the excitement and get the kids involved in party prep!
My Arty Crafty Kids had the best time making theirs; dancing along to Christmas music while playing with the paint and glitter.
The entire process was great fun for the whole family and with just a few basic materials, your family could be making party hats in no time!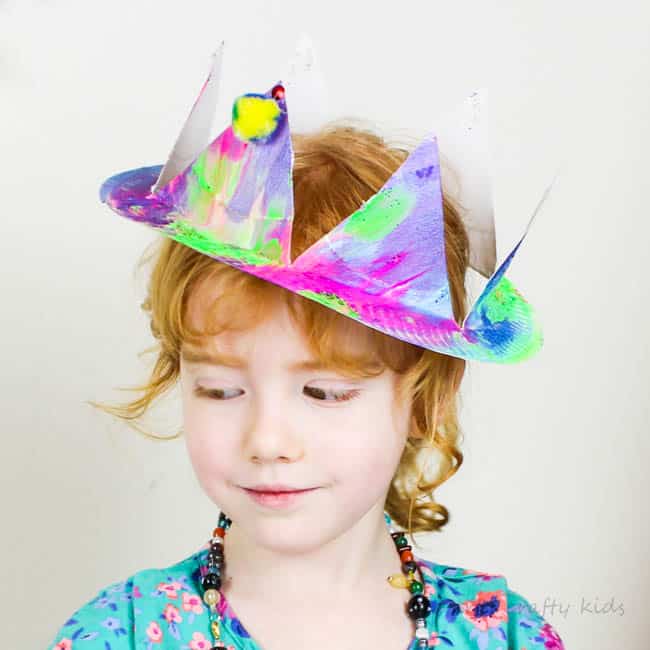 Easy Paper Plate Party Hats: Materials and Tutorial
Paper Plates
Paint
Glitter/Sequins
Pom-Poms
Stapeler
Paintbrush
Scissors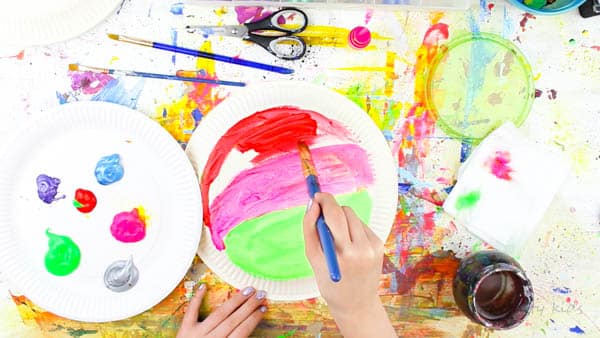 Step 1: Paint the paper plates!
My Arty Crafty Kids love to use bright, contrasting colours… often making their own by mixing the paint directly on the paper plate with overlaying squiggles and brushes.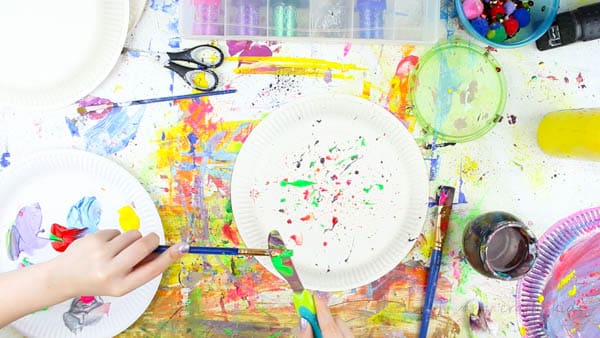 Get Creative!
Encourage the Arty Crafty Kids to explore different painting techniques.
Try splatter painting, scrape painting, blow art or even stamping!
Step 2: An optional extra…
If you love glitter, now is the time to add it!
And let the paper plates dry.
Easy Paper Plate Party Hats: The Party Crown!
This version is perfect for little party Kings and Queens!
Step 1: Fold the Pape Plate in half.
Step 2: Cut two diagonal lines to the perforated rim of the paper plate to create a central triangle.
Step 3: Open the paper plate up and divide the two horizontal large triangles into two smaller triangles.
Step 4: Fold each individual triangle away from the centre and then position them into a vertical position to create a 'crown' shape.
Step 5: Add pom-poms, sequins or even more glitter!
Easy Paper Plate Party Hats: The Traditional Cone Shape!
Step 1: Cut out a triangle shape from the paper plate.
Step 2: Fold the paper plate round to create a cone shape – do not secure!
Step 3: Open the cone up and add tassels or curled paper by positioning in the hole at the top of the cone.
Step 4: Secure the paper plate cone by using a staple at the bottom.
And now it's time to party!
For more New Year's Eve Party fun, take a look at our Paper Tube Fireworks Paintings!
Pin for Later!