Butterfly Clothespin Craft – A simple, gorgeous and doable butterfly craft to make with the kids during the Spring and Summer months.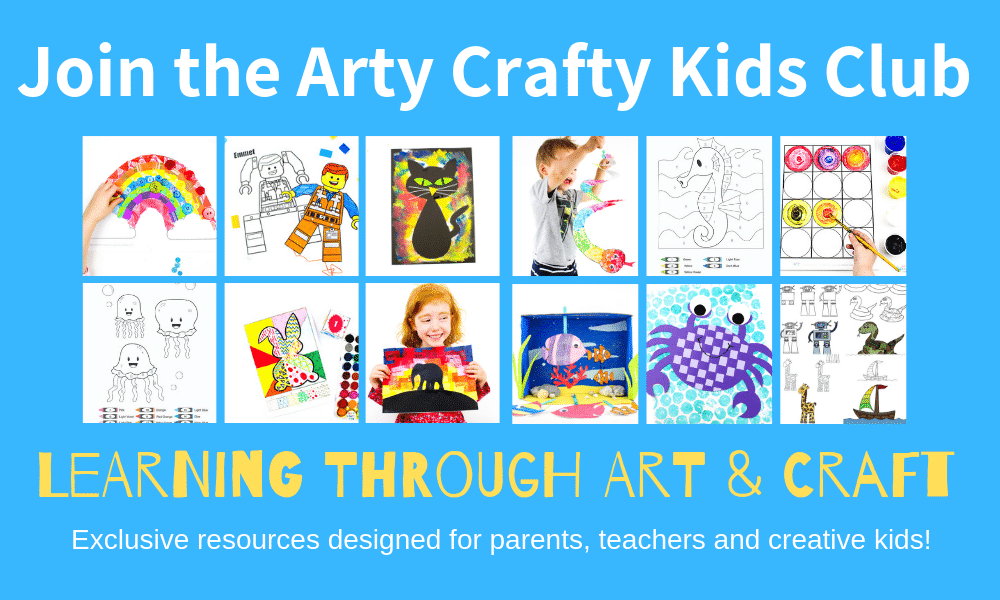 We love our butterfly crafts at Arty Crafty Kids and as my children progress from toddler-hood to preschool, kindergarten (Early Years Foundation Stage) and beyond, this is a craft we return to year after year.
It's easy peasy and low impact on craft supplies, great for fine motor skills and encourages children to use their creativity to create pleasant swarm of colourful fluttery butterflies to put on display – ideal for a Spring Bulletin Board!
The subtle benefits of this simple Butterfly Craft:
From the perspective of fine motor development; the motion of aligning and scrunching the tissue paper within the clothespin is beneficial to hand-eye coordination and works on the little hand muscles necessary for writing.
Key Skills:
Fine Motor – Cutting, Threading, Scrunching, Drawing
Hand-Eye Coordination
Shape Identification and Creation
Ordering Shapes from Biggest to Smallest
Materials for Butterfly Clothespin Craft:
Wooden Clothespins
Acrylic Paint
Small Googly Eyes
Black Marker Pen
Tissue Paper – Variety of Colours
Glue Stick / PVA Glue
Optional Extras for Decorating the Body:
Sequins
Buttons
Pom-Poms
How to Make a Butterfly Clothespin: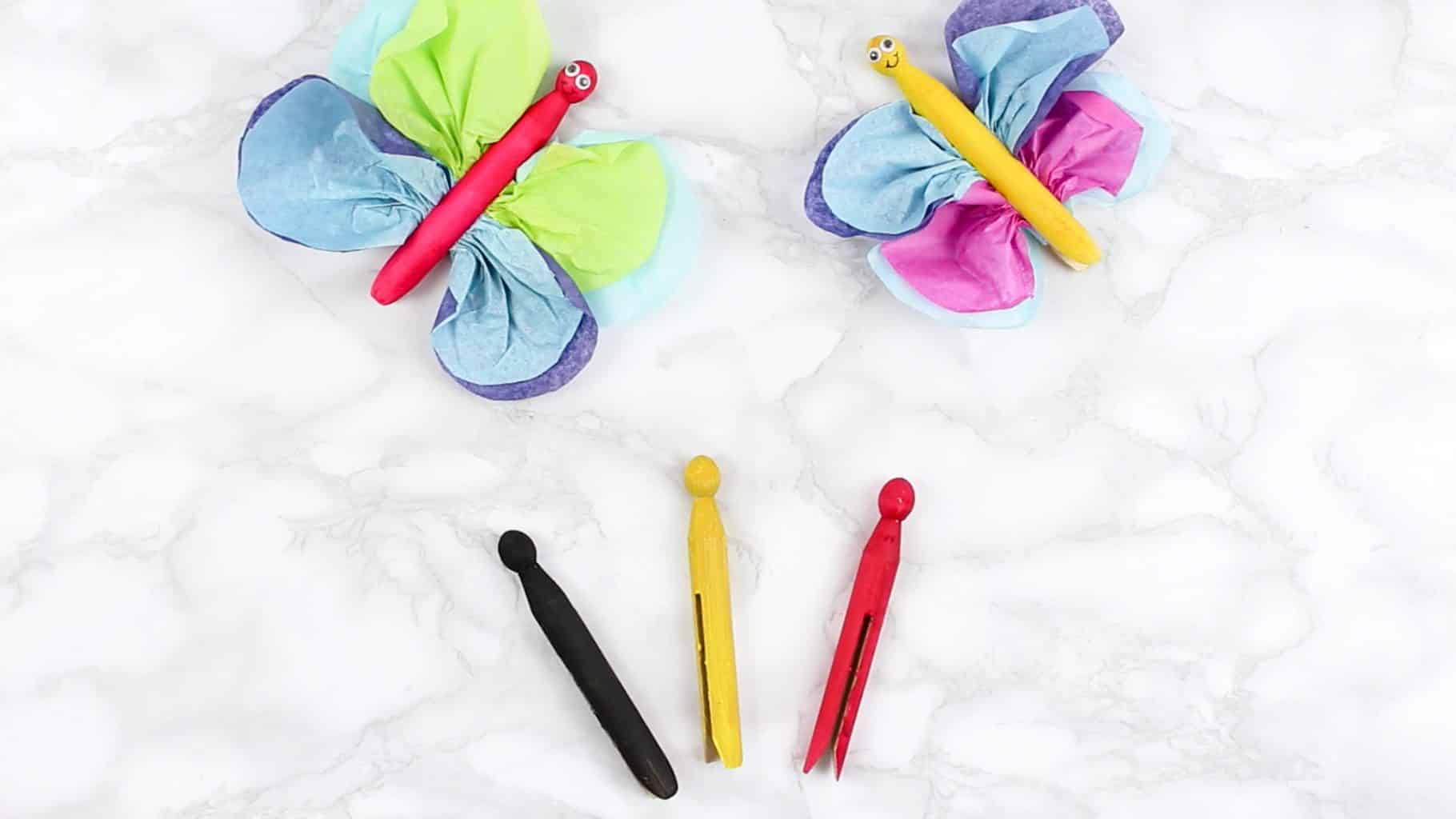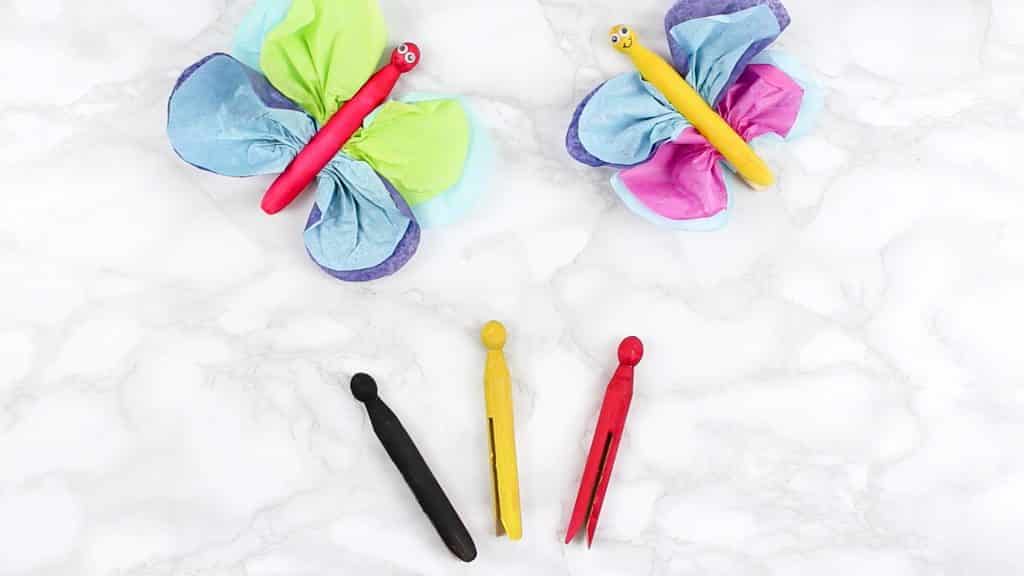 Step 1:
Slip the clothespins onto an old pot or glass – this will make it much easier for children to paint the clothespins.
Add a layer of acrylic paint to the clothespins. This can be one solid colour or a variety of colours.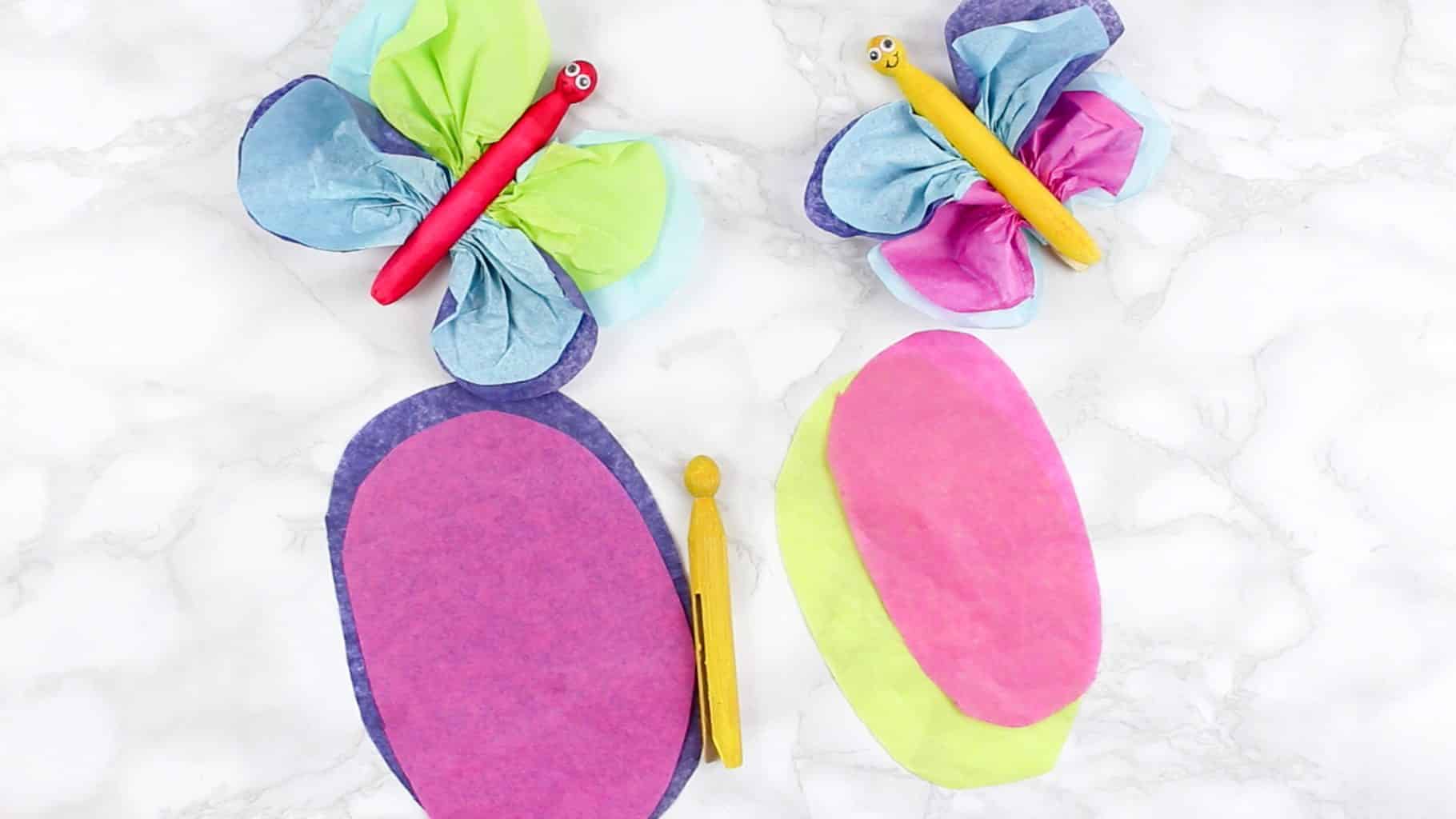 Step 2:
Grab the coloured tissue paper and cut out 4 long oval shapes.
Ask the Arty Crafty Kids to cut out 4 different sizes.
Layer the two biggest pieces of tissue paper, and again, layer the two smallest pieces.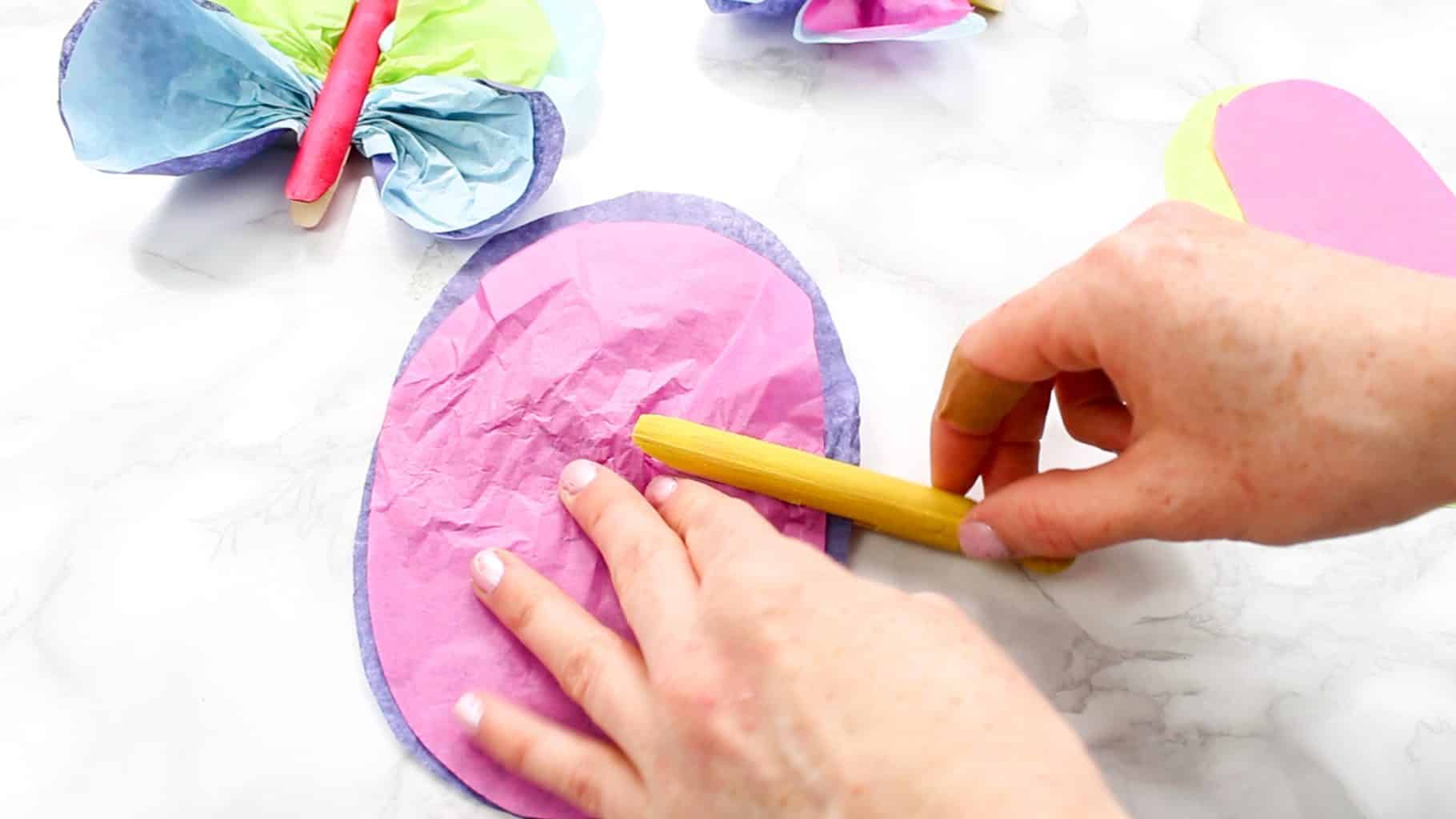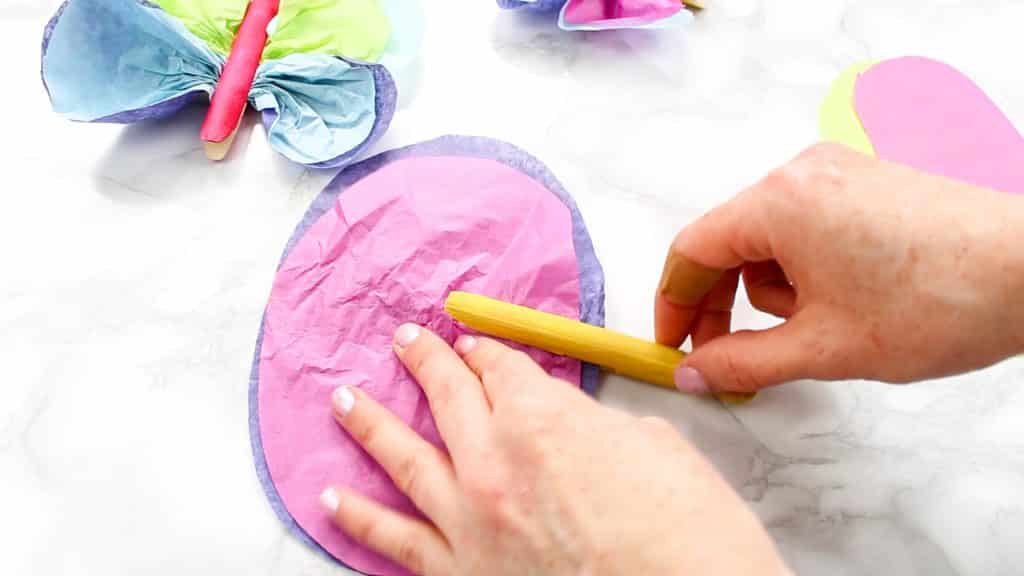 Step 3:
Start with largest set of tissue paper ovals and align the clothespin to the centre.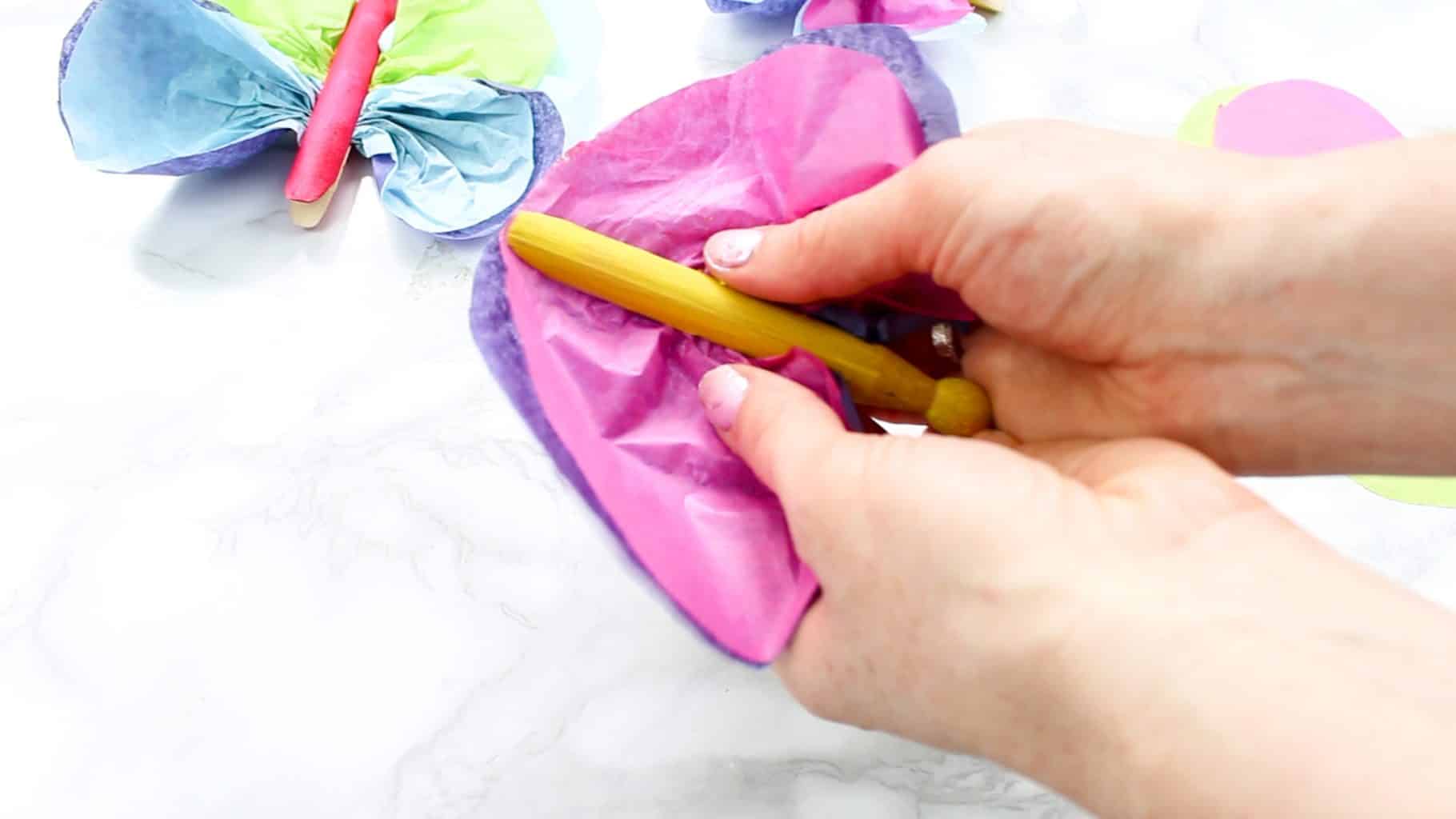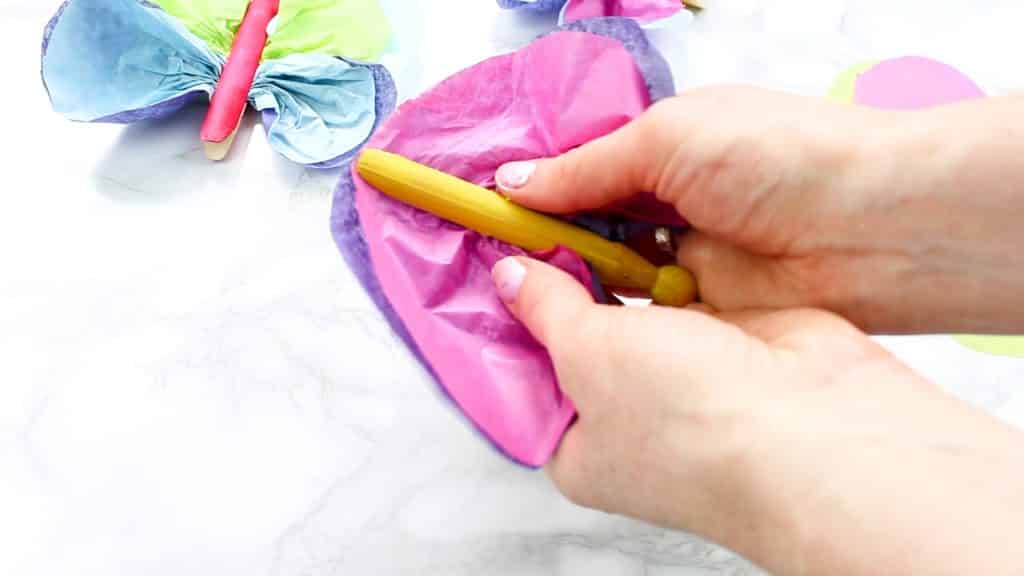 Step 4:
Slowly pull the tissue into the clothespin, allowing it to gather within.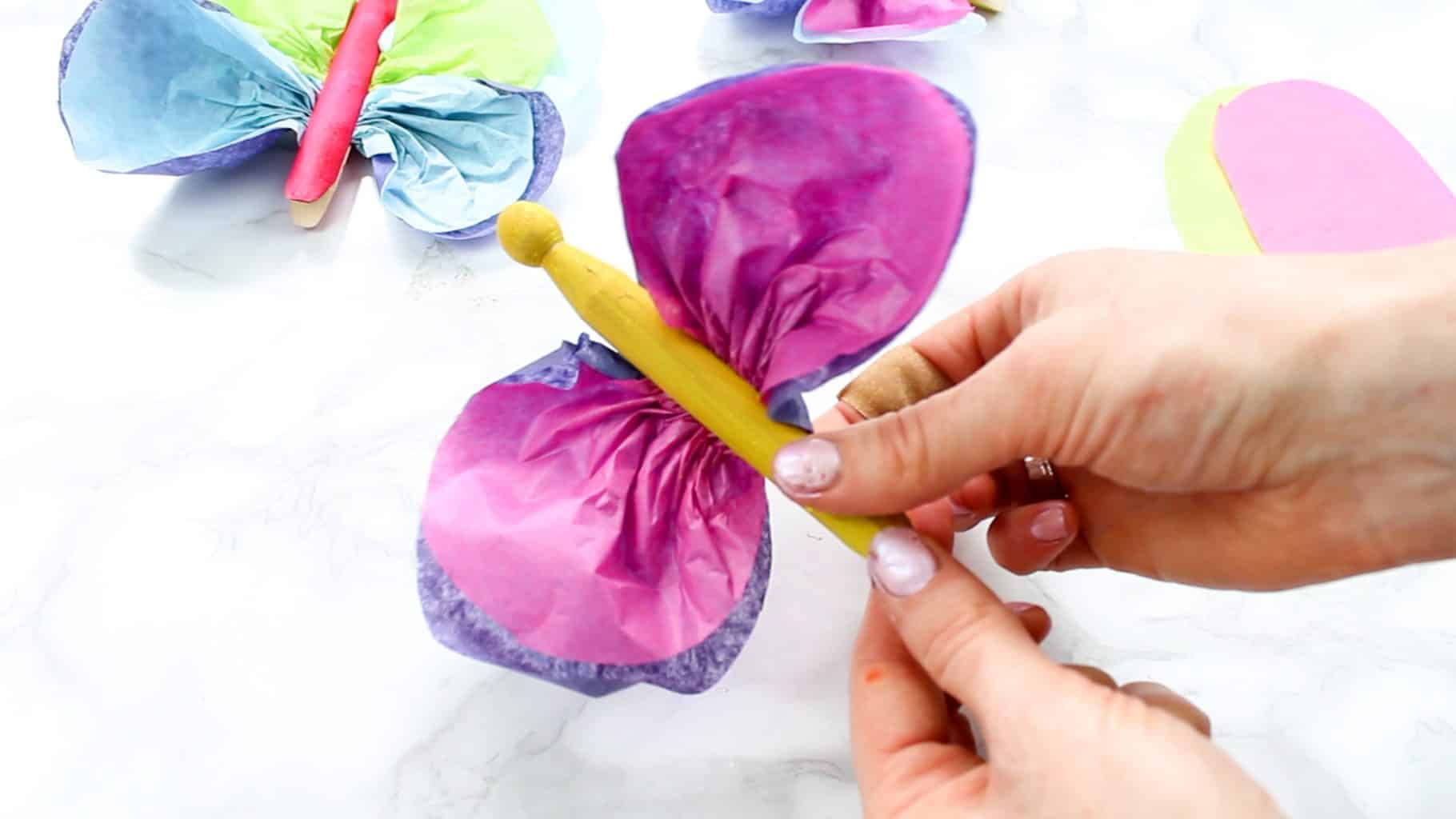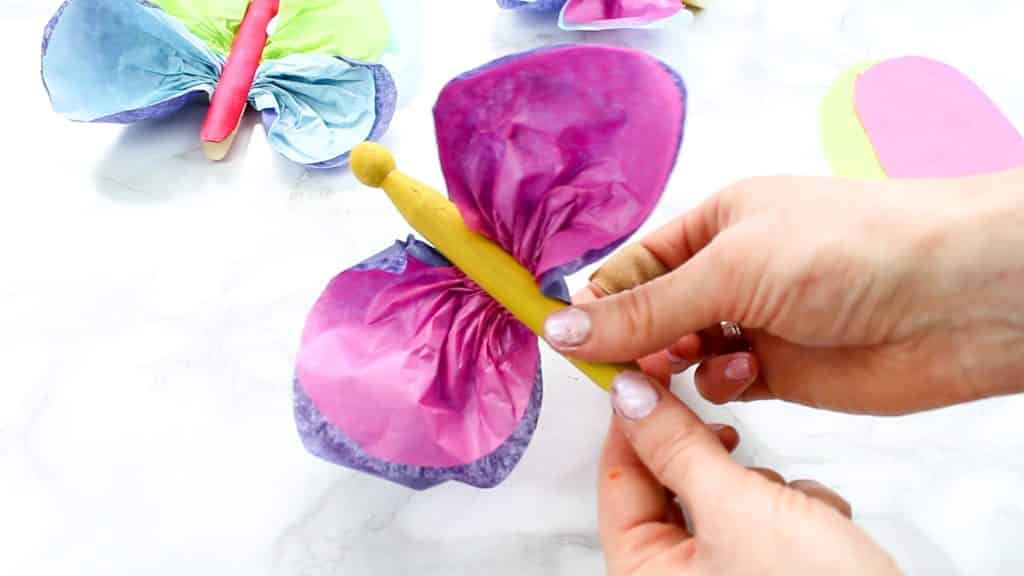 Step 5:
Keep threading until the tissue paper can be pulled no further.
The tissue paper should now resemble a pair of wings.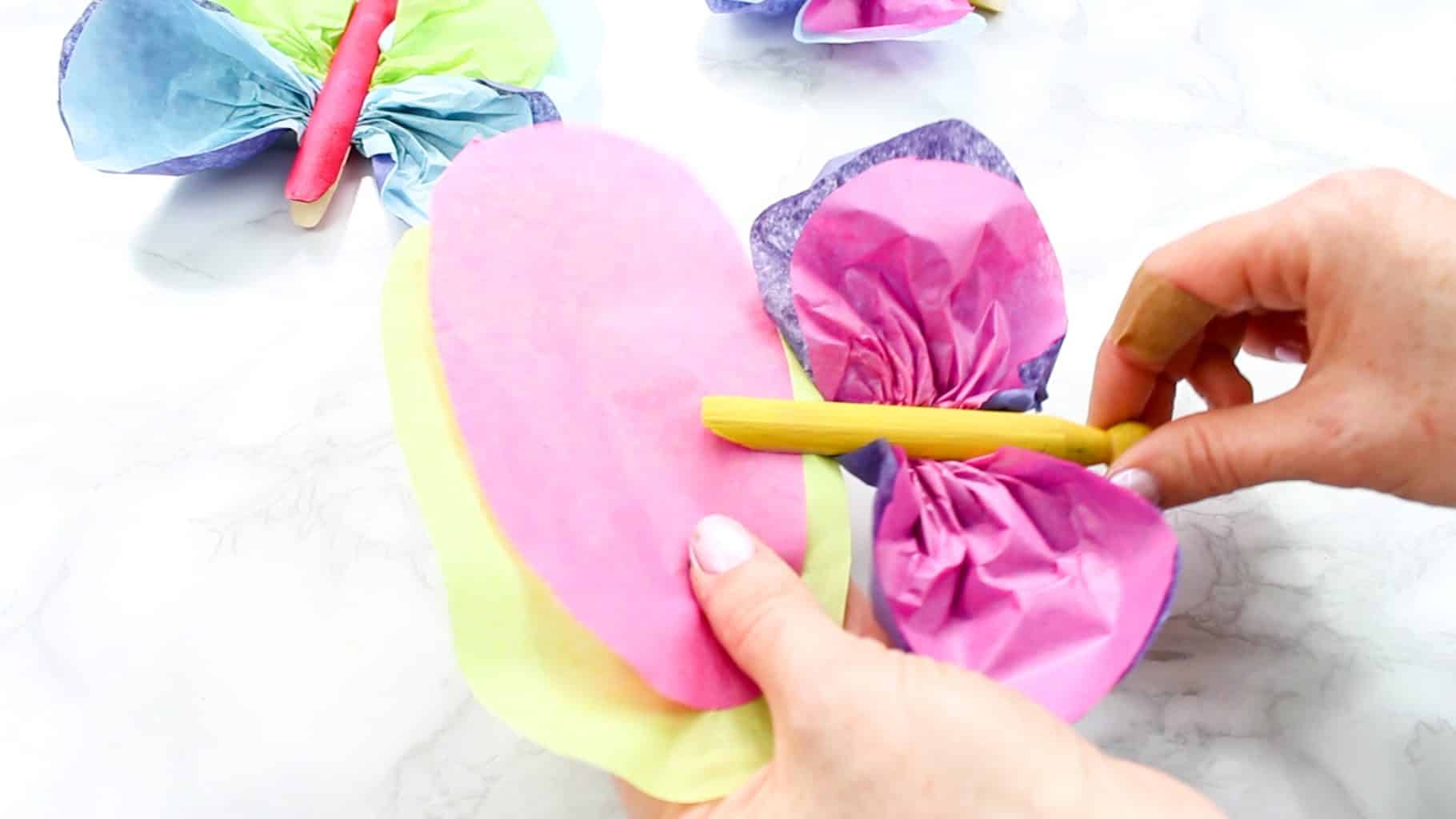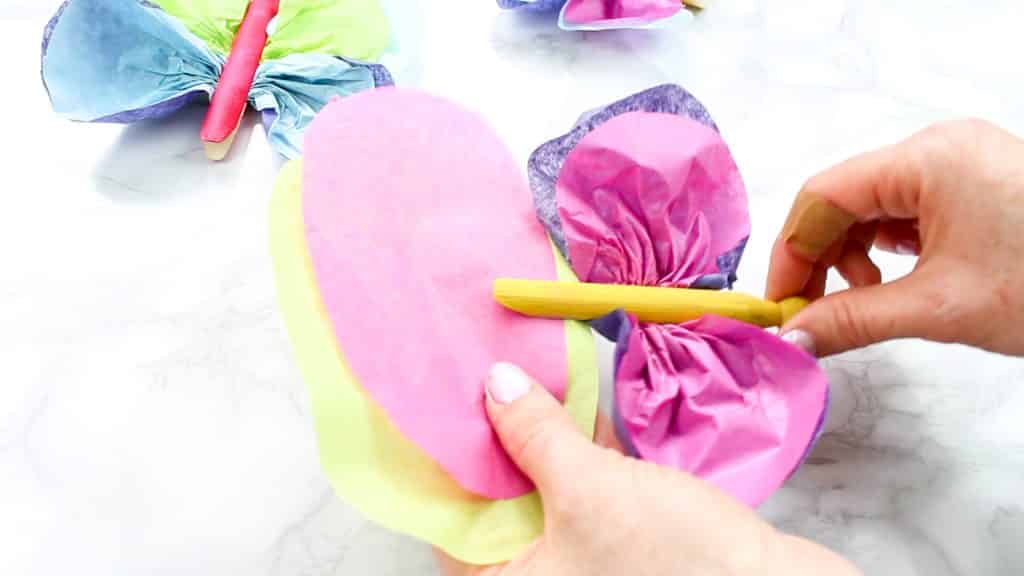 Step 6:
Repeat the process with the second set of tissue paper ovals.
The wings may need a little shaping.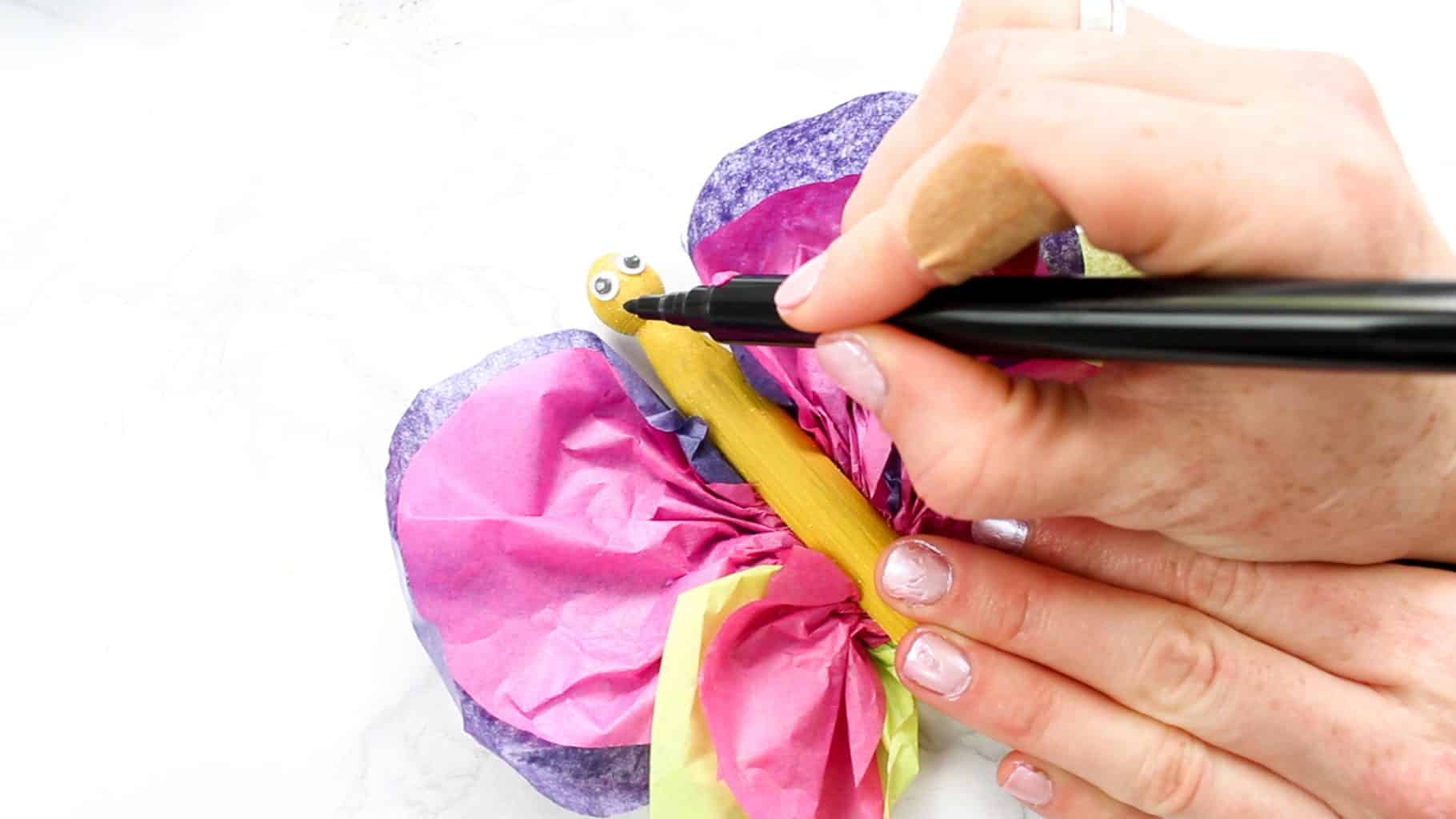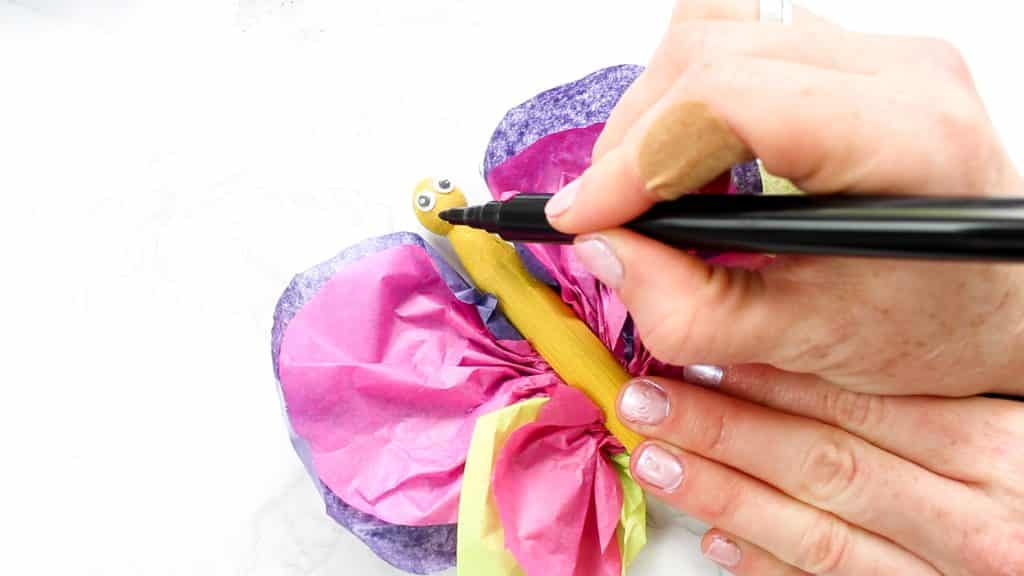 Step 7:
Complete the butterfly clothespin craft with a pair of small googly eyes and a smile.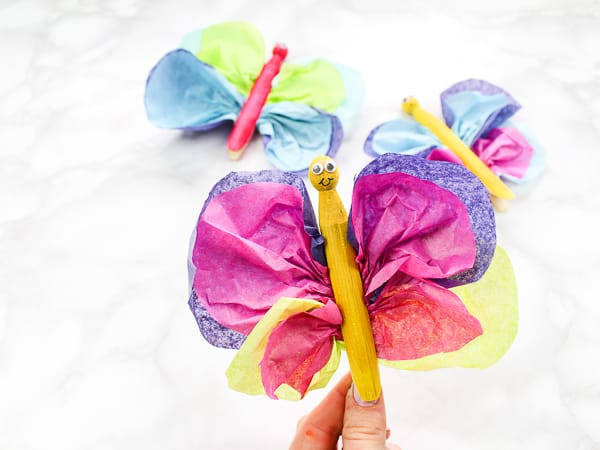 How to Draw a Butterfly:
Extend the butterfly craft with a simple butterfly drawing activity!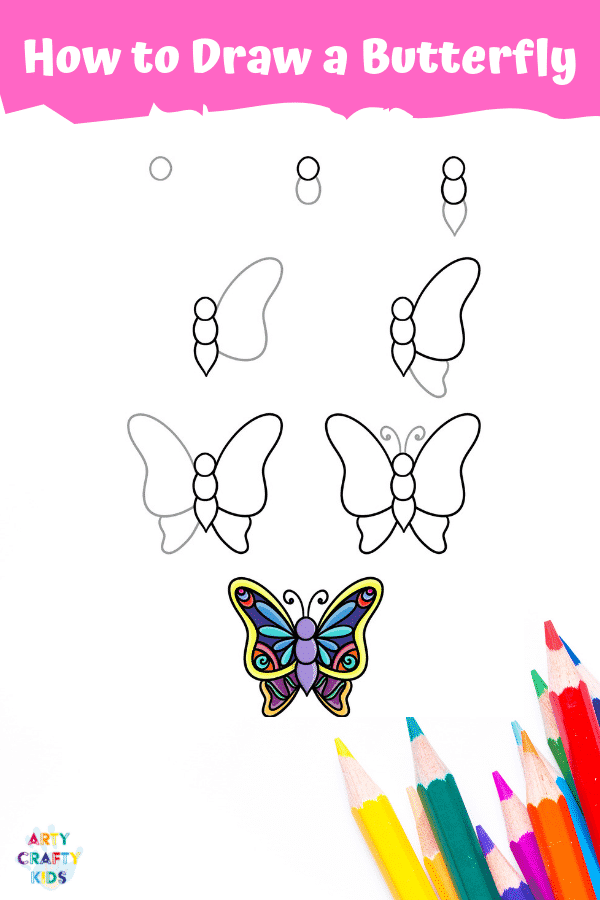 This is one of many 'How to Draw' examples found within the Arty Crafty Kids Club – an online membership offering exclusive printable resources to parents, teachers and creative kids!
We have a whole area dedicated to teaching kids how to draw, using simple step by step guides like our 'How to Draw a Butterfly' illustration.
Children can learn how to draw dinosaurs, bugs, cars, planes and plethora of different animals!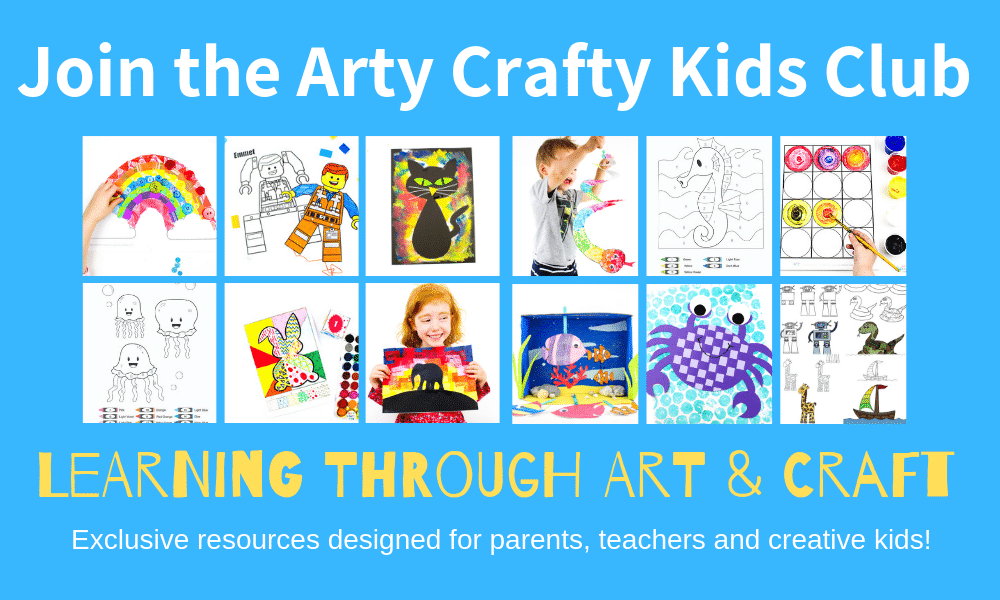 More Butterfly Crafts for Kids:
For more creative butterfly craft for kids, take a look at these popular posts:
Happy Crafting!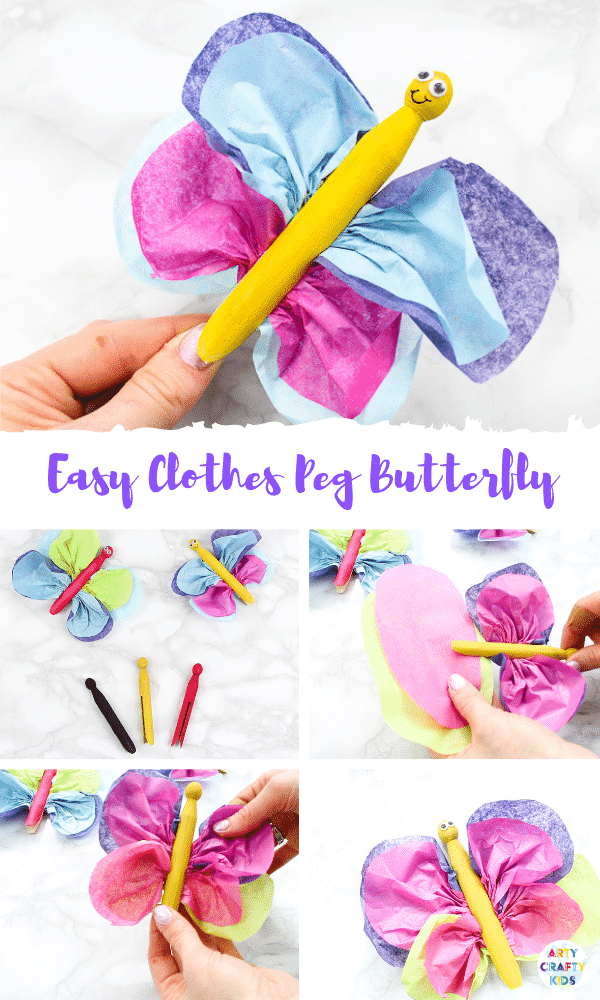 Latest Posts: