Salt painting is a fascinating and intriguing art technique, that will keep kids mesmerised from start to finish. Every fresh stroke of paint will deliver a different result and children will love experimenting with the process; naturally observing the cause and effect, and working out what ratios of water to paint will create the best colours and spread across the salt. This Butterfly Salt Painting project is a simple example of the salt painting process and it works beautifully!
And using our handy template as a guide, children can easily create their own bright and beautiful butterflies.
Butterfly Salt Painting: Materials
Salt
Watercolour Paint
PVA Glue
White Stock Card
Our butterfly template is accessible via the Arty Crafty Kids membership club, where a huge variety of templates can found as well as colouring pages, how-to-draw guides, DIY cards and much more!
Butterfly Salt Painting: Tutorial and Video
To see the process in action, take a look at our nifty video tutorial below.
[mv_video aspectRatio="16:9″ key="qbqxpjbu9kehtz2d9g6w"]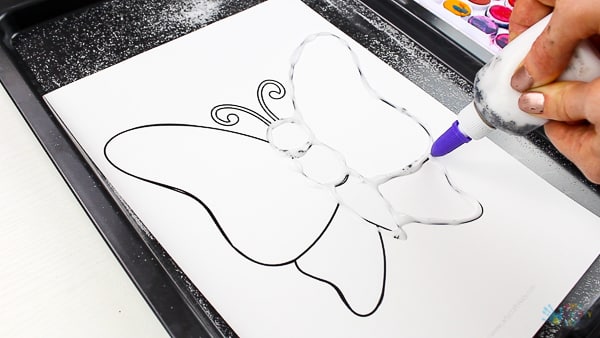 Step 1: Using a small squeezy bottle of PVA glue, spread the glue along the outline of your chosen shape.
You could either download one of the many animal outlines from our membership area or ask your Arty Crafty Kids to draw their own.
N.B – you will notice from the pictures that our squeezy bottle has black paint remnants. I'm a big fan of recycling and simply reused a bottle of glue from one of our black glue projects – this is also a fabulous process that you may want to take a look at!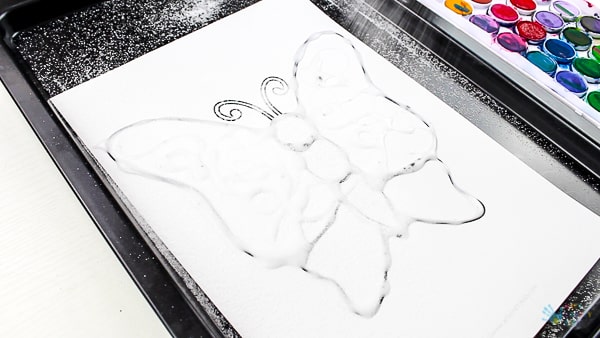 Step 2: Spread the salt across the butterfly, covering all exposed glue and then shake off the excess.
Step 3: Now for the really fun part!
Mix the watercolour paint with lots of water and then dab the paintbrush onto the salt.
What do the Arty Crafty Kids notice?
How does the paint spread across the salt?
Step 4: Continue adding paint until all the salt is covered.
Encourage the Arty Crafty Kids to mix colours directly on the salt – what happens?
The Butterfly Salt Painting is now complete!
I hope your Arty Crafty enjoy the process of creating their butterflies.
For more creative animal Art ideas, you may also enjoy Cool Cat Newspaper Art and our Mixed Media Unicorn!
And since you're here…
Did you know that you can now have our crafts and all the materials you need,
delivered straight to your door!