Bobble Handprint Owl Craft – A super cute and interactive paper Autumn craft that kids will love! With its wobbly handprint wings, the craft doubles up as a gorgeous seasonal keepsake.
This owl craft is such fun to make and perfectly adaptable to suit children both big and small – Preschoolers may find it easier to skip the tracing steps and decorate the template directly.
Bobble Handprint Owl Craft: Materials
Black & White Card Stock
Patterned Paper or Card
Coloured Paper
Brown Tissue Paper
Scissors
Pencil
Glue Stick
Downloading the Owl Template:
Arty Crafty Kids members can access the Bobble Handprint Owl Template here: https://www.artycraftykids.com/product/bobble-handprint-owl/
Not a member? JOIN HERE for instant access to the templates and our full library of art and craft resources, how to draw guides, colouring and activity pages.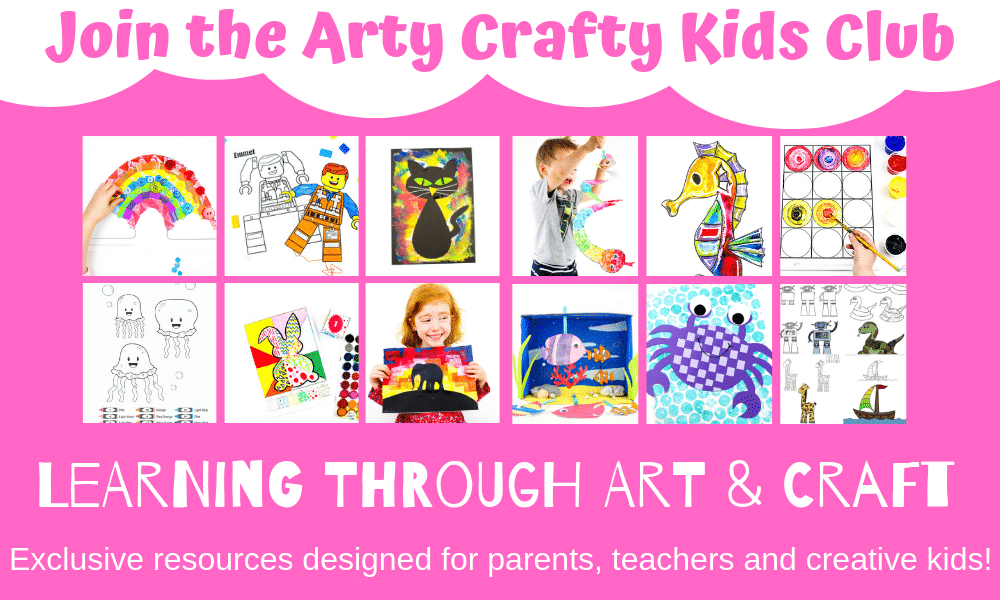 Bobble Handprint Owl Craft: Tutorial
Printing the Template
Download and print the Apple Template from the Arty Crafty Kids members area.
The template can be downloaded onto good quality paper or card stock.
If you opt for cardstock, remember to check your printer settings for a recommended weight. Most printers prefer card stock less than 220gsm.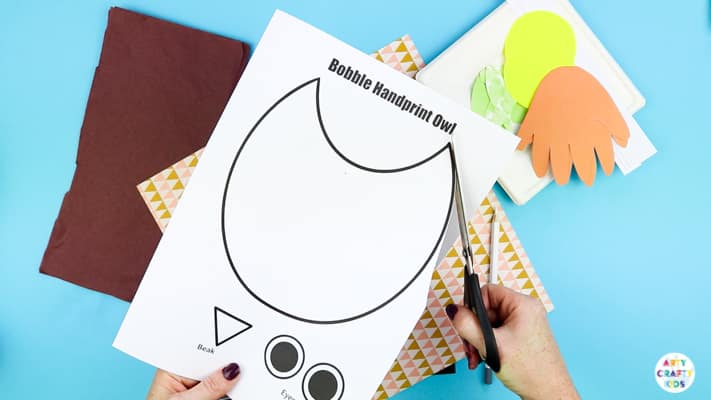 Cut out the Owl Elements
Step 1: Carefully cut out the owl elements.
The template has been designed with little hands in mind; using big thick lines and simple shapes to encourage smaller children to have a go at cutting for themselves.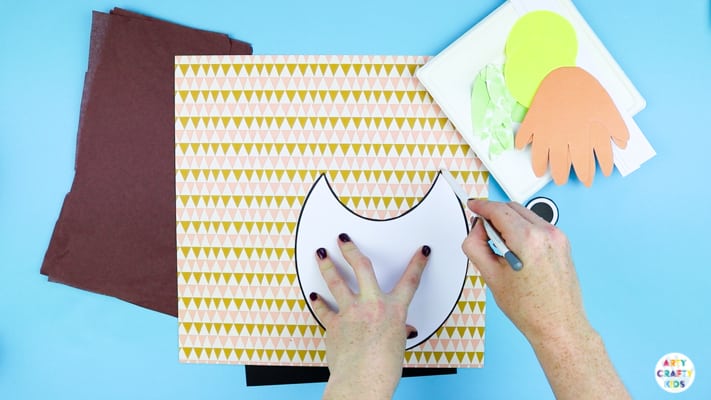 Trace the Owl Elements
Step 2: Transfer the owl's body to a piece of coloured/patterned paper or card. Carefully trace around the shape with a pencil.
Alternatively, Arty Crafty Kids can simply paint and decorate the template!
Make a Branch
Step 3: Grab two sheets of rectangular tissue paper and twist until they hold.
The twisted tissue paper will become a tree branch!
Step 4: Secure the tissue paper tree branch with glue to the bottom of the backing card ( we have chosen black to create a night-time scene for our owl).
Step 5. Add green leaves to the branch.
Step 6. Draw around a circular object onto yellow paper to create a moon. Secure the moon with glue.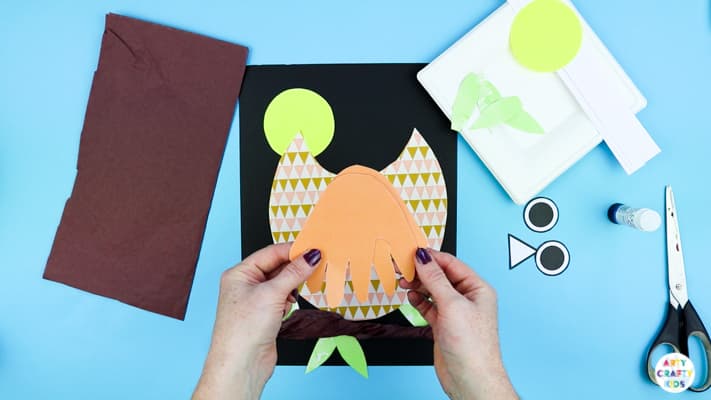 Trace a Pair of Handprints
Step 7: Draw around a pair of Arty Crafty Hands onto coloured paper/card and cut the handprints out.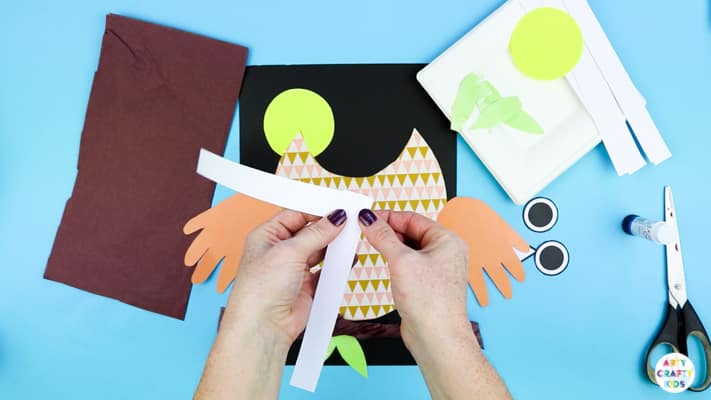 Make an Accordion Fold
Step 8: Using scissors or a paper cutter, cut out two even strips of coloured paper (or card for a better bounce, however it's trickier for kids to fold) – ideally, the strips will be fairly wide and for length, I recommend cutting the paper from the shortest side of an A4 piece of paper or longest side of a piece of card.
Take the two strips and position them in a 90° angle as shown above. Glue the connecting papers together.
Step 9: Fold the bottom strip over the top and crease the fold along the edge. This will make the accordion fold tight!
Continue this process until all the is paper has been folded.
Seal the ends with glue.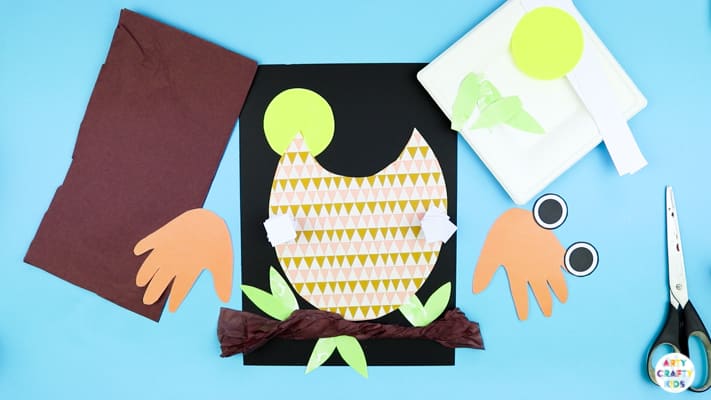 Step 10: Attach one end of each accordion fold to the body of the owl (as shown above).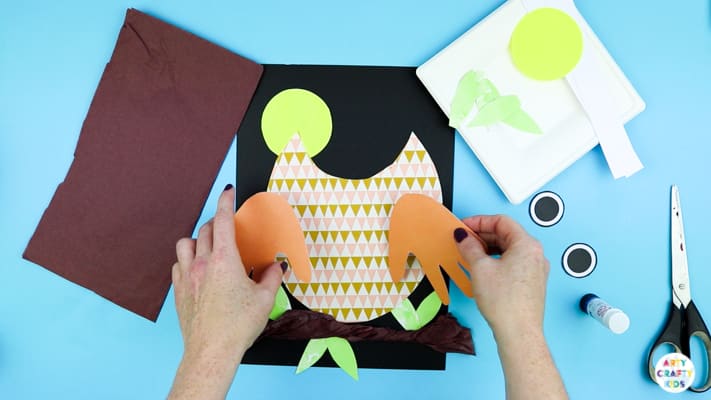 Attach the Handprint Wings
Step 11: Secure the handprints to the top of each accordion fold.
The handprint wings will now wobble and flap as if the owl is about to take off!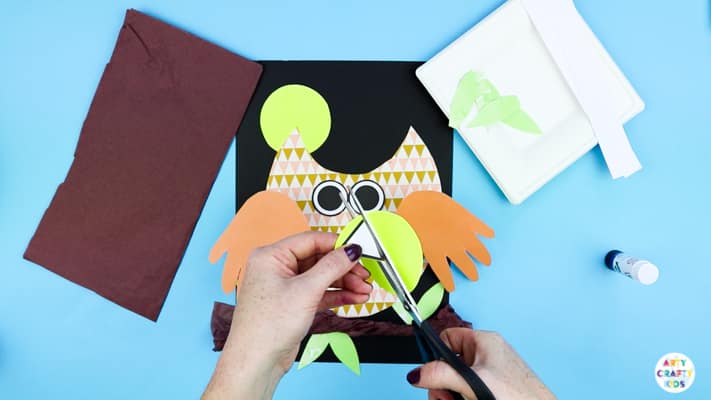 Completing the Bobble Handprint Owl Craft
Step 11: Complete the Bobble Handprint Owl Craft with a pair of eyes and a yellow beak.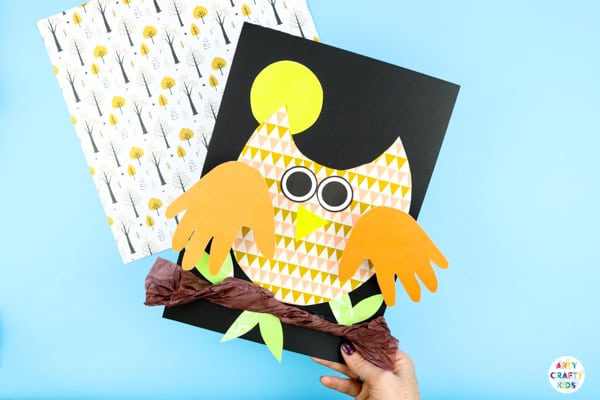 More Owl and Autumn Art & Craft Ideas
To continue the Autumnal fun, check out these popular and easy Autumn Crafts for Kids!
Autumn Leaf Art
This gorgeous Autumn Leaf Painting project is an exploration of basic colour-mixing principles, with the aim to recreate the Autumn hues and shades as observed by Arty Crafty Kids.

Autumn Leaf Painting
Toilet Paper Roll Owl Craft
These toilet paper roll owls are not only cute, they're also super easy to put together and perfect for kids to make!

Toilet Paper Roll Owl

20 +Creative Autumn Crafts for Kids
Autumn is upon us and our seasonal crafting is in full swing. Today I have the pleasure of featuring 30 Fabulously Creative Fall Crafts for Kids that offer lots of cutting, sticking, gluing, painting and even weaving to keep little hands busy!


Creative Fall Crafts for Kids


Happy Crafting!