Space Coloring Pages for Kids: Sparkling stars, spinning planets, hurtling asteroids, and maybe even some little green men..? Who isn't intrigued and excited by the wonder of space?! There's so much to explore, so why not download our brilliant space coloring pages for kids and help them learn whilst they play!
Use our space coloring pages to help children learn the names of the planets and their positions – do they know any rhymes to remember the correct order? Maybe they could have a go at making up their own!

With older children, encourage them to think about what the planets are made of and how that affects the colours, like red for fiery Mercury and green and blue for the land and sea of Earth.
Solar System Activity Page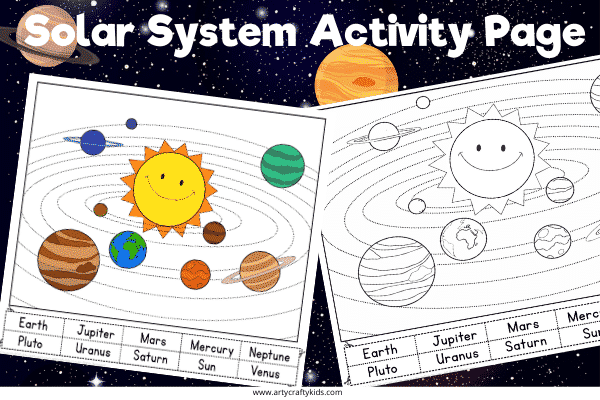 As well as our space coloring pages, we also have a brilliant cut and stick solar system activity page, which makes for a great school project. The children can color in the solar system and then cut out the planets names – can they label them all correctly?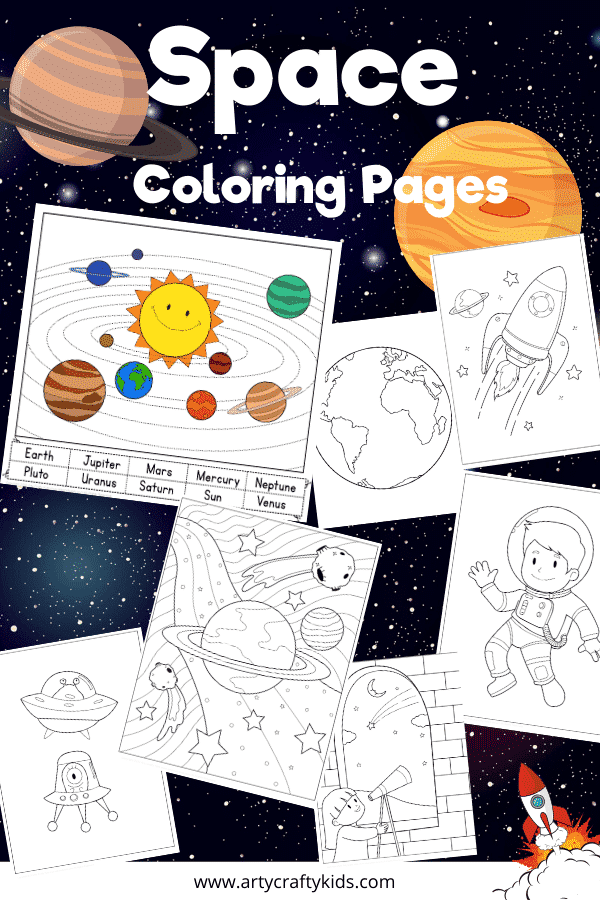 Do the children think aliens exist, and what might they look like? Would anybody like to be an astronaut when they grow up?! Our space coloring pages are a great starting point for a whole afternoon of fun!
How to Download the Space Coloring Pages:
The Space Coloring Pages are available to members of the Arty Crafty Kids Club. Join the members area to access our complete online library of art and craft templates.
Members can access the space coloring pages here: https://www.artycraftykids.com/product/space-colouring-pages/
Members will need to log in to access the templates!
Not A Member?
More Educational Printable for Kids:
All About Me Drawing Prompts:
The All About Me book is filled with fun drawing activities for kids that focuses on emotions, self image, drawing facial features, clothing design and crazy hair play.

https://www.artycraftykids.com/art/all-about-me-drawing-activity-for-kids/
Alphabet Activity Pages for Kids
Make learning the ABC's fun for your preschooler with these engaging printable A-Z Alphabet Worksheets.

These no-prep letter worksheets include traceable letter writing, letter colouring and super fun letter activities that change from page to page – this will keep children engaged throughout their alphabet practice and reinforce letter recognition and reading.

https://www.artycraftykids.com/alphabet-resources/alphabet-worksheets/