September's coloring tribe theme was cat coloring pages. I am a self-confessed cat person, with crazy cat lady traits and simply adore all things cat related, so this month I was super excited to be challenged to creating a free cat coloring page. However, my adoration for cats made this challenge extremely challenging, for I wanted to capture their personality, playfulness, elegance, a sense of independence and of course all the beautiful patterns and textures that can be found within luscious furry coats.
I'm sure you will agree, I probably put myself under far too much pressure. Subsequently, and I'm not afraid to admit it, I enlisted the help of a very clever artist to assist with translating the image I had in my head onto paper and I simply adore the end result!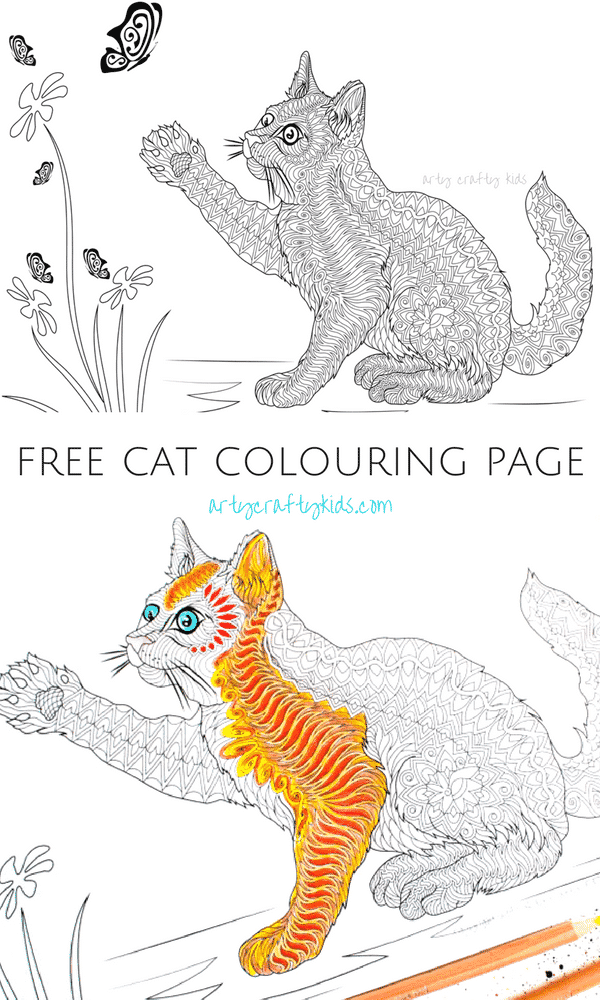 Free Cat Coloring Page
Our playful cat can be downloaded with a quick click of the link found below!
And don't forget to set your printer settings to 'fit to page!'
If you have been unfortunate enough to miss out on the previous coloring tribe challenges, take a quick at some of our favorites…
More Free Cat Coloring Pages from the Coloring Tribe!
Cat Masks Printables by Moms & Crafters
Cat Nap Vintage-Style Coloring Page by Arts & Crackers
Wisdom Cat Coloring Page by Hattifant
I hope you enjoy all of this months cat coloring pages and the added extras – I think they're just purrrfect!
Happy Coloring!