Dinosaur Coloring Pages for kids: We all know that dinosaurs are a crowd-pleaser with kids – and with some adults, too! So we've created a set of handy dinosaur coloring pages that you can print out and always have to hand.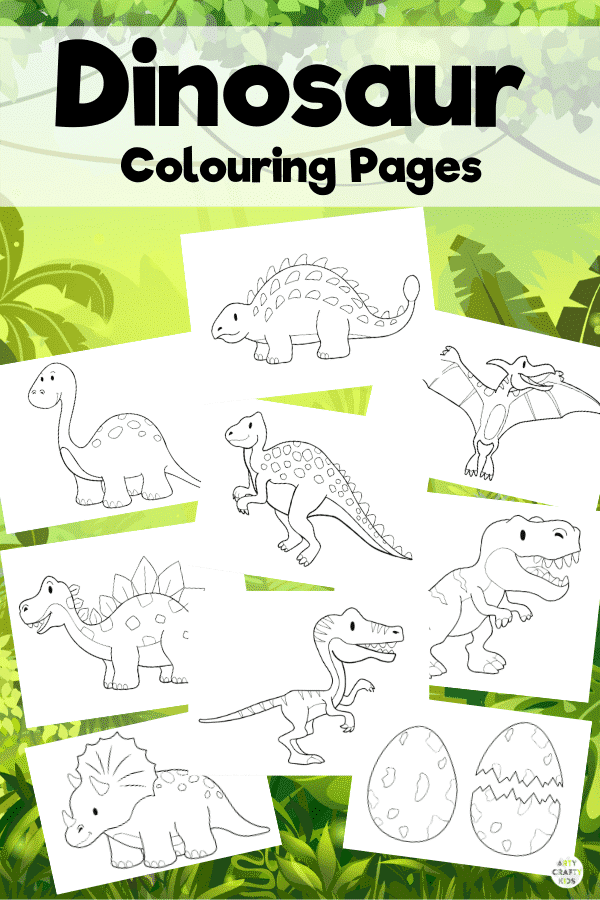 Looking for something to keep your dinosaur-mad children entertained on a rainy day?
Or do you need an easy activity that can be done independently in the classroom?
Would you like an alternative to technology to pop in your bag for the kids when you take them out to eat?
Or perhaps you're looking for a cheap and eco-friendly activity to include in party bags?
Whatever you need, look no further than our range of dinosaur colouring pages!
Dinosaur Coloring Pages – What's included?
We have a large variety of dinosaurs to choose from, so whether your kids prefer the toothy T-Rex or the stomping Stegosaurus, we have a coloring page to please everyone! We even have some dinosaur eggs, too!
Featured Dinosaurs:
Hand-drawn, with a cartoony style and designed with fun in mind, even the most ferocious of dinosaurs will appear happy and fun in this collection!
Can your children identify these dinosaurs within the dinosaur colouring pack?
Velociraptor
Diplodocus
Anklyosaurus
Iguanodon
Tyrannosaurus Rex
Triceratops
Pteradactyl
Stegosaurus
Use the coloring pages to learn the names of the different dinosaurs. Within this pack, we've covered the most popular dinosaurs. If your child's favourite isn't there, let us know as we love a challenge!
How do I Download the Dinosaur Coloring Pages?
The Dinosaur Coloring Pages are available to members of the Arty Crafty Kids Club. Join the members area to access our complete online library of art and craft templates.
Members can access the dino coloring pages here: https://www.artycraftykids.com/product/dinosaur-colouring-book/
Members will need to log in to access the templates!
Not A Member?
More Educational Printable for Kids:
All About Me Drawing Prompts:
The All About Me book is filled with fun drawing activities for kids that focuses on emotions, self image, drawing facial features, clothing design and crazy hair play.

https://www.artycraftykids.com/art/all-about-me-drawing-activity-for-kids/
Alphabet Activity Pages for Kids
Make learning the ABC's fun for your preschooler with these engaging printable A-Z Alphabet Worksheets.

These no-prep letter worksheets include traceable letter writing, letter colouring and super fun letter activities that change from page to page – this will keep children engaged throughout their alphabet practice and reinforce letter recognition and reading.

https://www.artycraftykids.com/alphabet-resources/alphabet-worksheets/