10 Vehicle Dot to Dot Coloring Pages: If you're looking for an activity that's great for both children's creativity and learning (and one you don't have to supervise!), why not download our brilliant vehicle activity pages!
Including a car, aeroplane, train, bus, boat, bicycle, monster truck, tractor and two different types of cranes, these fun vehicle themed activity pages do double duty as coloring sheets and dot to dot.
Once the designs are complete and colored, there's loads to chat about. Which vehicles are for fun and which are used for work? Which vehicles carry passengers and where do they travel – land, air or sea? How many vehicles have the children been inside?
10 Vehicle Dot to Dot Coloring Pages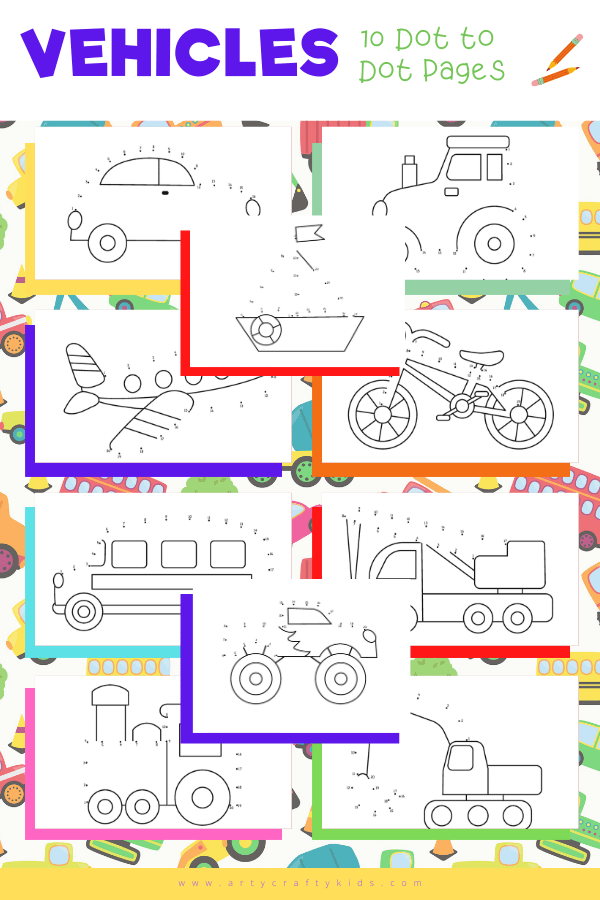 The Benefits of Dot to Dot Activities:
Our Arty Crafty Kids vehicle activity pages are brilliant education aids for pre-schoolers, too. Line making with intent is great for developing fine motor skills and hand-eye coordination.

And following the process of dot to dot is a fun and engaging way to help children learn to count and understand basic math. Not only do dot to dots help with number recognition, but they allow children to explore number order, forward and back, in a really visual way, encouraging them to feel more comfortable with numbers.
How to Download the Vehicle Coloring Pages
These vehicle coloring pages are available to members of the Arty Crafty Kids online library of art and craft templates.
The dot-to-dot vehicle coloring pages can be accessed via this link: https://www.artycraftykids.com/product/vehicle-dot-to-dot-pack/
Members will need to log in to access the templates!
Not A Member?
More Educational Printables for Kids:
All About Me Drawing Prompts:
The All About Me book is filled with fun drawing activities for kids that focuses on emotions, self image, drawing facial features, clothing design and crazy hair play.

https://www.artycraftykids.com/art/all-about-me-drawing-activity-for-kids/
Alphabet Activity Pages for Kids
Make learning the ABC's fun for your preschooler with these engaging printable A-Z Alphabet Worksheets.

These no-prep letter worksheets include traceable letter writing, letter colouring and super fun letter activities that change from page to page – this will keep children engaged throughout their alphabet practice and reinforce letter recognition and reading.

https://www.artycraftykids.com/alphabet-resources/alphabet-worksheets/