Picasso Faces – Easy Art for Kids: Pablo Picasso is one of the most revered of the famous artists featured in art lesson plans for kids across the world. Picasso was experimental in his approach to art, often painting a common object or person from lots of different angles in one picture. This is called cubism.
This art project has been designed to make drawing cubist Picasso faces easy for kids, with printable drawing guides and templates to encourage all children of any age or ability to have a go at creating their own Picasso styled portrait.
"Every child is an artist. The trouble is how to remain an artist once he grows up" – Pablo Picasso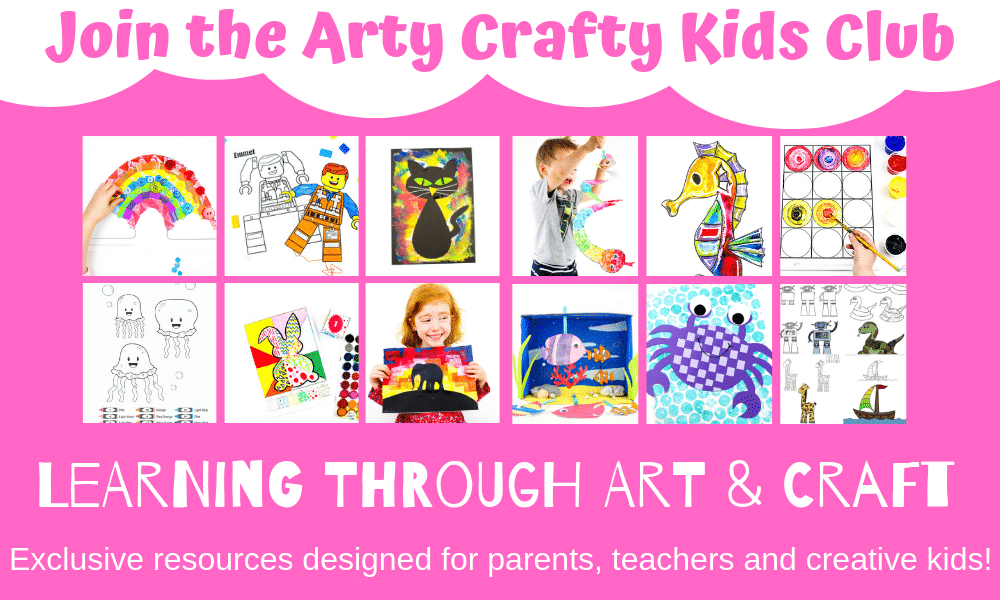 Pablo Picasso – Who is he?
Picasso was born in Spain, Malaga in 1881. From an early age he loved to draw and by the age of eight, Pablo Picasso could draw more realistically than his art teacher.
He was brilliant at drawing and loved colour, doodling; and it is suggested, he could draw just about anything. As his technique developed, he began to experiment with new ways of drawing people and objects.
In 1904, at the age of 23, he moved to Paris.
Paris was considered the capital of the avant-garde, which means "advance guard" – in other words, the people and ideas were cutting-edge and ahead of their time.
It is in Paris that Pablo Picasso befriended Georges Braque, an artist of whom he invented cubism with.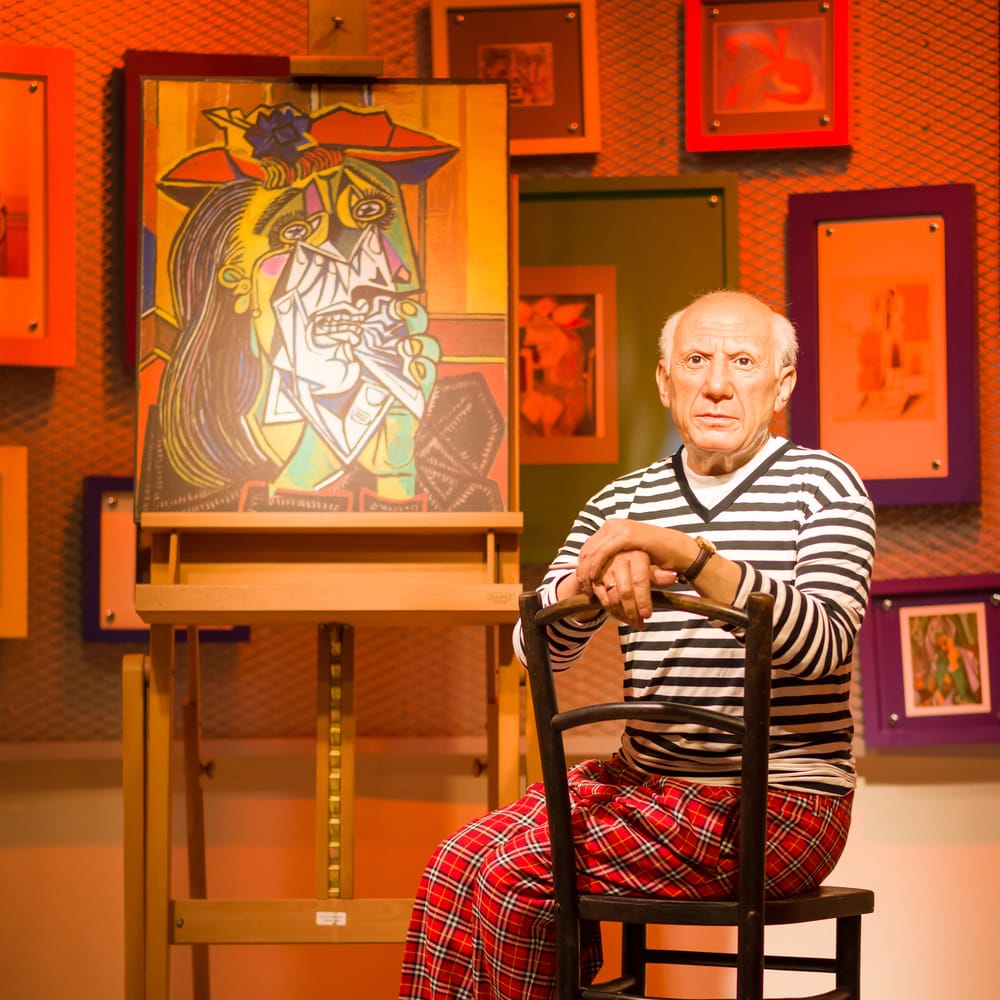 What is Cubism?
Created by Pablo Picasso and George Braque, cubism is the term used to describe the revolutionary process of fragmenting objects and people to create a new whole with multiple viewpoints.
The name 'cubism' seems to have derived from a comment made by the critic Louis Vauxcelles who, on seeing some of Georges Braque's paintings exhibited in Paris in 1908, described them as reducing everything to 'geometric outlines, to cubes'.

Art Term Cubism: https://www.tate.org.uk/art/art-terms/c/cubism
Cubism – The Weeping Woman
The Weeping Woman is one of Pablo Picasso's most well known painting. Rather than create an exact portrait of the woman's face, he used jagged shapes, bright colours and thick black lines to present her sadness and tears.
Notice how her eyes are looking straight, while her mouth in monochrome is facing a different direction? It's as if she is looking in two different directions at exactly the same time.
Read more about The Weeping Woman here.
It is this cubist style our Picasso Faces – Easy Art for Kids aims to explore.
Picasso Faces – Easy Art for Kids: Who is it for?
This Picasso Art project has been designed to accommodate children from preschool and kindergarten age, to EYFS (early years foundation stage) and 1st, 2nd, 3rd, 4th grade.
Thus, Picasso art lesson plans can be adapted to suit your students age and developmental stage.
Picasso Faces – easy art for kids: For Preschool and Kindergarten – a Scissor Skills Exercise
Children have the option to colour one of the six Picasso face shapes (labelled A-F in the Arty Crafty Kids members area) and to cut and stick features from the Picasso Face Elements template to complete a Picasso Face.
Members need to login to the members area to download the templates and access the ad-free tutorial: https://www.artycraftykids.com/product/pablo-picasso-faces-bundle/
This makes the art project easy and achievable to even smallest of artists, who will enjoy the process of practising their cutting skills to create funny faces and portraits.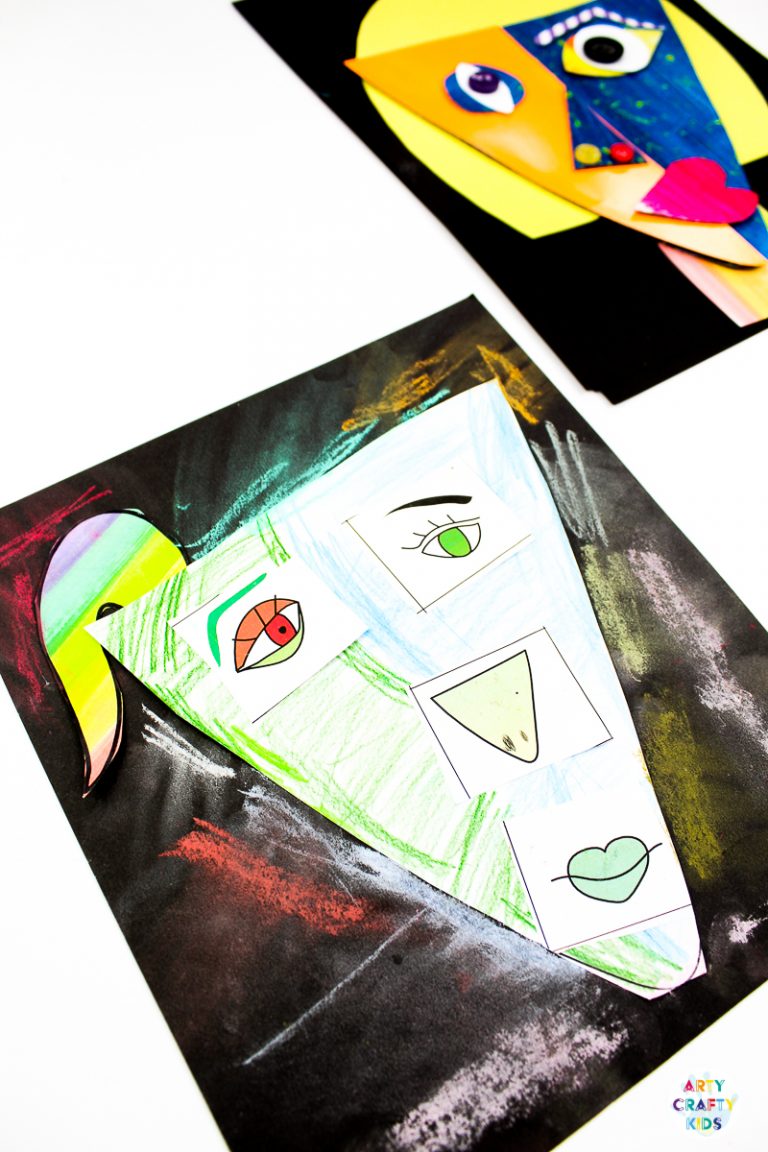 Picasso for EYFS & 1st, 2nd Grade
Younger children may begin to draw some of the features from the Picasso Face Elements template and combine them with guide cut outs.
Older children, with the aide of a pre-made face template, can follow our simple How to Draw a Picasso Face tutorial to design their own face.
Picasso for 3rd, 4th, 5th Grade and Beyond
"Learn the rules like a pro, so you can break them like an artist" – Pablo Picasso
Introducing Mixed-Media to our Picasso Portraits
No material or medium is off limits in this art project.
Use the Picasso Elements Guide to create faces from paper, cardboard and fabric. Experiment with painting techniques from bubble wrap printing to splats to black glue and add buttons, lace and recyclable materials to create features embedded within drawn elements.
The results will be bold, colourful and wonderfully strange.
With every piece, ask your children and students to think about the emotions their portraits convey.
Materials:
Card Stock – Various Colours inc. Black and White
Paper – Various Colours
Drawing Materials – Pens, Pencils, Pastels etc
Optional: Cardboard and Recyclable
Optional: Paint – Watercolour, Ready-Mix
Scissors
Glue Stick
Picasso Faces Printable Resources: How to Download the Templates
– Six Picasso Face Shapes labelled A-F (available in B&W and Colour)
– Picasso Face Elements drawing prompt/guide
The Picasso Face templates are available to members of the Arty Crafty Kids Members area and can found by searching "Picasso Faces" – Members, Login HERE!
Join the Arty Crafty Kids Club
Picasso Faces – Easy Art for Kids: Step by Step Tutorial
Printing the Picasso Templates
Before hitting the print button, select 'fit to page'.
For projects involving paint, I recommend printing the face shapes onto white card stock.
Remember to refer to your printer settings for a suggested weight. Most printers will print on to card weighing less than 220gsm.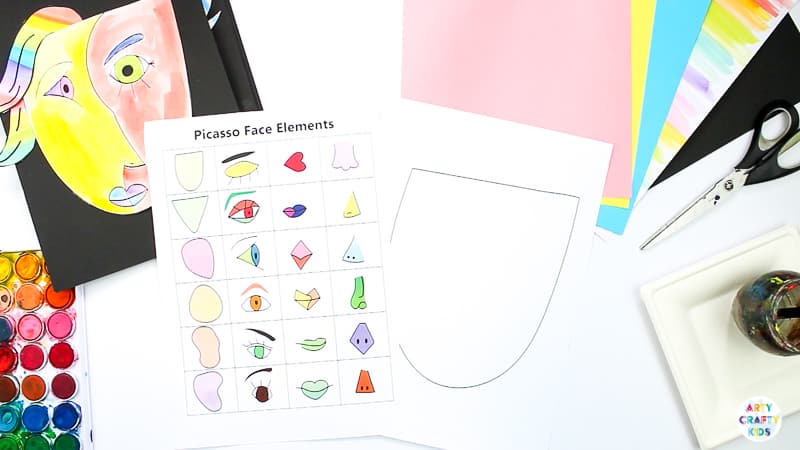 How to Draw a Picasso Face
Step 1: Download and the print the Picasso Face Elements and a Picasso Face Shape from the Arty Crafty Kids Members area.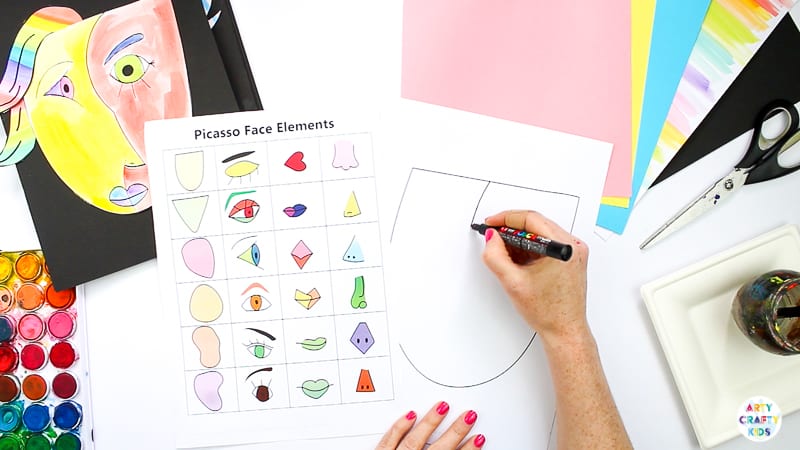 Dividing the Face
Step 2: Start from a central spot on the face shape and draw a line towards the bottom, stopping a just before half way.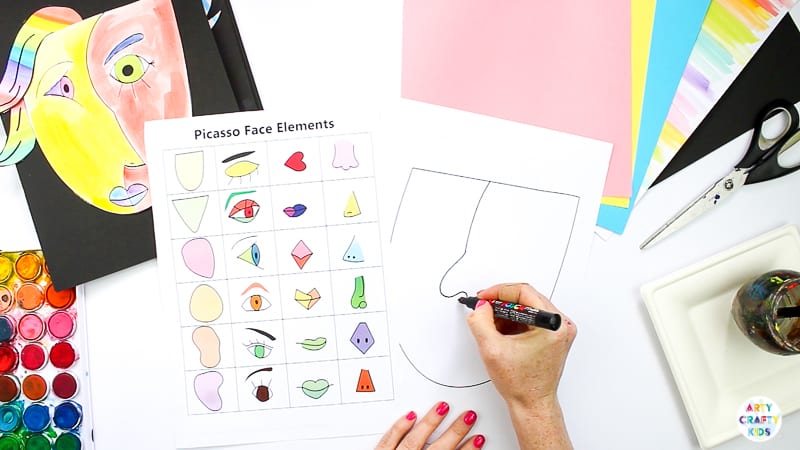 Draw a Nose
Step 3: Select a nose shape from the Picasso Face Elements guide and from the line, draw in a nose.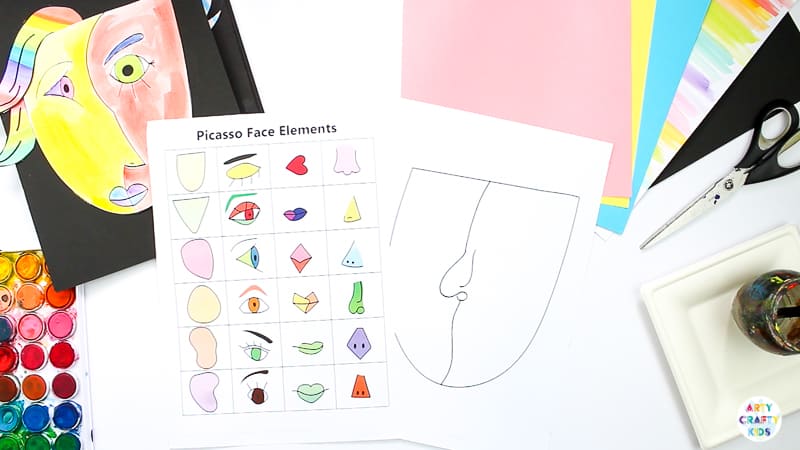 Step 4: From the nose, draw a line to the chin of the face.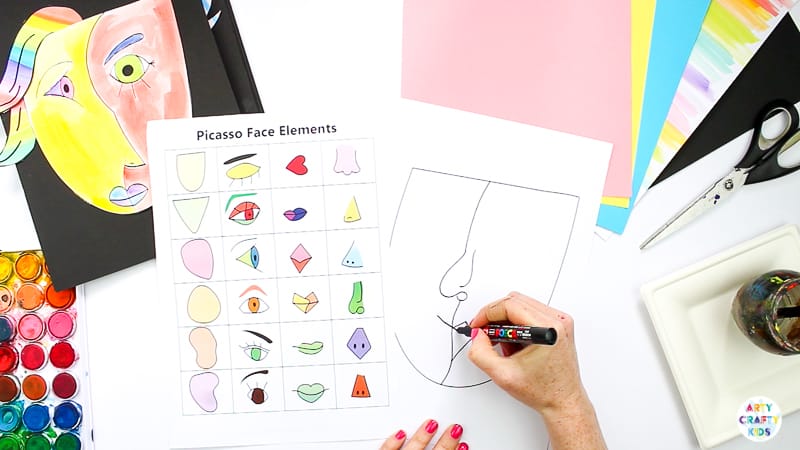 Draw a Mouth
Step 5: Select a mouth and from the dividing line, draw one half.
Step 6: Draw the other half to complete the mouth.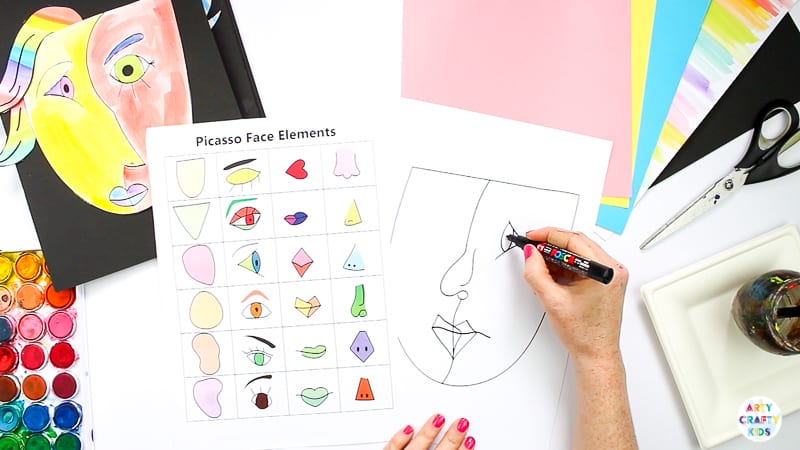 Step 7: Select one half of the face and draw an eye.
If Arty Crafty Kids choose to complete the template without adding paper layers, complete the template with a second eye and colour.
Colour the Face
Step 8: Using bold and bright colours, paint or colour in the face.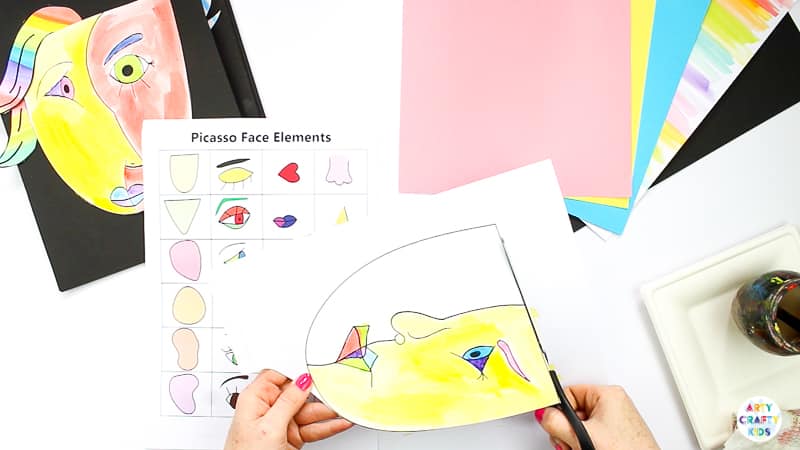 Adding Layers, Colours
and a New Viewpoint
Step 1: Cut out the whole face.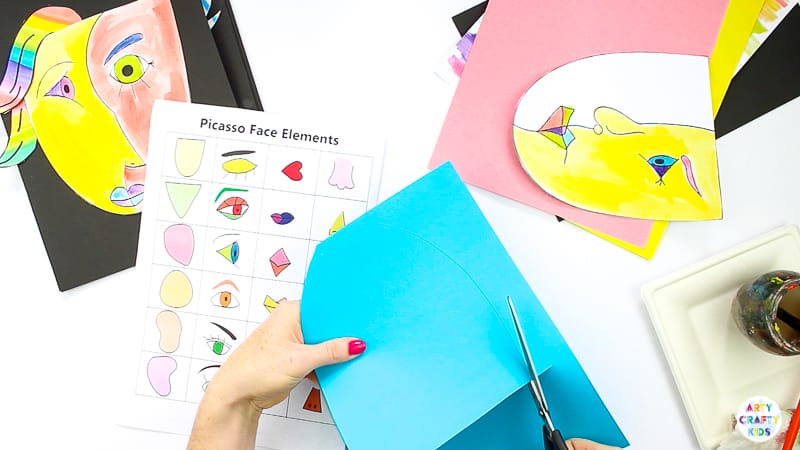 Step 2: Using a contrasting colour, trace around the whole face to create a silhouette and cut.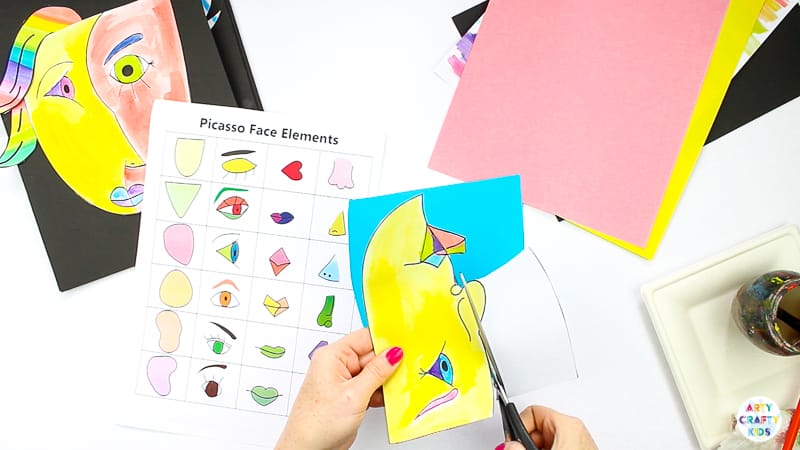 Step 3: Cut out the completed half face from the template.
Step 4: Glue the half face to the blue paper.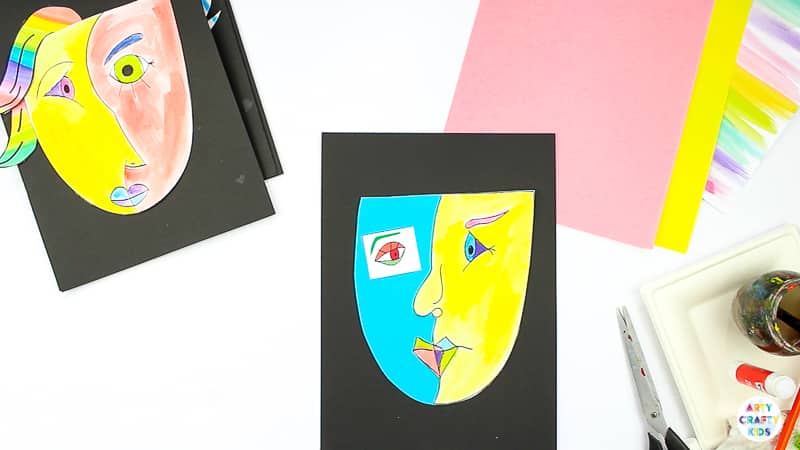 Step 5: Cut out an eye feature from the Picasso Face Elements and glue to the blue side of the face.
Alternatively, Arty Crafty Kids may prefer to draw a second eye.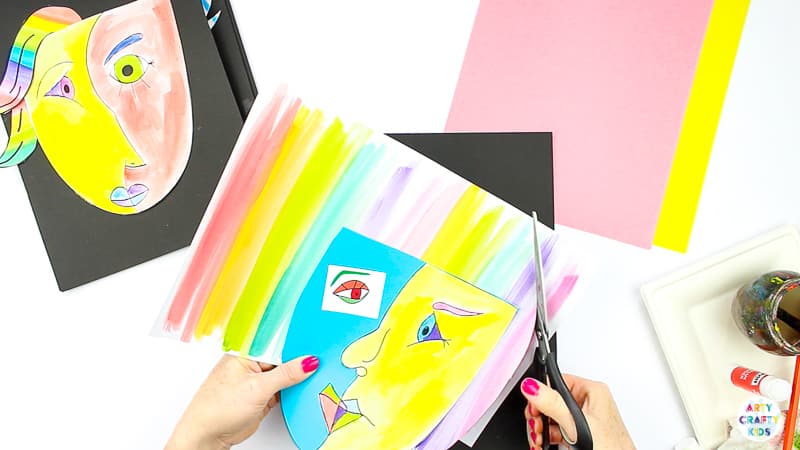 Reusing Old Art in Picasso Faces
Hair is optional extra and here we've painted a sheet of white card in rainbow stripes with watercolour paint.
If your Arty Crafty Kids have an old painting or patterned/coloured paper they could use, this is a great way to add texture, colour and patterns to the portrait.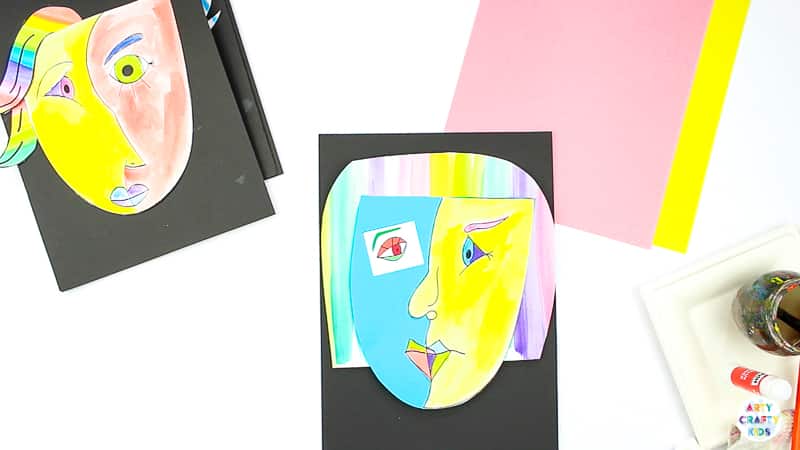 Step 6: Glue the 'hair' (if created) to the black card stock backing and secure the portrait on top.
The tutorial for Picasso Faces – Easy Art for Kids is now complete!
Now take a good look at the completed portraits, even place a hand over each half in turn, how many faces can be seen and how does each face feel?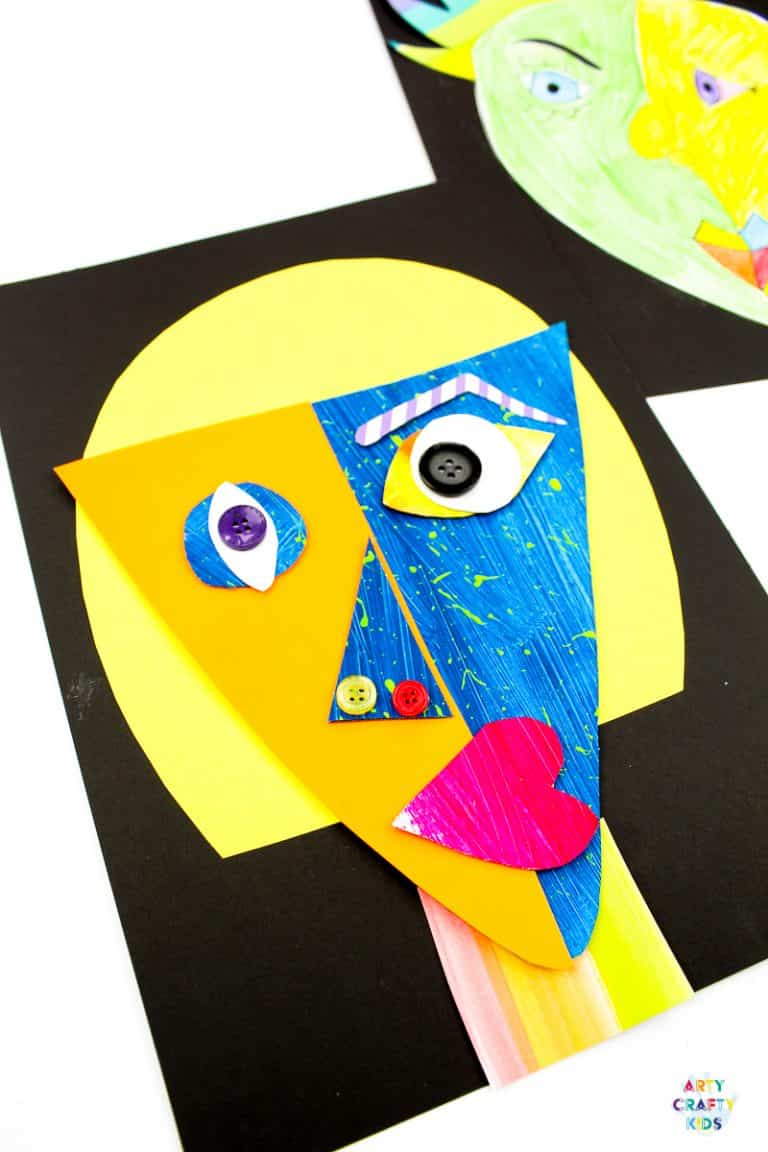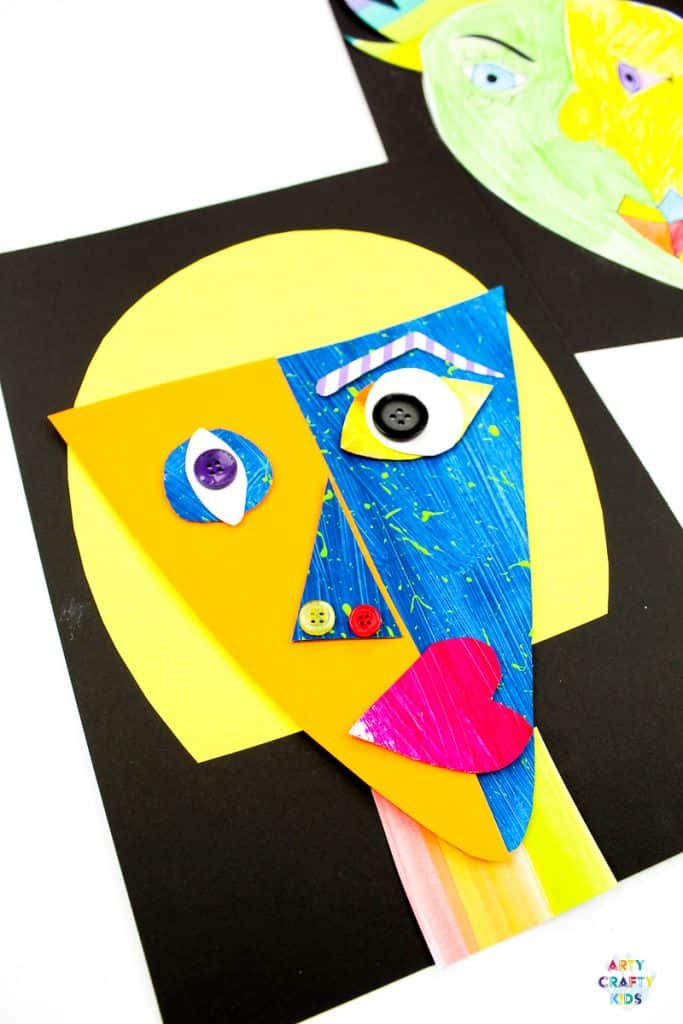 Using Mixed Media in Picasso Art
This art project is perfect for introducing mixed-media concepts and can be adapted with the aim of using recycled materials to create Picasso faces.
Here, we've traced a face shape onto some painted cardboard and divided the face with a piece of orange paper.
Scrap paper has been used for the neck, hair and eyes, along with scrap cardboard for the lips.
Our eyes and nose have been completed with buttons.
While simple, this is an effective example of using mixed-media in art, which adds an open-ended dynamic to the project; encouraging children to experiment with shapes, colours and materials.
---
Extending Drawing Faces: All About Me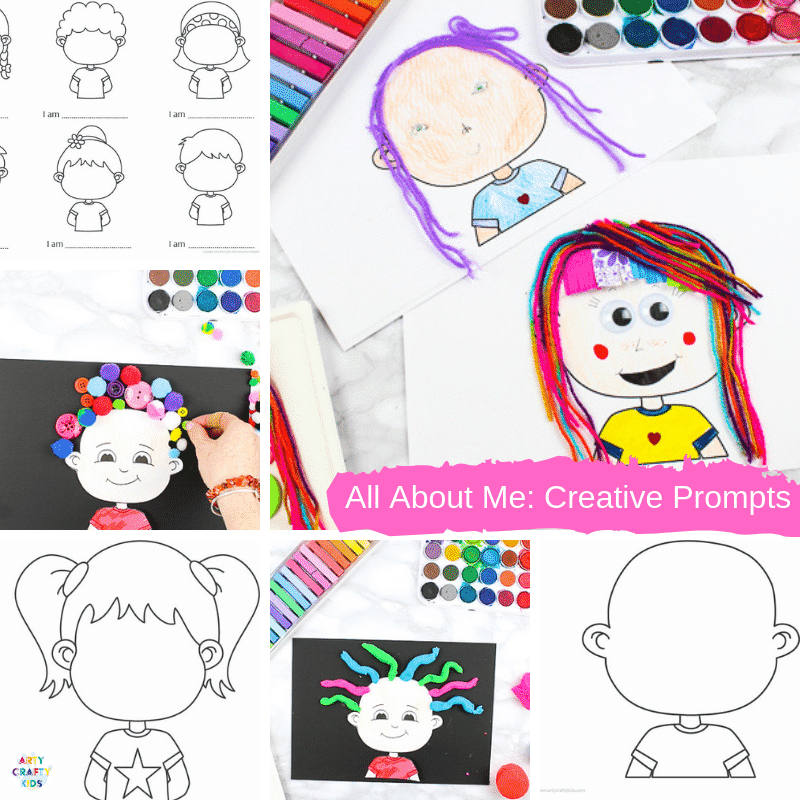 As a member to the Arty Crafty Kids Club, why not expand Picasso Faces with our All About Me drawing prompts:
The All About Me book is filled with fun drawing activities for kids that focuses on emotions, self image, drawing facial features, clothing design and crazy hair play.
Happy Crafting!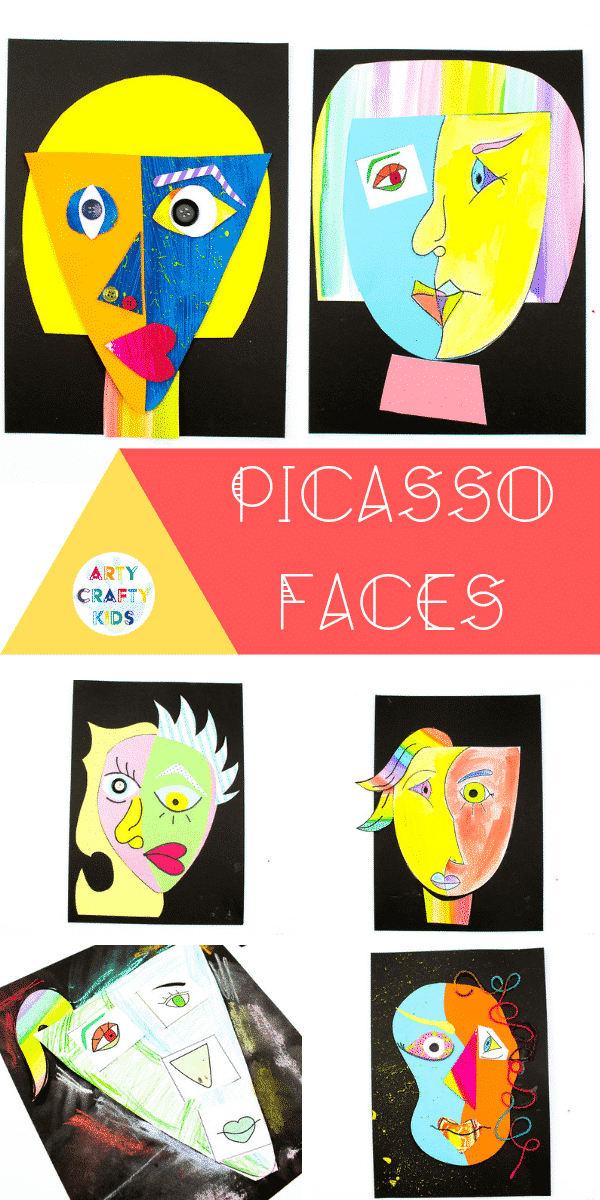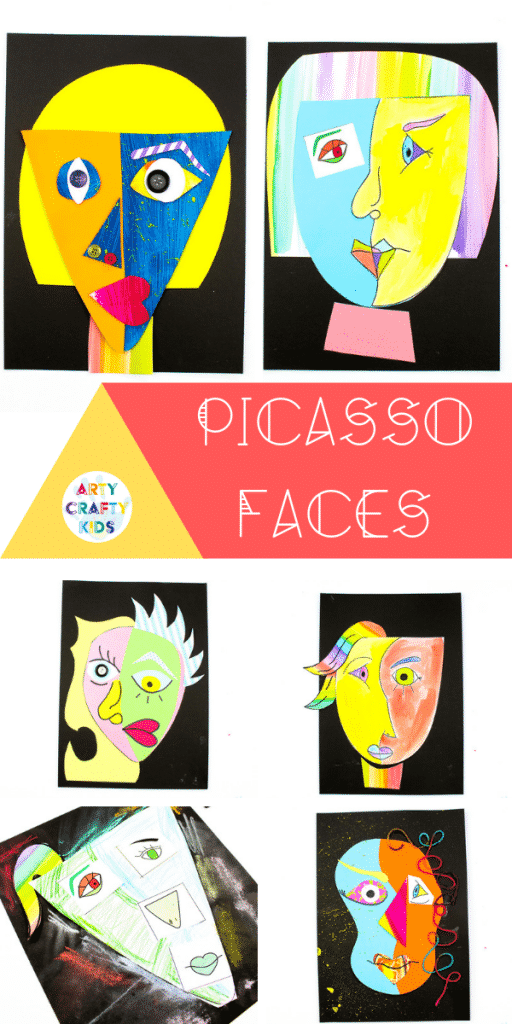 Arty Crafty Kids Club
Creative and playful Art & Craft Templates
How to Draw Guides, drawing prompts and pre-writing line work
Colouring pages & Seasonal activity booklets
Perfect for Educators and Parents, with new content added weekly!
Join the Arty Crafty Kids Club and gain access to our exclusive collection of art and craft templates and learning resources. Designed with parents, teachers and creative kids in mind, you will never run out of activities for the kids!