Following the popularity of the interchangeable 'Cool Cat' concept, we have since created and continue to create a collection of interchangeable templates. Today I have the pleasure of introducing a cheeky Monkey addition and I have to say, I can't wait to see how Arty Crafty Kids play with this Monkey Paper Art concept.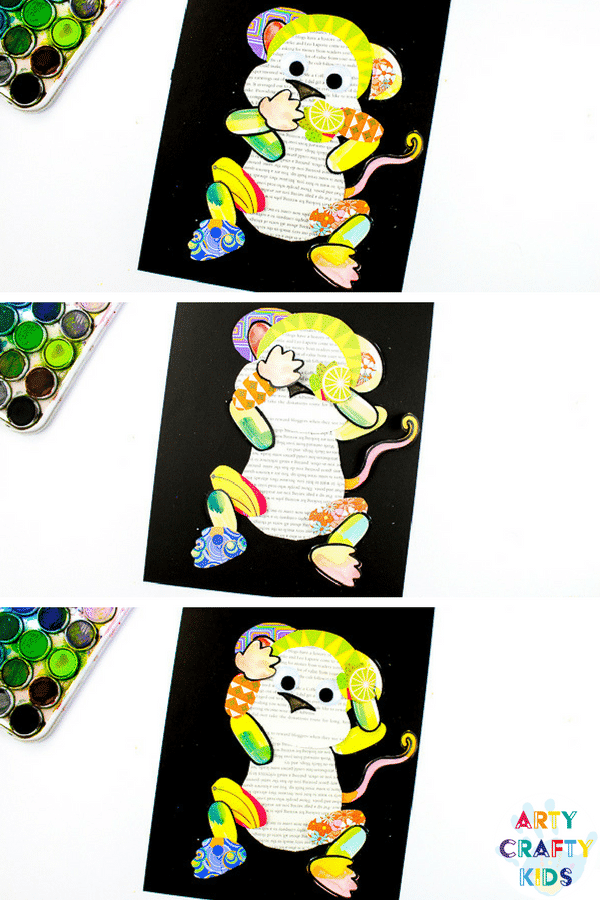 For inspiration, we've positioned the template to create a childish and fun interpretation of the Three Wise Money's pictorial maxim – "see no evil, hear no evil, speak no evil".
Alternatively, the Monkey could be dancing, swinging, positioned into a handstand or simply sitting.
And unlike our other templates, we've added a mixed-media element that could easily be expanded. Instead of paper, some elements could be painted and even replaced by painted corrugated card, fabric, wool or even buttons!
This idea is about thinking outside the box and encouraging Arty Crafty Kids to use their imaginations to add personality and layers to their Monkey Characters.
Monkey Paper Art: Materials
Black Card
Assorted Paper
Watercolour Paints
Extras – Fabric/Card/Buttons – get creative and raid the craft box!
Large Googly Eyes
Scissors
PVA Glue
Download or Create a Monkey Template
Our Monkey template is available via the
Arty Crafty Kids membership club
(includes a 10 day free trial period), where a huge variety of templates can found as well as colouring pages, how-to-draw guides, DIY cards and much more!
Monkey Paper Art: Video and Tutorial
To see the craft in action, take a look at our nifty demo video below!
[mv_video aspectRatio="16:9″ key="yfxqldbxzwietiui2xs3″]
Step 1: Download or create a Monkey template.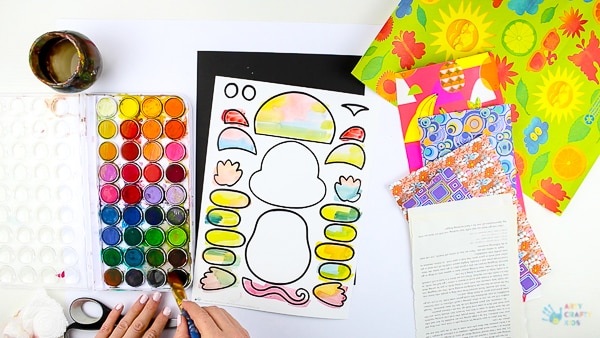 Step 2: (optional) Paint some of the Monkey elements. If the Arty Crafty Kids decide to paint the monkey elements, I would advise printing or drawing the template on a sheet of white cardstock. This will prevent the template being reduced to a soggy unusable mess!
As you can see, we used watercolour paint on our template. This is a great medium for this product, as watercolour creates some beautiful blends with vibrant colours.
From a practical perspective, it also tends to dry quickly!
Step 3: Cut out the elements.
Step 4: Next, mix it up! Swap some of the elements for printed or patterned paper, and/or a material of your Arty Crafty Kids choice.
Get creative!
Use different materials and different painting or printing techniques…
For example, scrape painting and bubble wrap printing would both add a fun dynamic to the overall Monkey Paper Art result.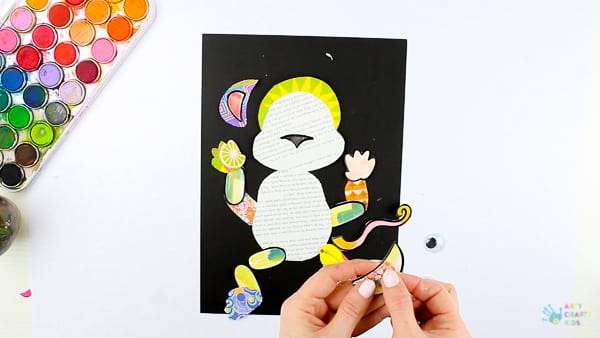 Step 5: Assemble the Monkey and once the Arty Crafty Kids are happy with their Monkey's position, secure the elements with PVA glue.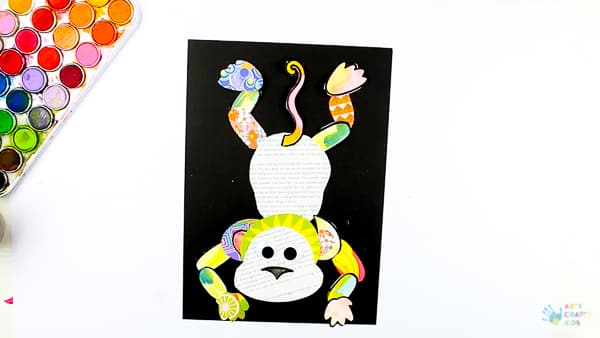 Step 6: Before the Arty Crafty Kids settle on their final pose, encourage them to have a play.
How many poses can they create?
The Monkey Paper Art Tutorial is now finished!
Did you know that you can now have our crafts and all the materials you need
delivered straight to your door!