Flow Drawing for Kids: How to Draw a Jellyfish – For our latest flow drawing guide, we're taking a trip into the deep! The ocean is so unique, it's a great place to look for inspiration in art – there are endless colors, shapes and patterns to be found.
And what's more weird and wonderful than the jellyfish?! It's a brilliant subject because it's so different from fish, which children will no doubt be used to drawing. Its unique shapes will be really fun for children to draw, and will also provide lots of opportunities for learning. Why do these creatures look so different? How do they move without fins? And what on earth do those tentacles do?!
Our How to Draw a Jellyfish flow guide is a lovely bright and summery piece to inspire, engage and excite.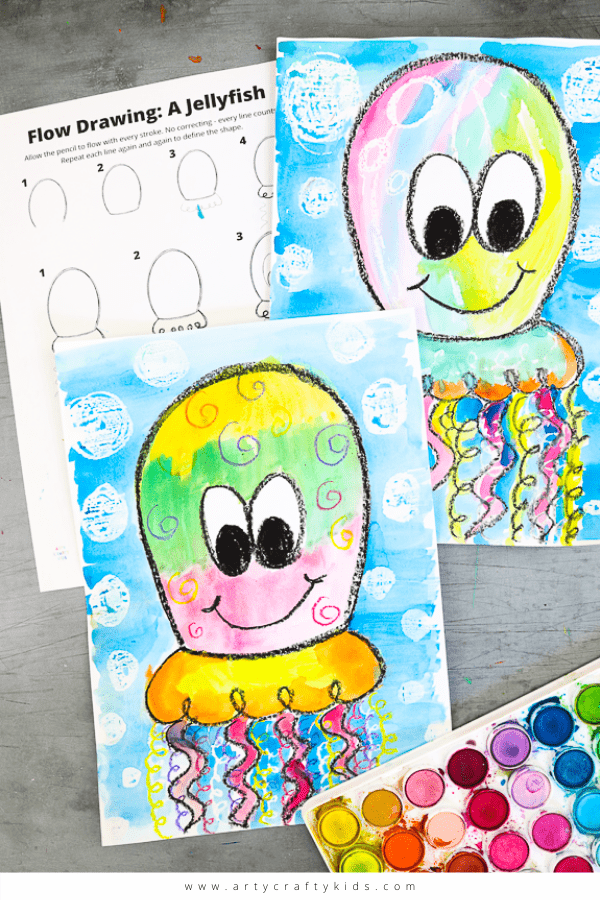 What is Flow Drawing?
Flow Drawing is a new art technique developed by us to encourage children (and adult beginners too!)​ to understand shapes and create illustrations, in a much 'freer' way. By removing restrictions, flow drawing encourages children to fully engage in the moment and discover their natural flow, making every line count and bringing mindfulness to their creative process.
You can think of the flow drawing technique as a 'how to draw' guide with a difference – children won't just draw a picture, they'll create a unique work of art, right from their soul.
Flow Drawing Benefits:
Although the process of flowing more naturally in art might seem a little alien to children at first, it's really worth encouraging them to have a go. Flow drawing has so many benefits and helps little hands and minds to:
Explore simple shapes and how they work together to create larger forms
Discover their natural flow and rhythm through repetitive movements
Learn how to combine mediums, with a fun and easy approach
Build confidence in their own creative ability
Combat 'perfection-seeking' in art, providing a much needed alternative to rigid 'how to draw' guides
Bring mindfulness to the creative process and boost mental health
Foster a love of art and self-expression.
Flow Drawing for Kids: How to Draw a jellyfish
What you need:
White Card Stock
Oil Pastels or Wax Crayons
Watercolor Paints
Download the How to Draw a Jellyfish Guide:
The How to Draw a Jellyfish guide is available to members of the Arty Crafty Kids club. Members will need to log in to access the template: https://www.artycraftykids.com/product/flow-drawing-how-to-draw-a-jellyfish/
Not A Member?
Watch the Video:
Follow the Step – by – Step Guide: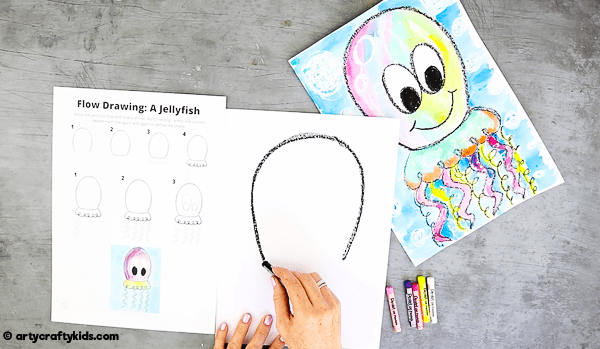 The Big Wobbly Head
Jellyfish are quite an unusual shape! They are mostly made up of a large bell-shaped body called a hood, so let's start with that. To make sure you get the right proportions, start about half way down the page: swoop up, out and round, right to the top of the page. Then back down, out and in again to create a horseshoe shape.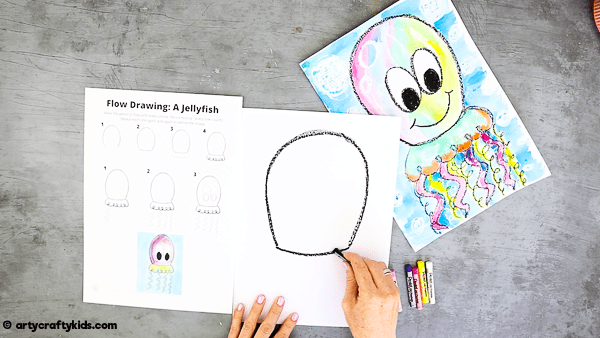 Join the Horseshoe
Then draw a curved line to join the two ends of the horseshoe. Now you have the jellyfish body!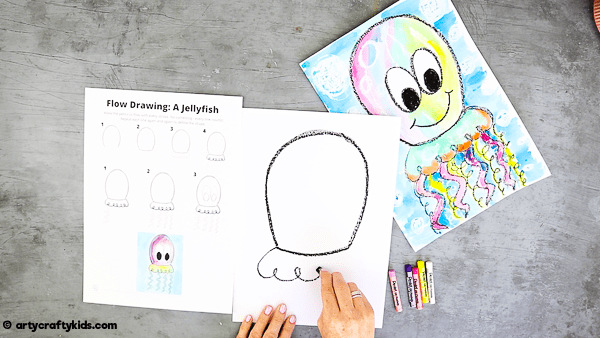 Add a Frilly Edge
The jellyfish also has another special feature, a frilly edge. So, starting at the bottom of the body on the left side, draw a squiggly line with some loop the loops all the way across and join it back up to the right side. It looks a little bit like she's wearing a tutu!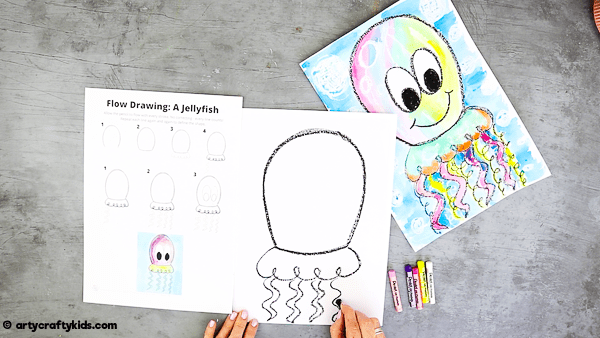 Let's add Squiggles!
Jellyfish have their own kind of arms – they don't look like ours though, more like stems on a flower. So draw a squiggly line down from the frilly edge to a point, and back up again. Repeat to give your jellyfish three or four arms.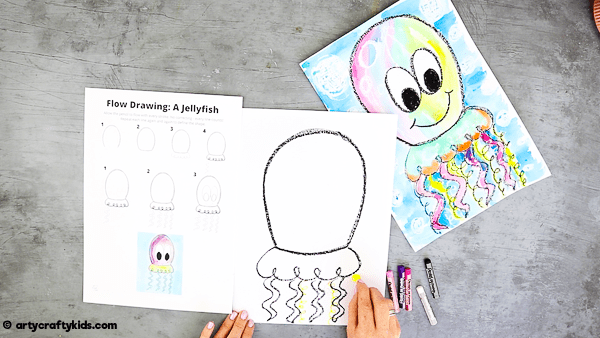 And a Few More Squiggles
Now for the really funny bit – the tentacles! To make sure they stand out, use different colored oil pastels or wax crayons to draw lots of squiggly lines down from the frill – draw as many as you can fit in, and use as many colors as you can!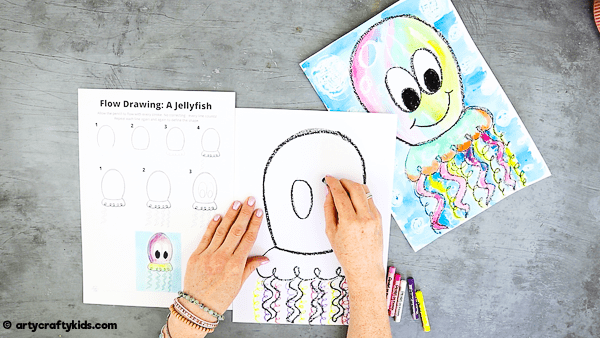 Draw a Pair of Big Oval Eyes
Switch back to your black oil pastel or crayon to give the jellyfish some detail. Draw two big oval eyes and a large friendly smile!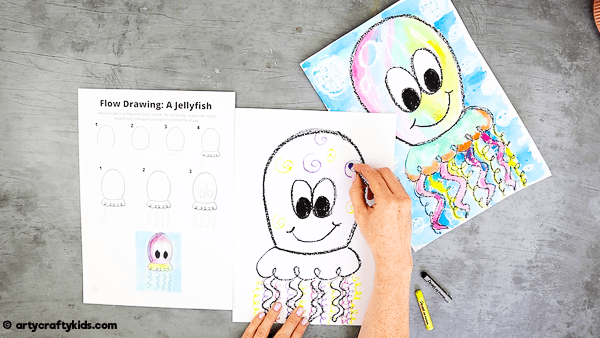 Decorate
Now to add some pattern to your jellyfish! You could draw whirlpool-inspired swirls like us, spots, zigzags – you could even try some shell shapes for that underwater look! And don't forget to use your white pastel or crayon to create some hidden magic designs in the background, that will be revealed when you start painting!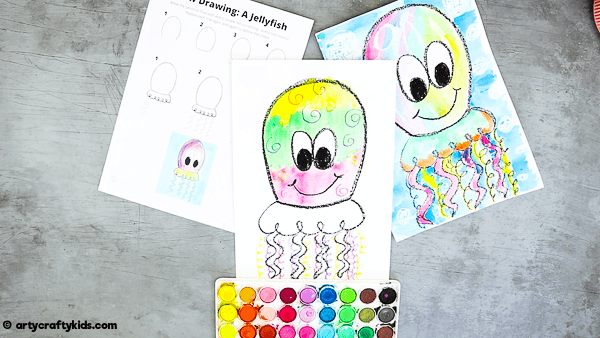 Let's Paint
It's time to paint! You could paint your jellyfish just one color, but we think it's fun to play with the paint and experiment! Why not be inspired by all the bright and beautiful colors of the coral reef?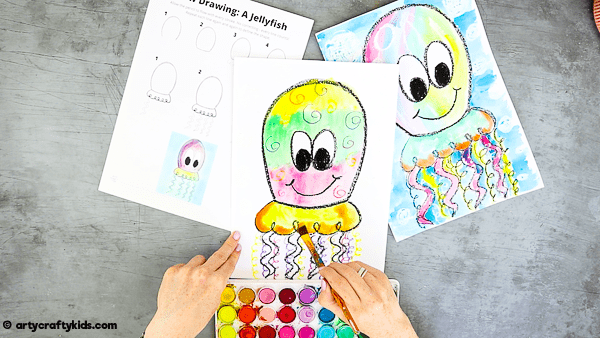 When you're painting the frill, try using some darker shades around the edges to add depth – it will really make your jellyfish pop!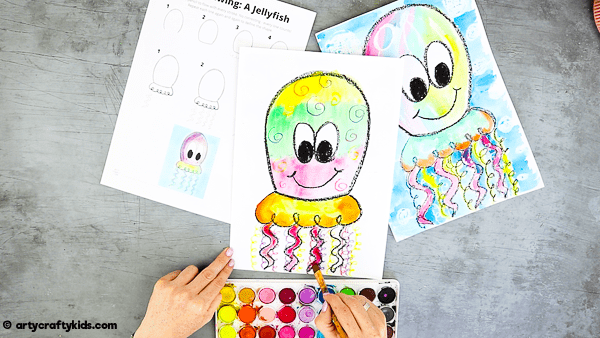 Then paint the jellyfish arms. Finally, wash some bright blue all over the background to reveal your hidden designs and create a gorgeous clear ocean.

Now your jellyfish work of art is complete! Don't forget to share and tag us on social media, we love to see all your wonderful creations!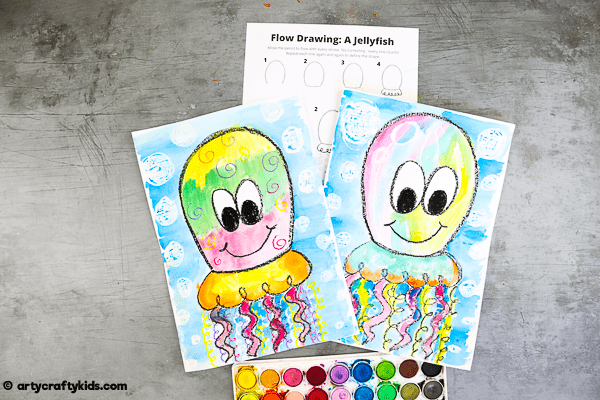 More Flow Drawing Guides for Kids:
How to Draw a Cat
https://www.artycraftykids.com/art/flow-drawing-for-kids-how-to-draw-a-cat/

How to Draw a Llama
https://www.artycraftykids.com/art/flow-drawing-for-kids-how-to-draw-a-llama/

How to Draw a Poppy
https://www.artycraftykids.com/art/flow-drawing-for-kids-how-to-draw-a-poppy/
Happy Drawing