Flow Drawing for Kids: How to Draw a Llama – With their little heads, long necks and fluffy bodies they do look a little strange, but they're somehow super cute and full of character – there's a reason that llama print is bang on trend right now!

So they're the perfect animal to bring you for our next flow drawing guide. Not only is the llama totally different to our other flow drawing designs, but it's overflowing with ways to inspire children and help them bring personality and creativity to their art.
Children can use our easy step by step guide to draw the llama, and are then encouraged to experiment with color, mediums and technique to create a fully realised piece of art.
If you're new to flow drawing, and haven't tried our butterfly, bird or cat designs yet, let us explain! Flow Drawing is a new art technique developed by us to encourage children (and adult beginners too!)​ to understand shapes and create illustrations, in a much 'freer' way.
It's the perfect alternative to traditional 'how to draw' guides – by removing restrictions, flow drawing encourages children to fully engage in the moment and discover their natural flow, bringing mindfulness to their creative process.
Flow Drawing and Mindfulness
Mindfulness is the process of purposely bringing one's attention to the present moment; to be fully immersed, free from distraction.
Mindfulness is now being discussed more and more, as we've begun to understand its importance for mental health and wellness, and actively practicing mindfulness can bring a whole host of benefits, from lowering stress and anxiety, to fostering calm, aiding sleep and even boosting your immune system! And utilising mindfulness in art can really open paths to creativity and innovation, free from judgement.
But it can be easy to forget, as often frazzled adults, that this is just as important for our children's wellbeing as it is for our own.
So our Arty Crafty Kids flow drawing guides aim to bring mindfulness to the creative process by shifting the focus away from the end result (which can sometimes bring anxiety, through a need for perfection) to the process of drawing itself – discovering natural flow and rhythm through repetitive movements. As people often say: it's not about the destination, it's about the journey.
Our guides will help children to explore simple shapes and are designed to build confidence in their own creative ability, and foster a love of art and self-expression.
Flow Drawing for Kids: How to Draw a Llama
Supplies:
White Cardstock
Black Oil Pastel
Watercolor Paint
How to Download the 'How to Draw a Llama' step-by-step guide:
The How to Draw a Llama guide is available to members of the Arty Crafty Kids club. Members will need to log in to access the template:https://www.artycraftykids.com/product/flow-drawing-how-to-draw-a-llama/
Not A Member?
How to Draw a Llama: Watch the Video!


Step-by-Step How to Draw Guide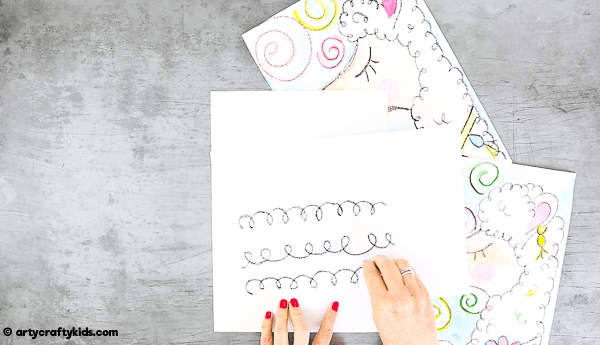 Practice the Squiggle
Llamas have lovely fluffy wool, just like sheep, so we need to use a slightly different technique than normal to draw them.

Instead of aiming for smooth lines, we're looking for nice rounded squiggles! So before we put crayon to paper, let's have a little practice. Loop the loop over and over to create that fluffy-looking texture. It doesn't matter if your loops point up or down, just let your squiggles flow naturally.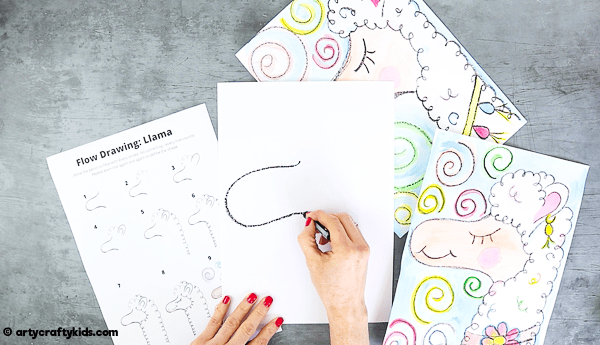 Start with the Mouth
Now it's time to start with the only non-fluffy area of the llama, her mouth. Begin towards the top of the paper; sweep out to the left, down and back around again, to create a sort of rectangle shape with rounded corners.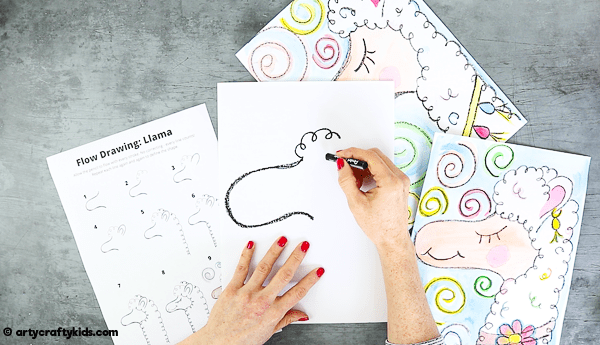 The First Squiggle
Now let's try our first squiggle! Start at the top of the mouth and use those loop the loops to create a super cute poufy hair style for the llama.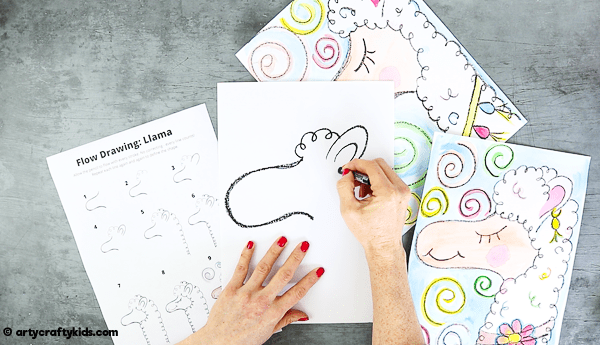 Draw an Ear
Before we get carried away with our squiggles, let's draw the llama's ear – it should be quite tall and rounded.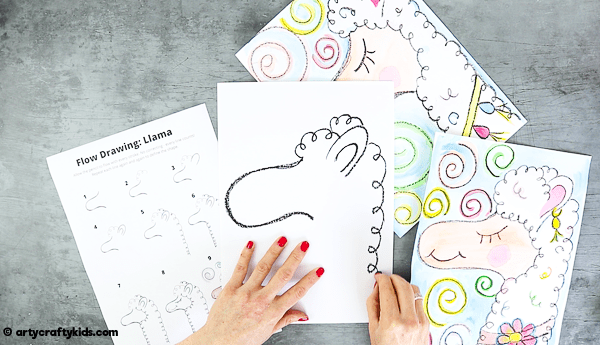 The Squiggle Neck
Back to squiggles! Starting up by the ear, squiggle in a line all the way down to the bottom of the page. Remember that llamas have nice long elegant necks!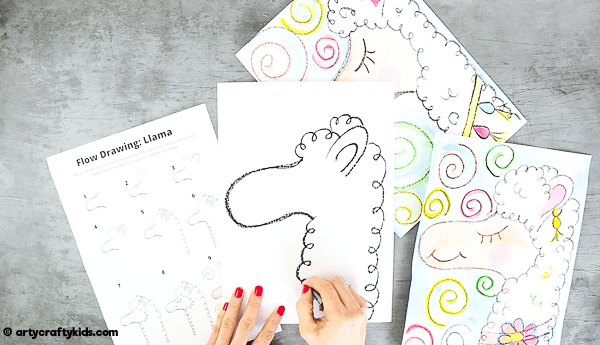 And Another Squiggle
From beneath the mouth, squiggle down in a line again to form the other side of the neck.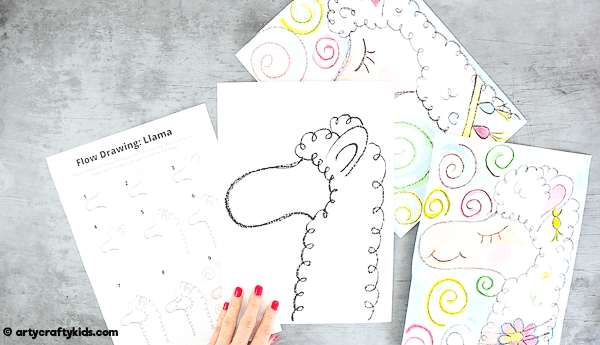 Define the Face
Finally, add a curved squiggle from the hair to the neck, to separate the llama's smooth mouth from her fluffy body.
A Cutesy Eye and Smile
Now let's bring her to life! You can give her an open eye, but we love this trendy closed-eye look. It's easy to draw – just a curved line with a few straight eyelashes sticking out – but gives her tons of personality. And of course she needs a big smile!
She's not quite finished yet, though: this pretty llama needs some accessories! Llama's are originally from Peru, which is known for its bright colors, bold patterns, tassels and flowers, so this could be a great place to start looking for inspiration. Equally, just get creative and use your imagination! She could be a princess with a tiara, or sheriff with a star badge – the options are endless!
And don't forget to add some decorations in the background to really enhance the design!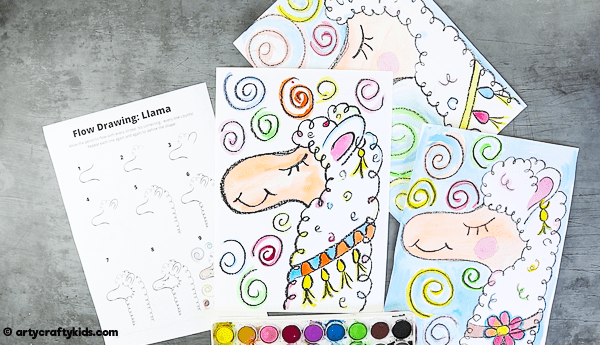 Let's Add Color
Now use your watercolor paints to wash over the llama – remember, your oil pastel lines will repel the water and stay nice and defined.
If you don't want to use watercolors, you could always try exploring the oil pastels further, instead of just using them for the outline. You could smudge colors to create blends, experiment with pressure to achieve different shades, or even use the pastel on it's side like doing a wax crayon rub.

It will definitely be messier than watercolor paints, but you'll have lots of fun and get some really vibrant colours and effects!
We've loved developing this new design for you, so we really hope you enjoy it – and we can't wait to see your funky llamas!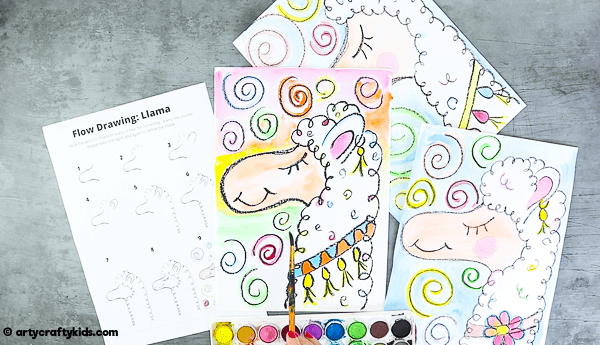 Like our How to Draw Guides? try this:
How to Draw a Cat:
Cats have a great aesthetic, with sleek lines and a range of patterns, and they have bags of personality too (I know mine does!) So they're a brilliant animal to explore through art.

https://www.artycraftykids.com/art/flow-drawing-for-kids-how-to-draw-a-cat/