Autumn Birch Tree Painting: If your Arty Crafty Kids regularly love creating their own little works of art with our flow drawing guides, then you'll notice that our latest one is a little bit different.
Instead of focusing on using flowing shapes to create the images in the foreground, we're harnessing that natural flow to build an expressive background for the piece that captures all the colors of Autumn.
Our fall painting art project will help children to explore color, texture and contrast, encourage them to observe the details to be found in nature and inspire their creativity.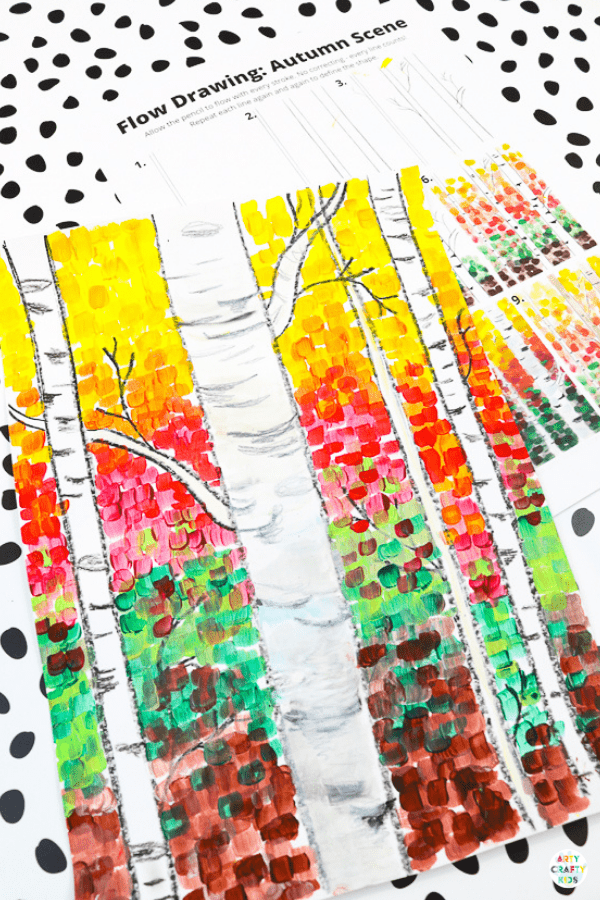 What is Flow Drawing?
Flow Drawing is a new art technique developed by us to encourage children (and adult beginners too!)​ to understand shapes and create illustrations, in a much 'freer' way. By removing restrictions, flow drawing encourages children to fully engage in the moment and discover their natural flow, making every line count and bringing mindfulness to their creative process.
You can think of the flow drawing technique as a 'how to draw' guide with a difference – children won't just draw a picture, they'll create a unique work of art, right from their soul.
Flow Drawing Benefits:
Although the process of flowing more naturally in art might seem a little alien to children at first, it's really worth encouraging them to have a go. Flow drawing has so many benefits and helps little hands and minds to:
Explore simple shapes and how they work together to create larger forms
Discover their natural flow and rhythm through repetitive movements
Learn how to combine mediums, with a fun and easy approach
Build confidence in their own creative ability
Combat 'perfection-seeking' in art, providing a much needed alternative to rigid 'how to draw' guides
Bring mindfulness to the creative process and boost mental health
Foster a love of art and self-expression.
How to Create an Autumn Birch Tree Painting:
Supplies:
White Cardstock
Black Crayon or Oil Pastel
Flat Paintbrush
Acrylic Paint
Download the Step by Step Tutorial:
The Flow Autumn Birch Tree Templates are available to members of the Arty Crafty Kids club. Members will need to log in to access the templates: https://www.artycraftykids.com/product/flow-drawing-how-to-paint-an-autumn-birch-tree-scene/
Not A Member?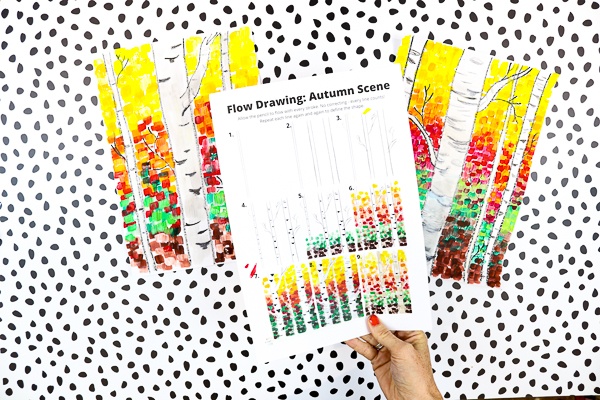 Download the Step by Step Tutorial
and/or Pre-Drawn Birch Tree Template
It's up to you how you'd like to approach your birch tree art. You can work on the pre-drawn template and do a color study, focusing on the different shades, textures and blends. Or, you can draw the trees too and build up the whole picture yourself.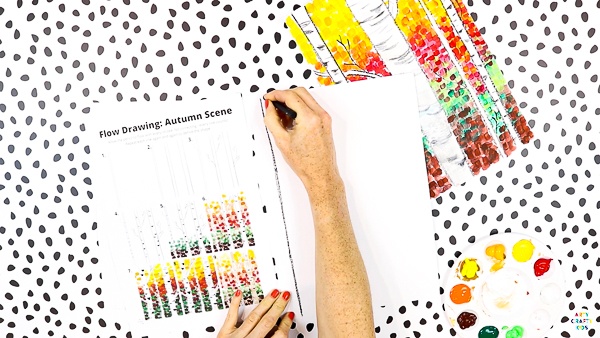 Draw the Birch Trees
If you're following the tutorial from the beginning, start by drawing the birch trees.
Use your black wax crayon or oil pastel to flow tall trees all the way from the top to the bottom of the page. Birch trees have thin trunks with wispy branches – you can search for a picture online if you've never seen this kind of tree before.
You'll want to draw a few trees to give that forest feel, but make sure you leave enough space to create the Autumn colors in between.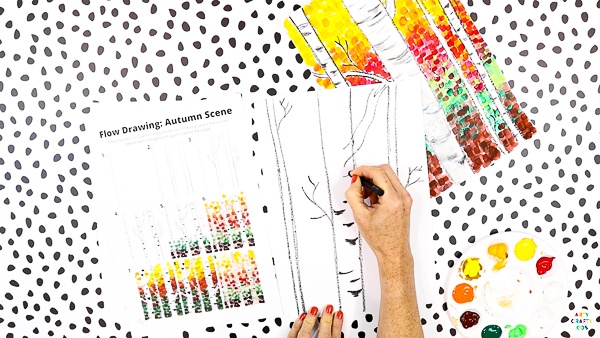 Add Detail to the Birch Trees
Birch trees also have distinctive black markings so, still using your black pastel, add lines and upside down triangle shapes randomly across the trunks.
Let's Add Color!
Now the fun part! Build up the background with layers of paint in all the colors of Autumn. You could experiment with a dotted approach, but we love to use a firm paint brush to create little squares, which give depth and make us think of falling leaves. It's such an easy technique, but creates a really striking effect because of the contrast with the white and black trees in the foreground.
This method is a great way to explore color and color mixing, as you layer the paint strokes to move from brown to green, red to orange and yellow to capture the feeling of the changing leaves.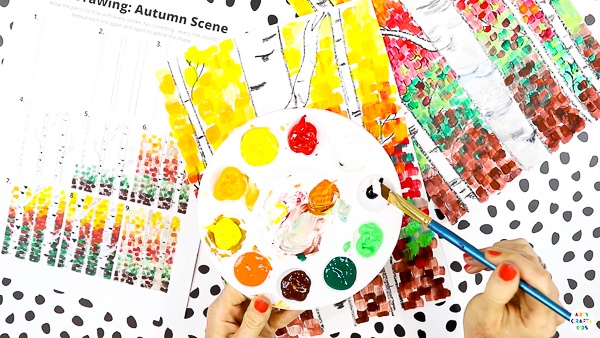 Color Mix Gray
Now we're going to add a final touch to the birch trees.
At the moment, they're just black and white – two shades which aren't on the color spectrum. So by mixing a little black into white, we can create gray. Use this to create shadow and depth and really make the contrast with the background pop.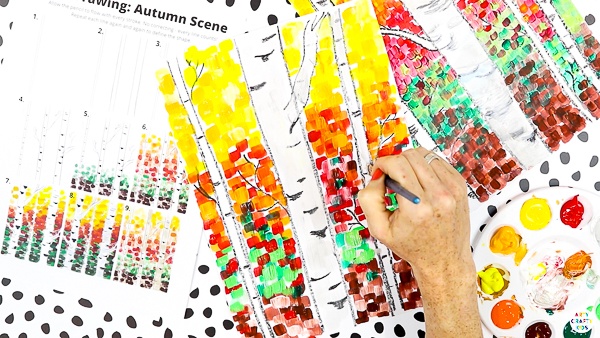 Completing the Autumn Birch Tree Painting
Your Autumn painting is complete. Why not hang it up by a window, and compare the changing colors outside to your work of art.

More Flow Drawing How to Draw and Paint Along Guides:
How to Draw a Sunshine Lion:
Sunshine Lion Art: Inspired by all the warmth and positivity of summer, it's a combination that really works – the movement and color of the suns rays complement the lion, enhancing its mane, and bringing it bursting to life.

https://www.artycraftykids.com/art/flow-drawing-for-kids-sunshine-lion-art/
How to Draw a Cat:
Cats have a great aesthetic, with sleek lines and a range of patterns, and they have bags of personality too (I know mine does!) So they're a brilliant animal to explore through art.

https://www.artycraftykids.com/art/flow-drawing-for-kids-how-to-draw-a-cat/

How to Draw a Llama:
With their little heads, long necks and fluffy bodies they do look a little strange, but they're somehow super cute and full of character – there's a reason that llama print is bang on trend right now!

https://www.artycraftykids.com/art/flow-drawing-for-kids-how-to-draw-a-llama/