Black glue is a fun, easy and inexpensive material to use in children's art projects, and has beautiful results! To demonstrate, we've put together a gorgeous collection of Black Glue Fall Art Projects for you to try with the kids this Autumn.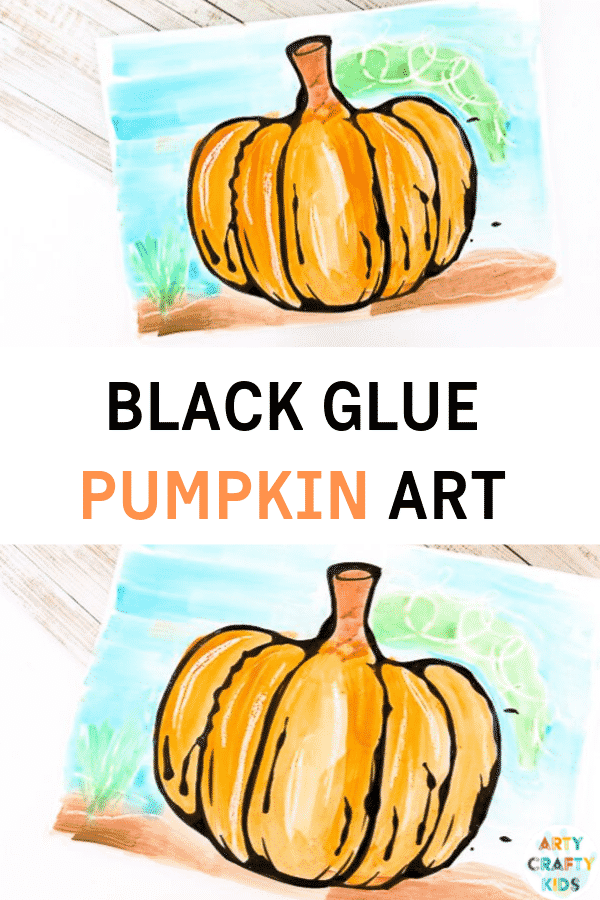 The watercolours work well against the stark contrast of the black glue outline and the best bit about black glue, is that no matter how many times it's washed over with paint, it will not dull or alter the overall effect of that beautiful glossy outline.
Children from as young preschool age can try this technique and with over 50 art outline templates to choose from (within our membership library), this is a great project for at home or school.
How to Make Black Glue Fall Art Projects:
Materials:
White Cardstock or Mixed Media Paper (this project uses cardstock)
A Bottle of White PVA Glue (or ready made black glue)
Black Acrylic Paint
Mixing Stick or End of a Paintbrush
Paintbrush
Watercolour Colour Paints – Use a Palette, Liquid Watercolours or Tubed Watercolour Paint mixed with water.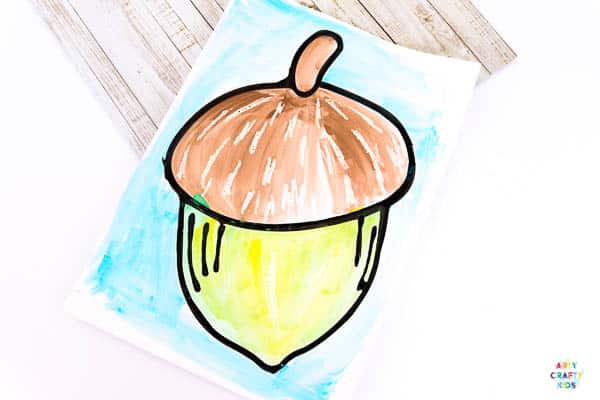 Downloading the Fall Templates:
Our collection of Fall Templates (and many more!) are available to members of the Arty Crafty Kids club and can be accessed via the links below:
Hedgehog Template: https://www.artycraftykids.com/product/hedgehog-black-glue-resist-art/
Pumpkin Template: https://www.artycraftykids.com/product/pumpkin-black-glue-resist-art/
Fox Template: https://www.artycraftykids.com/product/fox-black-glue-resist-art/
Acorn Template: https://www.artycraftykids.com/product/acorn-black-glue-resist-art/
Toadstool Template: https://www.artycraftykids.com/product/toadstool-black-glue-resist-art/
Owl Template: https://www.artycraftykids.com/product/owl-black-glue-resist-art/
Not A Member?
Printing Instructions:
Download and print the Fall Templates from the Arty Crafty Kids members area.
The template can be downloaded onto good quality paper or card stock.
If you opt for cardstock, remember to check your printer settings for a recommended weight. Most printers prefer card stock less than 220gsm.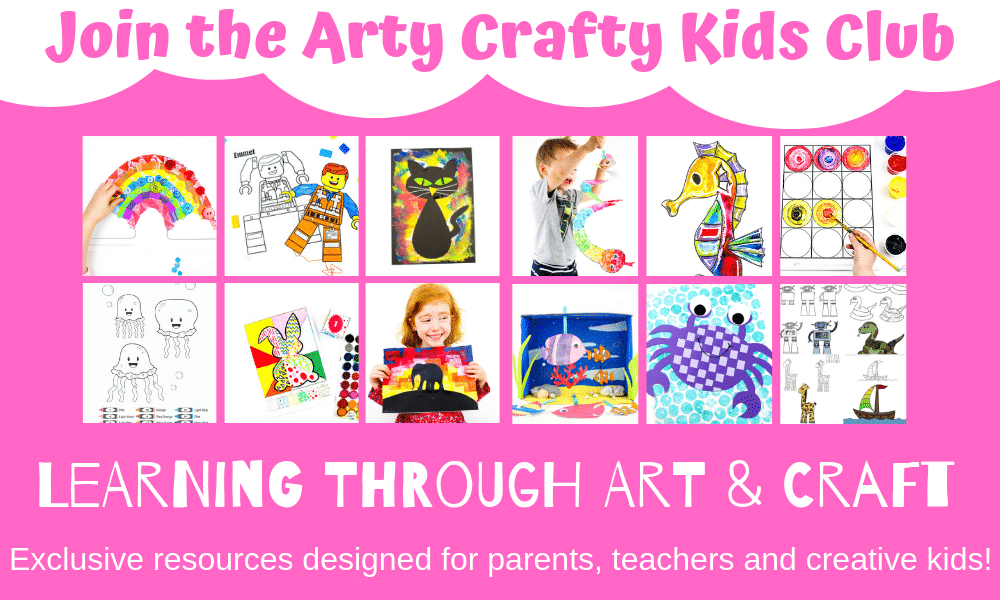 Step by Step Tutorial: Black Glue Fall Art Projects:
How to Make Black Glue
Our black glue is a combination of 3 parts PVA glue and 1 part black acrylic paint.
Mix it all together in a squeezy bottle and thoroughly shake.
Remove the bottle lid and give the mixture a stir with the end of a glue stick/paintbrush and continue shaking until the glue is black.
Too much paint could make the mixture a little runny, so start off small and don't worry if it appears grey within the bottle as the glue will dry black!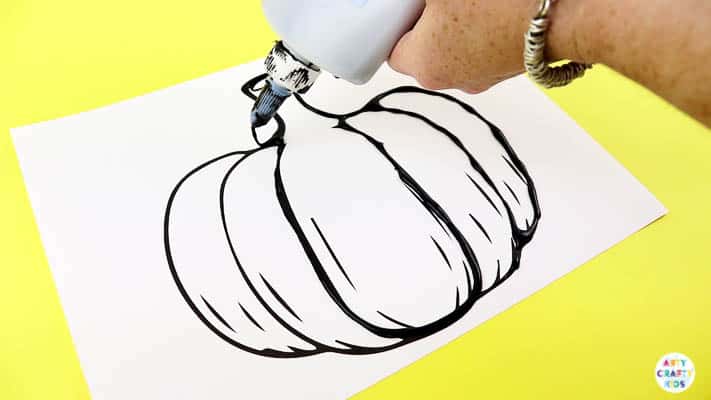 How to Apply Black Glue
Test the black glue on a piece of scrap paper first. It may start out a little gloopy, but with an extra squeeze it should run smoothly.
Practice simultaneously squeezing and moving the bottle until the process feels comfortable.
When your Arty Crafty Kids are ready, try applying the black glue to the lines of a selected fall template.
Don't worry if the black glue pools or they end up with uneven lines and splodges, it all adds to the overall effect.
As you can see, ours is less than perfect (and full of charm).
Leave the glue to dry over night.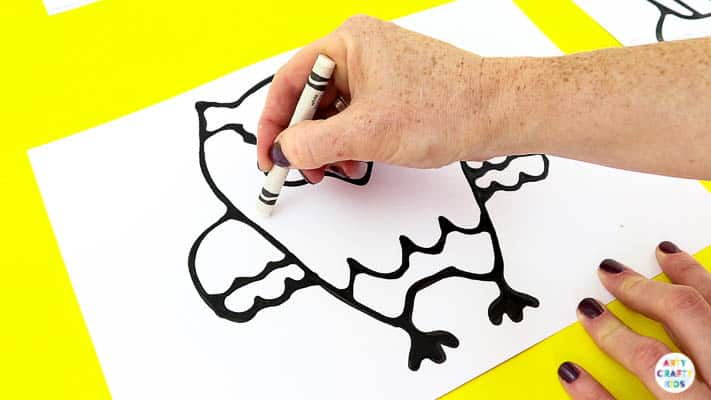 How to Add a Crayon Resist
White crayon resist is always fun and can be used for extra hidden detail that reveals itself with an application of watercolour paint.
With each template, use a white crayon to add detail. This could be extra feathers for the owl, additional spots to the toadstool and spikes to the hedgehog or squiggles and lines to add depth to the remaining fall art projects.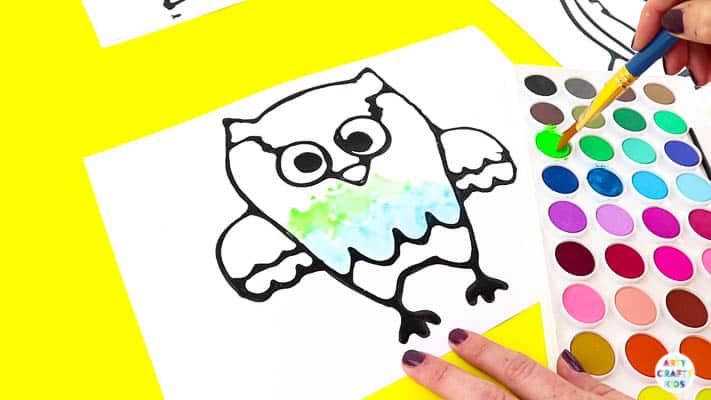 Apply Watercolour Paint
Let's start painting. Staying within the lines is optional!
Black glue repels water; children can therefore paint within the lines, across the lines and on the lines – the black lines will remain perfectly intact and bold against the paint.
This makes black glue art projects perfect for children of all ages, as how they choose to paint doesn't really matter. The outline will survive all applications of watercolour paint, heavy or light.
Uncovering the Hidden Detail
Continue filling the template with colour.
Explore light and dark shades by experimenting with the water to paint ratios.
For lighter shades, add more water and darker shades, less water.
Add Depth to the Fall Art Projects
Once the template is bursting with colour, use the remaining white space to add depth and background detail.
For example, we've placed our owl on a branch and used the white crayon to create hidden leaves that will be exposed with an application of watercolour paint.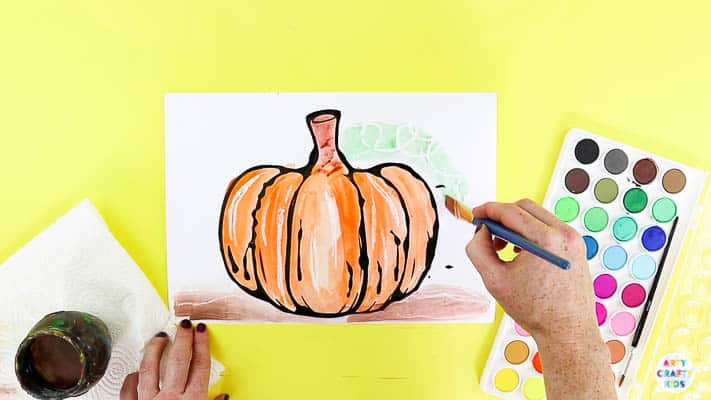 Similarly, we've added vines and soil to our black glue pumpkin art project.
This is a great way for Arty Crafty Kids to break free of the lines and engage their creativity to complete their black glue Fall Art Projects.
More Fall Art and Craft Projects for Kids:
Fall is one of our favourite seasons and our art and craft projects endeavour to capture the spirit of fall in various ways, predominately through colour exploration.
In the fall crafts listed below, each project explores colour using a different painting technique, from black glue resist, to leaf printing and fork painting. Each method is fun and exciting for kids, and promotes learning and creative development.
Black Glue Autumn Tree
Autumn is the season of colour. Big bold and beautiful colours, and our Black Glue Autumn Tree Art attempts to capture as many of those glorious shades as possible, creating something that I think is rather magical.

https://www.artycraftykids.com/art/black-glue-autumn-tree-art/
Autumn Leaf Painting
This gorgeous Autumn Leaf Painting project is an exploration of basic colour-mixing principles, with the aim to recreate the Autumn hues and shades as observed by Arty Crafty Kids.

https://www.artycraftykids.com/art/autumn-leaf-painting/
Fall Fork Painted Hedgehog
Kids love to try new things and painting with a folk is a great way to explore printing with every day objects. It's particularly effective for adding spikes to the printable hedgehog template.

https://www.artycraftykids.com/art/fork-painted-hedgehog-art-project/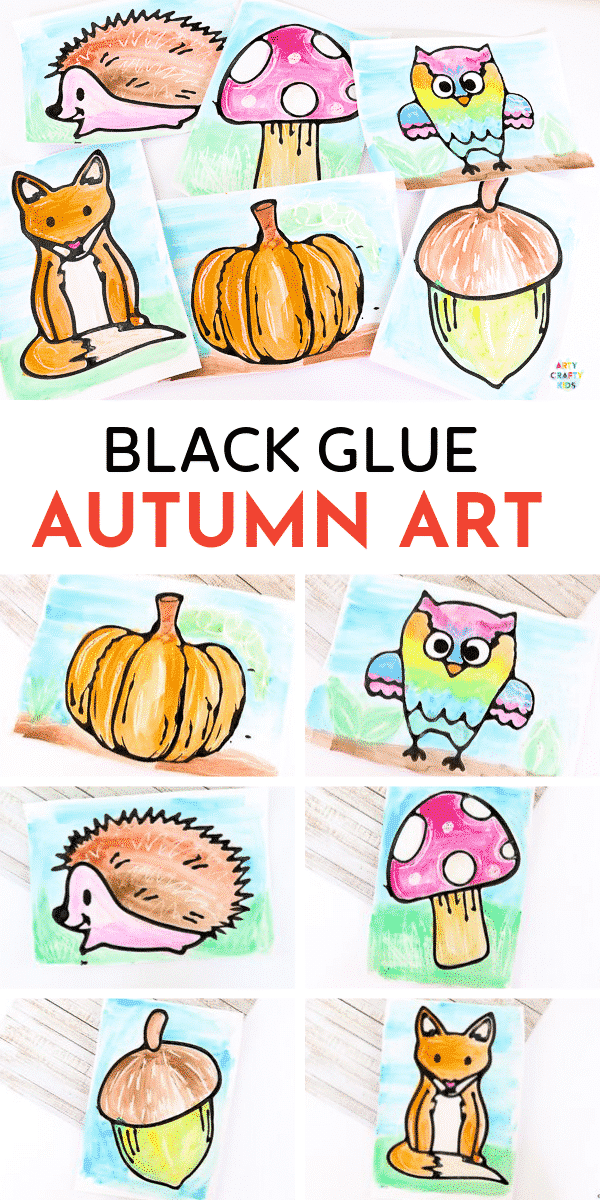 Arty Crafty Kids Club
Join the Arty Crafty Kids Club and gain access to our exclusive collection of art and craft templates and learning resources. Designed with parents, teachers and creative kids in mind, you will never run out of activities for the kids!