My kids love alphabet games and word play. We often pass the time on long car journeys with a power session of I Spy All things A (for example) and each person contributes a word until all the options are exhausted. It's a super fun game, that can get a little frantic! I have to admit, applying our game to create this Halloween ABC Fingerprints activity proved to be a challenge (and LOTS of fun).
And I hope you will agree – I think we nailed it! The only question mark I have is 'C is for Coffin', not because the word doesn't fit, it's more about the choice of colour we used to create our fingerprint coffin… Silver doesn't work!
Aside from the coffin mishap, our Halloween ABC Fingerprints are really easy to recreate and are an engaging way to learn and practice the alphabet.
Halloween ABC Fingerprints: Materials
Stock White Card
Fingerprint Paint or Ink
Willing fingers and thumbs!
An Imagination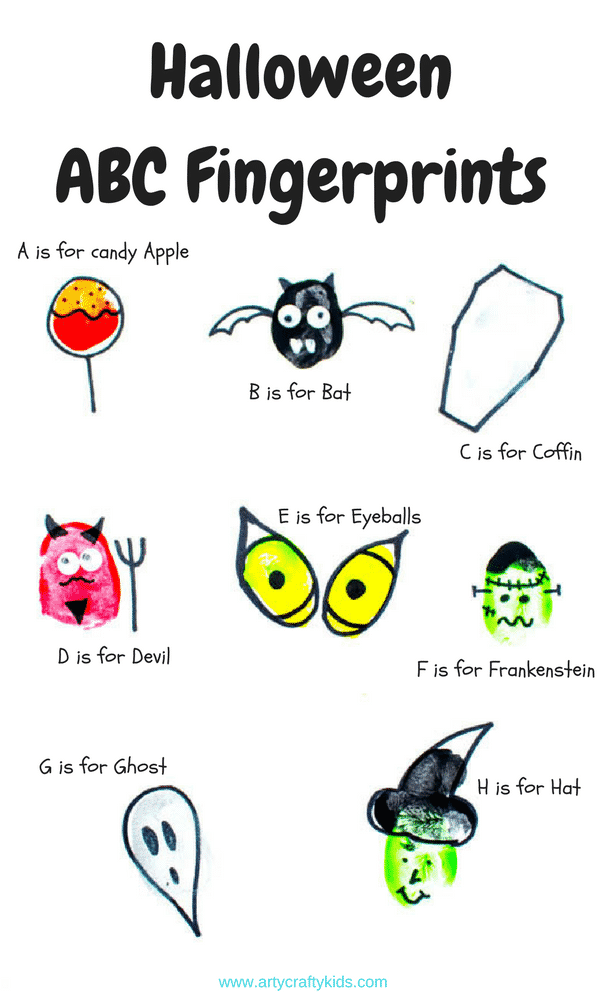 A is for candy Apple or Alien, Apparition, Afraid
B is for Bat or Beetle, Bones, Broomstick, Bubble
C is for Coffin or Cauldron, Cat, Coffin, Candy
D is for Devil
E is for Eyeballs
F is for Frankenstein or Fangs, Frightening, Finger Nails
G is for Ghost or Ghoul, Goblin, Grave, Grim Reaper
H is for Hat or Howl, Haunted
I is for Insect
J is for Jack-O-Lantern
K is for Kitty Cat
L is for Lollipop or Lanterns, Long Finger Nails
M is for Monster or Mummy, Magic
N is for Night or Nails
O is for Owl
P is for Potion or Poison, Pirate
Q is for Queen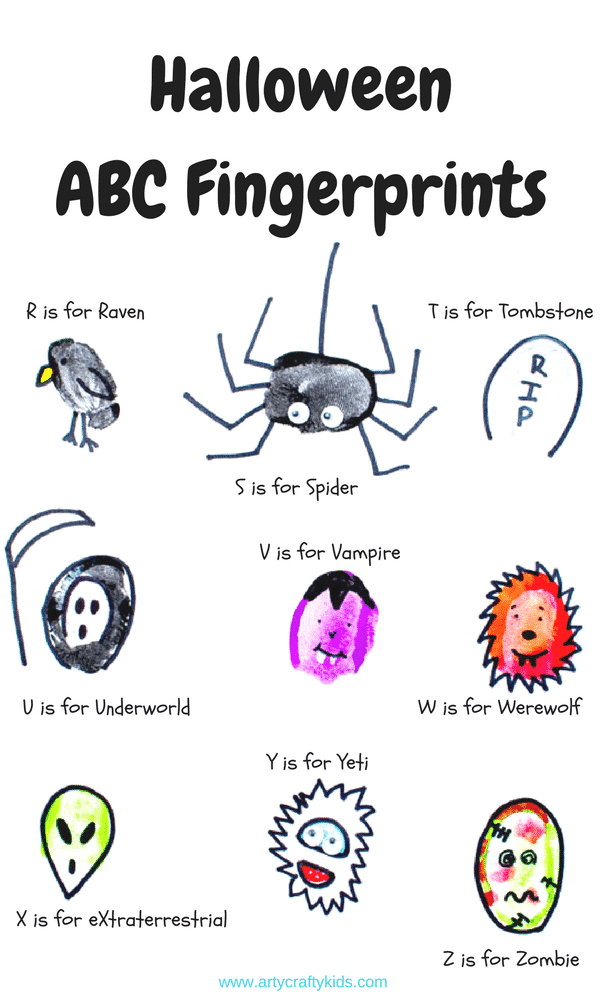 R is for Raven or RIP
S is for Spider or Spell, Spooky, Skeleton, Skull
T is for Tombstone or Trick or Treat
U is for Underworld
V is for Vampire
W is for Werewolf or Witch
X is for eXtraterrestrial
Y is for Yeti
Z is for Zombie
I hope you enjoy our Halloween ABC Fingerprints and perhaps you have come up with a few of your own ideas along the way!
Our fingerprints were created by applying paint to our fingertips with a paintbrush and a sponge. We found that less is more, and the best prints were formed from a light and even coverage of the finger or thumb.
For more Halloween Inspiration, you may also enjoy our:
31 Kid-Friendly Halloween Crafts
Pin for Later!