Monster Truck Drawing Prompts: With their over-sized wheels, expressive designs and characterful names, Monster Trucks have captured the imaginations of children everywhere – even my own little boy is monster truck mad and adores all things monster truck from the toys, books and coloring pages!
Monster Truck Drawing Prompts for Kids
This pack of Monster Truck Drawing Prompts takes the coloring page a step further; encouraging children to engage their imaginations and design their very own monster truck!

The best bit about designing your own Monster Truck is that the process extends beyond drawing a doodle or a patten on the side. Monster Trucks are jam-packed with personality and the design process should include oodles of creative thinking about their characteristics, talents and what the colors represent. They can take inspiration from popular monster trucks such as El Toro Loco, EartherShaker, Megladon etc and draw their very own Monster Jam contender.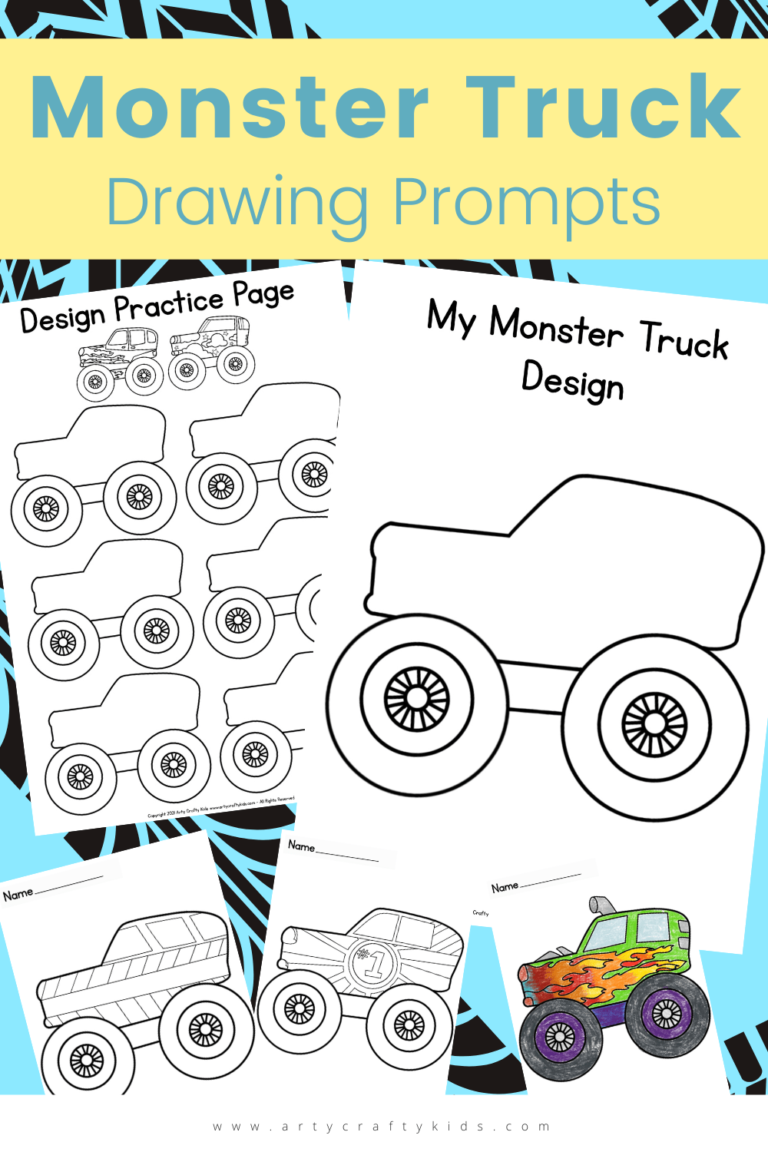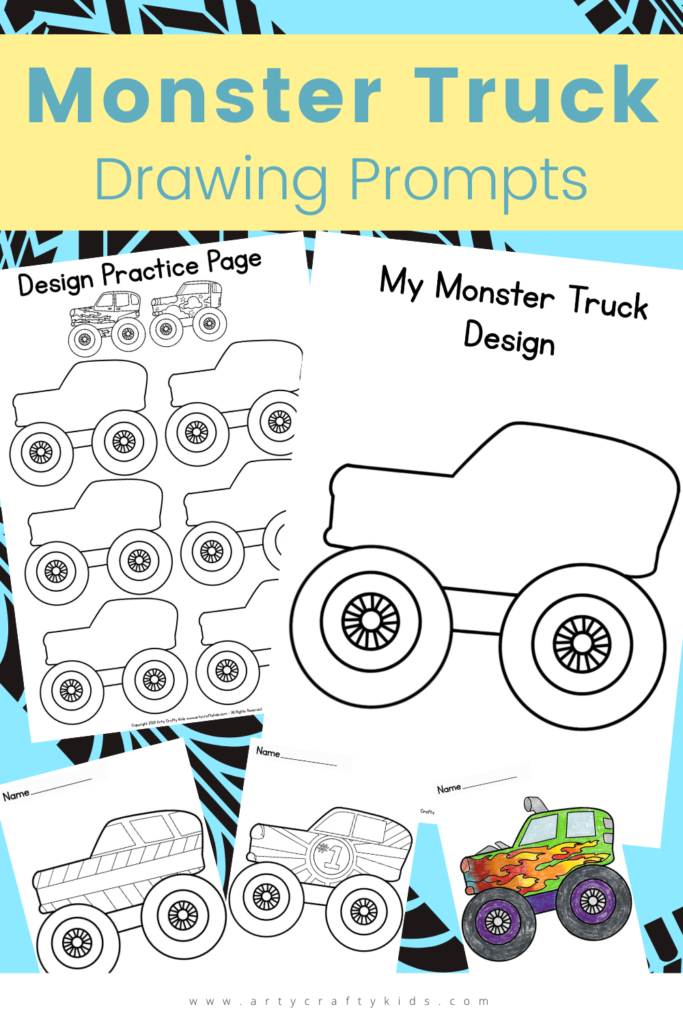 How to Draw with Arty Crafty Kids
At Arty Crafty Kids we have a range of printable packs and tutorials that can be used to encourage children to learn how to draw. These include our traditional 'how to draw guides', drawing prompts, structured grid/ symmetry drawings, and flow drawing tutorials. All of these tools have different approaches and children may respond better to one technique over another. The key is finding what works for them and using the resources to build confidence.
My Monster Truck Design sheet
This page has plenty of empty monster truck space for children to experiment with their design. Practice makes perfect and their vision for their desired monster truck will come with every pattern and color combination they explore. This little advancement from coloring page to design will empower children in their creative thinking, who will become more confident in expressing their own styles.
Design prompts are fantastic way for children to explore their own creativity and run with their wild ideas. They provide enough structure to avoid the overwhelm of creating something from scratch but allow enough freedom to draw and play.
How to Download the Monster Truck Drawing Prompts:
For a limited time only, these Monster Truck Drawing Prompts can be downloaded for FREE – the pack includes a practice design sheet, a large monster truck and three coloring pages.

DOWNLOAD HERE: https://www.artycraftykids.com/product/monster-truck-drawing-prompts/
Members will need to log in to access the templates!
Become a Member!
Members to the Arty Crafty Kids can access our full library of creative resources, making crafting with kids super easy and fun!
More Drawing Prompts and How to Draw printables For Kids: