Fabulous Fish Drawing Prompts: Fish are an amazing source of inspiration for children; with their diverse shapes, colors and patterns, they make for an amazing subject to study in art from how to draw to design your own. To kickstart children's creativity, we have designed a collection of fabulous Fish Drawing Prompts.
Children are given the freedom to ignite their own imaginations and add their own colors and patterns to create their own fabulous design or recreate their favorite species of fish.
Fabulous Fish design is a fantastic extension to under the sea topic and would make for a pretty spectacular ocean school display!
Fabulous Fish Drawing Prompts for Kids
Moving beyond the standard coloring sheet, our drawing prompts encourage children to take an active role in the design process. With just an empty fish outline to work with, the rest is up to them and anything goes!
Children may recreate their favorite fish, take inspiration from films such as 'Finding Nemo' or design a brand new species of fish.
Perhaps they'll experiment with a modern, repetitive pattern in pastel/bright shades or cover the fishy friend in pearls, seaweed and sparkly scales? Why not take the exercise a step further and transform the design into a full character. Consider its feeding habits, habitat and special talents.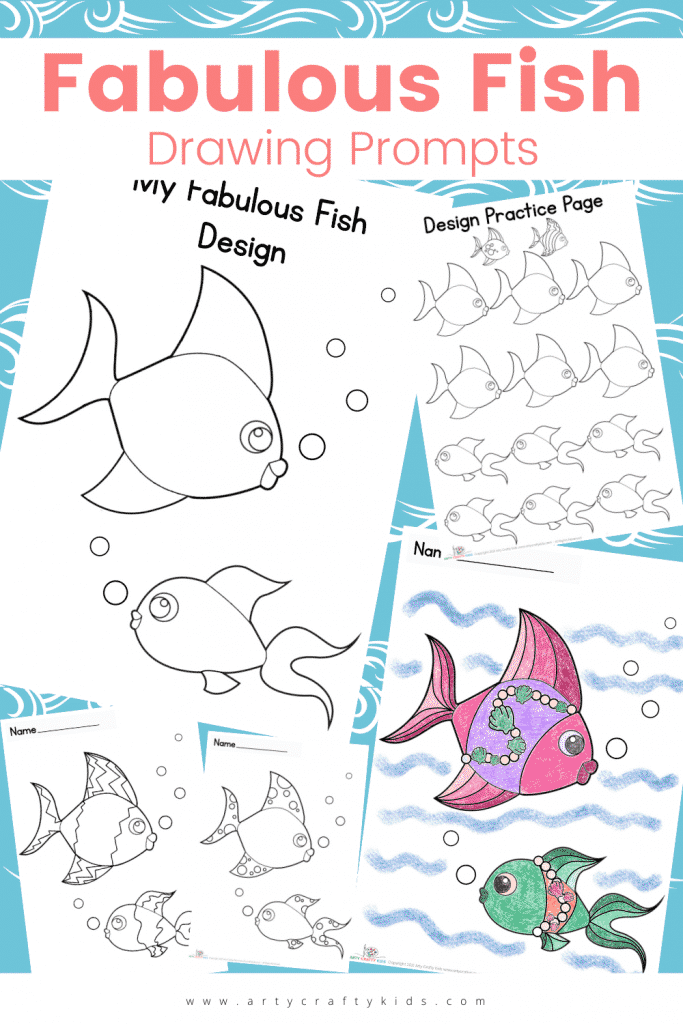 How to draw with Arty Crafty Kids
Here at Arty Crafty Kids we have a variety of learning resources and tutorials that can be used to help children develop their drawing skills. You can choose from our drawing prompts, traditional 'how to draw guides', grid/symmetry drawings and our super fun flow drawing tutorials. All of these tools focus on different elements of the 'how to draw process' and children may prefer one technique over another as they develop their drawing technique.
My Fabulous Fish Design Sheet
Presented with an empty space, children may fill their fishy friends with patterns, doodles and/or explore blending colors and color combinations. When children make a shift from simple coloring to design, they move from engaged to empowered creative thinkers – problem solvers. They're a fantastic way to inspire creativity without the overwhelm of creating something from scratch, which some children may find intimidating.
These templates are a super way to kick start the imagination! Immersive and fun, children will love testing out their design skills. To get them started, make a few suggestions – stars, hearts, rainbows or polka dots every color under the sun will be sure to inspire.
How to Download the Fabulous Fish Drawing Prompts:
The Fabulous Fish Drawing Prompts are available to members of the Arty Crafty Kids Club. Members can access the template here (remember to login!): https://www.artycraftykids.com/product/fabulous-fish-drawing-prompts/
Members will need to log in to access the templates!
Become a Member!
Members of Arty Crafty Kids can access our full library of creative resources, making crafting with kids super easy and fun!
Free Fish Coloring Pages for Kids
Why not dive into the under sea world and download these free ocean coloring pages to color alongside the fabulous fish drawing prompts. Simply click on the image or link to download!
Whale Coloring Page
This coloring sheet captures a serene whale that's blissfully unaware of the little fishes playing on its release of water! This is a fabulous addition to the fish drawing prompts, enhancing the under the sea theme.
Mermaid Coloring Page
Our oceans are home to fish, seahorses, sharks and crabs. In the land of fantasy, it's also home to lovely mermaids who take all the discarded "thingamabobs" and turn them into something useful.
More Under the Sea Art and Craft for Kids:
We love under the sea topic at Arty Crafty Kids and have a huge variety of learning resources to support art and craft at home or within the classroom. Take a look at a few of our favorite and most popular resources!