It's time to raid the recycling bin and gather some paper rolls to make adorable Toilet Paper Roll Bugs! This is a super easy bug craft for kids to help bring the outside, inside.

Learn all about mini beasts with another of our brilliant Spring themed toilet paper roll crafts: notice which elements are the same (why do they all have antennae's?) and which are different (they each have such unique patterns!)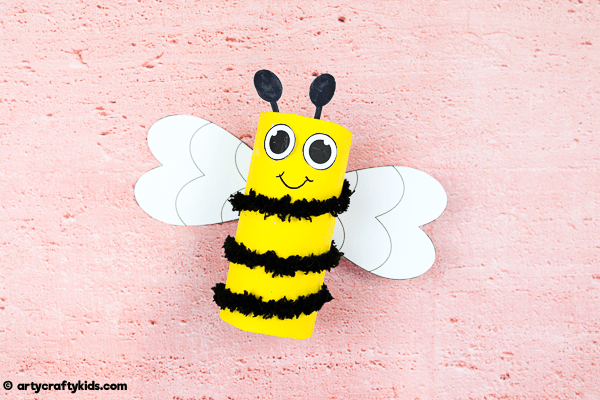 Then enjoy playing with your creations: you could hide them around the house or garden to make a bug hunt, or even get dressed up, put on some music and accompany them to a not-so-ugly bug ball in your living room!
Toilet Paper Roll Bugs – Easy Kids Craft
What you need:
Paper Rolls
Coloured Paper or Paint
Black Yarn, String or Black Paper
Scissors
Glue Stick
Download the TP Roll Bug Templates:
Download the Bug Elements Template:
The 'Bug Elements' template is available to members of the Arty Crafty Kids club. The template can be accessed via the link below: https://www.artycraftykids.com/product/tp-roll-bug-elements/
Not A Member?
How to Make a Toilet Paper Roll Ladybug: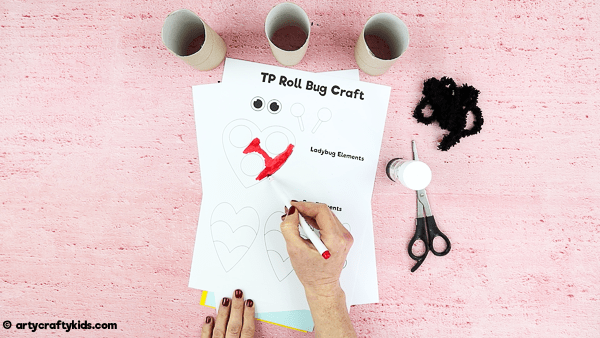 Color in the Template
Color in the ladybug, bee and butterfly templates and carefully cut out each of the elements.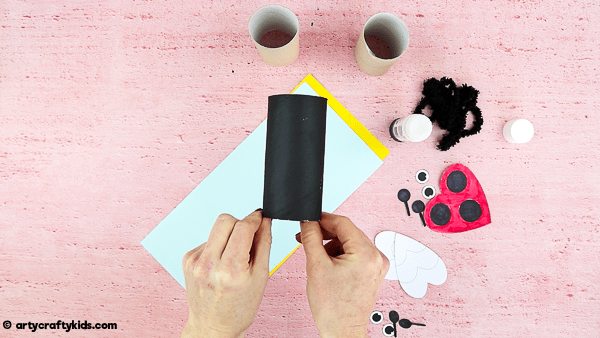 Paint the Paper Roll Black
We'll start by making the ladybug, so paint your first toilet roll black.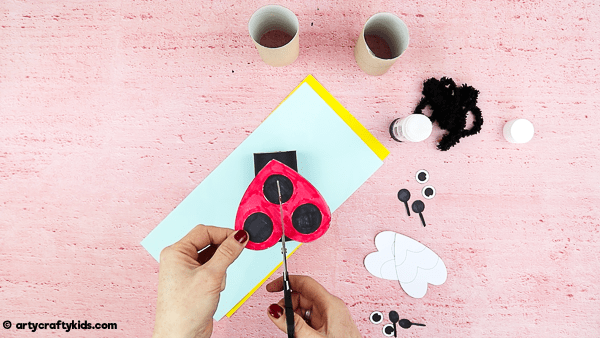 Cut the Heart Shaped Wings in Half
We want our ladybug to fly, so cut the body in half (vertically) to create her wings.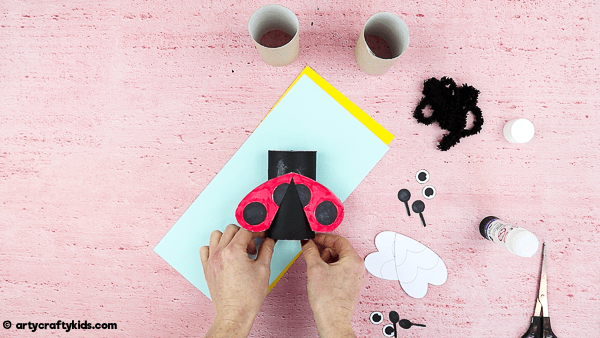 Stick the wings, angled with the pointed ends together and round ends apart, onto the black toilet roll so your ladybug is ready to fly!
Complete the TP Roll Ladybug
Complete your ladybug by sticking on her eyes and antennae (remember to stick them to the inside of the roll so they look nice and neat!)
How to Make a Toilet Paper Roll Bee: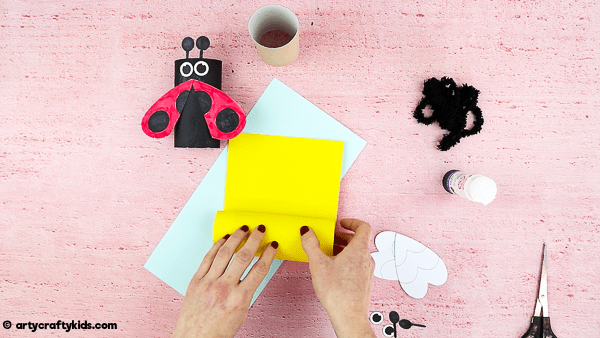 Wrap the Paper Roll in Yellow Paper
Now it's time to make your ladybug a friend! Start by wrapping a second toilet roll in yellow paper.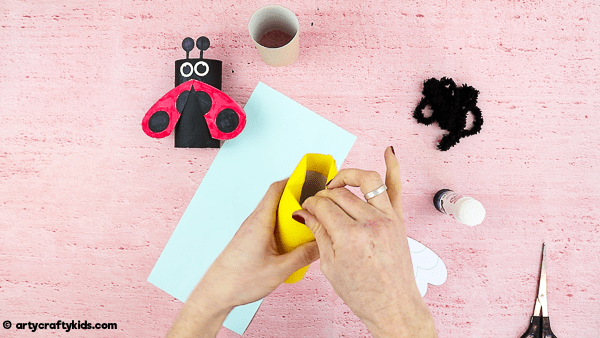 Neaten up the bee body by carefully tucking the excess paper into the roll.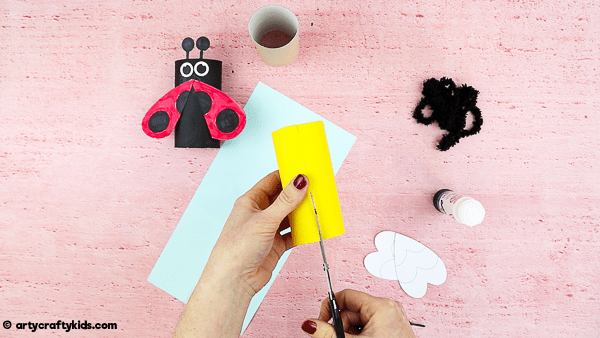 Now make two small cuts into the toilet roll (one either end of the paper roll) and slot one end of your black fuzzy yarn into it. This will keep the end secure as you decorate your bee.

If you do not have fuzzy yarn, replace it with string or simply black paper. Alternatively, go back to basics with black paint.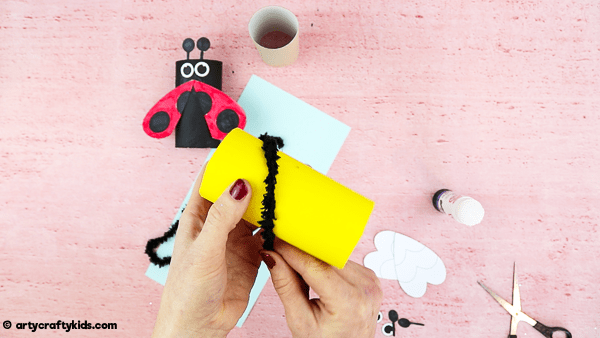 Wrap the yarn around the toilet roll to make lovely fuzzy stripes, and secure the other end into the slot at the bottom of the paper roll.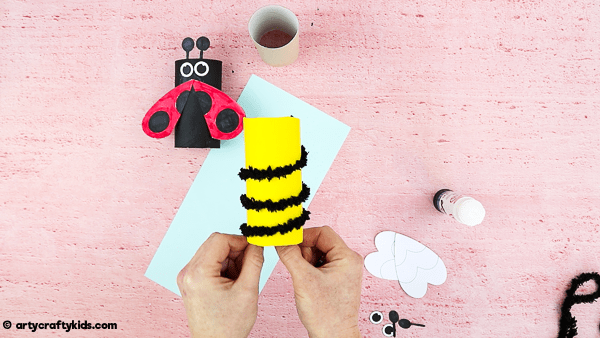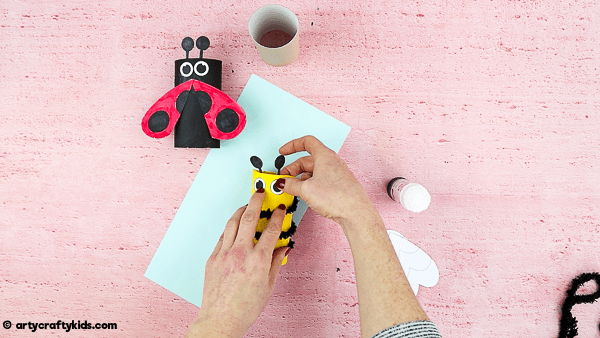 Finish your bee by sticking on his eyes and antennae – and why not draw a big friendly smile too?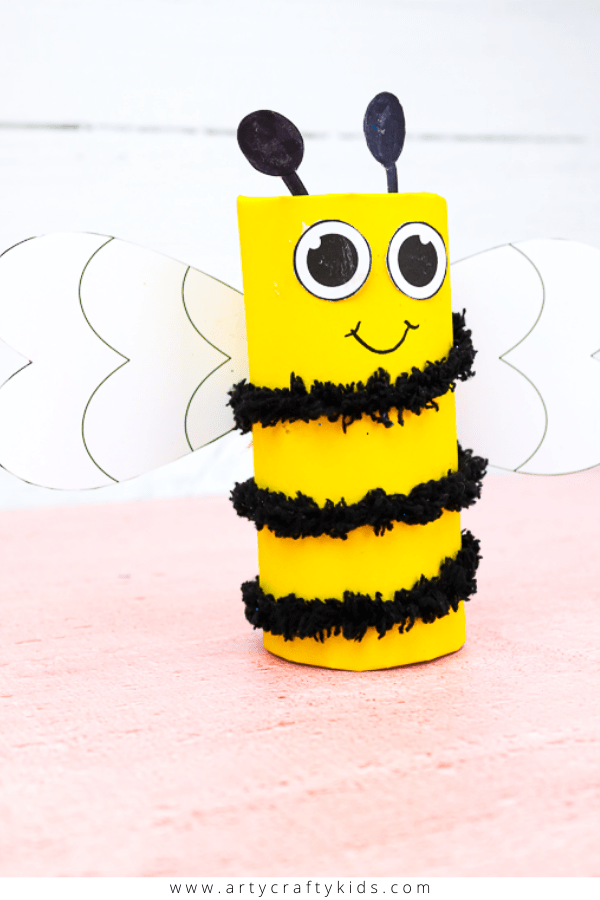 How to Make a Toilet Paper Roll Butterfly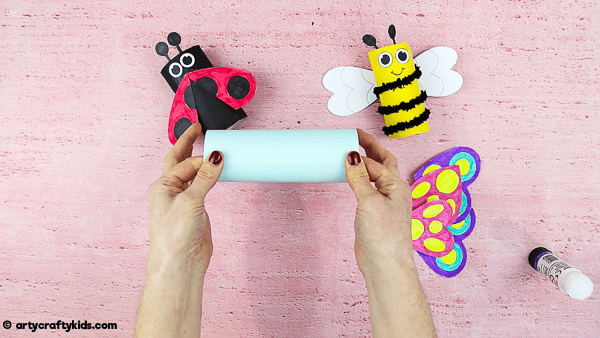 Let's complete our trio of bugs with a beautiful butterfly!

Wrap a third toilet roll in colored paper: you can choose any color you'd like, but we've gone with a pale blue so the butterfly's bright wings will really stand out!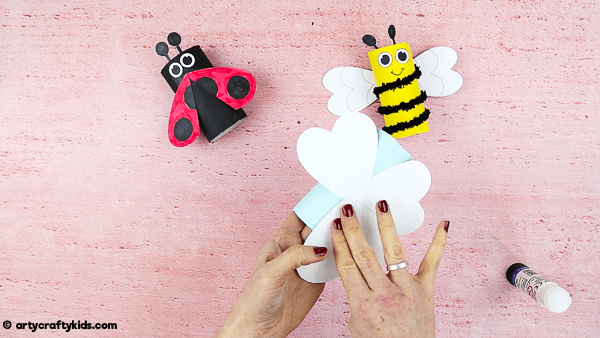 Secure the Wings
Put a dab of glue in the middle of the colored side of the wings, and stick them onto the back of the butterfly body.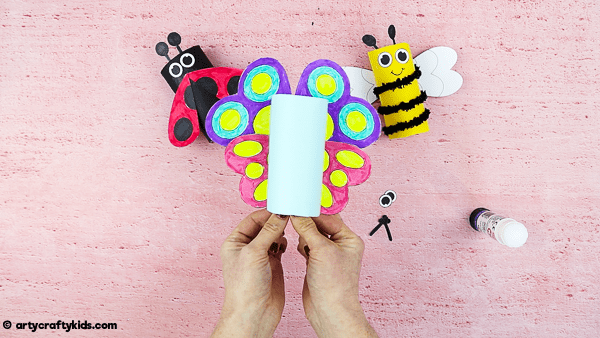 Stick her eyes and antennae onto the front, and draw on a smile, to complete your butterfly!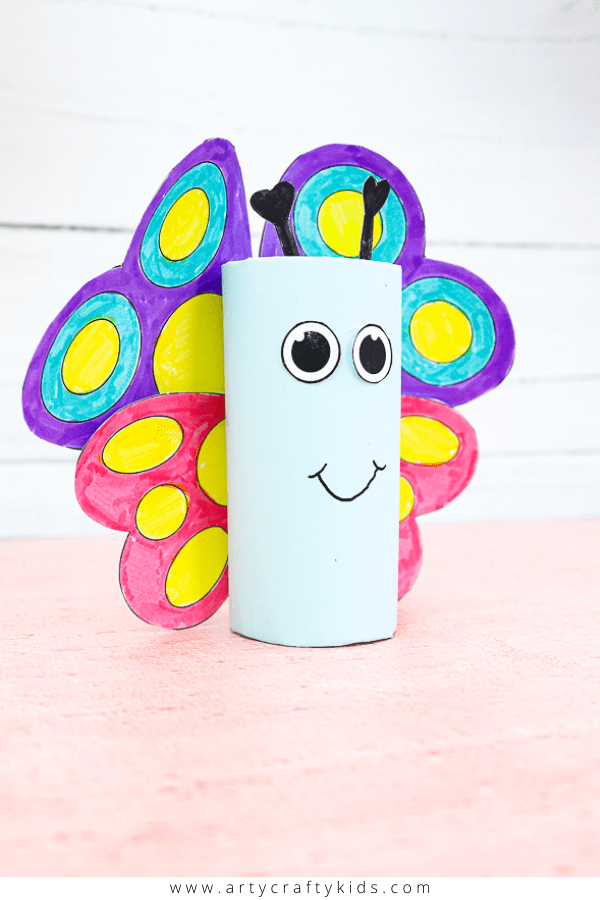 More Spring Crafts for Kids:
While you're here, take a look at these fun and interactive Spring Crafts for Kids!
Bobble Head Lamb Craft for Kids:
Looking for Spring and Easter themed art and craft ideas? This adorable 3D Spring Lamb Craft plays on the image of new lambs bouncing around the fields at the beginning of Spring.

https://www.artycraftykids.com/craft/3d-spring-lamb-craft/
Bobble Head Frog Craft for Kids:
Looking for a fun, interactive and easy Spring craft for your kids? Why not have a go at our easy bobble head paper frog craft: with coloring, cutting, and folding, it's great for developing those fine motor skills and the bobble head design is really fun and engaging too.

https://www.artycraftykids.com/craft/bobble-head-paper-frog-craft/
Life Cycle of a Butterfly Craft:
We're finally saying goodbye winter, hello spring, and it has us here at Arty Crafty Kids thinking about the changing seasons and nature's different life cycles. And what better transformation is there than the humble caterpillar into the beautiful butterfly!

https://www.artycraftykids.com/craft/butterfly-life-cycle-craft/
Happy Crafting!