Our rather worn copy of the The Very Hungry Caterpillar has been well loved and read many times (complete with actions) over the years. The kids love pretending to munch through the ice cream and cakes (often skipping the salami), and rubbing their bellies with satisfaction once the caterpillar eats that final green leaf . And if you haven't already guessed, it is this moment of the story that has inspired our adorable The Very Hungry Caterpillar craft.
With just a few basic materials, your kids will have their own munching crunching caterpillars to play with alongside the book.
The Very Hungry Caterpillar Craft
Supplies:
Paper Plate
Sponge
Paint
Craft Stick
Felt (Green, Yellow and Red)
PVA Glue
Scissors
To see how we made our crunching munching caterpillar, take a look at our nifty little video below and subscribe to our new YouTube channel to see all our crafts in action!
[mv_video key="viawyfpzsoqtxr1gtzhx"]
The Very Hungry Caterpillar Craft Tutorial
The Leaf
To begin, cut the paper plate into a leaf shape, cutting a hole in the middle and along the edge to create the appearance of a 'nibbled' leaf.
Next, paint it green!
To create an Eric Carle-esque quality to the leaf, try sponge painting the paper plate using different shades of green.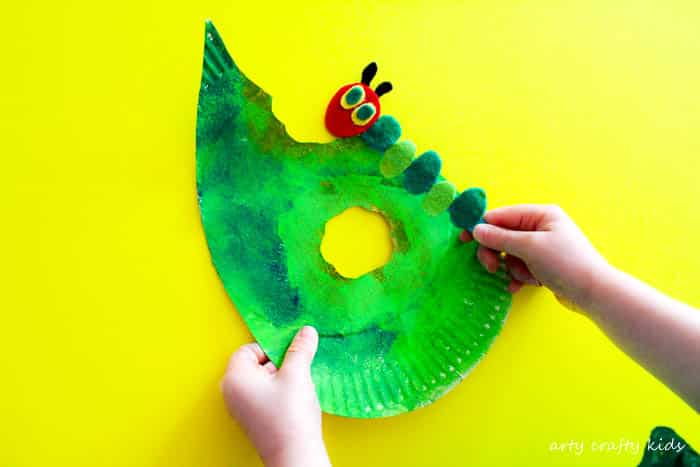 The Crunching Munching Caterpillar
Cut out a few green oval shapes out green felt and then one large red felt oval.
Using a generous helping of PVA glue, stick them onto the craft stick.
Add facial features and antennae to complete the caterpillar.
Combine the leaf and caterpillar, grab a copy of The Very Hungry Caterpillar and start playing!
I hope your kids enjoy our 'The Very Hungry Caterpillar' craft and if you're looking for more Eric Carle themed crafts, then you may also like our gorgeous paper plate butterfly!
Pin for later!