Kids will have a hoot with this Recycled Cardboard Owl Craft that's made entirely from scrap materials, showing Arty Crafty Kids how its possible to make something out of nothing!
Each and every owl created by my kids turned out completely unique with oodles of personality, and I just adore how they used the available materials.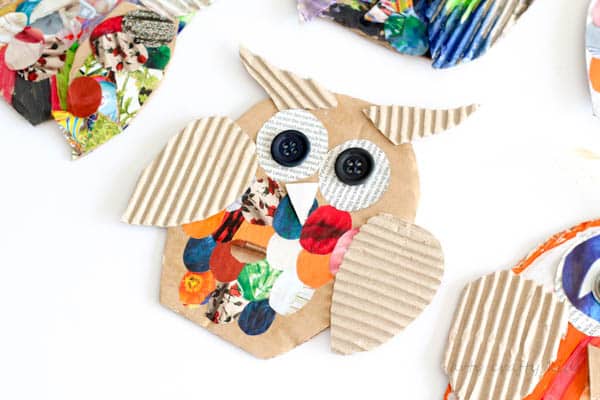 So if you have some cardboard boxes on the scrap heap, disused clothes that no longer need their zips and buttons and a few other recyclables like magazines, scrap paper and even a redundant ball of yarn, then you have everything you need to get crafty.
Recycled Cardboard Owl Craft: Materials
Cardboard Boxes
Magazines
Buttons
Paint
Pva Glue
Scissors
And a variety of other recyclables. Be adventurous!
Recycled Cardboard Owl Craft: Tutorial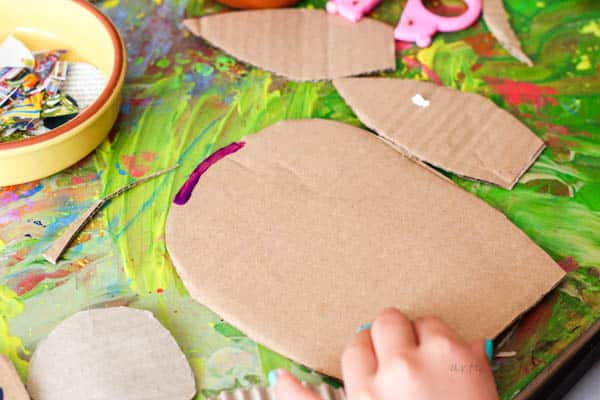 Step 1. To begin, create the canvas. Cut out a large oval shape from the cardboard, making the 'head' area slightly larger than the bottom. This will become the owl's body.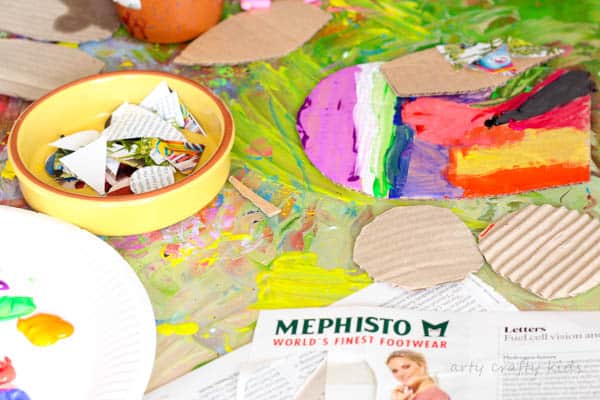 Step 2. Decorate the body of the owl, either with paint or pieces of magazine, or both!
We selected a variety of colourful pages with interesting patterns and textures from the magazine and cut out small oval shapes and triangles.
Of course, your Arty Crafty Kids are not limited to these shapes. They could tear the paper, scrunch it up and simply go with their creative flow.
Alternatively, they could also use tissue paper, sequins or even bubble wrap to decorate their owls.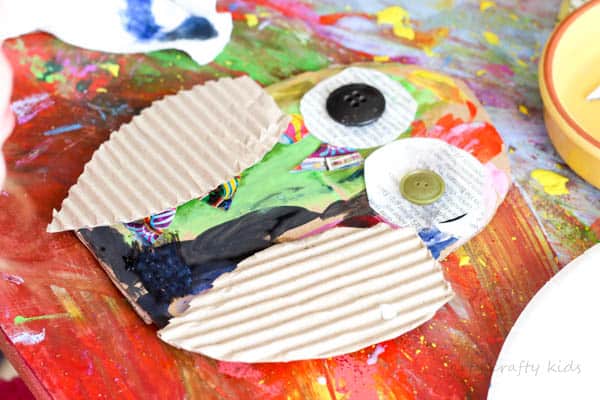 Step 3. Next, add wings and eyes, securing with PVA glue.
As you can see, we've opted for contrast, using the bumpy part of our box for wings and white printed eyes from our magazine.
My little girl also decided against two black eyes, using contrasting buttons for eyes.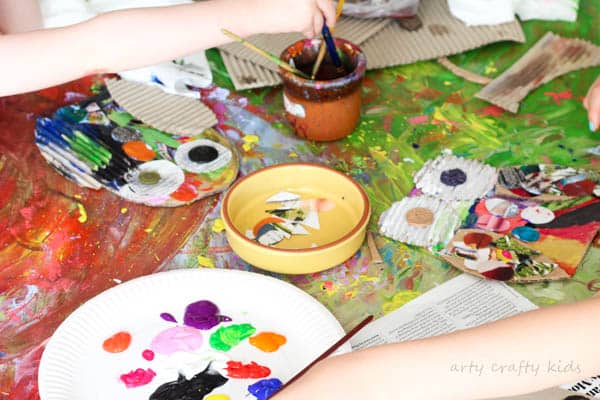 Step 4. Continue decorating, sticking and painting the owls until your Arty Crafty Kids feel that their owls are complete.
The Recycled Cardboard Owl Craft is now finished!
The beauty of this craft is that's incredibly free and open to your child's creativity. Providing the basic elements of a body, wings and eyes are included, how they're created is entirely down to the Arty Crafty Kids. Perhaps the eyes could be replaced with milk bottle tops and the wings created with fabric?
However the owls turn out, I hope your children enjoy the process!
For more Owl crafts, take a look at our gorgeous No-Sew Owl Finger Puppets, Paper Plate Owl and Owl Suncatchers.
Pin for Later!


The Arty Crafty Box
Did you know that Arty Crafty Kids now has a monthly Art and Craft subscription box, where every box is a creative adventure for kids?
Take a peek inside our boxes and when you order, get 50% off the first box by using 50FIRSTBOX at checkout!
[wcps id="22818″]
The Arty Crafty Box is packed with creative, playful and engaging art and craft projects for kids, complete with all the necessary materials and easy to follow instructions.
In addition to this, every box includes an Artspiration booklet that's filled with how-to-draw tutorials and drawing prompts to enhance your Arty Crafty Kids creativity and FREE access to our online members' area that contains exclusive art and craft templates, colouring pages and more!