Kick start your children's next dress-up session with this adorable set of Printable Farm Animal Masks for Kids!
A cute farm animal kids craft that encourages creativity and play. Each printable mask can be downloaded in full colour or black & white.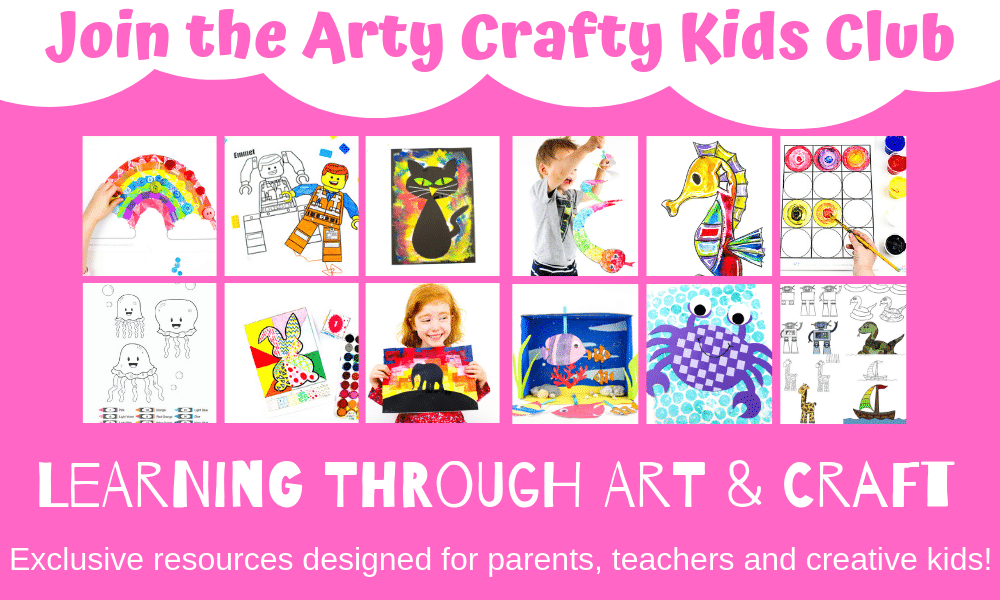 The animal masks can be simply coloured in with pen and pencil, painted or/and decorated with paper and any extras available within the craft box.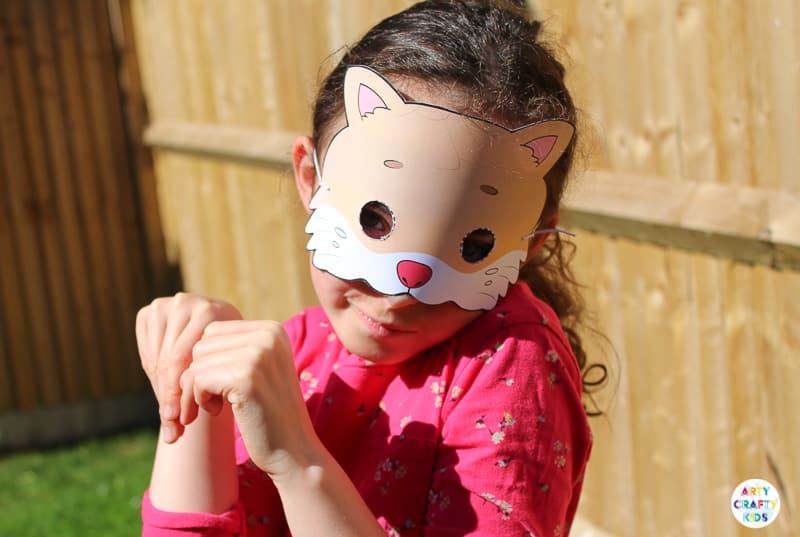 How to use the Farm Animal Masks:
Not only are the masks fun to make, they can facilitate play, learning and are an absolute for must any role-play scenario!
They will easily fit into farm animal lesson plans for preschoolers or early years foundation stage (EYFS) and can be combined with our how-to-draw farm animal guides, colouring pages and farm animal finger puppets, to form a creative and complete farm animal learning experience.
Face Masks are Great for Story Telling:
With the aide of face masks, children adopt roles and use all their knowledge and early experiences to bring life to an imagined character. As the character evolves through play, the process naturally engages children in story-telling.
Face masks are also a great accompaniment to songs, rhymes and story books; adding an engaging and dynamic element to the learning experience.
DIY Farm Animal Birthday Party:
Planning a farm animal birthday party for your preschooler? children can decorate their face masks and engage in farm animal party games.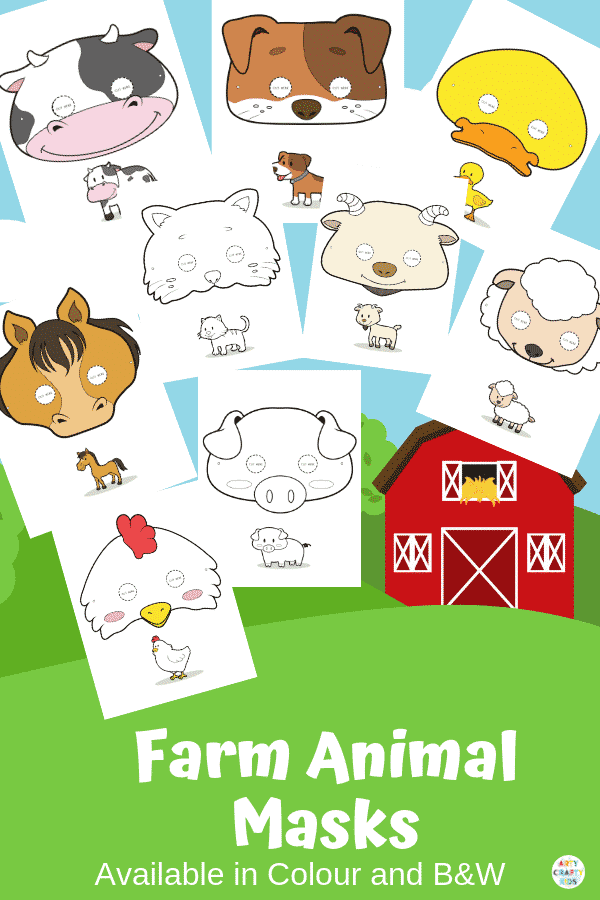 Printable Farm Animal Face Masks for Kids: Materials
White Card Stock or Paper
Colouring Pencils/Pen
Elastic or Ribbon
Scissors
Hole Puncher
Downloading the Printable Farm Animal Masks:
The Printable Farm Animal Masks can be downloaded in full colour or black and white.
To download the masks, login into the Arty Crafty Kids members area and search under Craft Templates.
Not a member? JOIN the Arty Crafty Kids Club!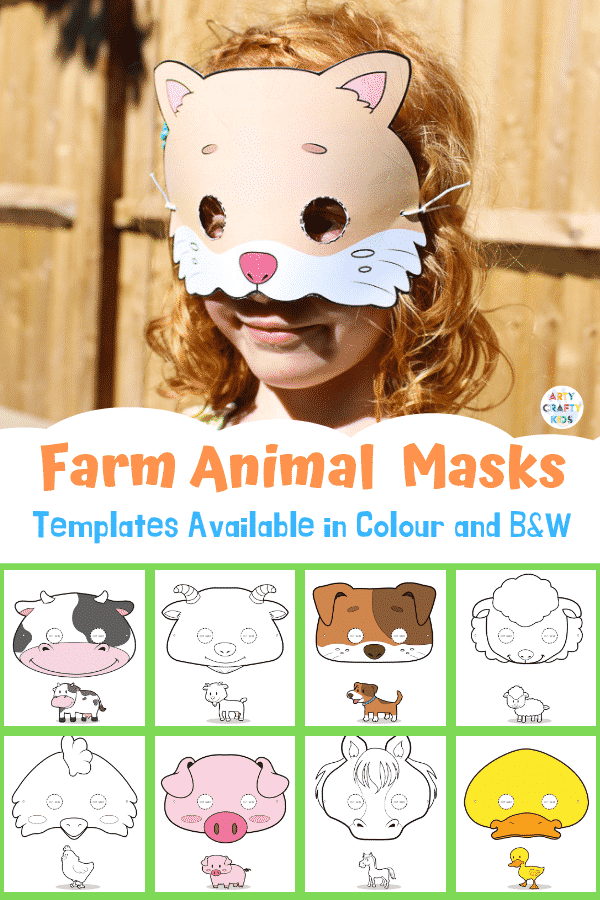 How to Assemble the Farm Animal Face Masks: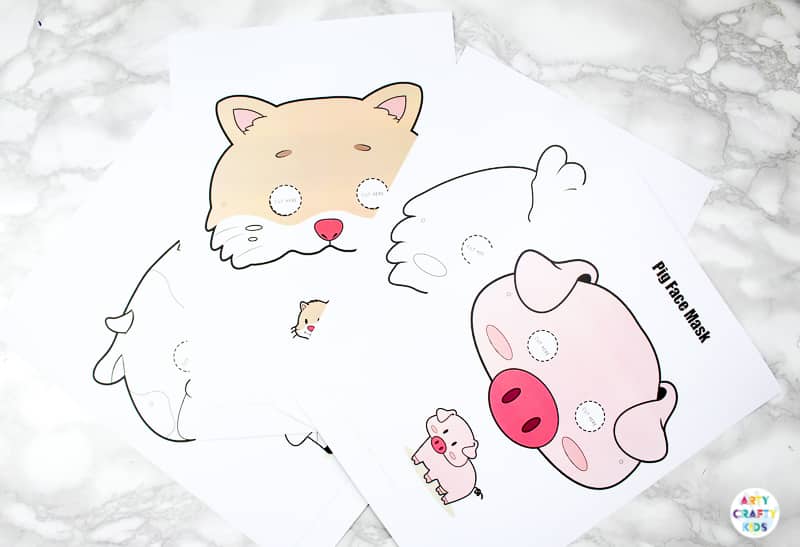 Printing the mask templates:
Download the farm animal face masks onto white card stock or paper. For durability, I recommend printing onto card rather than paper.
NB: Before printing, refer to your printer settings for a suggested card weight. Most are happy to print onto card weighing less than 220 gsm.
If the Arty Crafty Kids have chosen to print the black and white set, colour in the templates with a medium of your Arty Crafty Kids choice.
Kids can be as creative as they like with the templates. Try adding cotton wool balls or painting with cotton wall balls. Collage with paper, add sequins, paint with fingertips – the options are limitless!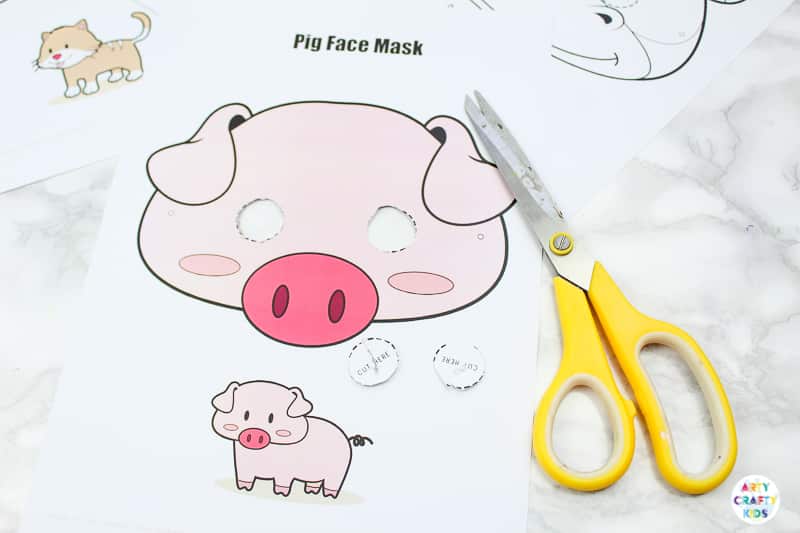 Preparing the mask:
Cut out the eye holes and use a hole puncher to create space for threading on either side of the template (as suggested by the teeny tiny holes marked).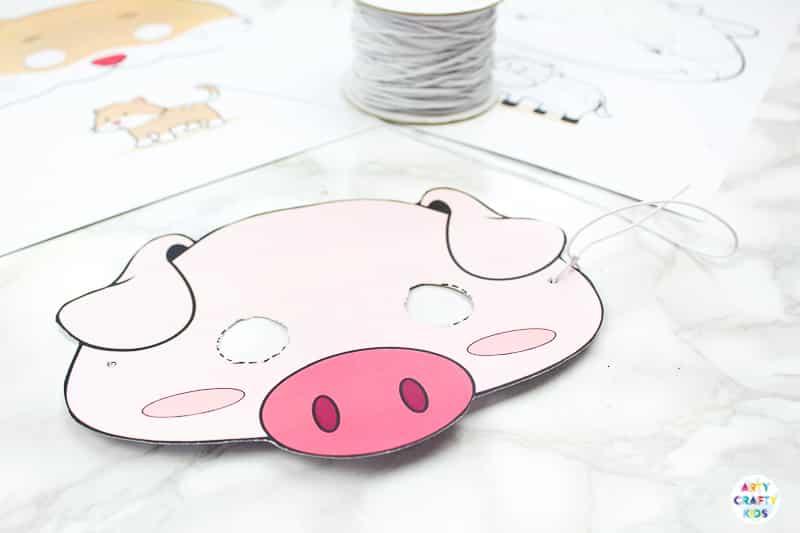 Thread a piece of elastic through one hole and secure with a double knot.
To ensure the mask fits your child, place the face mask onto your Arty Crafty Kid and thread the elastic through the second hole while they're wearing it.
Secure with a knot.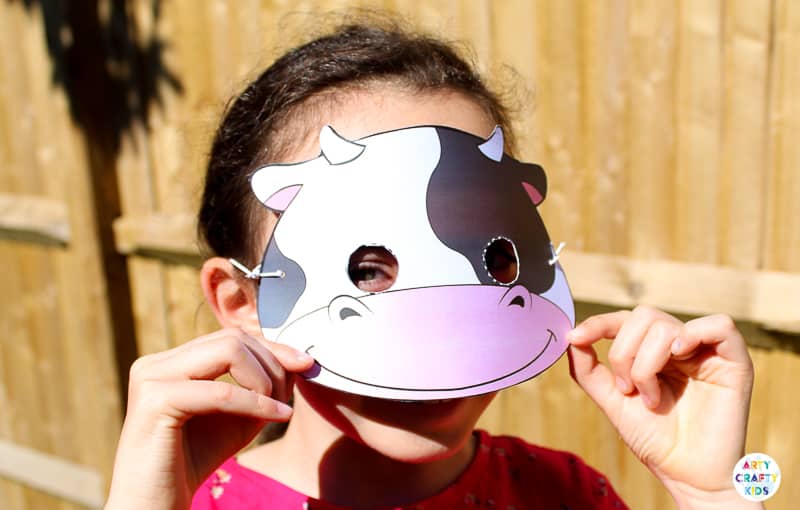 Now it's play time!
I hope your Arty Crafty Kids have a blast creating and playing with their farm animal masks. I'm sure they'll be singing along to Old MacDonald Had a Farm in time at all.
We will soon be adding a Safari Animal Mask pack to the Arty Crafty Kids club, along with lots of animal themed resources included paper play sets, puppets and colouring pages!
Happy Crafting!
Arty Crafty Kids Club
Creative and playful Art & Craft Templates
How to Draw Guides, drawing prompts and pre-writing Line work
Colouring pages & Seasonal activity booklets
Perfect for Educators and Parents, with new content added weekly!
Join the Arty Crafty Kids Club and gain access to our exclusive collection of art and craft templates and learning resources. Designed with parents, teachers and creative kids in mind, you will never run out of activities for the kids!