Enhance your kids' love of animal play with this super cute collection of Printable Farm Animal Finger Puppets.
These paper toys are fun to colour, easy to assemble and can be used by kids, parents or teachers within the classroom to encourage participation in activities and facilitate learning through play.
5 Awesome Benefits of Puppet Play for Children:
Finger puppets are great for grabbing and sustaining a child's attention, and when paired with a book, song, activity or rhyme, they can boost participation and spark all sorts of magical outcomes…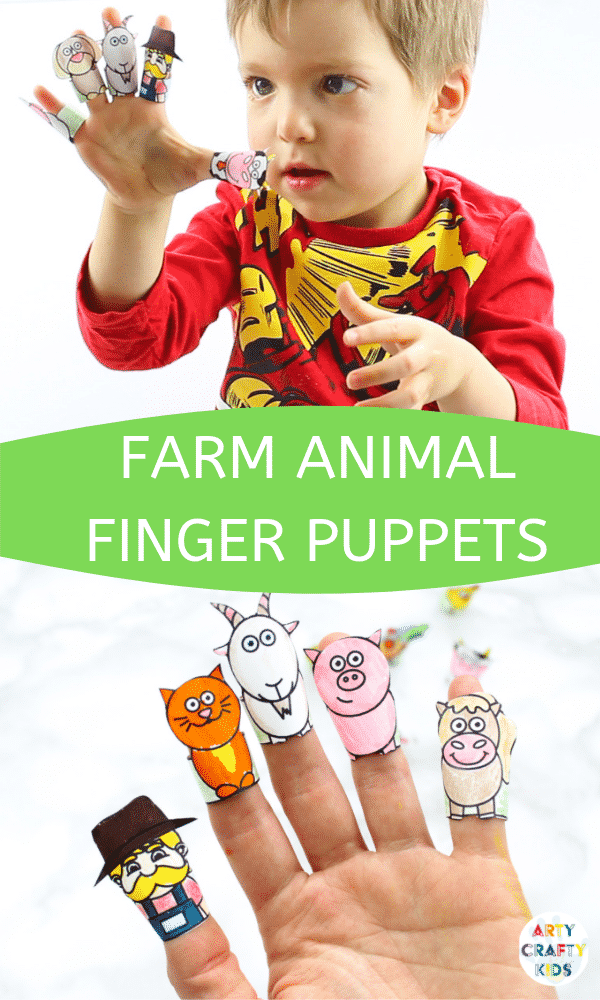 Puppets help oral language skills:
As children engage and interact with their puppets, they're ordering their thoughts and using language to best convey their message.
They're naturally working out sentence structure and harnessing their vocabulary to express themselves in the best possible way.
Their interactions will often reflect their experiences and knowledge of the the real world, giving children an opportunity to process a greater understanding of that information through play.
Puppets stimulate imaginations and creativity:
Puppets are an effective vehicle for role play and allow children to immerse themselves into new ideas; encouraging their creative imaginations.
As the child plays, stories and characters with personalities will emerge. They may experience happiness, sadness or be cheeky and silly.
With these animal puppets, children may simply spend their time meowing like a cat and mooing like a cow – this of course is fine too!
The process offers a window into their creativity and as the role-play evolves, they will be developing their language and story telling skills without even realising.
Finger puppets help develop fine motor skills: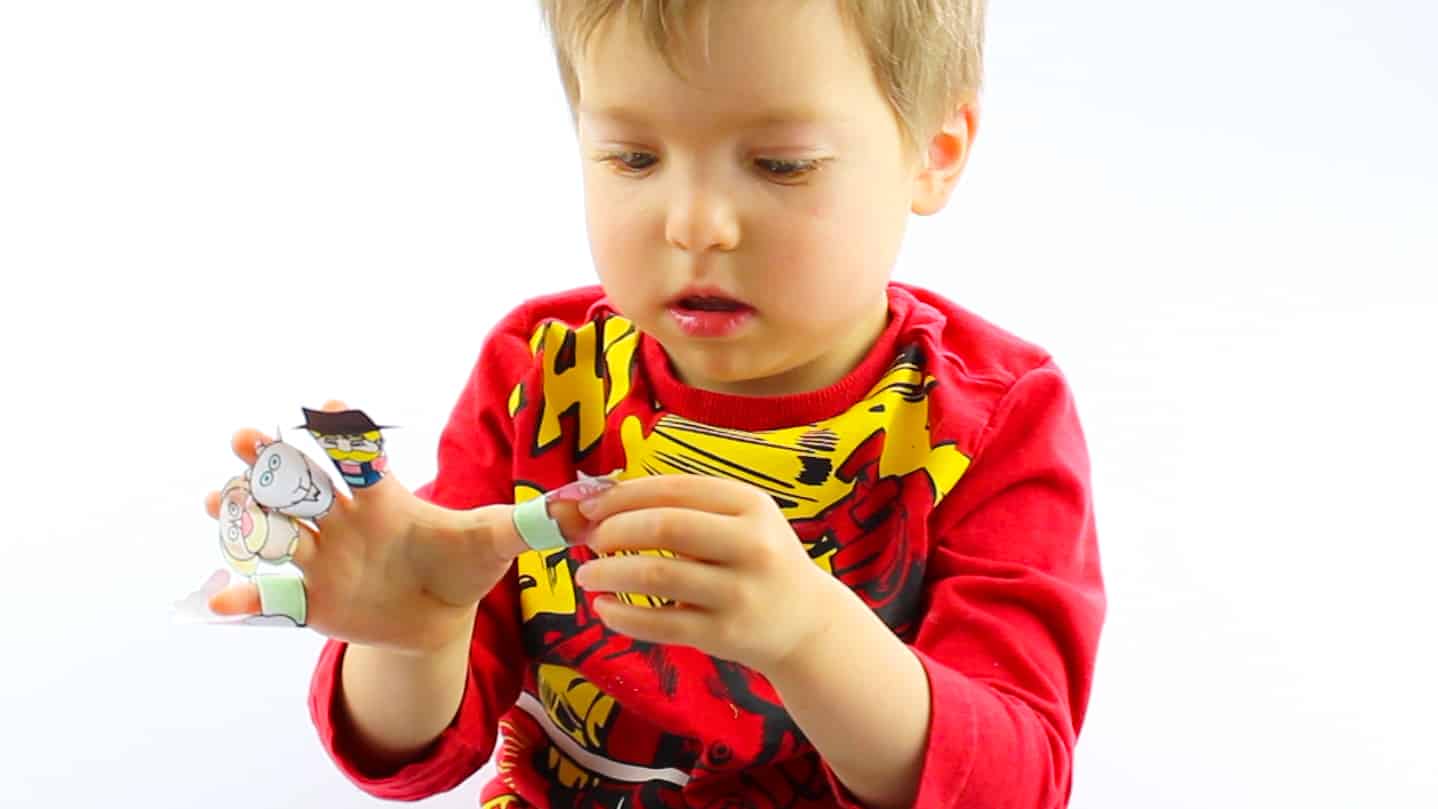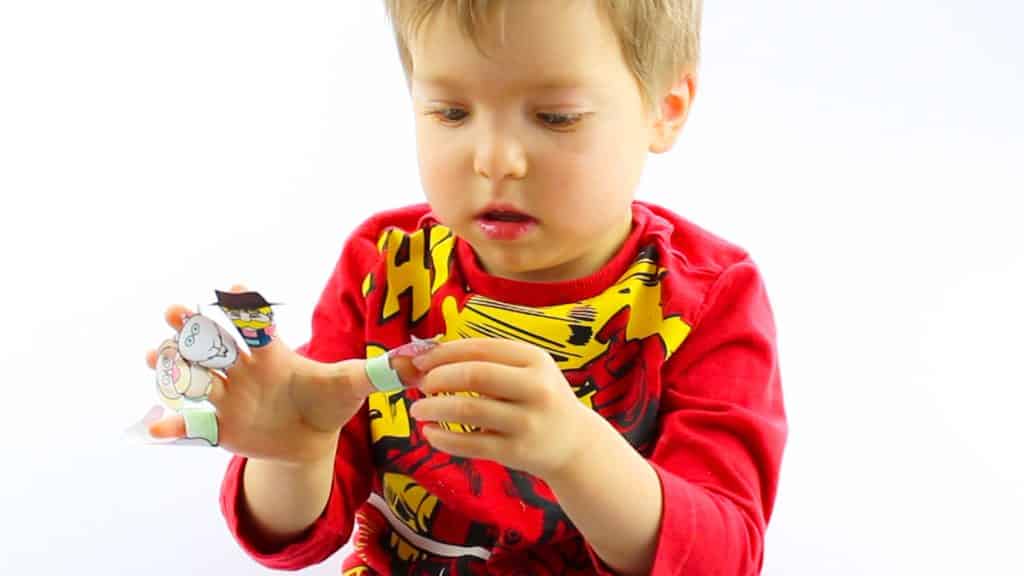 As children manoeuvre the puppets with their hands to create movement, chatter between the puppets or swap the puppets over from finger to finger and thumb, their fine motor skills are hard at work.
The clenching, opening and release of hands, finger movement, wrist movement etc helps to build the muscles essential for refining hand-writing and tasks completed with the hand.
The process of puppet-play is also beneficial to hand-eye coordination.
Puppets are great for confidence building:
Children, for many reasons, are not always comfortable with open dialogue.
Puppets can become a trustworthy in-between and allow children to channel their inner voice and thoughts through the process of role-play.
"Any puppet can encourage the quietest of children to start talking. Puppets can break down barriers and provide a effective means to initiate communication… The child can express thoughts, fears and feelings through the puppet that they might otherwise find difficult to voice to an adult. "

'Puppets in Education' – written by A Greensmith
Hand Puppets and Finger Puppets make learning fun:
Hand and finger puppets facilitate learning through play and help children to make sense of the world around them.
So if you're planning a visit to the local farm this Spring or are working through a farm animal theme at school, what better way is there to extend these experiences than from puppetry and play!
Play also makes learning fun and we all know that children become better, more willing learners when their having a good time.
Materials for Farm Animal Finger Puppets:
White Paper.
Colouring Pencils or Pens
Scissors
Glue Stick
Download the Printable Animal Puppets:
The printable template features 9 farm animals including a cow, chick, rooster, cat, dog, sheep, goat, horse, pig and a farmer.
The puppets can be downloaded from the Arty Crafty Kids members area.
Already a member? Sign in here and search Farm Animal Finger Puppets
How to Assemble the Finger Puppets: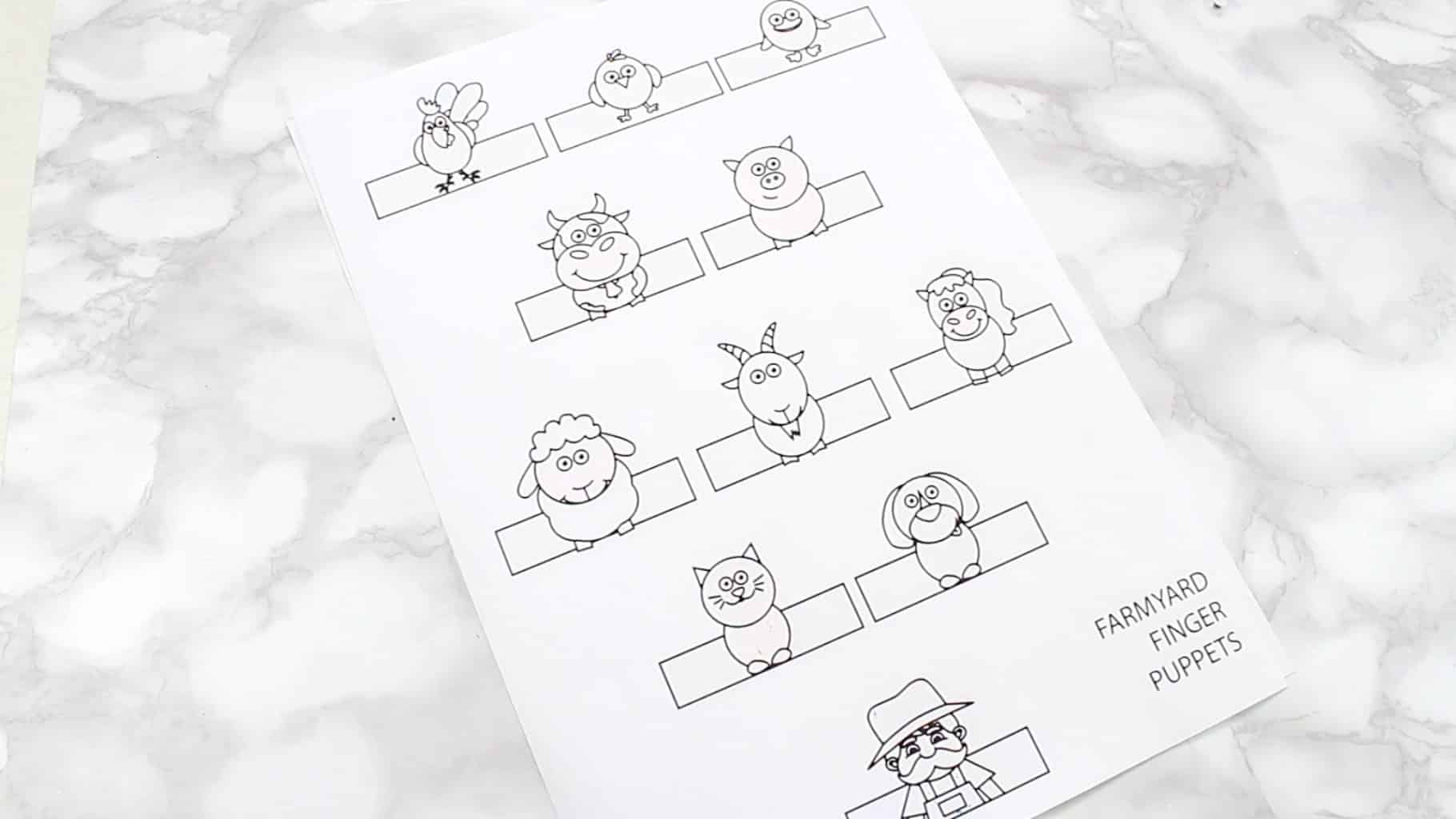 Step 1:
Print out the farm animal finger puppet template from the Arty Crafty Kids area.
Remember to select the page to 'fit' at the printer settings.
To conserve paper, the puppets have been designed to fit one A4 sheet.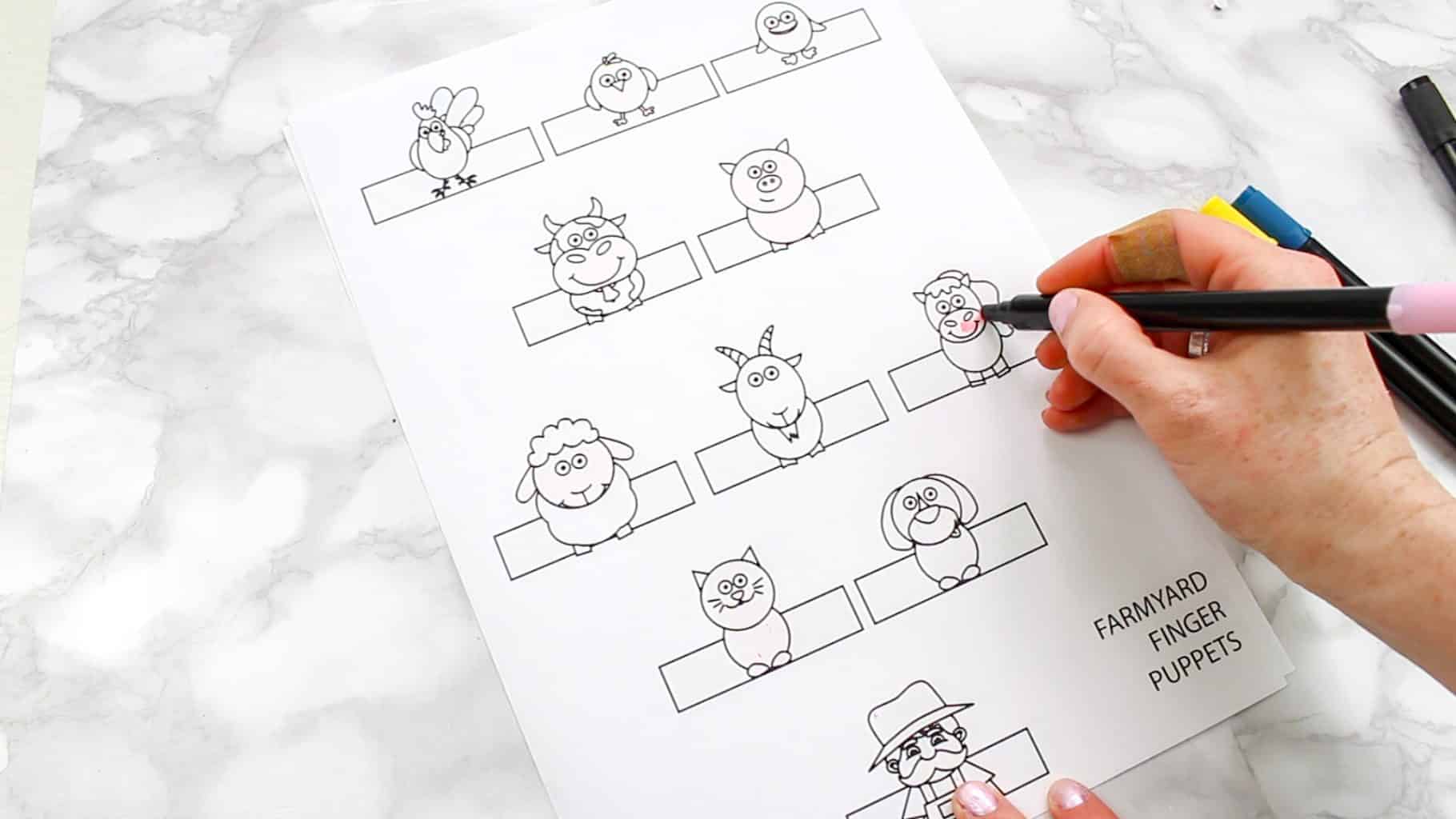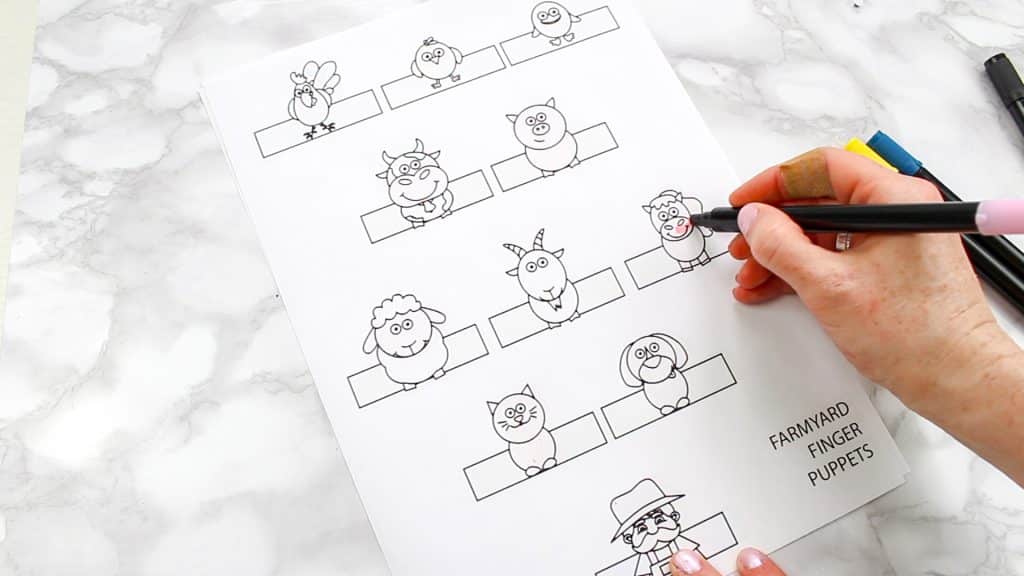 Step 2:
Arty Crafty Kids can use their favourite medium to colour in the animals.
Here, we've used a mixture of coloured pencils and pens.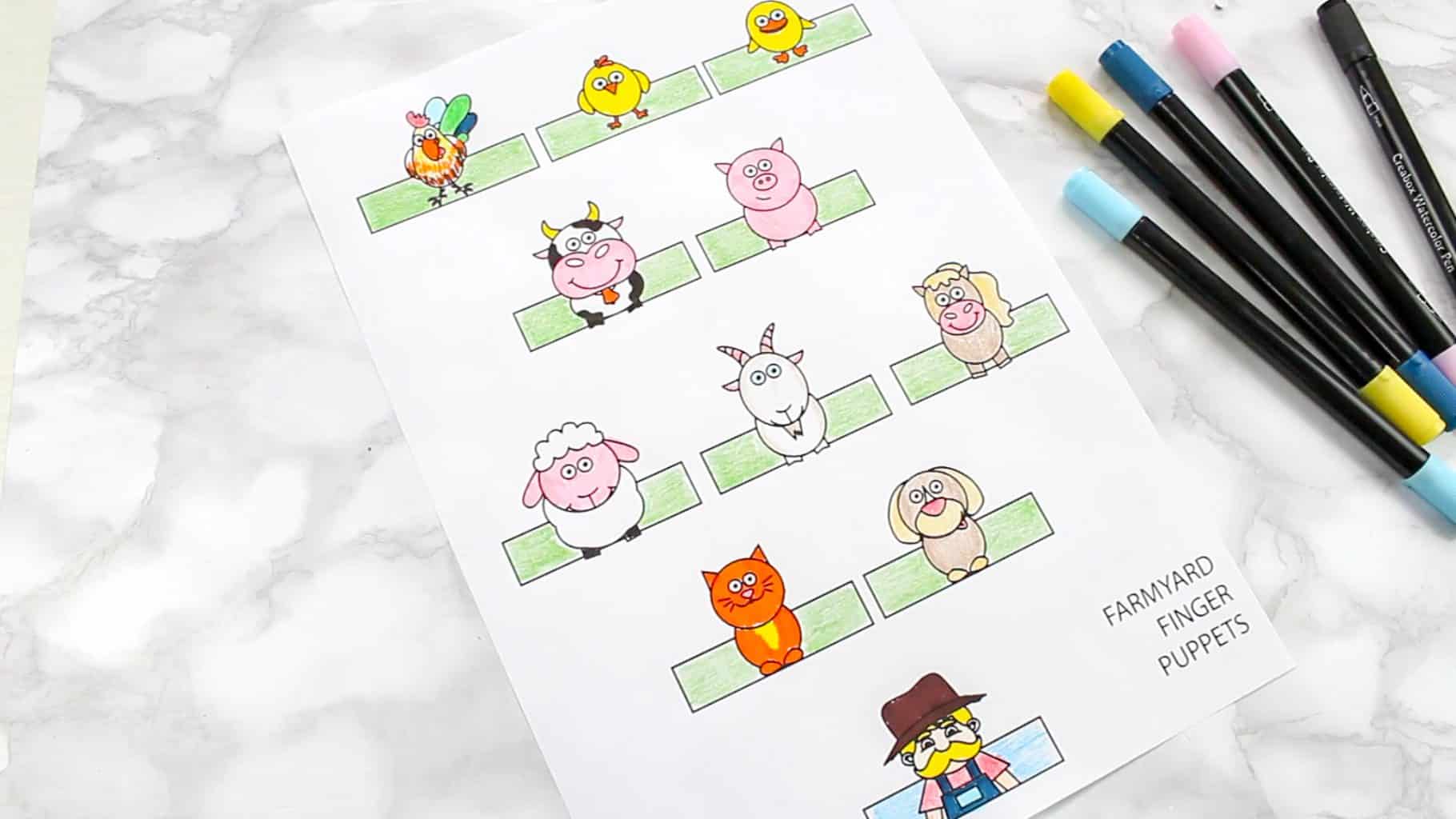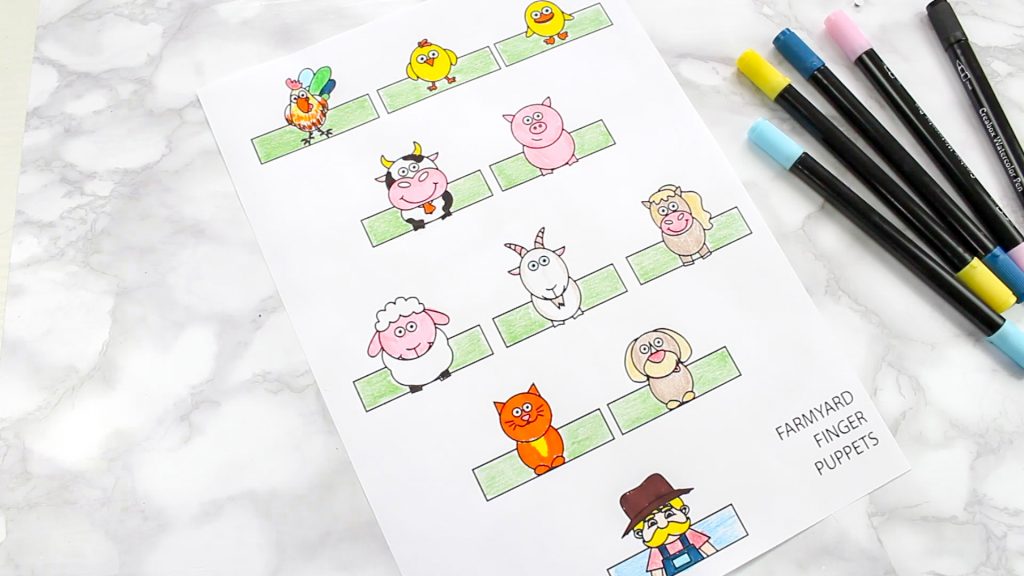 Step 3:
Colour in all the puppets and carefully cut them out.
The puppets have been designed with small hands in mind and many of the animals have smooth, uncomplicated lines to make it easier for kids to navigate the scissors.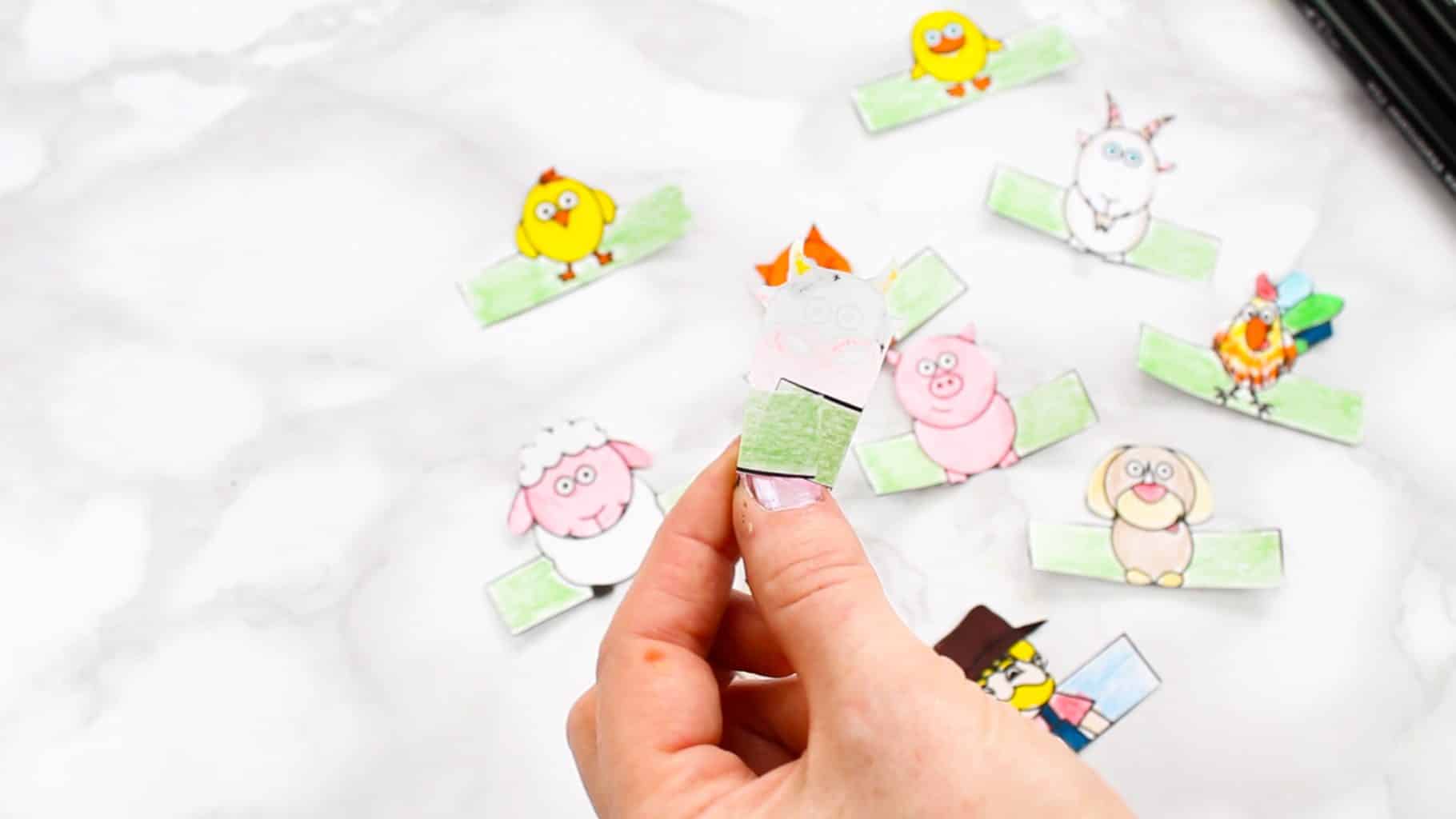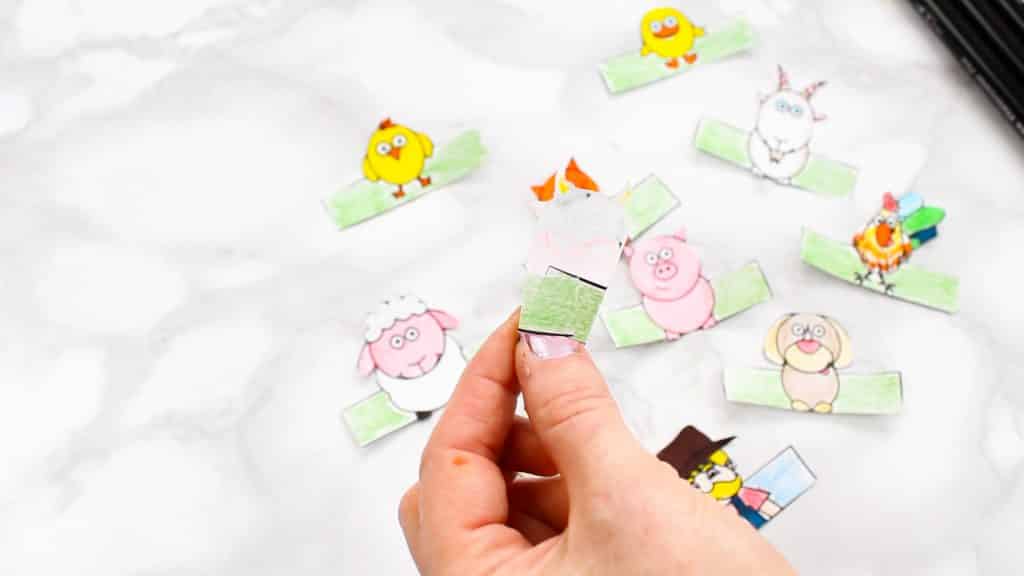 Step 4:
Once all the animals are cut out, curl the rectangular ends to form a tube.
Adjust the paper for best fit and secure the two ends together.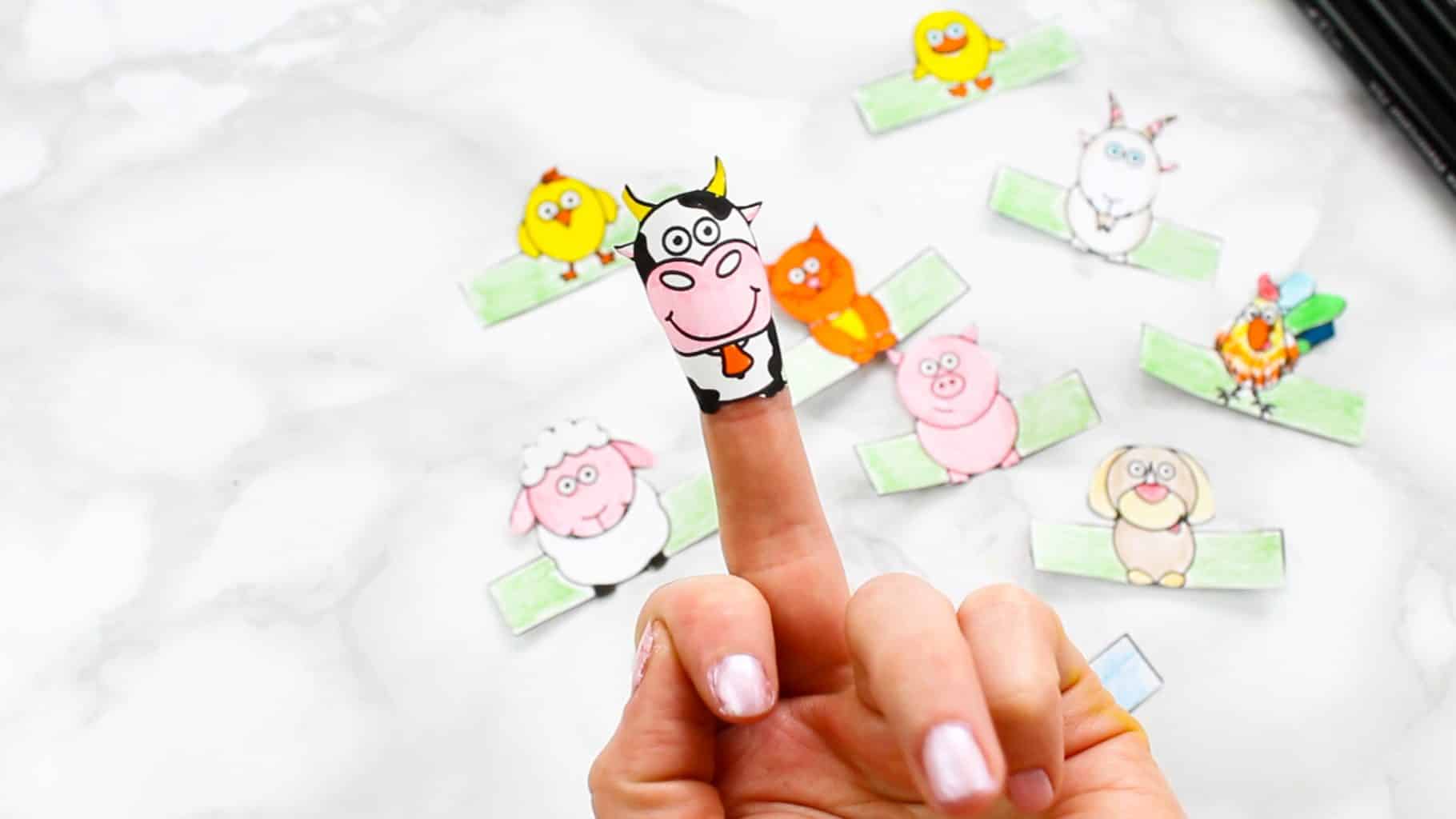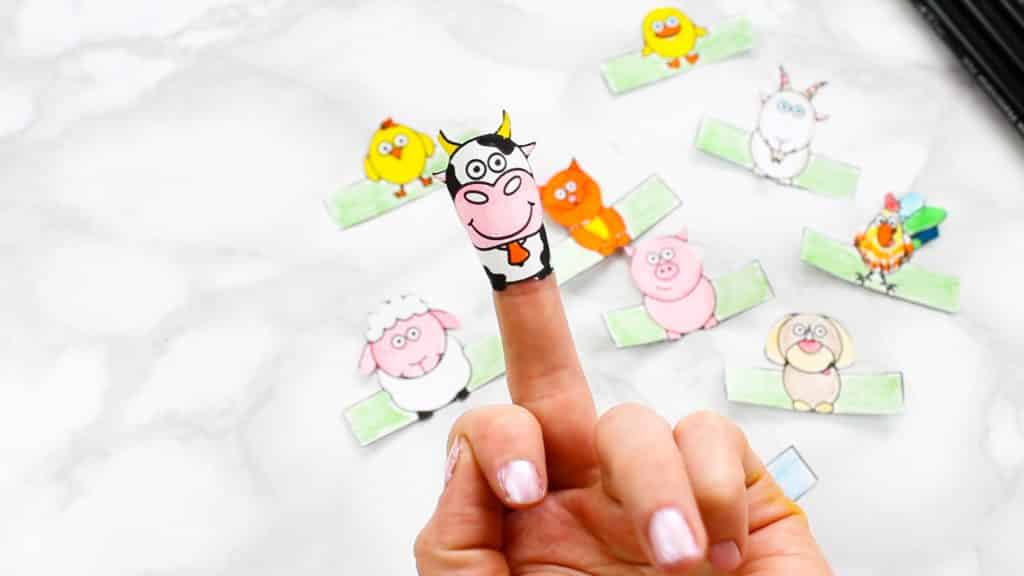 Step 5:
Pop it on the finger and play!
Repeat the process until all the characters have been transformed into puppets!
More Animal Crafts for Kids to Make:
We love our animal themed arts and crafts – here's a selection of our most popular!
Chick Surprise Paper Plate Puppet

Happy Crafting!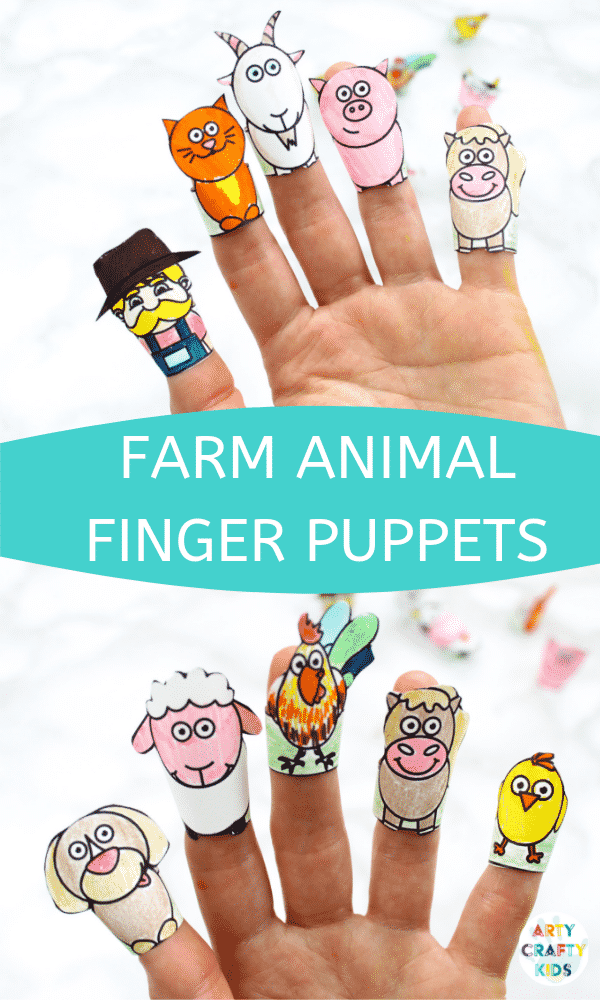 Creative and playful Art & Craft Templates
How to Draw Guides, drawing prompts and pre-writing Line work
Colouring pages & Seasonal activity booklets
Perfect for Educators and Parents, with new content added weekly!
Join the Arty Crafty Kids Club and gain access to our exclusive collection of art and craft templates and learning resources. Designed with parents, teachers and creative kids in mind, you will never run out of activities for the kids!
Latest Posts: