Photo Flower Card for Kids to Make: Are you looking for a special keepsake craft or homemade Mother's Day card idea? We've got you covered here at Arty Crafty Kids! Hot on the heels of our Bumble Bee card, here's another fab idea to help inspire you and get those creative juices flowing in honour of all the special Mums out there.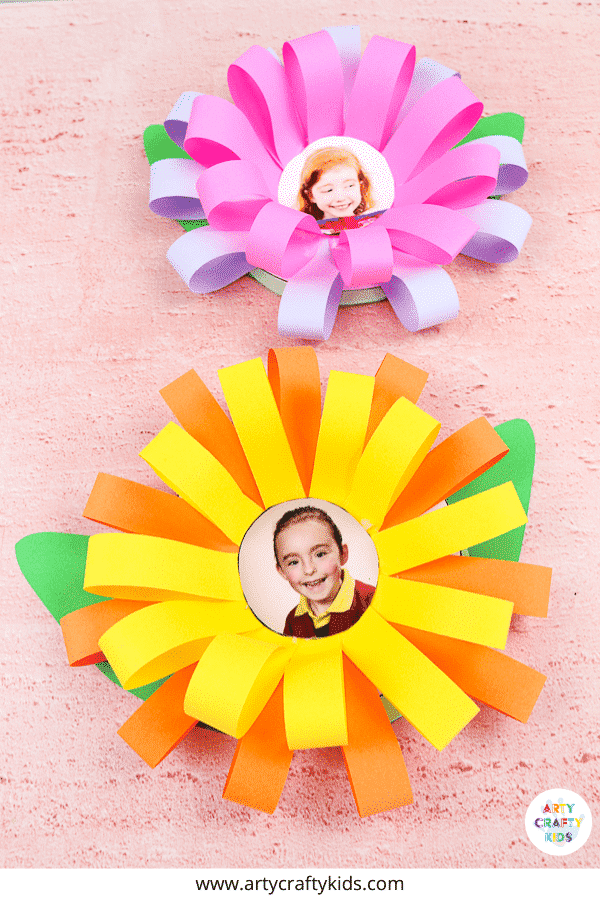 Our photo flower is a really easy card to make with kids and helps develop some key skills at the same time. As well as practicing cutting, making the individual petals encourages patience and attention to detail.

It's also a nice craft to strengthen emotional maturity – talking to the children about what colours Mummy would like and why, why Mummy would like to receive a homemade keepsake and why it's important to make Mummy feel special, helps to reinforce thoughtfulness, kindness and consideration.

And if all else fails, it's one way of guaranteeing that Mum gets flowers on Mother's Day!

How to Make a Photo Flower Card with the Kids:
What you Need:
Green Card Stock
Coloured Paper
Glue Stick
Scissors
Photograph

Downloading the Photo Flower Card Template:
The Photo Flower Card template is available to members of the Arty Crafty Kids club. The template can be accessed via the link below: https://www.artycraftykids.com/product/photo-flower-card/
Not A Member?
Let's Make a Flower Card!
Cut out the Template Elements
Start by carefully cutting out each of the flower elements from the template.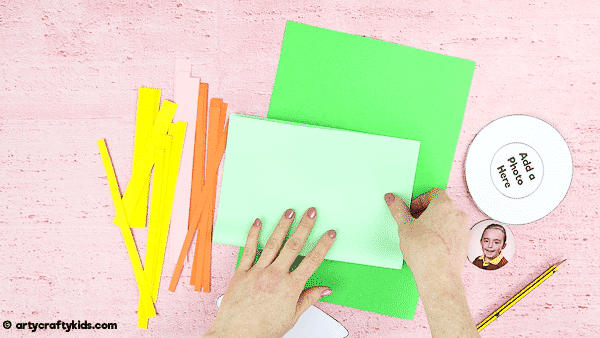 Fold a Piece of Green Card in Half
Next, take your sheet of green card and fold it in half widthways.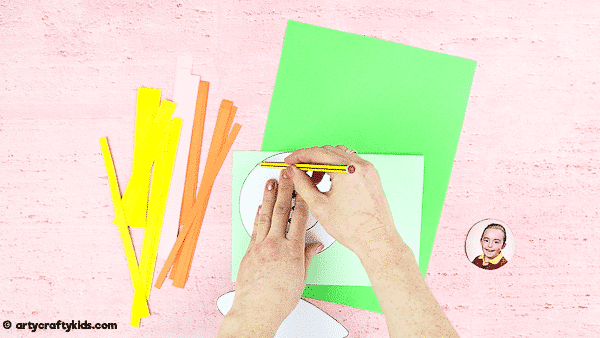 Align and Trace the Photo Card Circular Element
Line up the circular element to the top of the fold and trace around the shape lightly in pencil.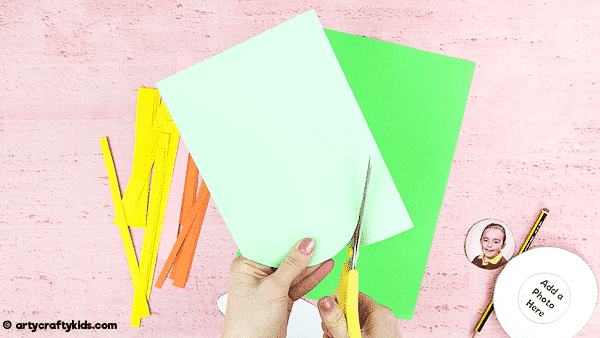 Cut out the Circle Leaving the Fold in Tact!
Then cut around the template – remember to leave the fold intact so your flower can open like a card.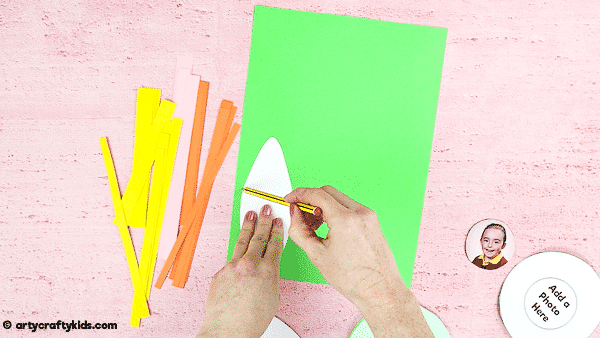 Trace the Leaves
Trace a couple of leaf shapes onto your other sheet of green card and carefully cut them out.
Let's Make Paper Petals!
Now it's time to make the flower petals!
Take a strip of coloured paper and stick one end onto the outside of your card.
To create the best shape, whilst leaving space for your picture, you should stick your petals onto the inner circle line we've drawn onto the template for you.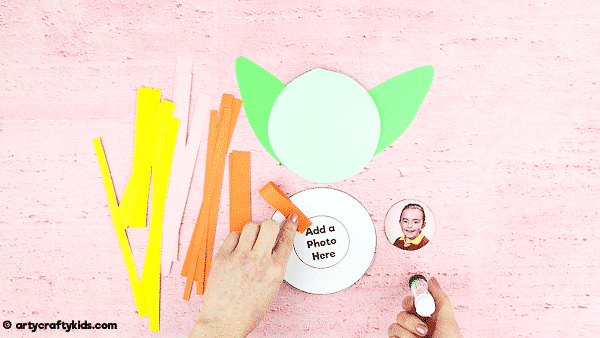 Create a Loop
Fold the paper strip over to create a loop and stick the other end down.
Repeat all around the circle, with more strips of paper, to create your first layer of flower petals.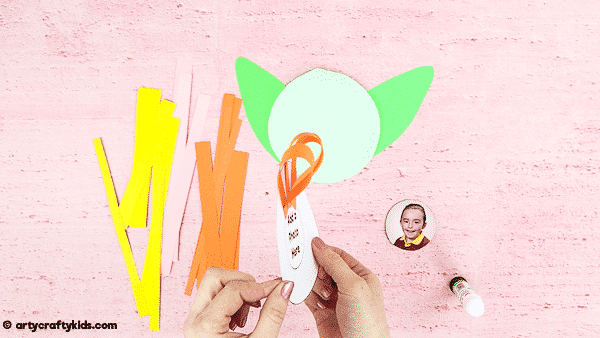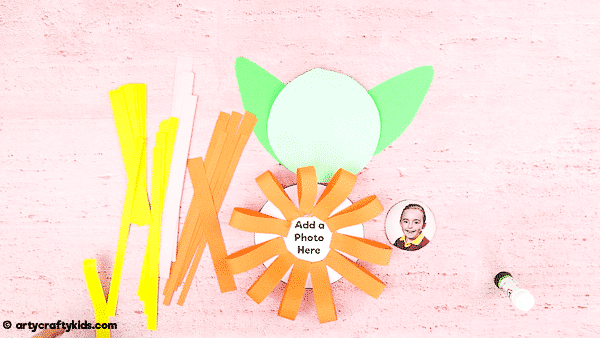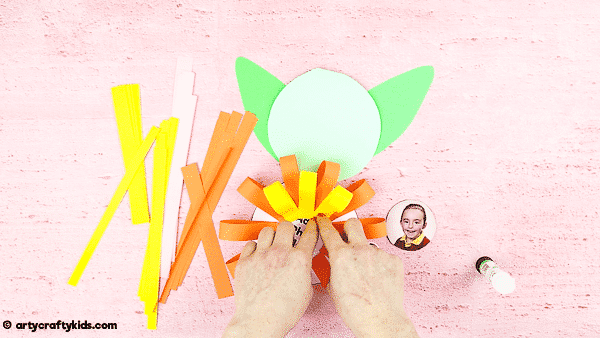 Add a Second Layer of Petals
Now let's make the flower twice as pretty!

Take some shorter paper strips, in a different colour, and stick and loop to create petals around the circle, just as you did on the first layer.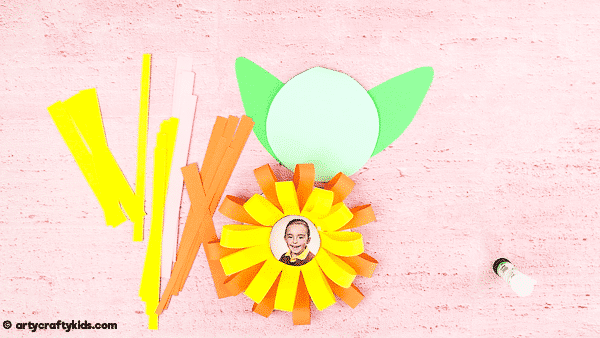 Add a Photo
Personalise your card with a photo – we want to see smiles as bright as those flowers!
Secure the Leaves
Turn the green card over and glue the leaves to the back.
Finally, glue the finished flower on top of your folding green card to complete your homemade Mother's Day card.
Add a Special Greeting
Don't forget to write a special message telling Mum just how amazing she is!
More Cards for Kids to Make:
Bumble Bee Card:
Bee Mother's Day Card for Kids to make: At Arty Crafty Kids, we love Mother's Day! We know how hard Mum's work, so they definitely deserve a special treat! And the perfect accompaniment to a lie in and breakfast in bed is a thoughtful, homemade card from their little monsters – I mean angels!

https://www.artycraftykids.com/craft/bumble-bee-mothers-day-card/
Love Bug Card:
There's nothing more precious than your little one's handprints and for this craft, the prints double up as ladybug wings and a super cute heart! Open the wings to reveal the real love bug… your Arty Crafty Kid.

https://www.artycraftykids.com/craft/love-bug-handprint-card/
Handprint Flower Craft:
This gorgeous Mother's Day Handprint Flower Craft is a keeper. Make it, frame it and love it forever!

https://www.artycraftykids.com/craft/mothers-day-handprint-flower-craft/