Learn how to make this Paper Plate Crab Craft with our easy to follow step-by-step tutorial. Crabs are the perfect subject for a Summer craft session with the kids and this super easy crab craft will delight Arty Crafty Kids with its easy to color and cut shapes.
Crabs come in all sorts of colors and our crab paper plate tutorial provides links to a few colorful crabs for added inspiration and creativity. Perhaps a Summer school display could be filled with all sorts of colorful and interesting species of crab.
How to Make a Paper Plate Crab
Materials:
Paper Plate
Acrylic Paint
Coloring Medium
White Acrylic Marker Pen (optional)
Scissors
Glue Stick
Crab Template (optional)
Download the Paper Plate Crab Template:
The Crab Paper Plate template is available to members of the Arty Crafty Kids club.
Members will need to log in to access the templates: https://www.artycraftykids.com/product/crab-paper-plate-template/
Not a Member?
Watch the Step by Step Paper Plate Crab Craft Video:
Let's Make a Paper Plate Crab!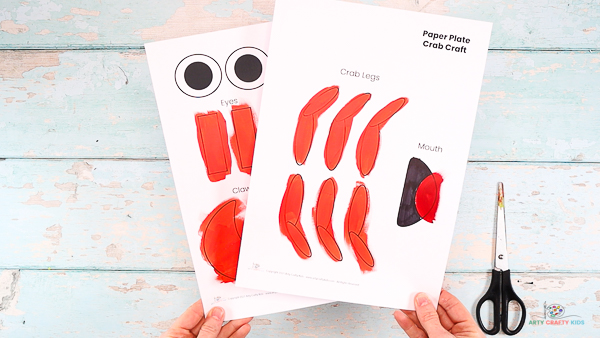 Color in the Crab Template
Carefully color in the crab legs, claws and extra's with a coloring medium. In this example, we've used acrylic paint for its quick drying and bold colors.

Children may use child friendly acrylic, watercolors, crayons, marker pens or even trace the elements onto colored cardstock.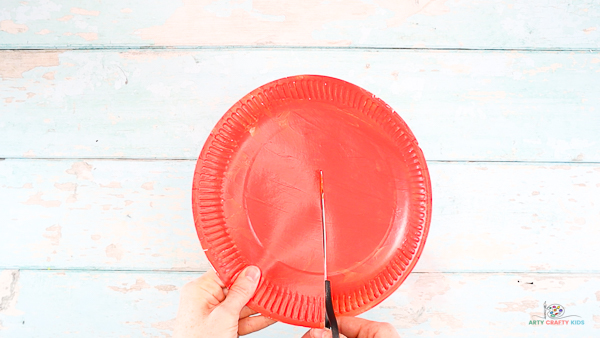 Cut a Painted Paper Plate in Half
Paint the paper plate orange (or a color of their choosing) and once dry, carefully cut it in half.
Crabs come in all different shapes, sizes and colors; some crabs are blue , others (Christmas Island Red Crab) are bright red and some can be bright purple – take a look at this vampire crab!
With so much natural variety, children can use this paper plate crab craft as an opportunity to learn a little more about the different and amazing species of crab that can found in our oceans.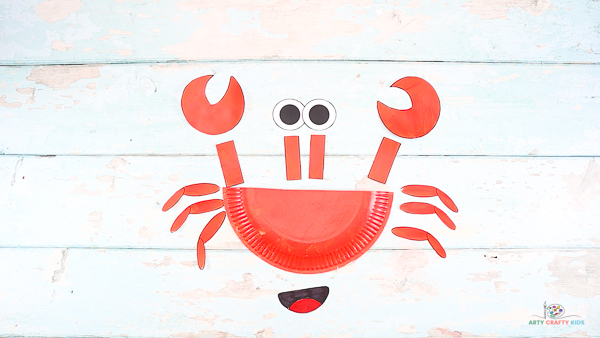 Cut Out the Crab Elements
Cut out all the crab elements and arrange the pieces as shown above.
Our crabby craft is great for introducing symmetry to children, for each side will have the same number of legs and claws. Children can count and learn as they craft.
Add Detail to the Crabs Body
Use a contrasting color to add detail to the crabs body. If you have ever looked at a crab up close or held one, their shells are often covered in interesting little markings.
Add Legs to the Crabs Body
Glue the legs to either side of the crabs body.
Fun Crab Trivia: An astute crab enthusiast will notice we're missing a pair of legs. Crabs, if we include their grasping claws have ten legs, eight are for walking. Crabs legs can take different forms and it can be difficult to identify all ten. For example, some are modified mouthparts…. More Crab Facts!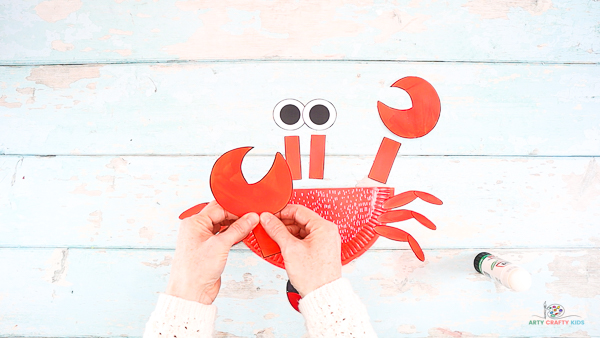 Assemble the Crabs Claws
Secure each of the crabs claw to a wide rectangle and affix them just above the crabs legs.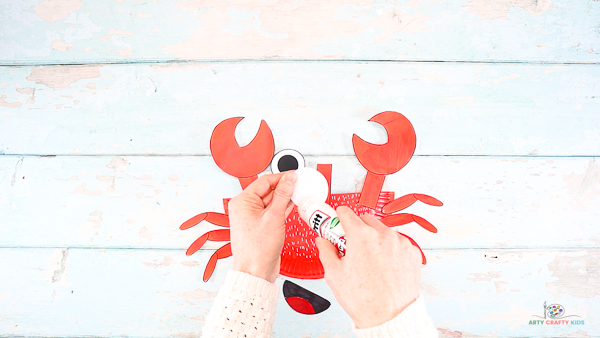 Add the Crabs Eyes
Next, add an eye to each of the smaller rectangles and affix to middle of the crabs body.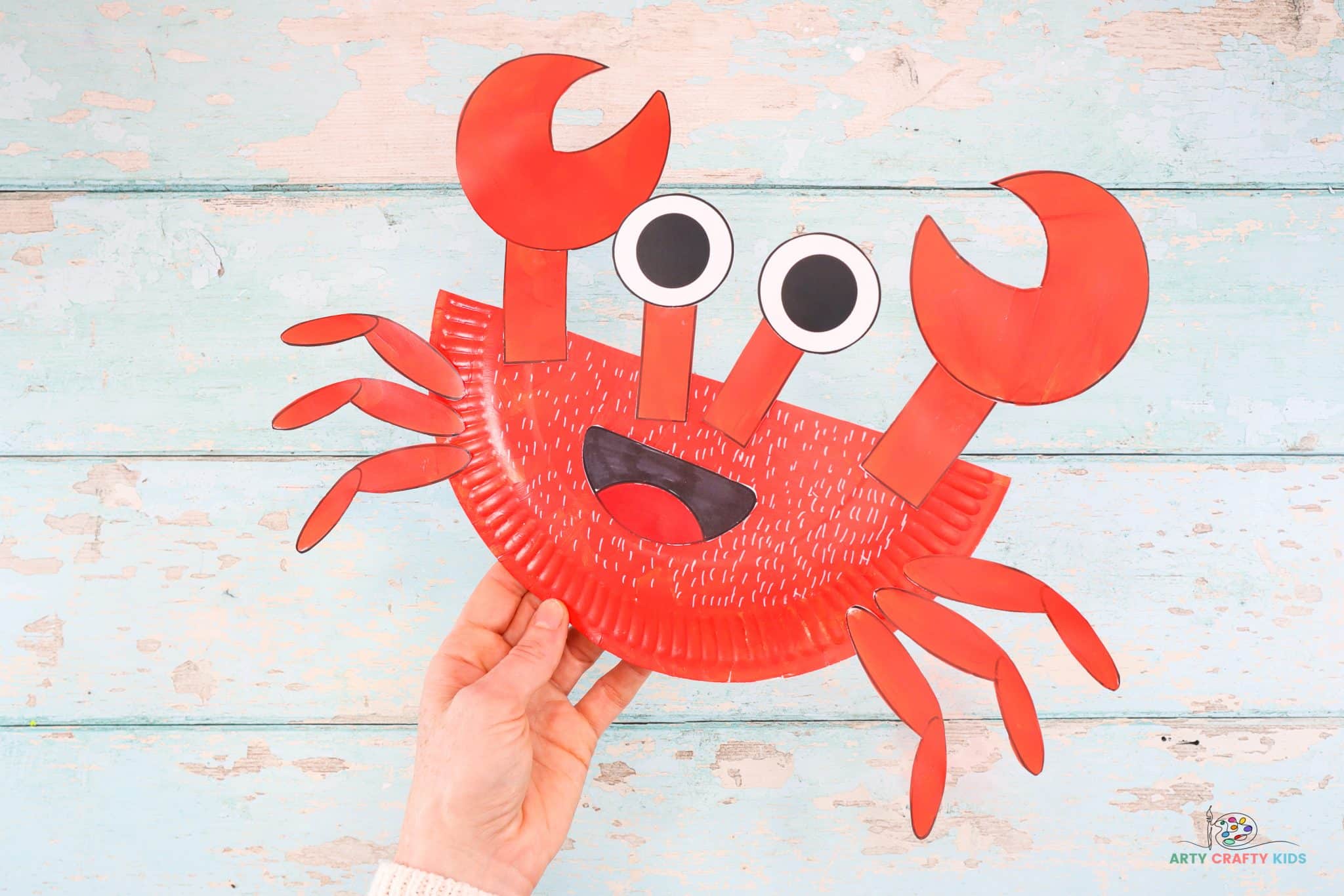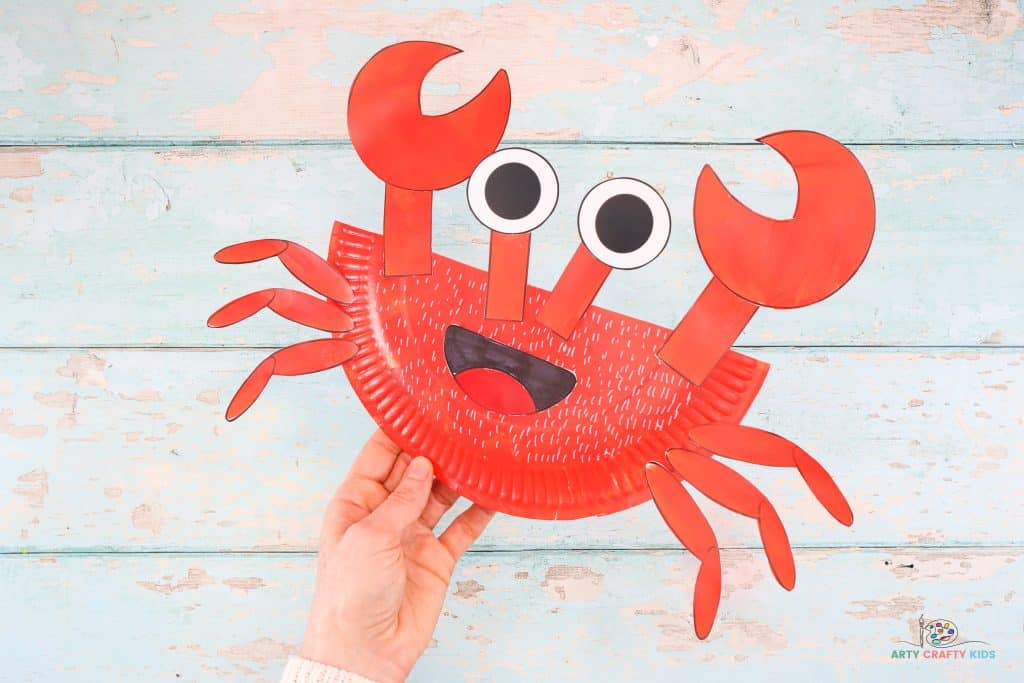 The Paper Plate Crab Craft is Complete
Now it's time for the paper plate crab to scuttle along on its merry way! For more crab themed crafty fun, take a look at our Rocking Paper Crab Craft and Woven Paper Crab Craft – both are super fun and easy for kids to make.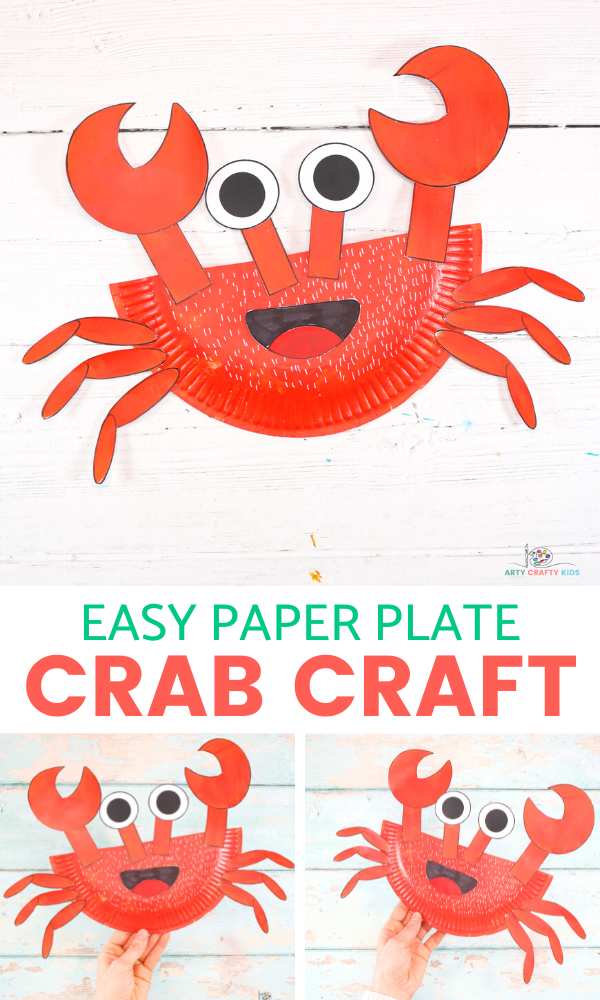 More Ocean Animal Crafts for Kids:
At Arty Crafty Kids ocean animals is one of our favorite topics and we have lots of Arts and Crafts to support an interest in all things Under the Sea and related lesson plans.

Take a look at a few of our popular ideas for inspiration!