This easy Rainbow Easter Egg craft is perfect for keeping toddlers and preschoolers busy!

Cutting out and sticking carefully in a pattern are both great ways to hone fine motor skills, and the craft is a nice way to practice colour identification and recognition with younger children.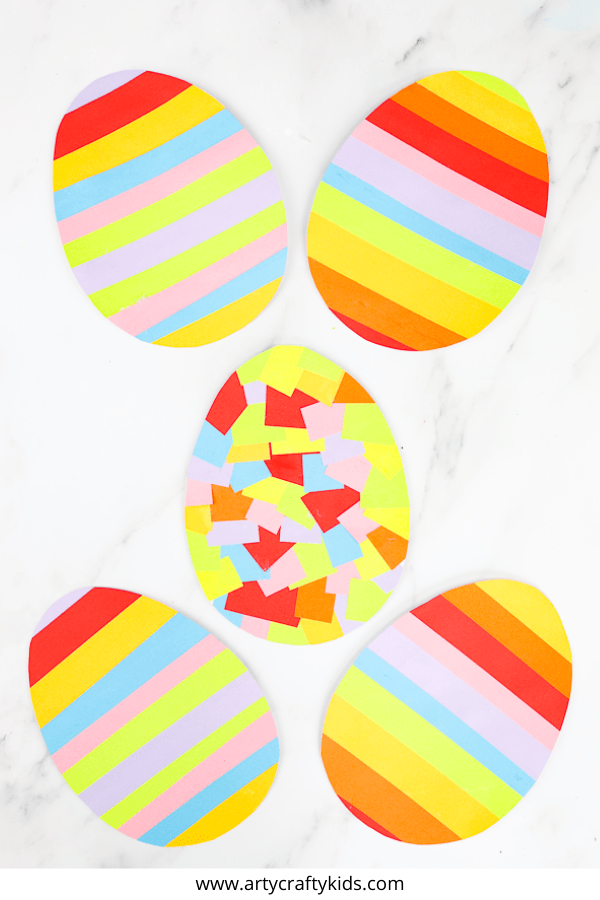 Older ones can be encouraged to think about creating patterns and then using those patterns and colors in simple maths, for example counting how many red strips you have and then subtracting the orange ones, etc.
In our community, we're hanging rainbow pictures in our windows for people to spot as they pass by on their daily walk. If your neighborhood are joining in, our bright and colorful rainbow Easter eggs are perfect to display, and if they're not – why not be the first?!
How to Make the Rainbow Easter Egg Craft:
What you need:
A4 White Paper
A4 Coloured Paper – Cut into Strips
Glue
Scissors or Paper Cutter
Download the FREE Easter Egg Template:
To download the free Rainbow Easter Egg Template, simply click the link and hit download – Easy Peasy!

Get your FREE Easter Egg Template here: https://www.artycraftykids.com/product/rainbow-easter-egg/
Let's Make Rainbow Easter Eggs!
Print the Template onto Paper
Print out the egg template onto plain white paper.
Turn the Template Over and Add Rainbow Strips
Turn the sheet over and start sticking on your paper strips. It might sound strange that you're sticking the colored paper onto the back, but you'll see why in a minute!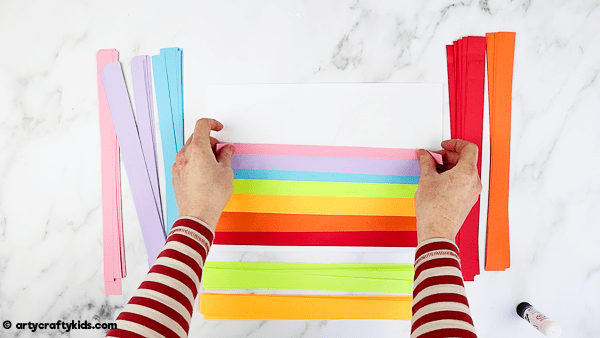 Continue Layering
Keep sticking on your colored strips. Will you stick them horizontally, like us, or diagonally? Will you use a full rainbow of colors, or just stick with a few? There are so omany different possibilities for fun designs!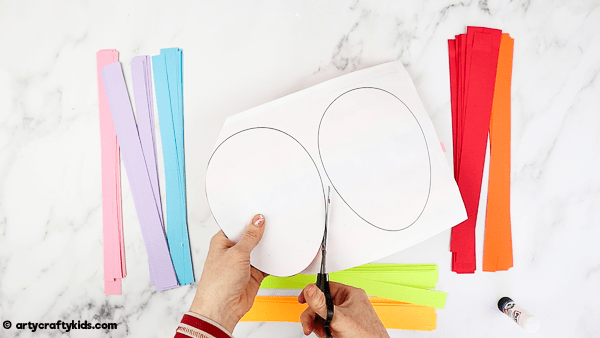 Turn over and Cut Out the Egg
Now turn your template over. Because you've stuck the colored paper on the back, you can clearly see the egg shapes, making them much easier to cut out.

And when you turn your finished egg back over – there are no outlines to spoil the design!
How to Make a 'Stained Glass' Rainbow Easter Egg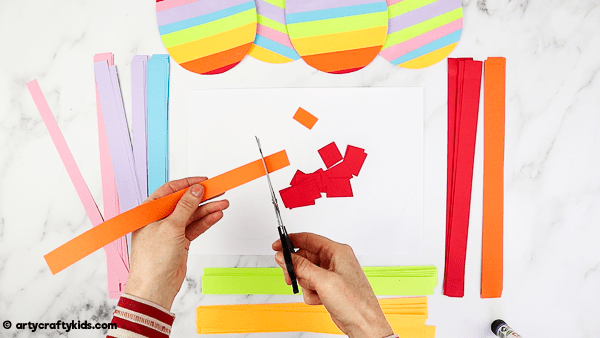 Cut the Strips into Squares
To make a stained glass rainbow Easter egg, take your colored paper strips and snip across to make little squares.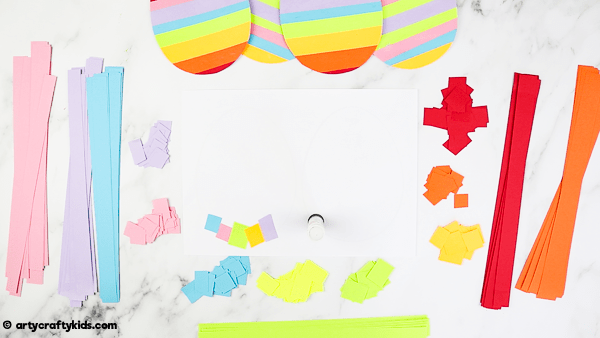 Collage the Squares
Then grab your glue and start sticking! You don't have to create a particular design – in fact, the more random the better with this one!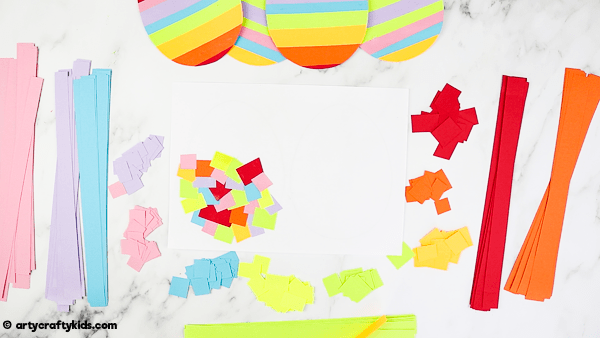 Fill the Easter Egg with Squares
Layer the squares up, creating a multi-colored collage, and keep sticking until the whole egg is filled.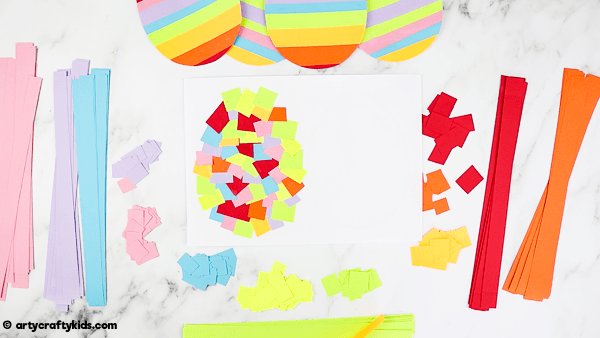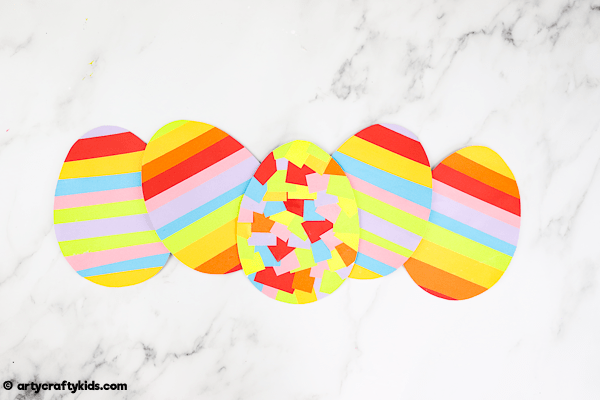 Turn the Template Over and
Cut Out the 'Stained Glass' Easter egg
Just like your rainbow eggs, turn the template over and carefully cut out the stained glass egg. Now you have some bright and beautiful Easter egg decorations for you to hang up, stick in the window – or even hide for an egg hunt!
More Easy Easter Crafts for Kids:
Take a look at these simple Easter crafts for your toddlers and preschoolers:
Toilet Paper Roll Spring Animals:
Spring Toilet Paper Roll Craft: We all know that things are tough out there at the moment, and if you're struggling to get out for supplies, we have the perfect craft for you. Because what do we all have plenty of? Toilet rolls of course!!

https://www.artycraftykids.com/craft/spring-toilet-paper-roll-craft/
Easter Egg Spring Animals:
Easter is a perfect opportunity to get creative with children. Flowers are bursting into bloom, the sun is shining again and everything looks colourful and bright! Here at Arty Crafty Kids, we've taken inspiration from cute springtime animals to create an easy Easter craft that your little ones will love.

https://www.artycraftykids.com/craft/easter-egg-animal-craft/
Happy Crafting!