Bee Mother's Day Card for Kids to make: At Arty Crafty Kids, we love Mother's Day! We know how hard Mum's work, so they definitely deserve a special treat! And the perfect accompaniment to a lie in and breakfast in bed is a thoughtful, homemade card from their little monsters – I mean angels!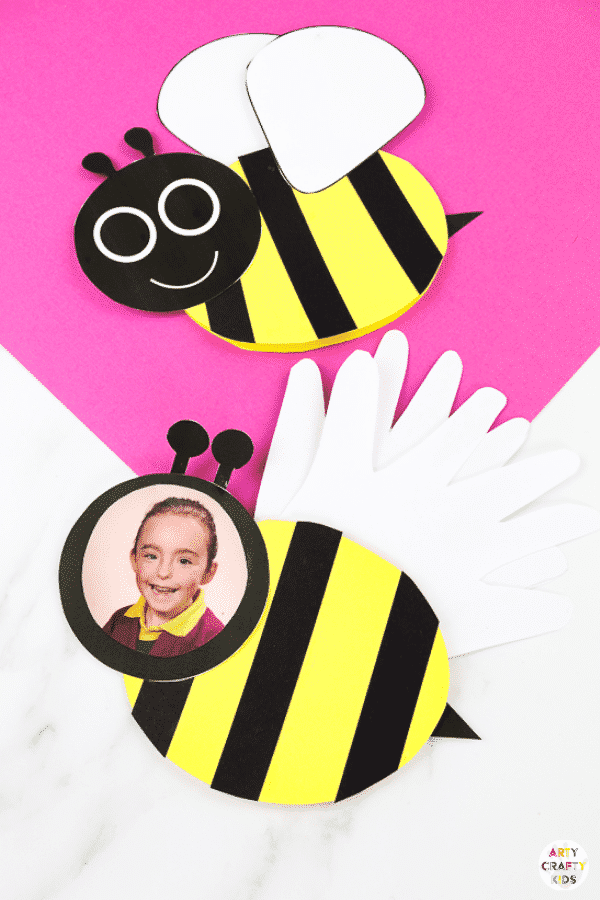 We're going to bring you a few different ideas for Mother's Day cards from kids, but first up is this lovely bumble bee printable Mother's Day card. The design makes a nice alternative to flowers, whilst still keeping that fun springtime feel, and can be personalised with your child's face.
It's a perfect easy Mother's Day craft for the classroom or at home. In fact, it's great if there are siblings – each child can make their own bee so Mum gets her own personalised family hive.
How to Make a Bumble Bee Mother's Day Card:
What you Need:
Yellow, white and black cardstock
Gluestick
Scissors
A photo of your child's face
Downloading the Bumble Bee Template:
The Bumble Bee Mother's Day Card template is available to members of the Arty Crafty Kids club. The template can be accessed via the link below: https://www.artycraftykids.com/product/bee-mothers-day-card/
Not A Member?
Let's Make a Mother's Day Card: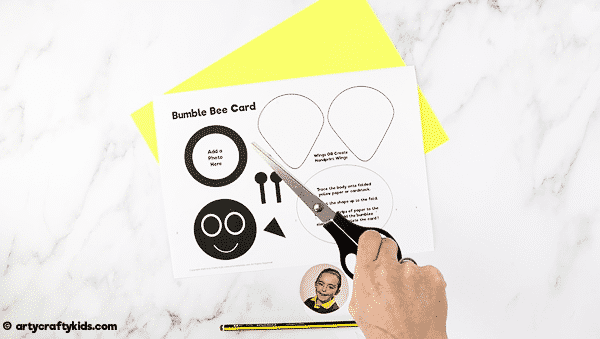 Cut Out the Template Elements
Start by carefully cutting out each of the bee template elements.
Fold a Sheet of Yellow Cardstock in Half
Take your sheet of yellow card and fold it in half – you can use a ruler to help if you're a stickler for clean folds!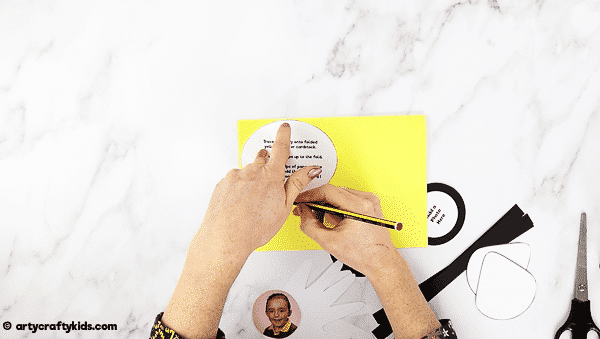 Align the Oval with the Fold and Trace
Line up the bee's body to the top of the fold and trace around the shape lightly in pencil. Then cut around the template, remembering to cut from the fold, leaving 2cms or so of the folded card intact.

Now you'll have a perfect bee body that opens and closes like a card.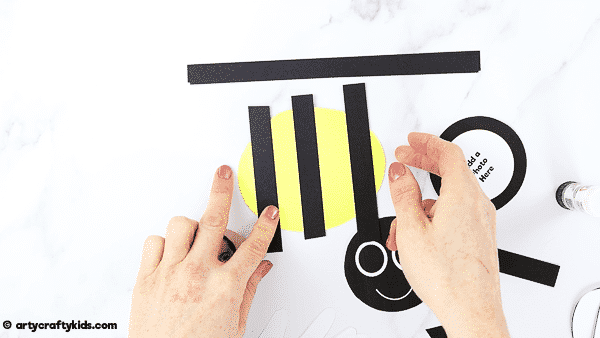 Add Bumble Bee Stripes
A bee isn't complete without his stripes so, next, stick on the black card stripes – we think three is perfect for his size.
Remove the Excess
Trim around the bee to remove the excess stripes.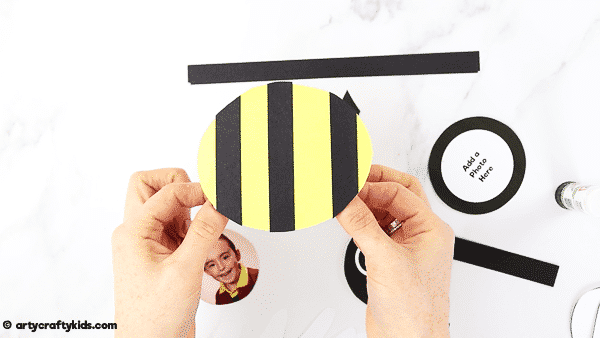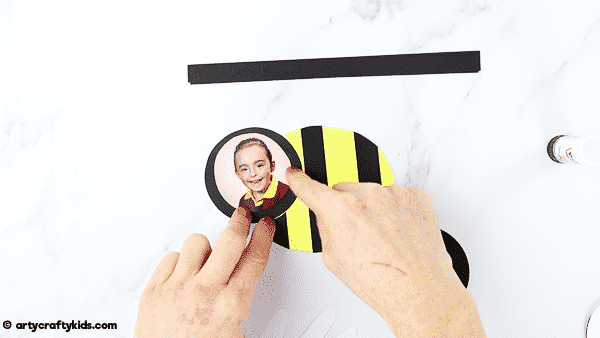 Personalise the Bumble Bee Mother's Day Card
Next, it's time to make your bee cheeky, happy, cute or goofy by personalising him with a very special face! Stick your photo pride of place onto the bee head cutout.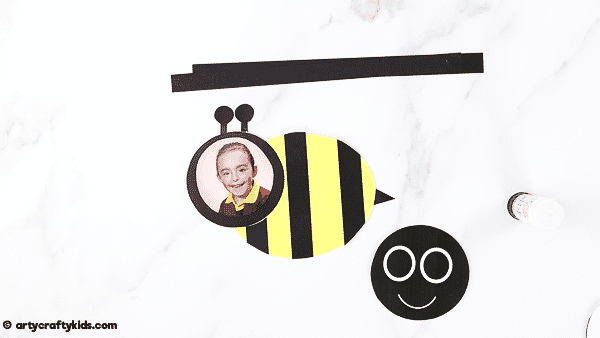 Add Remaining Bee Elements
Assemble your bee by carefully sticking on the head, antennae and little sting.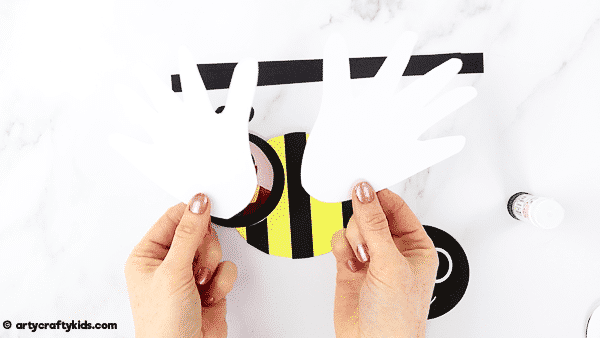 Trace and Cut a Pair of Handprints
For an extra detail that Mum's will love, trace around your hands on the white card and cut them out as carefully as you can.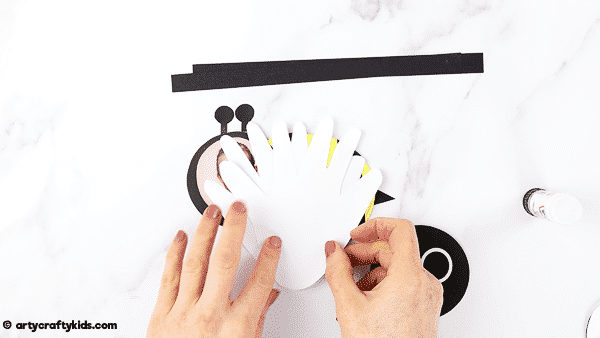 Handprints Become Wings…
Your handprints make perfect personalised wings! Stick them onto the back of your bee – now he's ready to buzz off with some special Mother's Day wishes.
Hap-Bee Mother's Day!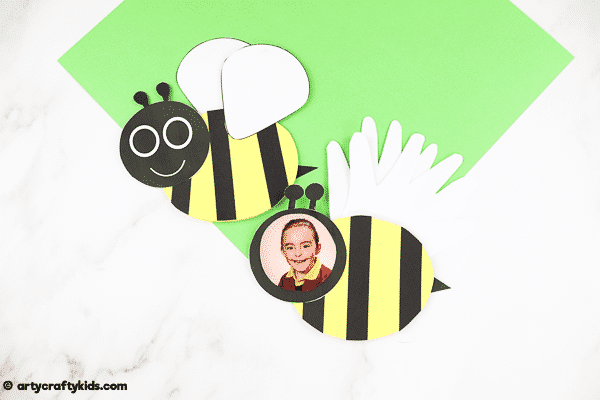 More Mother's Day Crafts for Kids:
Lady Bug Handprint Card
Using our free ladybug template, today's post will show you how to make a Love Bug Handprint Card for Valentine's or Mother's Day.

There's nothing more precious than your little one's handprints and for this craft, the prints double up as ladybug wings and a super cute heart! Open the wings to reveal the real love bug… your Arty Crafty Kid.

https://www.artycraftykids.com/craft/love-bug-handprint-card/
Mother's Day Handprint Flowers
This gorgeous Mother's Day Handprint Flower Craft is a keeper. Make it, frame it and love it forever!

With it's handy vase template, this simple craft will work perfectly within the classroom and teachers can adapt the process to suit children of all ages.

https://www.artycraftykids.com/craft/mothers-day-handprint-flower-craft/
Happy Crafting!