If your children are anything like mine, the constant stomping will have you thinking you're living with elephants…! So why not get them to channel that energy and enthusiasm into our brilliant 3D paper elephant craft instead!
It's a really fun and engaging animal project for kids and would be perfect to support a safari learning topic – why not combine with our lion and giraffe crafts for a whole day of 3D animal fun!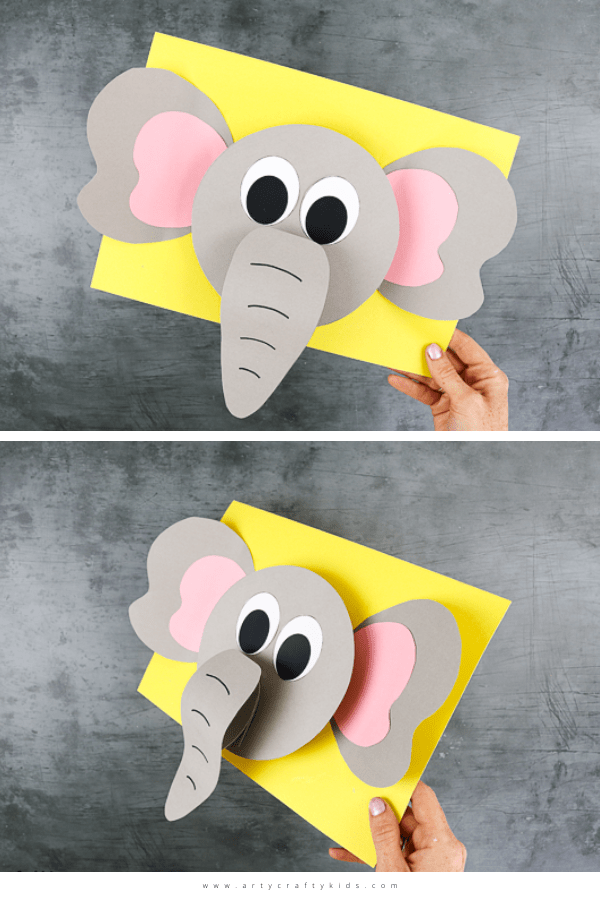 Our elephant paper craft is perfect for pre-schoolers and school early years to help them play with shape and depth, and to strengthen fine motor skills. And the easy to create 3D element is a simple way to add lift and perspective for children to explore, as well as a bit of movement and fun.
And if your children are Disney fans, they'll love the opportunity to get to grips with Dumbo's big ears! Maybe you could make a whole afternoon of it, and watch the movie too!
How to Make a 3D Paper Elephant Craft
What you need:
Colored Stockcard:
X1 – Backing
X2 – Gray (or paper)
X1 – Pink (or paper)
X1 – White for Printing (or Paper)

Scissors
Gluestick
Black Marker Pen

How to Download the 3D Elephant Template:
The 3D Elephant Template is available to members of the Arty Crafty Kids Club. Join the members area to access our complete online library of art and craft templates.
Members can access the template here (remember to login!): https://www.artycraftykids.com/product/3d-elephant-craft/
Members will need to log in to access the templates!
Not A Member?
Watch the Video:
Follow the Step-by-Step Instructions: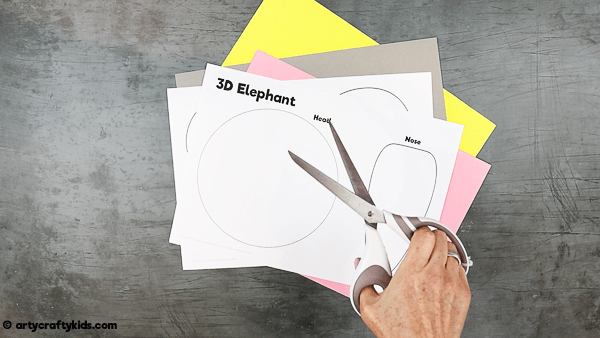 Cut Out the Elephant Shapes
Carefully cut out the elephant shapes from the template.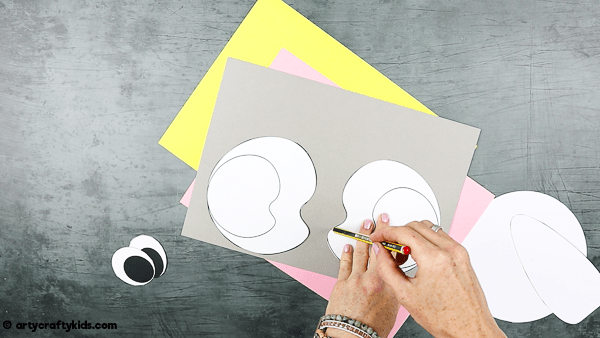 Trace Around the Shapes
On the gray cardstock, trace around the elephant's head, trunk and larger ear shapes. On the pink cardstock, trace around the smaller ear shapes – these will make the insides of the elephant's ears.

Then carefully cut out all of the shapes.
Assemble the Shapes and Add Detail
Now let's put everything together!

Start by gluing the small pink ears onto the larger gray ones. Then stick the eyes onto the elephan'ts head (the large gray circle). Finally, draw some black, slightly curved, horizontal lines with your marker pen down the length of the trunk to give it that sweet creased look.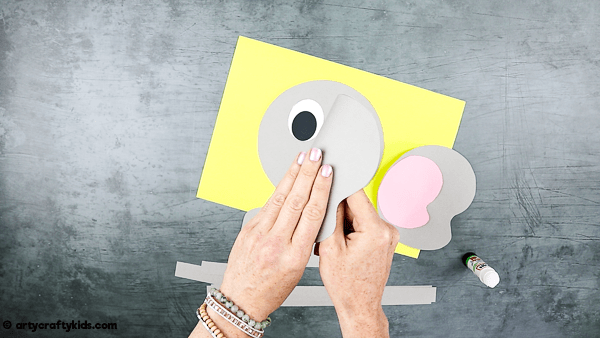 Gently Fold the Ears
Next, fold the ears in half gently – don't create a firm crease, just fold enough so that the ears have some movement. Then glue the inner side of each ear to the backing card, leaving space in the middle for the elephant's head. Make sure you don't stick the whole ear down, we want them to flap from the page like Dumbo is about to take off!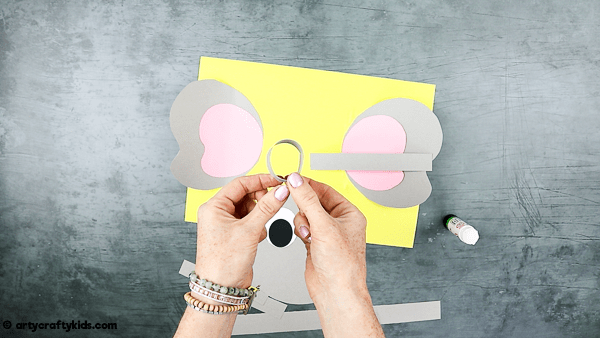 Create 3 Paper Loops
And we're not stopping at the ears: the head and trunk are going to pop too! So cut two strips lengthwise from a sheet of gray A4 card, and cut them in half. Take the first strip, curl it around to make a ring and secure it with a spot of glue so it doesn't come undone. Repeat with the second and third strips.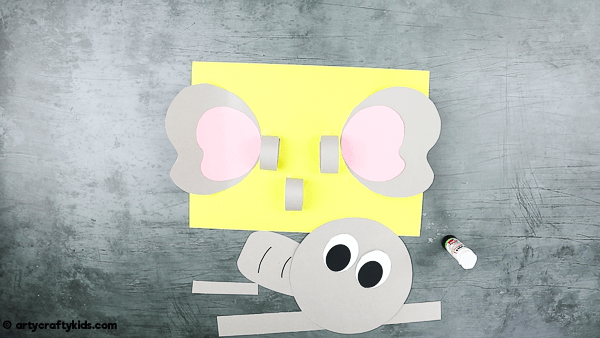 Secure Between the Ears
Stick a loop onto the backing card next to each ear, and stick the third loop between the first two, but about an inch down, so you have a triangle of paper loops.
Add the Head
Carefully stick the elephant's head onto the three card loops – make sure you don't cover the back of the head with glue, otherwise she might end up stuck to the background!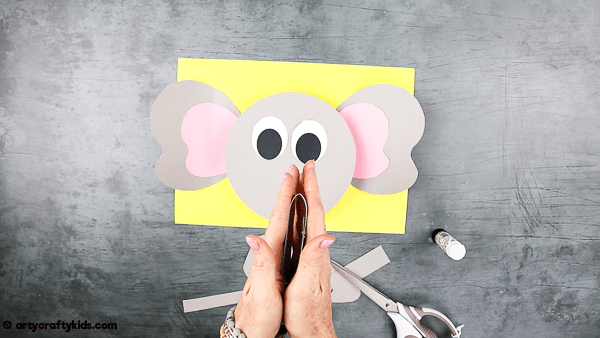 Create One More Large Paper Loop
Now we need to create a fourth loop, but this one needs to be bigger than the other three, so cut a wider strip of gray card before curling it round and securing. Then gently flatten it a little between your hands and stick onto the elephant's head beneath the eyes.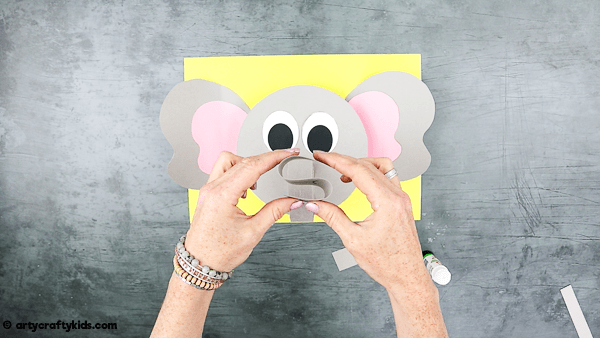 The S Shape Fold
To give an extra element of depth, gently fold your trunk into an S shape. When you unfold it, it will be left with a perfect bend to flow over the 3D loop – no elephant's trunk is straight!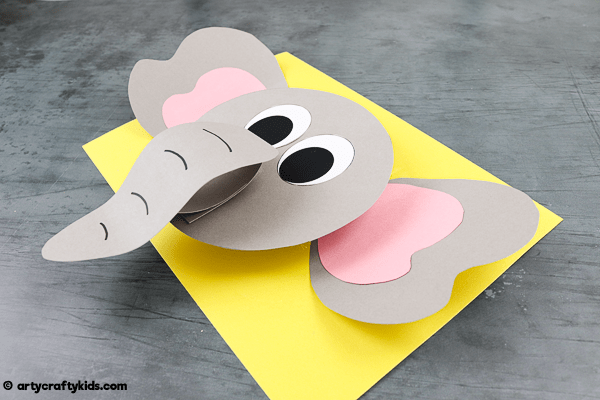 Secure the Trunk
Finally, glue the top half of the trunk onto the fourth paper loop and BOING! Your elephant is ready to flap her ears, waggle her trunk and have lots of bouncy fun!
More 3D Paper Animal Crafts for Kids:
We love playing with shapes and perspectives here at Arty Crafty Kids and if you've been following us for a while, you may notice a trend emerging…

For the last few weeks we've been exploring 3D paper animals and finding simple ways to lift features to make our animals pop from the page!

So far, this series includes an Elephant, Giraffe, Lion and Tropical Fish. If, like us you are enjoying this concept and we have not yet covered your child's favorite animal, please send an email across to helen@artycraftykids.com with your suggestions.

In the meantime, take a moment to explore these fabulous paper animal crafts.
3D Paper Giraffe Craft
https://www.artycraftykids.com/craft/3d-paper-giraffe-craft/
3D Lion Craft
https://www.artycraftykids.com/craft/3d-paper-lion-craft/
3D Tropical Fish Craft
https://www.artycraftykids.com/craft/3d-paper-fish-craft/
Happy Crafting!