Looking for an easy animal craft to try with the kids? take a look at this super easy and fun 3D Paper Lion Craft, which also doubles up as color study for kids.
Children can color, cut and assemble their very own lion that actually pops from the page! Our easy paper lion craft will help them explore shape and depth, and it also incorporates a color study. Children are encouraged to play with paint and discover how many shades of yellow they can create; it's a super engaging way to introduce color theory to children, help them experiment and get them thinking about outcomes.
Children's finished artwork would make a fabulous display, or pop up card. They could even post a picture of their creation on their favourite zoo's social media – don't forget to tag Arty Crafty Kids!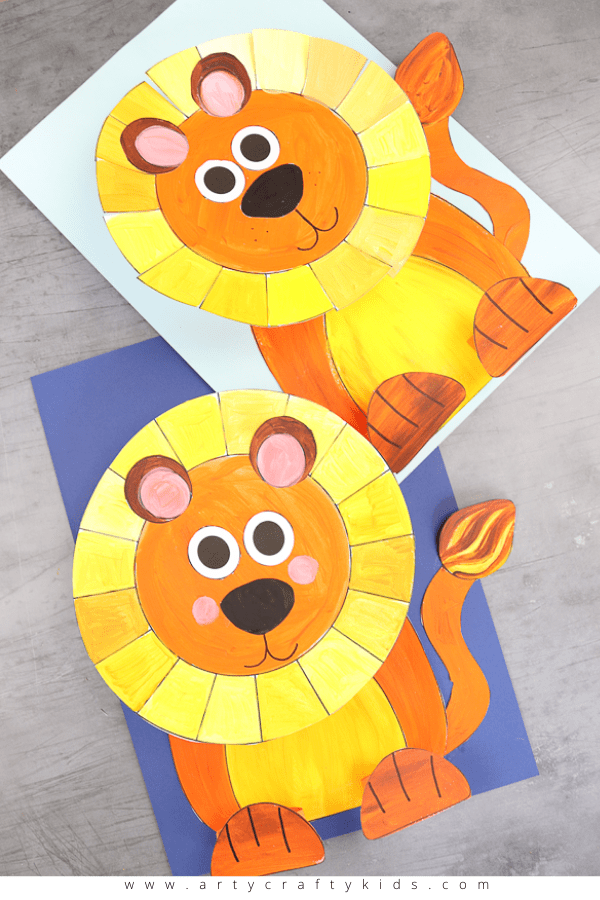 How to Make a 3D Paper Lion Craft:
What you need:
White Cardstock (for printing)
Colored Card Stock
Black Marker Pen
Paint
Scissors
Gluestick

Download the Lion Template:
The 3D Lion Template is available to members of the Arty Crafty Kids Club. Join the members area to access our complete online library of art and craft templates.
Members can access the template here (remember to login!): https://www.artycraftykids.com/product/3d-lion-craft/
Members will need to log in to access the templates!
Not A Member?

Watch the Video:
Let's Make a Lion!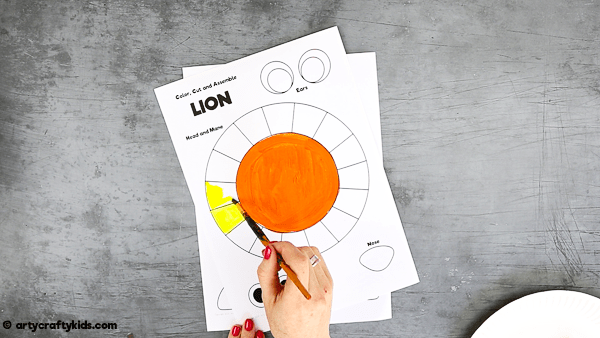 Let's Play with Color
We want to create the most magnificent mane that we can, so one shade of yellow just won't do! Let's experiment!
Mix yellow with different amounts of white to create lighter shades, and play around with orange, red, brown, even black, to create darker shades.
Paint one of your new colors in each section of the mane template.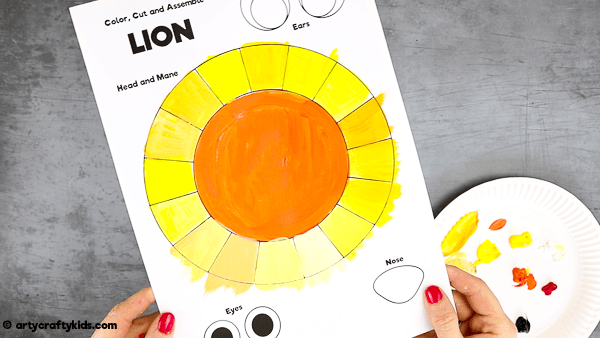 How Many Shades of Yellow?
How many shades did you create? Did you manage to make a different color for every single section? Which are cool tones and which are warm?
Once your mane is perfected, move on to the other lion elements. Paint his body, face, ears and tail in complimentary orange and brown.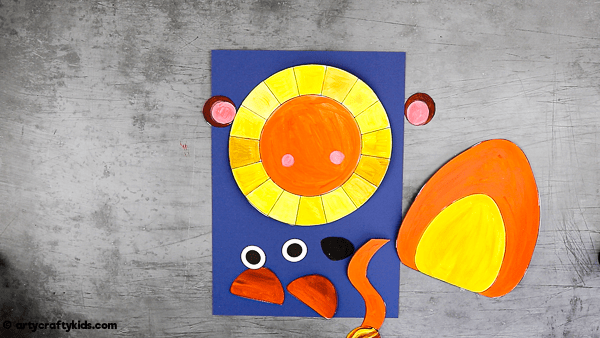 Cut out the Lion Elements
Once everything is dry, carefully cut out each of the elements from the template.
Assemble the Face and Secure the Body and Tail
Now let's make a lion! Start with his face: stick on his eyes, nose and two little ears. Don't forget to draw on a smile! Then glue his swishy tail onto the body and stick it down onto your colored card.
Create Two Rings
We're going to give our lion pouncing paws! Cut a strip lengthwise from a sheet of A4 card, and cut it in half. Take the first strip, curl it around to make a ring and secure it with a spot of glue so it doesn't come undone. Repeat with the second strip.
Secure the Rings
Glue the rings horizontally onto the bottom of the lion's body.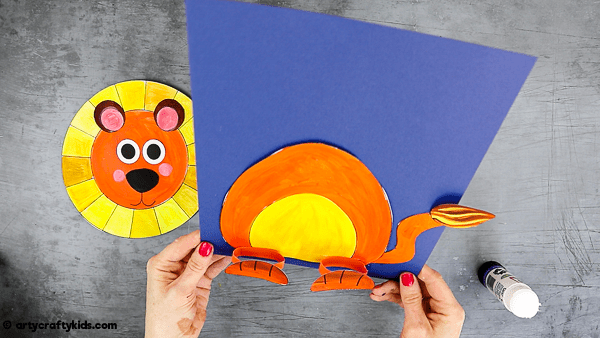 Add Paws
Stick the paws onto the rings – press them gently to see the paws spring back!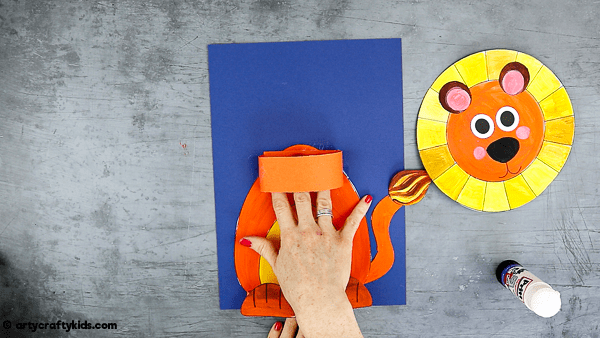 Create a Larger Ring
Cut another strip of A4 card, but a thicker one this time, about an inch or so wide. Curl it around and secure with glue, just like you did with the shorter strips. Then stick the ring to the top of the lion's body.
Complete the 3D Paper Lion Craft
Finally, stick the lion's head, complete with colorful mane, onto the ring. Now give it a press, or wobble your card, to see him come to life – roaarrrr!!!
And remember, if there's one thing we love here at Arty Crafty Kids, it's COLOR. So don't forget to play around with them and have fun! If you have a green bedroom and want a lion to match, use green instead! Who says you have to play by the rules?! In fact, we've always wondered what a rainbow lion would look like….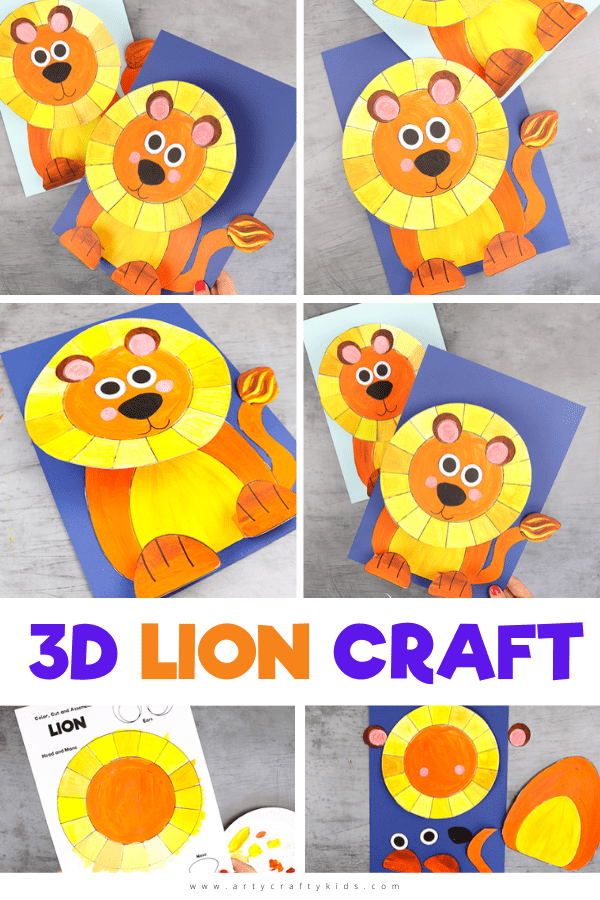 More Fun Lion Crafts for Kids:
Paper Plate Lion Craft:
Kids will relish the process of cutting, curling and sticking to form their lion's bouncy mane, that will naturally lend itself to inspiring some magical creative play.

https://www.artycraftykids.com/craft/curly-paper-plate-lion-craft/
Paper Bag Lion Puppet:
When craft meets play, something wonderful happens. This Paper Bag Lion Puppet is easy to make and will inspire playful minds, having Arty Crafty Kids roaring in no time at all!

https://www.artycraftykids.com/craft/paper-bag-lion-puppet/
Animal Safari Masks for Kids:
These hand-drawn and uniquely designed safari animal masks will inspire creativity and play! Each printable mask can be downloaded in full colour or black & white.

https://www.artycraftykids.com/craft/10-printable-safari-animal-masks-for-kids/