Let's bring the myths and legends of the sea to life with our beautifully hand-drawn and unique Mermaid Coloring Pages! We have 30 printable mermaid coloring sheets available for download, all wrapped up into one convenient coloring book.
Our mermaids can be found playing with a variety of fun ocean friends from crabs to dolphins, octopuses, jellyfish, seahorses and more!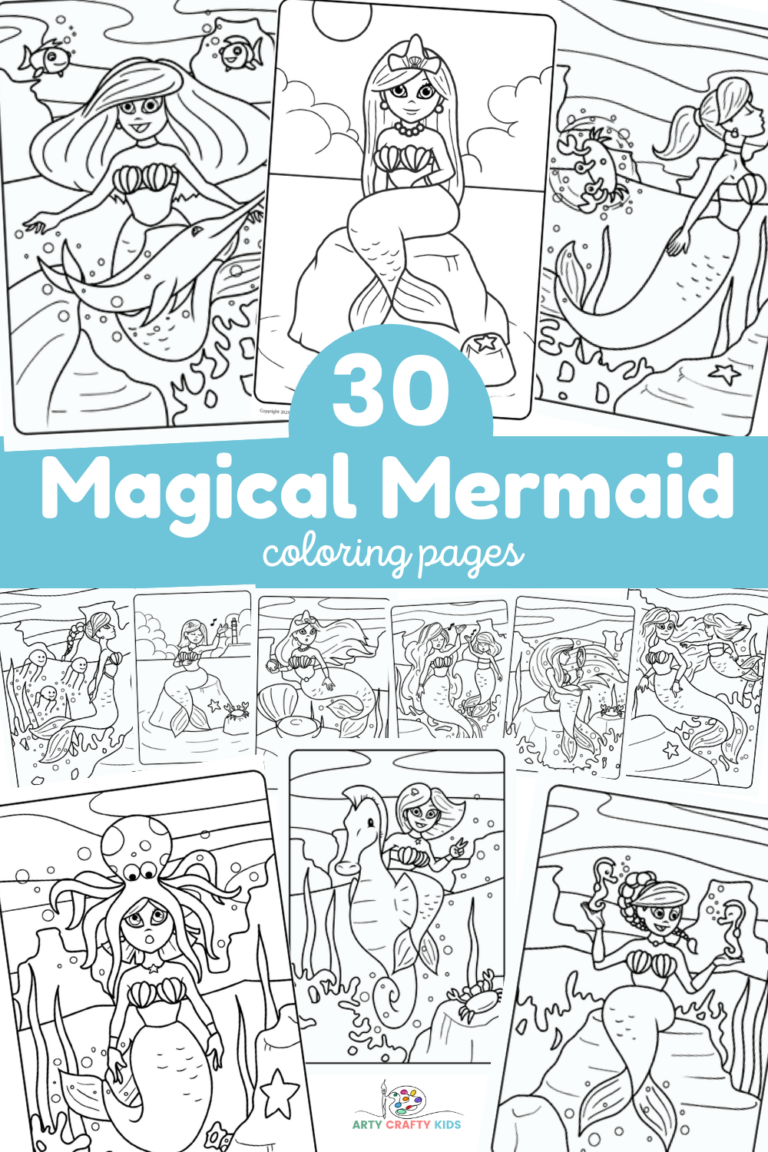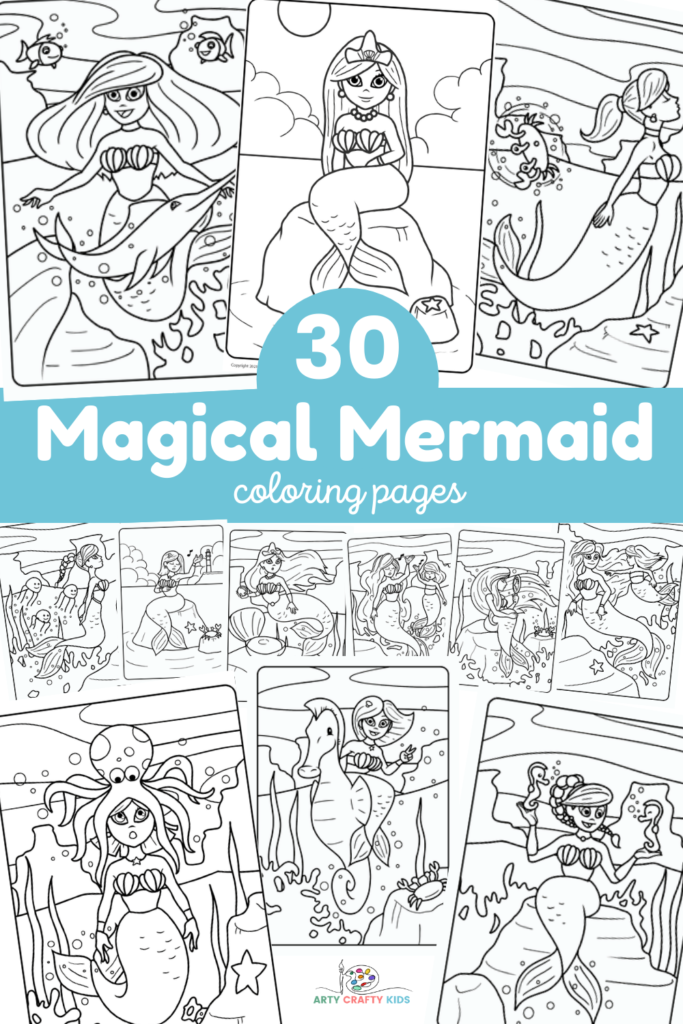 30 Unique and Magical Mermaid Printable Sheets
Many of our coloring pages are completely free to download and will give your children a kickstart into our magical deep sea world.
Each and every coloring page has been carefully designed to help inspire creativity and imaginative thinking.


Not Just a Coloring Page
The coloring pages feature mermaids in different action shots, with a number of ocean animals and facial expressions. The individual sheets each tell a story in their own right. Children may take the story-telling a step further and sequence the pages into a full picture book!
Free Mermaid Coloring Pages
These free mermaid coloring pages are perfect for the Summer months, and will give you and the Arty Crafty Kids a taster of the quality printables we have on offer.
Simple Mermaid Coloring Sheet
Our collection of free coloring sheets starts with a classic mermaid design, sitting peacefully on a rock and adorned with beautiful shiny pearls.
Mermaid Wearing an Octopus Hat!!!
From classic to fun! This octopus is a little confused and has found itself resting on a mermaid's head – I wonder what's happened here?

While on the theme of Octopuses, your Arty Crafty Kids may also like to try our How to Draw an Octopus tutorial!
Happy Mermaid Page
This mermaid is in full dance mode and conveys absolute joy. Perhaps imagine a scene from The Little Mermaid, have a sing-song and get into the spirit while coloring this happy page.
Little Mermaid Inspired Coloring Page
Here we have an Ariel inspired mermaid looking longingly into a "thingy-me-bob" she's found. As she stares at her reflection, what is she thinking?
Mermaid with a Beautiful Shell
This coloring page is inspired by my own children's love of seashells. Each and every find brings joy to their hearts and mermaid's a no different. Seashells brings joy to their hearts too.
Mermaid Coloring Book –
Featuring all 30 Mermaid Coloring Pages!
Now that you have seen our collection of freebies, let's take a sneak peak at a few of the mermaid coloring pages found within the coloring book (which also includes the freebies!)
How to Download the Mermaid Coloring Book
All 30 Mermaid Coloring Pages are available to members of the Arty Crafty Kids Club. Members can access the template here (remember to login!): https://www.artycraftykids.com/product/30-page-mermaid-coloring-book/
Members will need to log in to access the templates!
Become a Member!
Members of Arty Crafty Kids can access our full library of creative resources, making crafting with kids super easy and fun!
Preview: 30 Mermaid Coloring Pages
Coloring Pages Featuring Mermaids and Ocean Animals
We love all things under the sea and no mermaid collection would be complete without a few sea creature favorites; from mermaids riding seahorses and sea turtles to shooing away a nippy crab!
Mermaid Riding a Seahorse
Seahorses and mermaids, what a wonderful combination. Both are often portrayed as super colorful and contrasted against different shades of blue – this is one very inspiring page to color!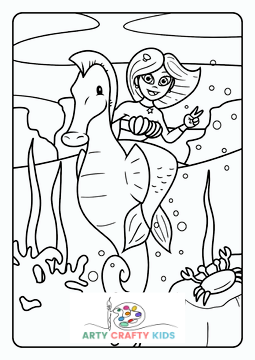 Mermaid Riding a Sea Turtle
I just adore how the mermaid is hitching a ride on her turtle friend, giving him a cheeky wave as he glides through the sea. This page is calling for blues, aquas and shades of green – how will your Arty Crafty Kids color the mermaid to help her pop from the page?

Arty Crafty Kids can also use our flow drawing technique to learn how to draw a sea turtle.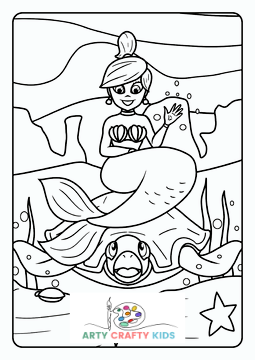 Mermaid Swimming with a Dolphin
Our next coloring page features a mermaid befriending a dolphin. They look so happy together. What colors could your Arty Crafty Kids use to portray their happiness?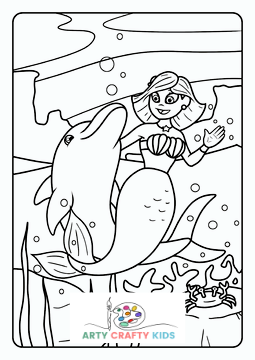 Mermaid and Super Cute Jellyfish
Next we have the cutest jellyfish ever designed and with so many tentacles to color, this jellyfish could also be the most colorful jellyfish in the sea!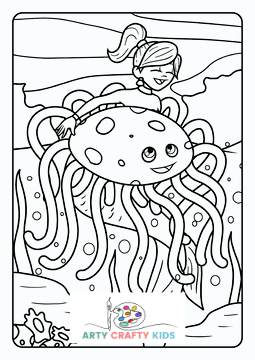 Playful Crab
The playful crab sheet is the first of a set of two coloring pages that needs a story! Here we have a crab and mermaid happily playing together, until…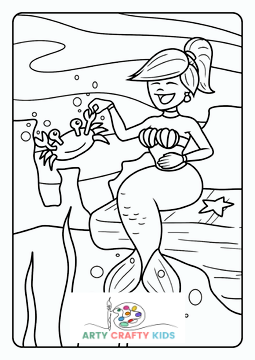 Playful Crab Takes a Tumble
… the playful crab takes a tumble! Do you think the crab became a little too nippy?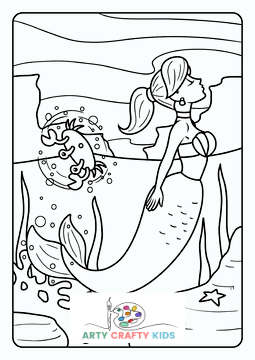 Mermaid with her Sea Creature Friends
Our Ariel look-a-like has returned with her swordfish and fishy friends. This coloring page is bursting with underwater life and cannot wait to be complete with color!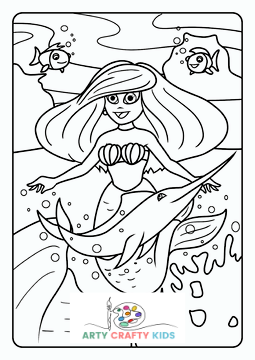 Mermaid's Finding Pearls and More Coloring Pages
Pearls are valued for their calming effects and are considered the ultimate symbol of wisdom and loyalty. It's no wonder that our mermaids have chosen to adorn themselves in pearls and enjoy exploring the ocean floor looking for these precious objects.
Dancing in the Bubbles
Our next mermaid is ready for the party. Happy and clearly loving underwater life – what party colors would suit this lovely coloring sheet? Florescent marker pens would certainly make this party mermaid pop from the page!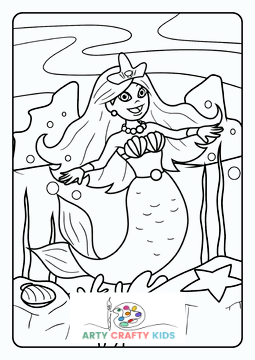 Mermaid Inside a Clam
We have so far focused on the positive connotations of mermaid, as portrayed in popular culture, however myths and legends from around the world tell a very different story. Vanity is a feature of the mermaid that comes up time and time again. Get an overview of the myths and legends here.
Clutching a Pearl
Following from the previous coloring page, is it possible that the mermaid has taken something she shouldn't have or has been surprised by another sea creature?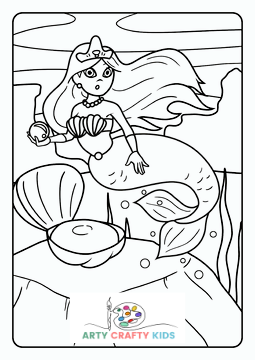 Singing on a Rock
This coloring page conjures up images of Ariel, singing one of her beautiful songs.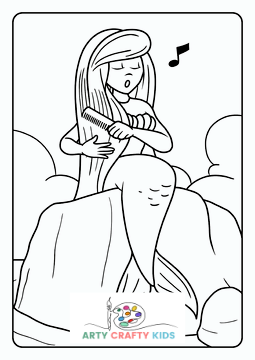 The Mermaid Finds a Pearl
It looks like our next mermaid is very pleased with her find and is perhaps gifting the pearl to a friend. What could the story behind this page be?

With the wavy background and open space, this would be a great page for exploring a medium outside of a crayon or pencil. Watercolor would work beautifully within the wave and could even be combined with a white crayon (as seen within our how to draw a jellyfish tutorial.)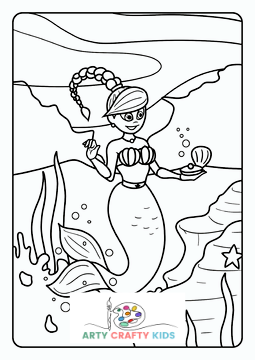 Coloring Pages Featuring Mermaids and their Merchildren
The complete mermaid coloring book also features mermaids with their merchildren, enjoying ordinary moments that will be familiar to your own children.
Mother and Child Singing
Here, mother and child are enjoying a sing-song together. What songs to your children enjoying singing?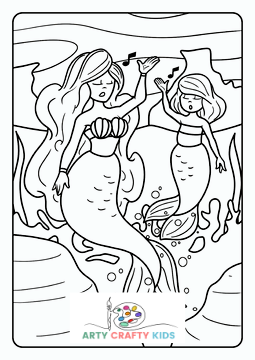 Mother and Child Swimming
The final mermaid coloring page present a mother and child swimming, chatting and explore the ocean floor. I wonder what they're chatting about?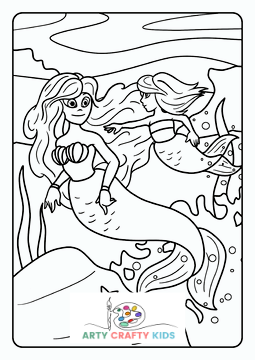 30 Mermaid Printable Coloring Sheets
And that concludes our deep sea preview of some of the mermaid coloring pages featured within the printable coloring book. Do you have any favorites?

To unlock this exclusive pack, join the Arty Crafty Kids members area!
Become a Member!
Members of Arty Crafty Kids can access our full library of creative resources, making crafting with kids super easy and fun!
Preview: 30 Mermaid Coloring Pages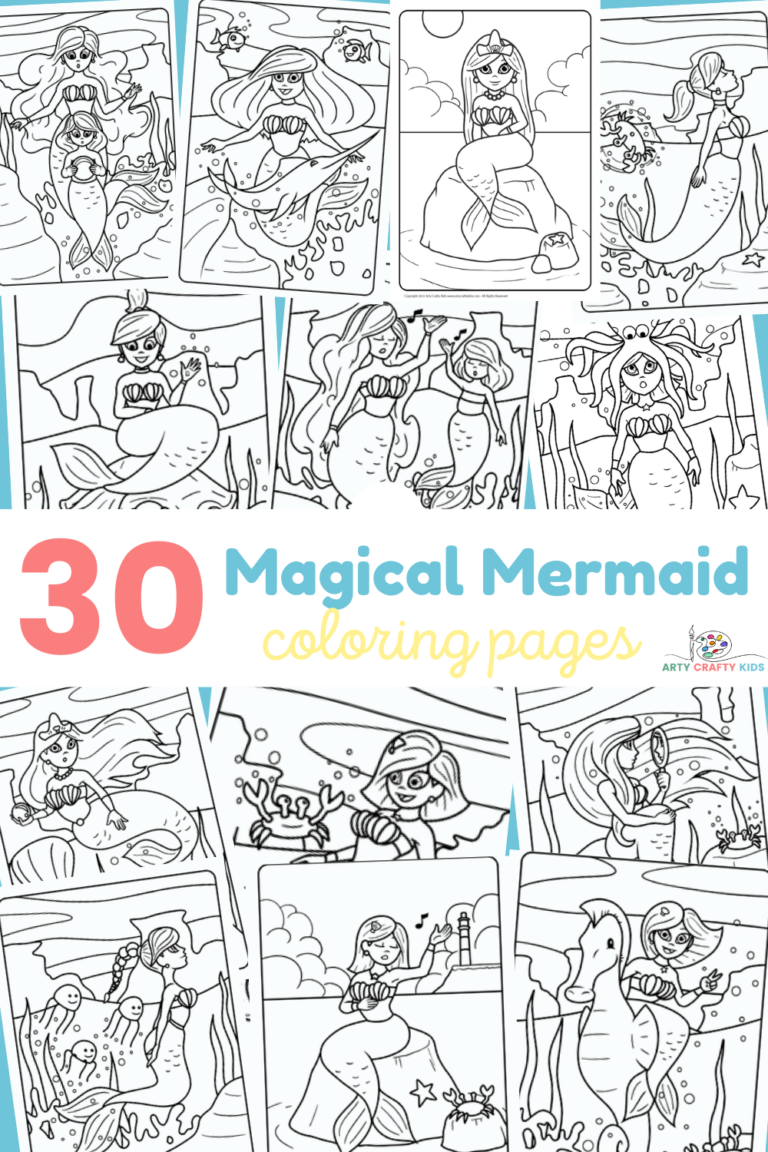 More Coloring Pages for Kids