Sharpen the pencils, as I have another free coloring page for you to color! Now I have to admit, the 'cactus' theme for this months challenge had me scratching my head a little – I had no idea where to go with it! So you can imagine my surprise that when the pencil hit the paper, this cactus coloring page turned out to be the easiest and most free flowing design I've ever drawn.
I loved experimenting with continuous doodles to create fun and irregular patterns – it's a technique i'll look forward to using again!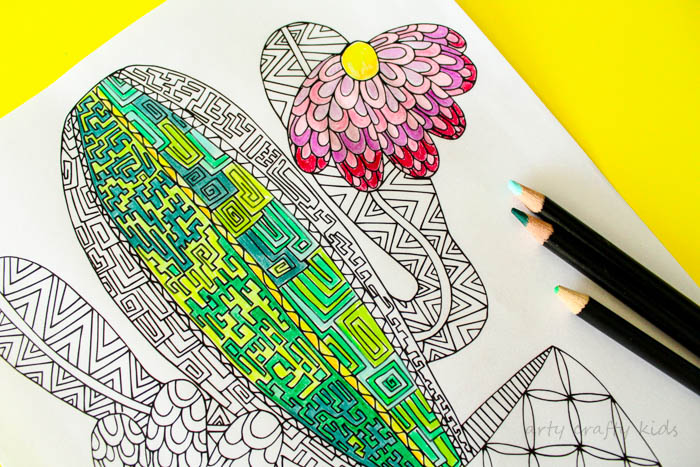 To download your FREE coloring page, click on the link below and follow the instructions provided.
Once you've done that, scroll down to the bottom of this post to find a further FIVE Cacti coloring pages.
Cactus Coloring Page
Handy Tools for your Cactus Coloring Page
This post contains affiliate links to recommended products. Thank you for your support!
Colouring has become one of my favorite past-times and when you're downloading one of our free printables, I would recommend using quality paper. It will enhance the vibrancy of the colors and your pencils will be easier to blend, especially if you decide to use a water-soluble pencil or fancy exploring Inktense ink pencils.
To create depth and shade, my weapon of choice is a basic blendable pencil and you don't need to be anything more than a novice to use them!
It's all about sitting down, relaxing and allowing yourself to enjoy the flow of coloring without worrying about technical aspects.
Top Picks!
Paper:
Heavy Weight Paper
Pencils:
Blendable Coloring Pencils
Watercolor Pencils
Inktense Ink Pencils
Pens:
Pin for Later!

More from the Coloring Tribe…
Cactus Cutie Treat Box by Hattifant
Cactus Coloring Page by Moms & Crafters
Cactus Coloring Page by Arty Crafty Kids
Cactus Resilience Quote Coloring Page by Arts & Crackers
Coming soon by Easy Peasy and Fun
Coming soon by Trail of Colors