Kids will have a roarsome time with this Easy Lion Art Project for Kids!
It's a fabulous art and craft idea for kids who enjoy making animals and experimenting with new painting techniques.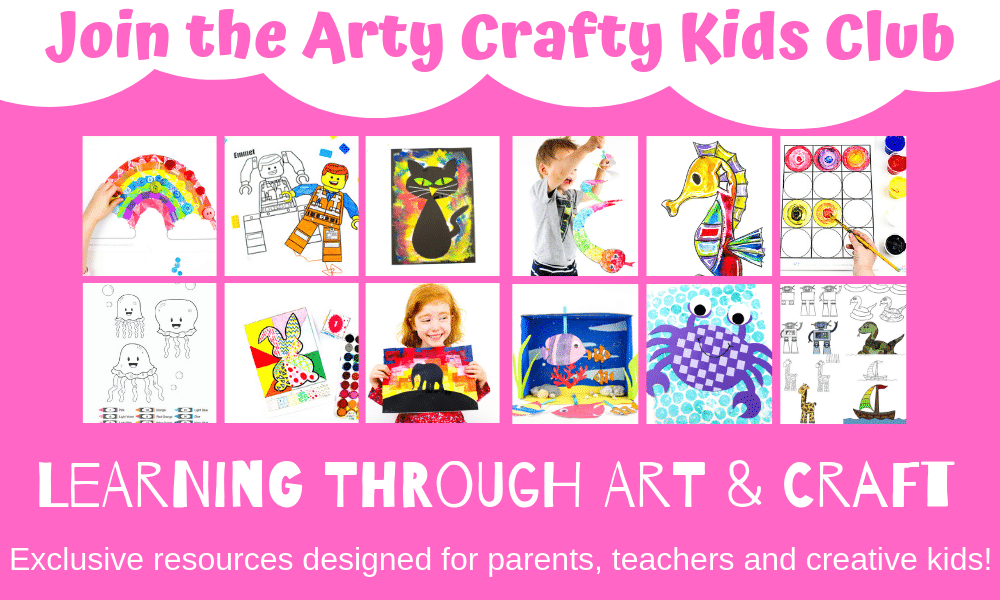 Our crafty lion introduces wax crayons as a resist material. Combined with watercolours, it becomes a magical process with a WOW factor and can adapted to suit children of any age or ability.
Easy Lion Art Project for Kids: Materials
Black Card Stock
White Card Stock or Mixed Media Paper
Crayons – White, Black, Yellow & Orange
Red, Yellow and Orange Paper
Glue Stick
Paintbrush (for curling & painting)
Scissors
Arty Crafty Kids Members – Animal Outlines
The Lion Head Template can found under Animal Outlines within the Arty Crafty Kids Members Area (members – sign in here).
Join HERE to access our Library of Arty Crafty Templates!
Watch the Video Tutorial:
Easy Lion Art Project for Kids: Step by Step Tutorial
Printing the Lion Head Template:
Set 'Fit to Page' before printing.
Print the template directly onto white card stock or mixed media paper.
Remember to refer to your printer settings for a suggested weight. Most printers will print on to card weighing less than 220gsm.
How to Create a 'Resist'
Watercolor Resist Painting
Watercolour resist can be explored with black ( or white)glue, melted crayon, tape,yarn, oil pastel and wax crayon.
Our chosen resist medium for 'Easy Lion Art Project for Kids' is the humble wax crayon. It's by far the easiest medium for kids and can be enjoyed by the smallest of children.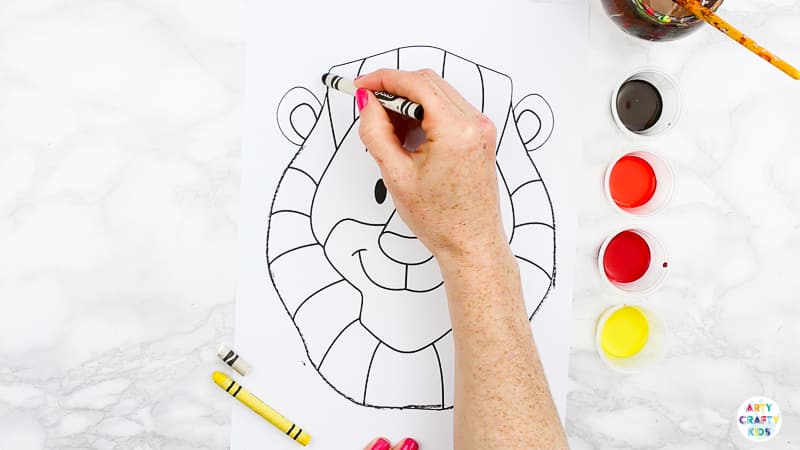 Step 1: Trace the outline of the lion with black crayon. The lines do not need to be perfect, in fact, imperfect lines will add to the completed effect.
This is a great fine motor and hand/eye co-ordination exercise for kids.
Step 2 Optional: Add a second colour within the template or along the lines.
Here, we've used yellow as this will be our dominant colour within the project.
Let's add some Invisible Lines!
Step 3: Using a white crayon, fill the mane with squiggly lines and draw a few extra lines around the facial features – this will make these areas stand out!
Adding Watercolours
For best results, use prepared liquid watercolours or mix tubed watercolour paint with water.
Start by adding a few drops of water and increase the ratio until you achieve your desired colour.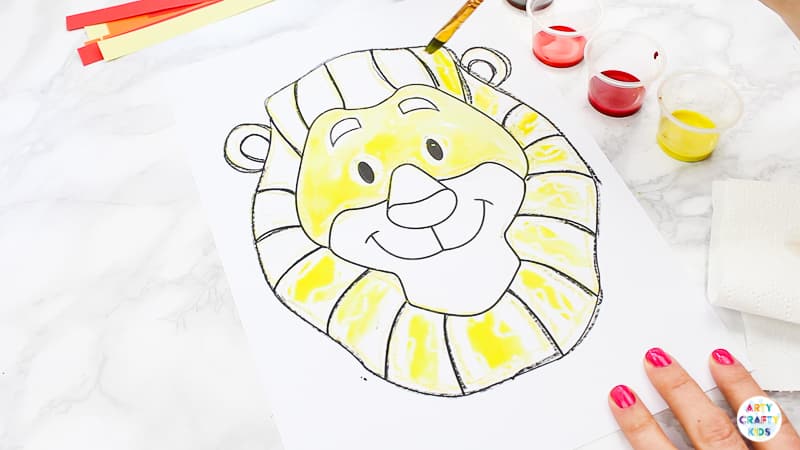 Step 1: Start with the lightest colour first and sweep the brush within the animal shape, moving across the waxy lines.
Since the paint is water based, the wax will repel the paint to leave the waxy lines in tact.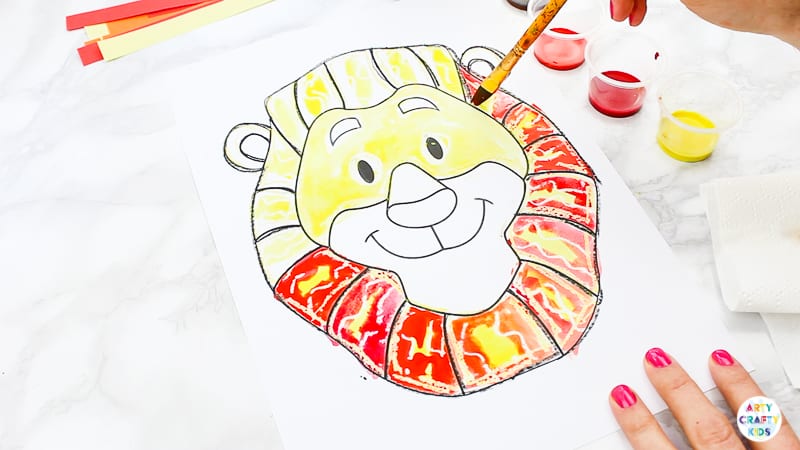 Step 2: Add a second colour.
The first and second colours with begin to merge, creating new shades and wonderful swirls, akin to a type of marbled effect.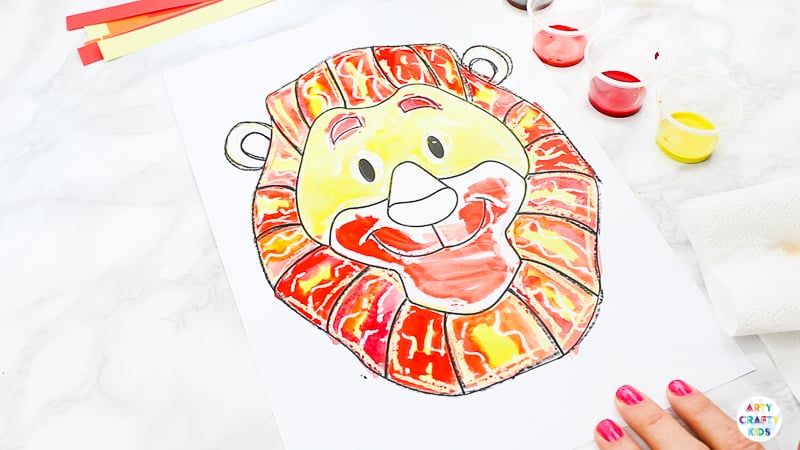 Step 3: Continue adding paint until the page is bursting with colour.
Leave the template to dry. Luckily, watercolours tend to dry fairly quickly, so your Arty Crafty Kids will not have long to wait!
How to Make a Curly Paper Mane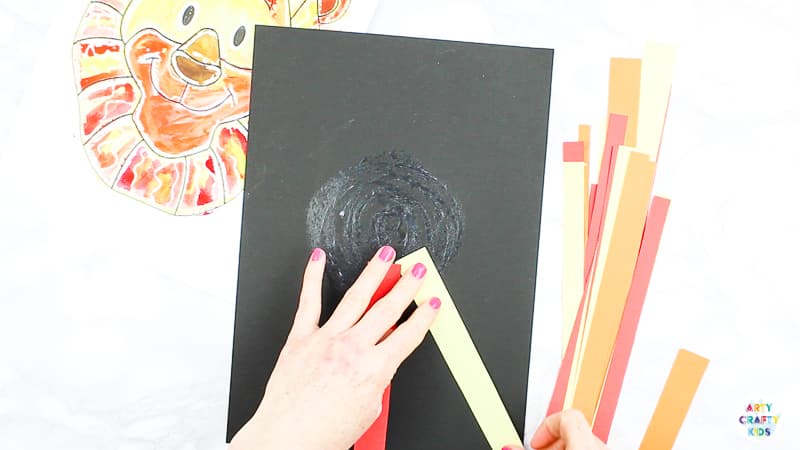 Step 1: Add a big gluey circle (using a glue stick) to the centre of the black card stock.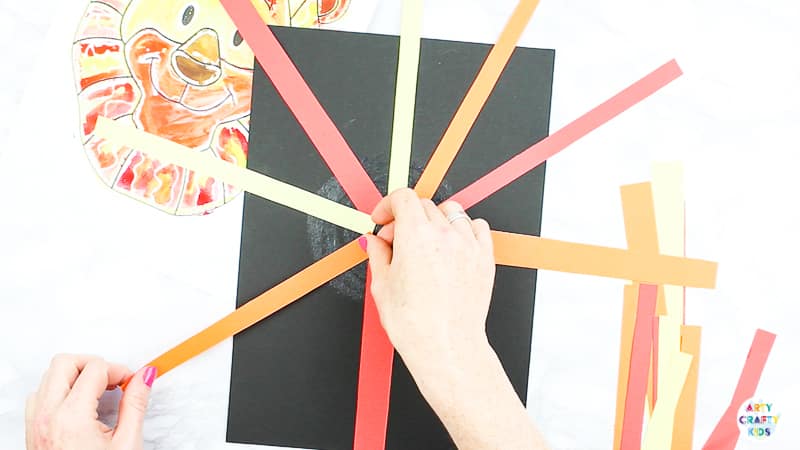 Step 2: Cut the red, yellow and orange paper into fine paper strips.
Create a circle with the paper strips (as shown above), leaving the ends to dangle freely over the black card.
Make sure the whole paper strip is not glued to the black card!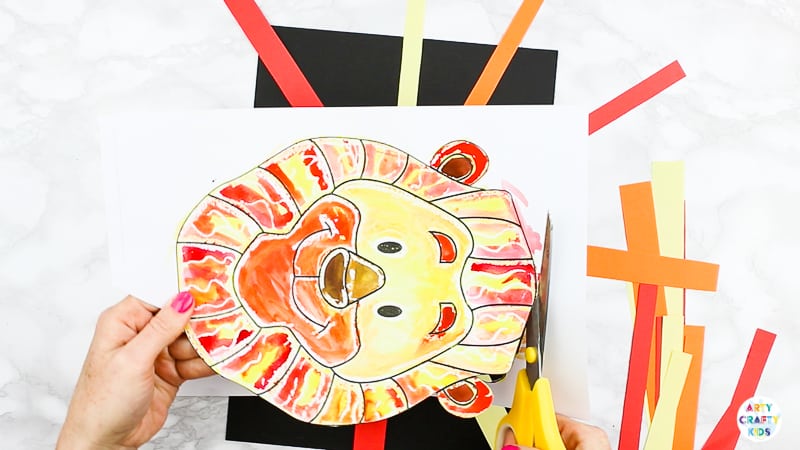 Step 3: Cut out the dried template.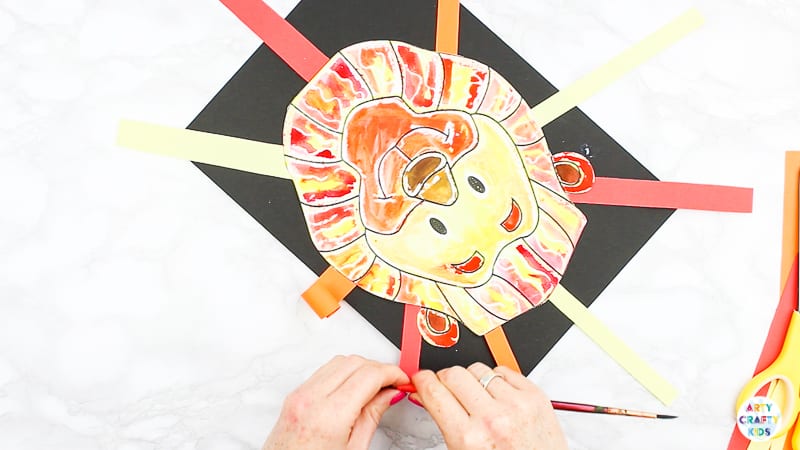 Step 4: Glue the template to paper card stock, covering the paper strips.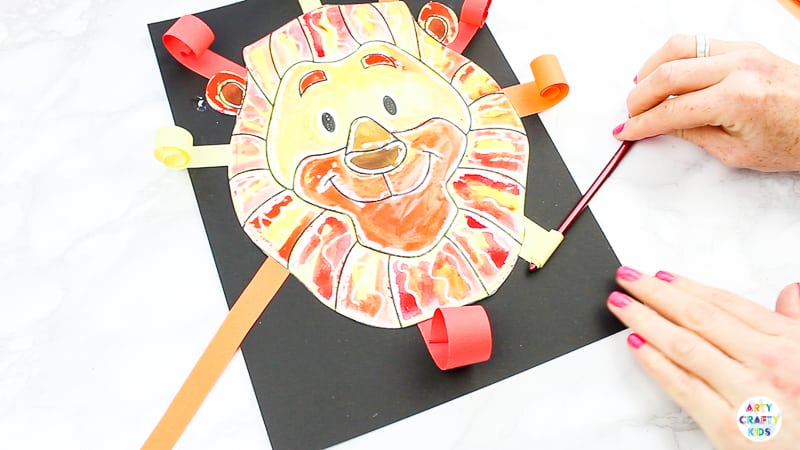 Step 5: Using the end of a paintbrush (or pencil), roll each piece of paper around the paintbrush.
Slide the paintbrush out of the roll and the paper should now curl around the template.
Curling paper is another great exercise for working fine motor skills. However, if this element of the project is too much for your Arty Crafty Kids, simply leave the paper straight.
In this Lion craft, the addition of the curly paper mane frames the template beautifully and introduces the idea of using mixed media in art.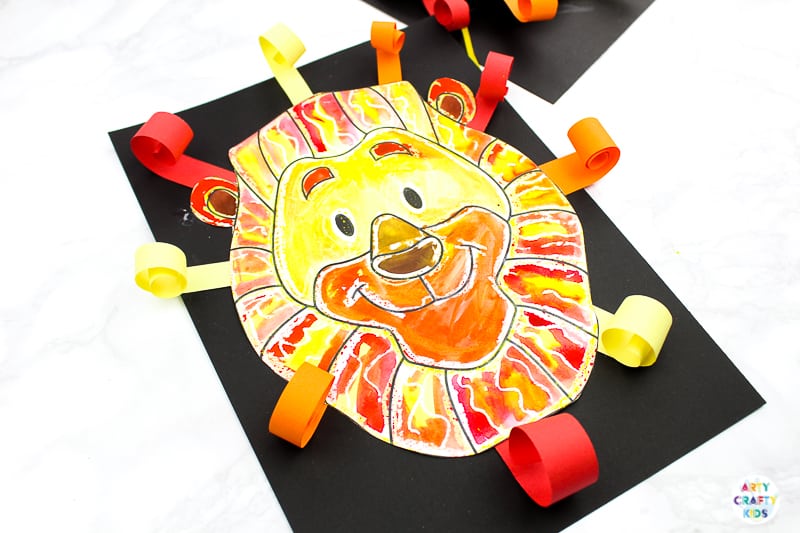 The 'Easy Lion Art Project for Kids' is Complete!
Kids may enjoy adding other materials to the mane, such as: yarn, string, corrugated cardboard, fabric etc.
Alternatively, the templates may also be used as part of a paper collage (or mosaic as demonstrated by our friend Make it your Own with this beautiful magazine mosaic tiger).
The possibilities with this 'easy lion art project for kids' are endless!
More Watercolour Resist Painting for Kids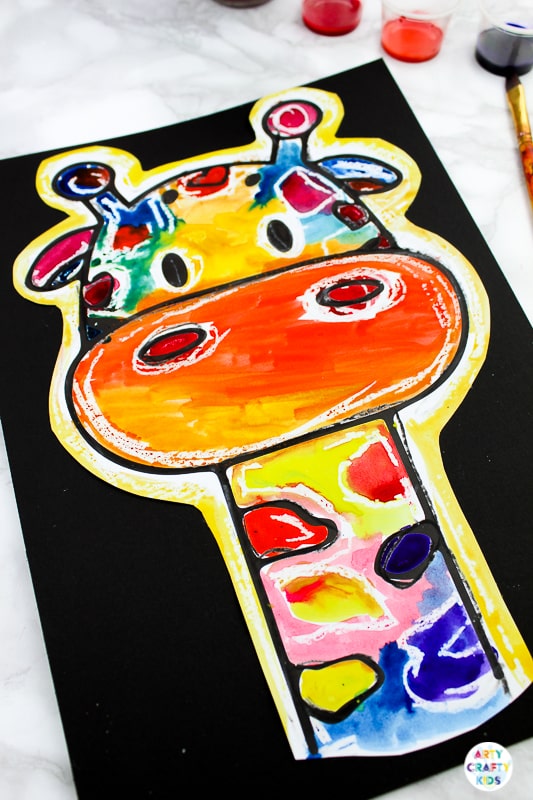 This simple art idea for kids can applied to many of our templates found within the Arty Crafty Kids members area, giving children the option to create an arty zoo of colourful abstract animals.
To see other examples of this process in action, take a look at our 'Ocean Animal Art'.
Discover more Lion Art and Craft Ideas for Kids:
Using the paper curls to create a luscious bouncy lion mane!
Make an interactive lion hand-puppet with a brown paper bag.
Playing with shapes to create an adorable paper lion.
Happy Crafting!
Arty Crafty Kids Club
Creative and playful Art & Craft Templates
How to Draw Guides, drawing prompts and pre-writing Line work
Colouring pages & Seasonal activity booklets
Perfect for Educators and Parents, with new content added weekly!
Join the Arty Crafty Kids Club and gain access to our exclusive collection of art and craft templates and learning resources. Designed with parents, teachers and creative kids in mind, you will never run out of activities for the kids!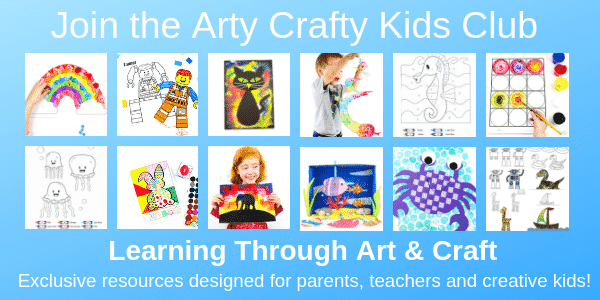 Latest Posts: