Do your children love bugs? these Doodle Bug Design Prompts inspire children to recreate or design their very own! This printable pack includes a design practice page for children to try out different styles and patterns on the doodle bugs; a full sized Doodle Bug page for children to fill with their own favourite design; along with three Doodle Bug coloring pages to color and spark some ideas for their own designs. These design prompts are adaptable to suit a range of ages and are great fun, to use at home or within the classroom!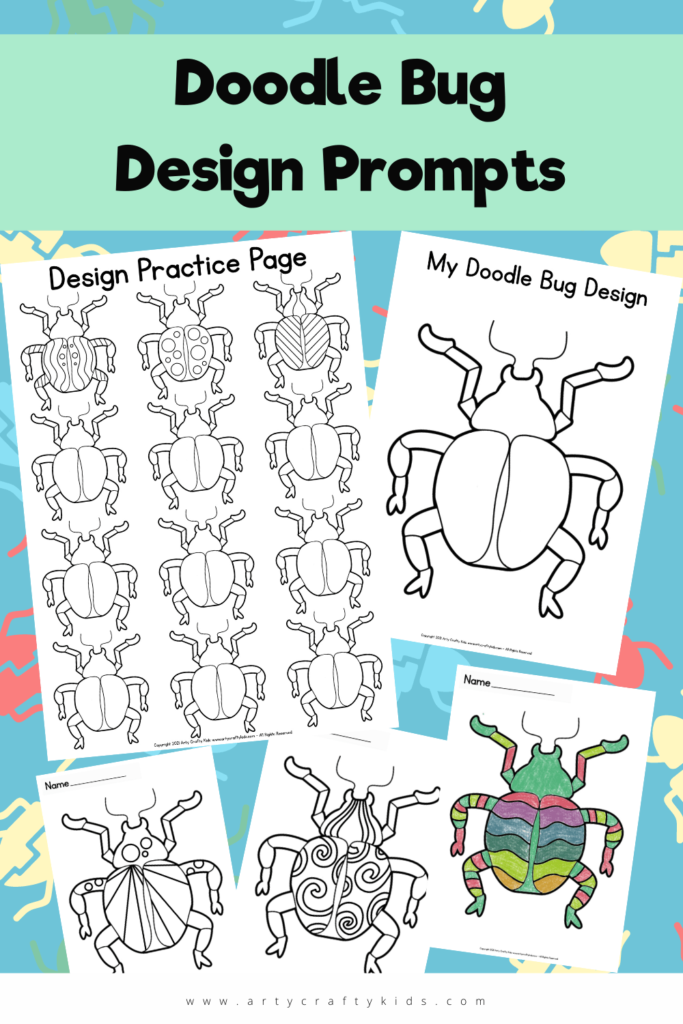 How to Draw with Arty Crafty Kids

At Arty Crafty Kids we have a number of tools within our arsenal to help encourage children to draw, learn and refine their skills. These include: traditional 'how to draw guides'; flow drawing that encourages children to engage in their natural rhythms and use repetitive movements to form lines and shapes; a number of design prompts and grid drawings.
Doodle Bug Design Prompts
Presented with an empty space, children may fill their bugs with patterns, doodles and/or explore blending colors and color combinations. When children make a shift from simple coloring to design, they move from engaged to empowered creative thinkers – problem solvers. They're a fantastic way to inspire creativity without the overwhelm of creating something from scratch, which some children may find intimidating.

These templates are a super way to kick start the imagination! Immersive and fun, children will love testing out their design skills. To get them started, make a few suggestions – stars, hearts, rainbows or polka dots every color under the sun will be sure to inspire.
How to Download the Doodle Bug Design Prompts:
The Doodle Bug Design Prompts are available to members of the Arty Crafty Kids Club. Members can access the template here (remember to login!):
Members will need to log in to access the templates!
Not a Member?
More Doodle crafts for Kids:
For more doodle filled fun with the kids this season, take a look at these popular crafts.
Sun and Moon Art
The clocks have just gone back and here at Arty Crafty Kids, we're feeling inspired (and a bit tired – just a few more hours of sleep, please?!) The contrast between night and day, its colors and shapes, make a really interesting art study.

https://www.artycraftykids.com/product/sun-and-moon-art/
Kandinsky Hearts
Our Kandinsky Inspired Heart Art is all about exploring colour-mixing, playing with light and shade, and can be a great introduction to Abstract Art for your Ary Crafty Kids.

https://www.artycraftykids.com/product/kandinsky-heart-art/
All About Me Drawing Activities
The All About Me book is filled with seven fun drawing activities for kids, with a focus on self portraiture, emotions, drawing facial features, clothing design and crazy hair play.

https://www.artycraftykids.com/product/all-about-me-drawing-activities/