10 Spooktacular Number Worksheets for Preschoolers: Here at Arty Crafty Kids, it's safe to say we're more creative than we are mathematical, so we totally understand that learning numbers isn't at the top of a lot of pre-schoolers fun 'to-do' lists. So if you're looking for a little bit of extra help to encourage your little ones to get excited by numbers, you've come to the right place!
Our number worksheets are fun, bold and spooky – and are designed specifically with pre-schoolers (and their attention spans!) in mind. Once children are engaged with the Halloween theme, they'll soon be getting to grips with numbers like a pro!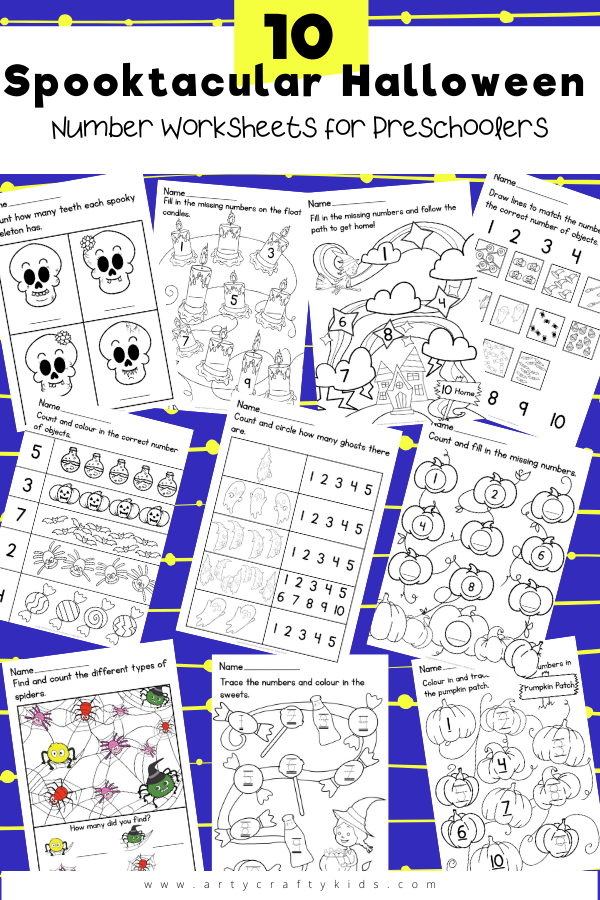 The 10 different worksheets help kids to count and generally to become more comfortable with numbers, so when it's time to move on to sums or bigger numbers, they don't feel scared or overwhelmed.
And since the worksheets can also be colored in, children won't see them as a chore – they'll be asking for the next one before you can say boo!
How to Download the Spooktacular Number Worksheets for Preschoolers
The Spooktacular Number Worksheets are available to members of the Arty Crafty Kids Club. Join the members area to access our complete online library of art and craft templates.
Members can access the coloring pages here: https://www.artycraftykids.com/product/10-spooktacular-halloween-number-worksheets-for-preschoolers/
Members will need to log in to access the templates!
Not A Member?
More Halloween Fun from the Members Area!
25 Page Halloween Printable Activity Book
This NO-PREP 25 page Halloween Printable Activity Book for Kids will have your Arty Crafty Kids coloring, counting and practising their tracing skills.

With an abundance of hand-drawn, playfully designed characters; our Halloween Activity pages aim to make learning fun!

In fact, these worksheets are so cute, kids will not even realise they're learning!

https://www.artycraftykids.com/coloring-pages/halloween-printable-activity-book/
10 Preschool Halloween Number Worksheets
Children can use them independently to work on their shape formation as they trace the numbers; and practice counting as they explore all of the fun tricks, and treats, on the sheets. There's lots of coloring and dot to dots to encourage their creativity and problem-solving skills too.

https://www.artycraftykids.com/product/10-halloween-number-worksheets-for-preschoolers/
10 Friendly not Spooky Halloween Coloring Pages
We all know that kids love Halloween, and especially love getting stuck into – preferably messy! – arts and crafts. But sometimes you need a quick and easy activity to entertain them that doesn't involve getting covered in paint or heading out to the store for supplies.

Including a witch, vampire, werewolf, haunted house, owl, pumpkin, Frankenstein's monster, cat, spider and bat, there's a design to suit everyone in our coloring pages bundle.

https://www.artycraftykids.com/coloring-pages/10-friendly-halloween-coloring-pages/