10 Lovely Valentine's Day Alphabet Worksheets: These beautiful worksheets feature all the best things about Valentine's Day! Who doesn't love chocolates, cupcakes, fluffy animals, pretty flowers and most importantly, love hearts?!
If you want something fun and love-stuffed for children to concentrate on during the Valentine's season these worksheets will definitely do the job. They are easy and fun to follow, so download them today! Using the whole alphabet, these pages will encourage children to recognise letters, big and little, and begin to learn some cute Valentine's themed spellings.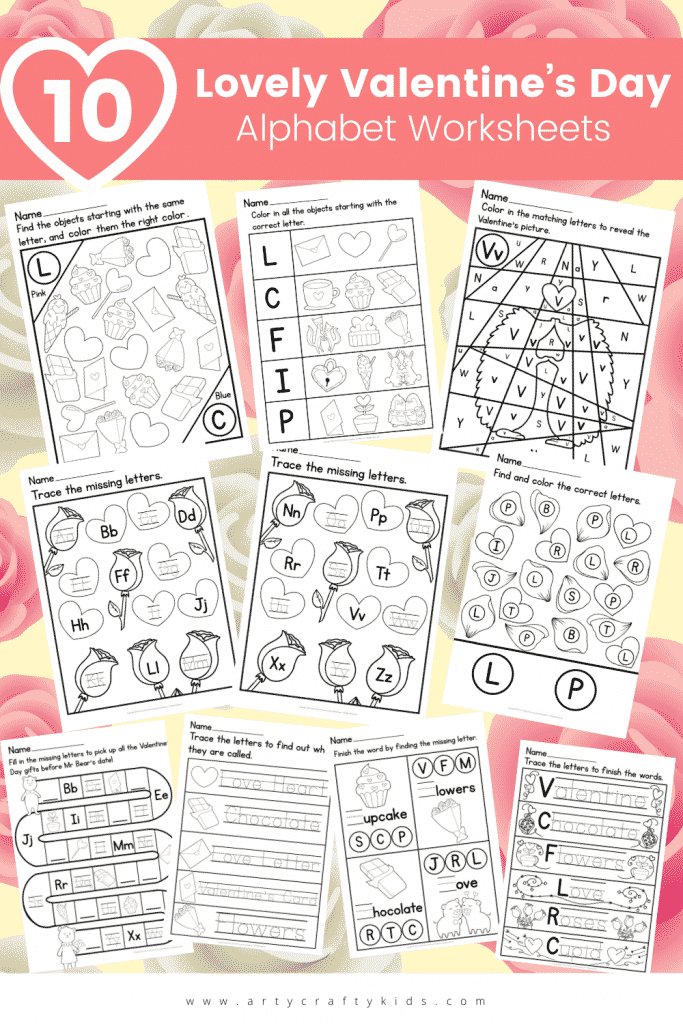 These worksheets would be perfect for preschool or early years children but anyone can involved! You could even create a booklet of Valentine's worksheets and colour them in so you could give them as a unique gift to a special someone.
But it's not all about giving gifts on Valentine's though, these worksheets also feature some cute fluffy animals spreading love, through hugs and kisses! Children can use their new Valentine's spellings to write a cute little message to share the love.
How to Download the Lovely Valentine's Day Alphabet Worksheets:
The collection of 10 Lovely Valentine's Day Alphabet Worksheets are available to members of the Arty Crafty Kids Club. Members can access the template here (remember to login!): https://www.artycraftykids.com/product/10-lovely-valentines-day-alphabet-worksheets/
Members will need to log in to access the templates!
Not a Member?
More Valentine's Day crafts for Kids:
For more Valentine's fun with the kids this love-filled season, take a look at these popular ideas!
Valentine Heart Bookmarks
A special Valentine Heart Bookmark set, perfect for a lovely gift, or just a great way to spend an afternoon crafting.

https://www.artycraftykids.com/product/valentine-heart-bookmarks/
Love Bug Handprint Card
There's nothing more precious than your little one's handprints and for this craft, the prints double up as ladybug wings and a super cute heart! Open the wings to reveal the real love bug… your Arty Crafty Kid.

https://www.artycraftykids.com/product/love-bug-handprint-card/
Panda Heart Card
The Panda card is mostly a cut and stick craft, which is great if you're working with a group of children in preschool or school. This is also a perfect craft to do with younger children; they have an opportunity practice their cutting skills and play with shapes.

https://www.artycraftykids.com/product/panda-heart-card/
Check out our instagram for a range of other exciting crafts too: https://www.instagram.com/artycraftykids/