10 Arctic Wonderland Coloring Pages: If you're looking for a fun winter-themed activity, why not download our
brrr-illiant Arctic wonderland coloring pages?
This fun collection of arctic animals – including fox, rabbit, penguin, polar bear, killer whale, sea lion and puffin – is a great way to introduce pre-schoolers and school early years children to this amazing snowy habitat.
Perfect for the classroom, or home learning, use them to introduce conversations around global warming and encourage children to think about the small changes they can make to help their favorite arctic animal.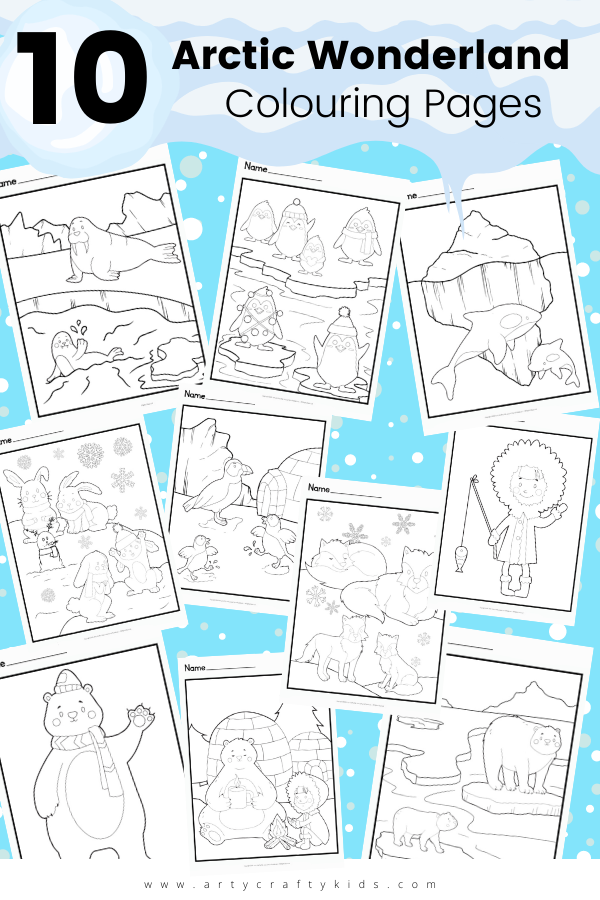 But if your children are still in holiday mode and not yet up for any extra learning, of course they're just as good as a quiet independent activity away from the screen – kids can choose a favorite or color them all and create a glistening winter wonderland display.
How to Download the Arctic Wonderland Coloring Pages :
The collection of winter coloring pages are available to members of the Arty Crafty Kids Club. Members can access the template here (remember to login!): https://www.artycraftykids.com/product/10-arctic-wonderland-colouring-pages/
Members will need to log in to access the templates!
Not A Member?
Winter Crafts for Kids:
For more Wintery fun with this kids this chilly season, take a look at these popular ideas!
Bobble Head Polar Bear:
It's wobbly head and 3D effect adds a playful element to the creative process that kids will love.

https://www.artycraftykids.com/craft/3d-polar-bear-winter-craft/
Moving Penguin Craft:
Looking for a fun and engaging Winter craft for kids? Take a look at this adorable Interactive Paper Penguin Craft inspired by Happy Feet!

https://www.artycraftykids.com/craft/interactive-paper-penguin-craft-inspired-by-happy-feet/
Quilled Snowflake Art:
Quilling is the wonderful art form of rolled strips of paper, glued together to create a decorative design. We applied this technique within a simple paper tube frame to create a stunning Quilled Paper Tube Snowflake Craft, that's simple, fun and perfect for kids who fancy trying something a little different and learning a new skill.

https://www.artycraftykids.com/art/quilled-paper-tube-snowflake-craft/