10 Lovely Valentine's Day Number Worksheets: These gorgeous worksheets show off some of the best bits about Valentine's Day! Including heart candies, yummy chocolate and heart shaped cakes, roses and fuzzy friends!
Download these worksheets to give children something cute and cuddly, whilst getting them to focus at the same time! They are simple to print and easy for anyone to follow along and complete. Using numbers up to 10, these worksheets will encourage children to count on their own and begin adding numbers together.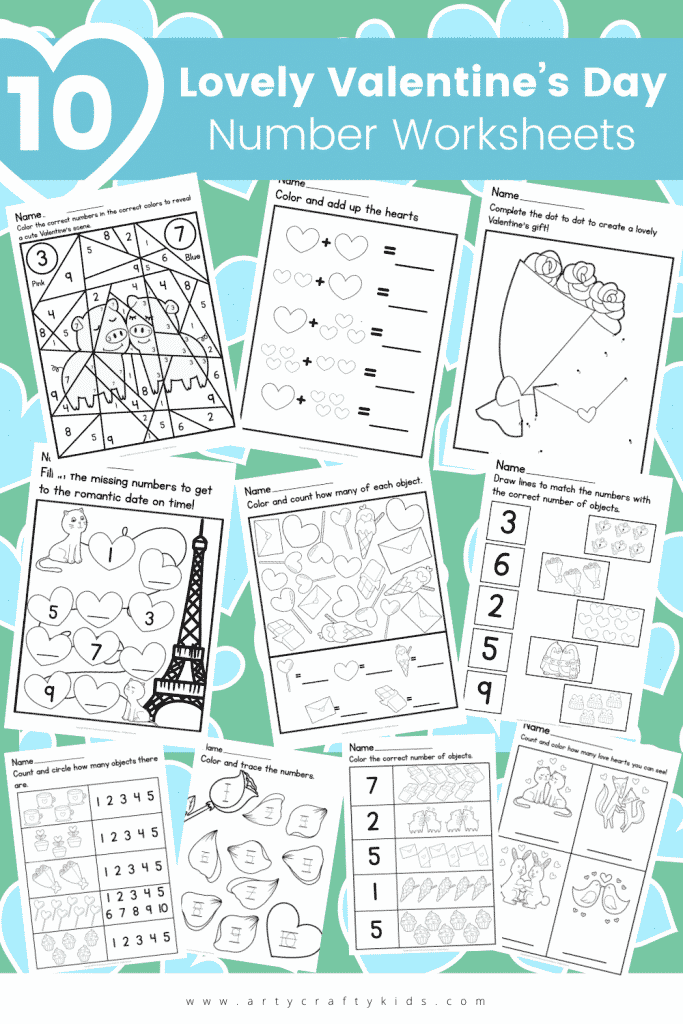 Preschool and early years children will really be able to get stuck in to these worksheets, however they would be good fun for the whole family to get involved. Why not create a special Valentine's gift by colouring in the pages!
Valentine's is all about sharing the love, so these worksheets also feature some cute, fluffy friends spreading the Valentine's spirit. Your children can use their new adding skills to add up all the heart candies and choccies they get, and take away some to share with their Valentine!
How to Download the Lovely Valentine's Day Number Worksheets:
The collection of 10 Lovely Valentine's Day Number Worksheets are available to members of the Arty Crafty Kids Club. Members can access the template here (remember to login!): https://www.artycraftykids.com/product/10-lovely-valentines-day-number-worksheets/
Members will need to log in to access the templates!
Not a Member?
More Valentine's Day crafts for Kids:
For more Valentine's fun with the kids this lovely season, take a look at these popular
10 Lovely Valentine's Day Alphabet Worksheets
These 10 Lovely Valentine's Day Alphabet Worksheets are a cute way of keeping children focussed during this loved-up season! Easy to download and great fun for preschool and early years children, but not limited to them! Everyone can get involved and share the love!

https://www.artycraftykids.com/product/10-lovely-valentines-day-alphabet-worksheets/
Circle Heart Art Template
If you're looking for a seasonally relevant art project for kids this Valentine's, this Circle Heart Art Project is one to try. It's a concept that explores printing techniques, line work, colour theory and shapes, and can adapted for kids of all ages!

https://www.artycraftykids.com/product/circle-heart-art-template/
Unicorn Heart Craft
This darling printable Unicorn Heart Craft for kids is super quick and easy, and has an open-ended quality that allows children to enhance and personalise the simple unicorn design. Kids are free to doodle and colour the unicorn to taste.

https://www.artycraftykids.com/product/unicorn-heart-craft/
Check out our instagram for a range of other exciting crafts too: https://www.instagram.com/artycraftykids/