10 Cute Valentine's Grid Drawings: This pack of grid drawings is super cute, and perfectly themed for some Valentine's fun!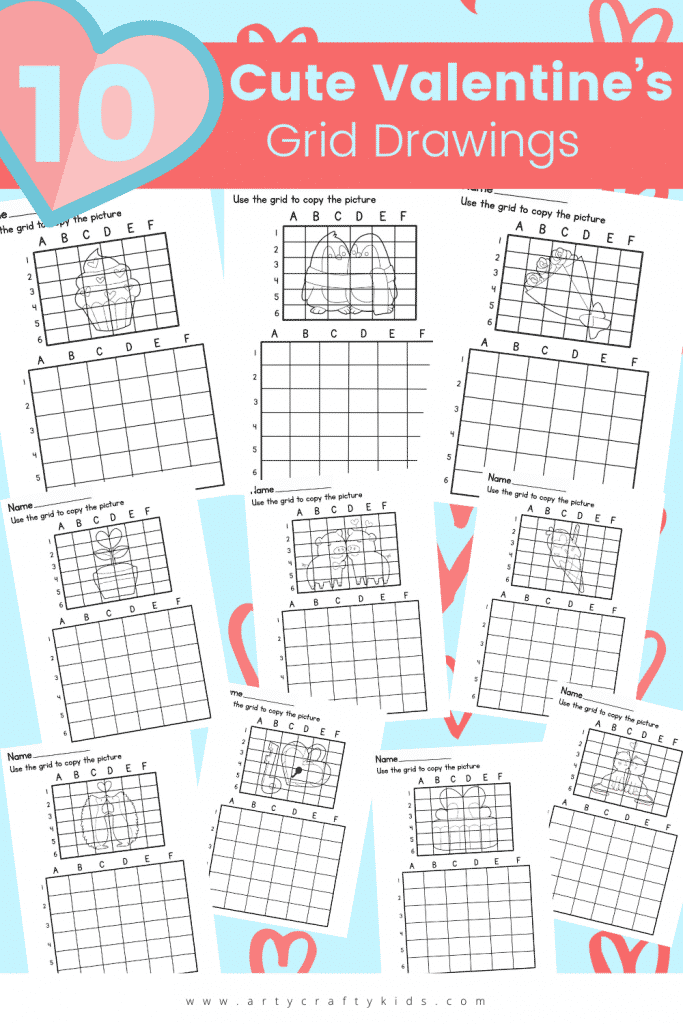 If you're looking for something creative to keep the kids busy during the Valentine's season, these grid drawings are perfect. They are a great way to help children learn about proportions, matching their drawing with the grid. Children can practice their drawing skills to become more confident creating their own cute pictures. These grid drawings might give some creative inspiration for other Valentine's crafts too, like cards or decorations!
Featuring yummy Valentine's treats like cakes and ice cream, pretty gifts, and cute little couples, these drawings grids will certainly help fill the day with love!
Super simple to download and print, for a fun and easy task. Why not use the grid drawings for an initial guide and then have a drawing challenge after! Once confident with the picture try to draw it without the grid! Colour it in and use as a cute decoration or turn it in to a lovely card.
How to Download the Cute Valentine's Grid Drawings:
The collection of 10 Cute Valentine's Grid Drawings is available to members of the Arty Crafty Kids Club. Members can access the template here (remember to login!): https://www.artycraftykids.com/product/10-cute-valentines-grid-drawings/
Members will need to log in to access the templates!
Not a Member?
More Valentine's Day crafts for Kids:
For more Valentine's fun with the kids this cute season, take a look at these popular crafts.
Heart Balloon Card
Our Printable Valentine's Heart Card, inspired by Banksy's Girl with a Balloon, can be personalised with your child's fingerprints and photo to create a gorgeous keepsake card for Valentine's Day

https://www.artycraftykids.com/product/heart-balloon-card-group/
Mondrian Heart Art Bundle
This Mondrian Heart Art Project for kids has been designed to suit children of all ages; from a simple colour and stick project for preschoolers, to designing Mondrian inspired art; along with hints and tips for taking the project a step further with geometric and colour play.

https://www.artycraftykids.com/product/mondrian-heart-art-bundle/
Heart Shaped Snake Craft
Make something different with the kids this Valentine's day and try this adorable Wriggly Heart Snake Craft. Kids will love how this snake bends, wriggles and opens up as a Valentine's card!

https://www.artycraftykids.com/product/heart-shaped-snake-craft/
Check out our instagram for a range of other exciting crafts too: https://www.instagram.com/artycraftykids/